UCLA College: An Overview
UCLA College Overview
The University of California, Los Angeles (also known as UCLA College) is a close-knit community that fosters a sense of belonging while also providing chances for research, discovery, and education. The sizable, public institution with a four-year program is situated in the heart of a bustling metropolis and has a predominantly residential campus.
This university grants bachelor's, master's, and doctorate degrees. The University of California, Los Angeles is ranked #20 in the Best Colleges in the National Universities edition for 2022–2023.
Its 419-acre campus is situated near the Pacific Ocean and the Santa Monica Mountains in the Los Angeles district of Westwood. UCLA has a student-to-faculty ratio of 18:1, and 47.8% of its classes have fewer than 20 pupils.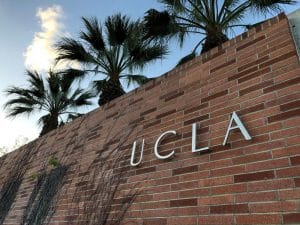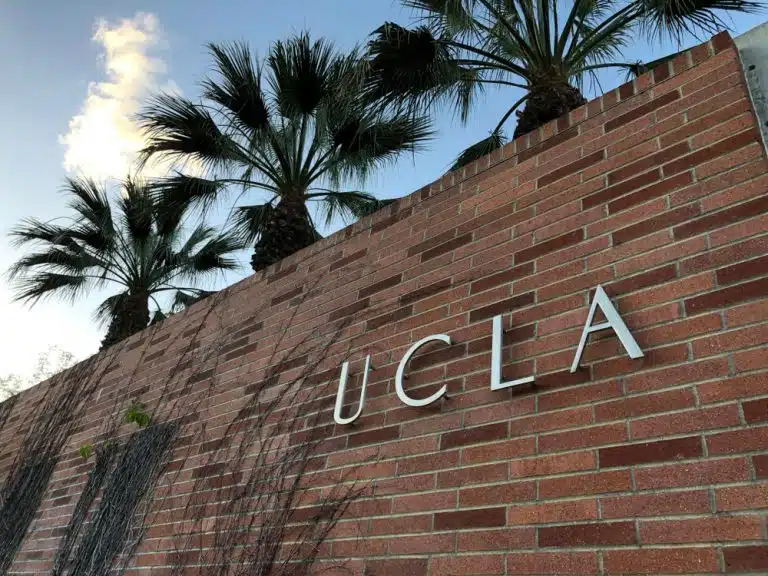 The most popular majors at the University of California, Los Angeles include Social Sciences; Biological and Biomedical Sciences; Psychology; Engineering; Mathematics and Statistics; Multi/Interdisciplinary Studies; Visual and Performing Arts; Computer and Information Sciences and Support Services; and English Language and Literature/Letters. The average freshman retention rate, an indicator of student satisfaction, is 97%.
What type of college is UCLA?
Now let's tackle what type of college UCLA is. It is a public institution. The campus is 419 acres in size and is located in an urban area. It makes use of an academic calendar based on quarters.
The University of California, the public college system of the Golden State, has nine institutions, including UCLA, which is often regarded as a "public Ivy."
Why is UCLA a good college?
Why is UCLA a good college? As you can see, UCLA  is a top university that provides the best educational opportunities available not just in the state of California but also across the entire nation. Graduates from this program have gone on to run some of the most significant businesses in the world and receive some of the most prestigious honors.
Although its 14% acceptance rate would not be considered low, it is less competitive than many prestigious California colleges.
For in-state students, UCLA College is reasonably affordable compared to other colleges of its caliber. Students only pay $36,297 per year, which is less than half of what guests at USC across town pay.
With that money, you can study alongside some of the brightest minds of our time, including professors and researchers whose work has an impact on the future. This is especially true of UCLA's entertainment-related courses in entertainment law or the film department. But it's also true of its medical and law schools, which provide the tools future doctors and attorneys will require.
Additionally, UCLA offers more entertainment than you might anticipate from a school with such a strong academic reputation.
The university has a long history of outstanding athletic performance, including numerous national championship victories. Students can take part in a variety of groups and collegiate traditions on campus to let off steam or accomplish some actual good. It's difficult to imagine a reason why someone wouldn't want to attend UCLA with all that's on offer.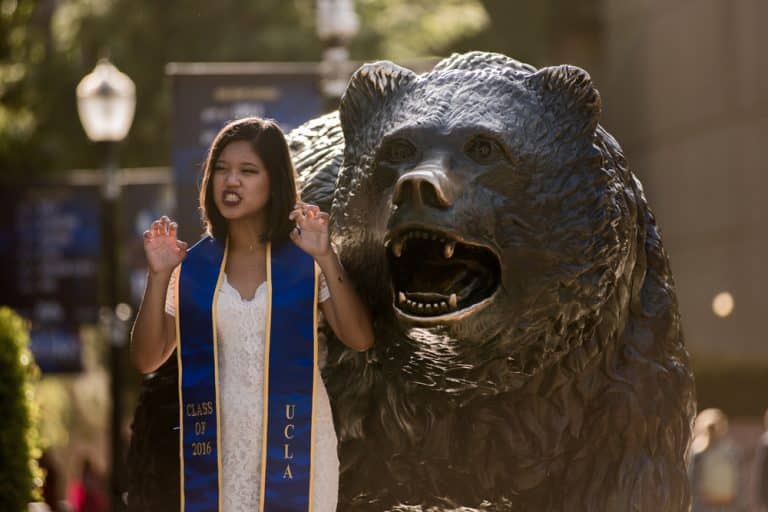 UCLA offers training in 40 other languages along with 125 majors, and 90 minors, many of which are among the best academic programs in the country. Numerous options come with attending a sizable public university in one of the biggest cities in America. UCLA invites everyone to broaden their views and discover their place among a cross-section of cultures through its more than 1,200 clubs and student organizations.
In order to fully explore and define their passions, students are required to complete a capstone project pertinent to their major.
STEM and engineering are areas where UCLA excels. It is home to one of the greatest medical programs in the world at the David Geffen School of Medicine and boasts internationally renowned laboratory facilities. Additionally, more UCLA premed students than those from any other institution apply to medical school each year.
Notable UCLA Rankings
#20 in National Universities
#1 in Top Public Schools
#5 in Best Colleges for Veterans
#21 in Top Performers on Social Mobility (tie)
#15 in Best Undergraduate Engineering Programs (tie)
#12 in Electrical / Electronic / Communications
#10 in Biocomputing/Bioinformatics/Biotechnology (tie)
#12 in Data Analytics/Science (tie)
#12 in Software Engineering (tie)
Where is UCLA college?
Well, where is UCLA College then? It is situated in the LA neighborhood of Westwood and is five miles from the Pacific Ocean. A distinguished School of Dentistry and a School of Theater, Film, and Television are both located at UCLA. One of the best hospitals in the nation is the Ronald Reagan UCLA Medical Center.
UCLA has a College of Letters and Sciences and a number of graduate schools and programs, such as the highly regarded Anderson School of Management, Henry Samueli School of Engineering and Applied Science, School of Law, and David Geffen School of Medicine.
More than 1,000 student organizations are available at the institution, including media clubs and more than 65 Greek chapters, which make up roughly 13% of the student body.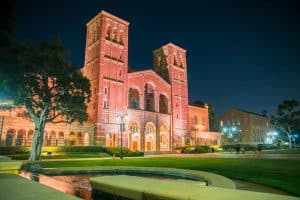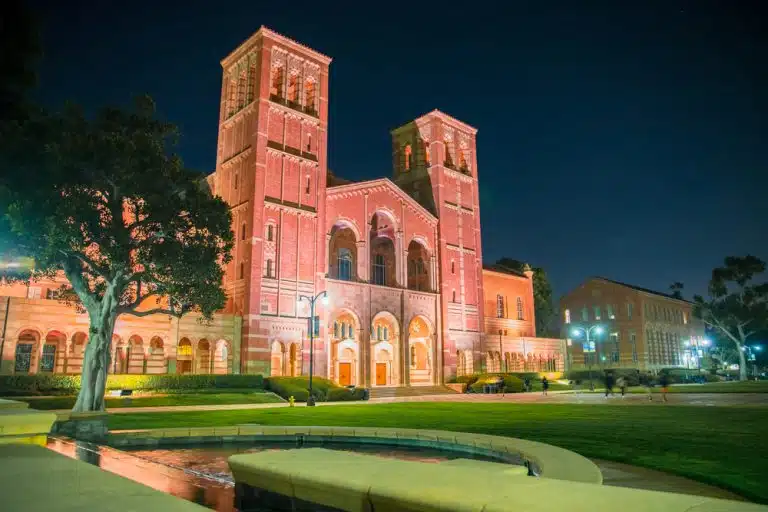 The Southern California campus of UCLA is close to the shore and covers more than 400 acres. The residence halls are connected to the center of campus by the popular Bruin Walk. UCLA provides three years of housing for its students.
From the 405 North
Take Wilshire Blvd. off of the 405 (San Diego Freeway). East
Three blocks east will bring you to Westwood Blvd.
On Westwood Boulevard, turn left.
To get to the Information & Parking Booth, walk five blocks.
By way of 405 South
Go to Sunset East on the 405 (San Diego Freeway).
Go east on Sunset to Westwood Plaza.
Right-turn onto Westwood Plaza
Direct yourself to the Information & Parking Booth.
From the East
take the 10 (Santa Monica Freeway) to the 405 (San Diego Freeway), then head north.
Take Wilshire Blvd. off of the 405 (San Diego Freeway). East
Three blocks east will bring you to Westwood Blvd.
On Westwood Boulevard, turn left.
To the Information & Parking Booth, walk five blocks.
Parking
The nearest parking garage to Murphy Hall is Parking Lot 2. At the Westholme Ave. information and parking booth, you can purchase a day pass for Lot 2 or park in one of the pay-as-you-go spaces in Lot 2 or along Charles E. Young Drive.
When you exit Lot 2 walk North along Charles E. Young Drive. Murphy Hall is past the Faculty Center on your right.
How much is UCLA college?
Next, let's talk about how much UCLA is.
UCLA College is a wise financial investment in your future. In reality, when taking into account cost, average student debt, expected earnings after graduation, educational quality, and other variables, Forbes placed UCLA as the No. 4 best value university in the US in 2019.
For all or a portion of the academic year, some or all of the education may be given online. In the event that instruction takes place remotely for any portion of the academic year, the tuition and fees have been determined regardless of the type of instruction and will not be refunded.
Starting in the fall of 2022, the cost of attending the University of California (UC) for each entering undergraduate class will stay the same for up to six years after the student graduates.
This program, known as the UC Tuition Stability Plan, offers families a level of predictability never before seen in managing their college expenses. Students and families are better equipped to estimate and budget for the costs of attending UCLA by minimizing unexpected tuition hikes and lowering ambiguity about the price of their education.
The tuition and fee numbers shown here indicate recently authorized or suggested sums and may not be final. The final approved tuition and fee levels could be different from what is shown.
2022–2023 estimated undergraduate student budget
Cost per academic year (nine months)
| | UCLA Residence Halls | Off-Campus Apartments | Living with Relatives |
| --- | --- | --- | --- |
| Tuition and Fees | $13,804 | $13,804 | $13,804 |
| Room and Meals | $17,231 | $16,224 | $7,101 |
| Books and Supplies | $1,434 | $1,434 | $1,434 |
| Transportation | $635 | $1,080 | $2,055 |
| Personal | $1,494 | $1,737 | $1,848 |
| Health Insurance* | $2,850 | $2,850 | $2,850 |
| Total – California Residents | $37,448 | $37,129 | $29,092 |
| Nonresident Supplemental Tuition | $31,026 | $31,026 | $31,026 |
| Total – Nonresidents | $68,474 | $68,155 | $60,118 |
Gaining admission to UCLA College
You must complete the UC Application if you want to apply to UCLA College. You can submit an application to any one of the nine UC schools using this standardized form. Applying to more than one UC school will greatly improve your chances of being accepted into the UC system.
Even though UCLA maybe your top pick, the other UC institutions provide top-notch education and a wealth of growth prospects.
UCLA receives more applications than any other school in the country. Every year, about 100,000 people apply to UCLA.
Despite the fact that all UC schools use the same general application, each UC has its own admissions criteria and works with the UC Office of the President to establish its own unique objectives.
UC Application Sections at a Glance
About You
This is where give some basic information about you and your family in this section.
Universities & Majors
You will choose which campuses you want to apply to and, if you have one, indicate your major in this part. If you haven't decided on a major yet, you can select "undecided."
Academic Background
You should enter your courses and grades in this section.
Test Scores
ACT and SAT scores are not taken into account by the UC schools when making admissions decisions. You may include these scores in your application if you require an alternative method of meeting your minimal eligibility requirements.
You should keep separate records for your AP, IB, TOEFL/IELTS, and international exam results. If you haven't already taken these exams, you must say if you intend to do so in the future.
Activities and Awards
Make a list of the accomplishments and honors you're most proud of, as well as those that you think will help UCLA see you as a strong applicant. The distinctions and accolades are divided into six groups:
Honor or Awards
Educational preparation programs
Extracurricular endeavors
Other academic work
Community service and/or volunteering
Experience at Work
Scholarships & Programs
You can choose any scholarship categories that apply to you in this area. While you're at UCLA College or any UC, the UC system offers support services. You should mention it in this box if you are interested in their Educational Opportunity Program (EOP).
Insightful personal questions
Eight questions about personal insight were compiled by the UC schools. Each answer must be 350 words long and must address one of the four questions.
These questions assist in personalizing your application and provide the admissions committee with some insight into your character, interests, upbringing, and accomplishments. They should be written in your distinctive style.
Give an example of a period when you were a leader and you had a beneficial impact on others, helped to settle a conflict, or made a sustained contribution to group efforts.
Everyone has a creative side that may be expressed in a variety of ways, including problem-solving, creative and original thought, and the arts, to mention a few. Describe the ways in which you use your creativity.
What do you consider to be your best talent or ability? How have you honed that expertise over time and displayed it?
Describe a big educational opportunity you have seized or a learning obstacle you have faced, and how you overcame it.
Describe the biggest obstacle you have faced and the efforts you have taken to get through it. How has this difficulty impacted your academic performance?
Consider a subject in school that interests you. How have you advanced this interest both inside and outside of the classroom?
What have you done to improve the environment at your school or in your community?
Aside from the information included in your application, what else do you think makes you a standout applicant for admission to UCLA College?
At AdmissionSight, we have over 10 years of experience guiding students through the competitive admissions process to get accepted to the top universities in the world.
On average, 75% of our students are admitted to an Ivy League university, Stanford, MIT, UChicago, and Caltech, one of the highest track records in the industry. We can help you achieve your college goals, starting with a free consultation.