UCLA Deadlines
What is the current UCLA deadlines for admission? The University of California, Los Angeles (UCLA) fosters a sense of community and seeks applicants who excel academically and are motivated to create a positive impact on the world as part of its admissions process.
One of the most prestigious public colleges in the United States is the University of California, Los Angeles (UCLA). Over its more than one hundred years of existence, the University of California, Los Angeles (UCLA) has earned a reputation for being a forward-thinking institution that has overcome obstacles and made the seemingly insurmountable feasible.
When the application is made accessible on August 1st which is based on the UCLA deadlines, you can begin working on it even if you are still in your senior year. Based on the UCLA deadlines, the submission period for applications is from October 1 to November 30. The application process contains questions aimed to elicit personal insight from applicants and provoke thoughts about prior learning experiences and aspirations for the future.
The University of California, Los Angeles (UCLA) has recently adopted a test-blind admissions policy. This policy states that the university will not consider an applicant's standardized test scores when making admissions decisions, regardless of whether or not the applicant chooses to submit their SAT or ACT scores.
After that, students will receive a decision regarding their admission by the end of March. They will then have until May 1 to submit their enrollment deposit in addition to their applications for on-campus housing and the UCLA College Honors Program.
When it comes to applying for financial assistance, first-year students have based on the UCLA deadlines, until March 2 to turn in their applications for the Free Application for Federal Student Aid (FAFSA), the Dream Act, and the Cal Grant GPA verification.
After the students have sent in their enrollment money, they have until July 1st to give UCLA a copy of their official final transcripts. This deadline applies only if the students have already sent in their registration deposit.
August 1
October 1
Filing period opens for Free Application for Federal Student Aid (FAFSA) and Dream Act Application for all applicants; the filing period opens for GPA Verification Form (required for California residents only for Cal Grant consideration)
October 1 – November 30
Application filing period
January
Application update period opens for transfer applicants to report final fall grades and in-progress or planned coursework (priority deadline is January 31)
March 2
Deadline for applicants to submit their financial aid application (FAFSA), Dream Act, and Cal Grant GPA verification forms
Late March
Late April
Transfer admission decisions released
May 1
Deadline to submit your enrollment deposit and applications for on-campus housing and the UCLA College Honors Program
June 1
Deadline for admitted transfer students to submit Statement of Intent to Register (SIR)
July 1
Send your final, official transcripts to admissions. They must be postmarked or electronically submitted on or before July 1.
July 15
 Official AP, and IB examination results must be sent to admissions. Test scores must be postmarked or electronically submitted on or before July 15.
In addition, UCLA does not provide any applicants with the option to submit early action or early decision applications. Additionally, based on the UCLA deadlines, the calendar at UCLA is based on the quarter system, and the only period for which they accept applicants is the fall term.
What GPA is required for UCLA?
What GPA is required for UCLA? Despite the fact that UCLA does not require applicants to submit SAT or ACT scores, the school has exceptionally stringent requirements when it comes to GPAs (Grade Point Average). When applying to undergraduate programs at UCLA, your grade point average from high school is one of the most important prerequisites to meet.
According to the data for first-year students admitted to UCLA in 2021, the minimum high school grade point average required for admission to UCLA is 3.9. It is believed to be extremely competitive due to the fact that the highest possible grade point average is 4. If, on the other hand, your GPA is lower than 3.9, this does not automatically mean that you will not get accepted at UCLA because the admissions decision is determined utilizing a comprehensive evaluation procedure.
You will have a better chance of success in the competition against other applicants if you have an overall strong profile. Now, let's have a look at the additional criteria that must be met in order to successfully apply to UCLA.
What SAT score is required for UCLA?
What SAT score is required for UCLA? Admissions for UCLA Fall 2022 do not require your SAT scores. Your results from the UCLA SAT will not be taken into consideration as part of the admission requirements for UCLA.
If, on the other hand, you want to give your UCLA SAT results to the university, it is possible that the university will utilize them as one of the techniques to complete the minimum eligibility requirements for UCLA or to award you academic programs after you have been admitted.
In spite of this, if you are considering taking the SAT, please refer to the table below to have a better understanding of the typical SAT Scores required by UCLA.
| | | | |
| --- | --- | --- | --- |
| Section | 25th Percentile | 75th Percentile | Average Score |
| Reading + Writing | 640 | 740 | 690 |
| Math | 640 | 790 | 715 |
| Total | 1290 | 1510 | 1405 |
You should be aware that the values that were provided above for the SAT scores do not represent the minimum score required for admission to UCLA. There are no minimum or maximum UCLA requirements for SAT. Therefore, you should only accept these numbers as a reference because they are based on admissions data from previous years at UCLA.
UCLA Admission Requirements
What are the needed UCLA admission requirements? The University of California, Los Angeles (UCLA) seeks students who are intellectually interested, have developed as a result of their academic work, and are prepared to both contribute to and benefit from the UCLA community.
Be aware that the admissions process is extremely competitive, but before they make their final selections, they give careful consideration to each application and make an effort to learn as much as they can about the people who have submitted them.
Application
UCLA is one of the few colleges that does not accept applications through either the Common Application or the Coalition App. In order to apply for a class at UCLA, you will need to create an account in the UCLA application system.
Application Fee or Waiver of Application Fees
You are required to pay an application fee of seventy dollars when you submit your application. Remember that the application money is not refundable under any circumstances.
You have the option of requesting a cost waiver in the event that paying the application fee will be problematic for you. Your application fee will be waived up to four times if you attend UCLA. It indicates that if you apply for more than four campuses, you will be required to pay an application fee of $70 for each extra school that you apply to.
Only permanent residents, citizens of the United States, and applicants who are eligible for AB540 benefits will have their application fees waived. The University of California, Los Angeles does not waive tuition or other fees for international students.
Transcript
Your academic accomplishments are compiled into a report that is called the transcript. After you have been accepted, you will be required to hand in your transcript.
Test Scores
Because of the widespread Covid-19 outbreak, UCLA will not take SAT or ACT results into consideration when determining admissions. However, if you still want to turn in your SAT results, you certainly can.
Annual Income
You need to furnish either the annual income of your parents if you are considered a dependant or your own income if you are considered independent. If you are not applying for a fee waiver, then submitting it is voluntary; otherwise, it is necessary.
Social Security Number (SSN)
If you have a social security number, you are required to give it in this application.
Citizenship Status
You are required to enter the nation in which you were born. If you are not a native of the United States of America, you are required to also specify your immigration status and the kind of visa you hold.
California Statewide Student ID
You are able to offer a California Statewide Student ID if you are from the state of California. This ID is given to every student attending a K–12 public school in the state of California. On the other hand, this precondition is not mandatory.
Personal Insights Questions
The College will present you with a total of 8 questions to answer during the application process, but you are only required to respond to 4. This question is designed to assess both your desire in self-improvement as well as your intellectual curiosity.
The prerequisites that overseas students must meet to attend UCLA
If you have completed high school but have not yet enrolled in a normal session at any institution or university, you are considered a freshman applicant.
The University of California, Los Angeles does not accept students into any of its undergraduate programs who already possess Bachelor's degrees, nor do we accept students who have completed the equivalent of three years' worth of transferable university work (at least 130 quarter units). You cannot ignore your previous college experience and apply as a first-year student.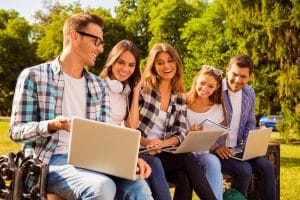 Transfer applicants are required to have completed the equivalent of 60–90 semester units of coursework or 90–130 quarter units of study in order to be considered for admission at the junior level. Students who have already completed coursework at a California community college are given priority admission to UCLA. This includes students from other countries. Historically, more than eighty percent of international students who were accepted as transfers attended a community college in California when they submitted their applications.
Your ability to communicate in English is essential to your academic success at UCLA. You are deemed proficient in English and do not need to satisfy these criteria if you completed all of your high school and secondary school education in English. If this describes your situation, read on.
If you have graduated from high school or secondary school in a country where English was not the language of instruction, you will be required to demonstrate English proficiency if you have had less than three years of instruction in English.
This applies even if you only completed part of your high school or secondary school education in that country. The Test of English as a Foreign Language (TOEFL), the International English Language Testing Service (IELTS), or the Duolingo English Test are the three exams that students are required to take in order to demonstrate that they are proficient in the English language (Fall 2023 only).
A competitive score on the TOEFL of at least 100 (with sub-scores of at least 22), a score of 7 or higher on the IELTS, or a score of 120 or higher on the Duolingo English Test are all required for admission to UCLA (DET).
What kind of student does UCLA look for?
What kind of student does UCLA look for? It is well-known that UCLA encourages academic achievement among both its teachers and students. The ideal student at UCLA is one who is committed to excelling and who holds both themselves and their classmates accountable for achieving excellence. The wide and one-of-a-kind campus that is UCLA is responsible for cultivating a diverse student body that pushes each other to perform better on a daily basis.
Students at UCLA are expected to hold themselves to a higher standard in both their academics and their civics than students at other universities. Your grades and test scores will be a significant factor in determining whether or not you are accepted to UCLA, despite the fact that the university takes a holistic approach to analyze the entirety of your college application.
In addition to reviewing your past academic performance, UCLA will look at your application and the responses you give to questions designed to elicit personal insight in order to evaluate what you will contribute to the institution. Overachievers and go-getters can be found all across campus, and they all adhere to the same set of principles, which is something that UCLA strives to instill in its students. If you want to be accepted to UCLA, you will need to demonstrate that you uphold the same principles that they do.
Integrity
The student body at UCLA is instilled with a robust sense of honesty and responsibility. Those students who already possess the disposition for integrity are supported and encouraged by their school through the instillation of the values of honesty and perseverance in the face of adversity in both the classroom and the workplace. An education at UCLA will unquestionably improve the value of consistently showing up when one is expected to and putting in the effort required to complete one's tasks.
Excellence
Every day that they spend studying at UCLA, students are given the opportunity to push themselves further than they believe is possible. The University of California, Los Angeles (UCLA) is a location where you can continue to push yourself if you already have a track record of success in both academics and extracurricular activities.
Service
If you are the type of person who is constantly considering how you may be of the greatest assistance to other people, you will feel completely at home at UCLA. Students are encouraged to think about what they can do to support others in their communities and the communities in which they live wherever on campus. Alumni of UCLA are recognized all around the country for their willingness to help others and their focus on the health and happiness of their communities.
Respect
The University of California, Los Angeles places a high focus on educating young people on the importance of cultivating profound admiration and appreciation in all of their relationships, whether it be respect for one's self or respect for one's peers. This includes their more significant interactions, such as those between themselves and their communities, and even with the planet itself.
Students at UCLA, with its extensive campus, find that they are motivated to do more than they initially thought was feasible. Those who are consistently on the lookout for ways to improve not only their own lives but also the lives of others in their communities will discover that they are in good company. Because UCLA takes a holistic approach to college admissions, the resulting student population is extremely diverse, and its members inspire and motivate each other to achieve ever-higher levels of achievement on a daily basis.
If you need help putting the finishing touches on your early applications, or want some advice on whether or not applying Early Decision or an Early Action is a good option for you, at AdmissionSight, we have over 10 years of experience guiding students through the competitive admissions process, including our athletic recruitment program.
AdmissionSight can help you put your best foot forward when applying to college this fall. Contact us today for more information on our services.