USC Regular Decision Notification Date
When Does USC's Regular Decision Come Out?
Many students aspire to attend the University of Southern California (USC). It is a private, leading research institution globally, and is considered one of the greatest universities in California. Every year, thousands of students compete for admission to this prestigious university. The admission requirements are very competitive and strict deadlines must be followed. Students frequently inquire "When does USC's regular decision come out?" The USC regular decision notification date falls on April 1st.
Now, we'll go over the application options at USC and important admission dates and deadlines.
Early Action
Applicants who choose Early Action will be notified of their admission or deferral to Regular Decision in mid-to-late January 2023.
Application deadline: November 1, 2022
Early Action (EA) is non-binding and non-restrictive, and it is not accessible for majors that need a portfolio or audition. In addition, students must apply for EA in order to be considered for USC Merit Scholarships, unless their selected major does not participate in Early Action.
Students applying to majors that require a portfolio or an audition will be considered for USC Merit Scholarships during the Regular Decision process.
Regular Decision
The USC regular decision notification date for applicants who choose Regular Decision or who are deferred from Early Action will be on April 1, 2023.
Majors Requiring a Portfolio of Audition
Application deadline: December 1, 2022
Students who are applying to majors in the following colleges have until this date to submit their applications:
Iovine and Young Academy
Kaufman School of Dance
Roski School of Art and Design
School of Architecture
School of Cinematic Arts
School of Dramatic Arts
Thornton School of Music
For further information about your chosen program, you may check Additional Major Requirements page.
Regular Decision candidates who apply to these programs before December 1 will be considered for USC Merit Scholarships.
Other Majors
Application deadline: January 15, 2023
Notification Dates
Early Action applicants apply earlier and may be notified of their admission results in January. Most students who want to be considered for merit scholarships must take Early Action. It may also be an appealing alternative for people with especially strong records who consider USC to be one of their top choices.
Regular Decision applicants follow a more typical timeline with later deadlines. The USC regular decision notification date is April 1st, which is three months later than the notification for early applicants. Both plans do not require accepted applicants to enroll at the University of Southern California.
How Does The USC Admissions Process Work?
How does the USC admissions process work? USC application includes a set of admission requirements. Each component is critical to your chance of admission to USC.
Completed Common Application
USC supplementary essays
One teacher or counselor recommendation
Applicants to the School of Cinematic Arts are required to submit two letters of recommendation.
Official high school transcript
Mid-year grades
The following materials are optional for USC admission:
SAT or ACT scores
Major-specific portfolio, resumé, and/or supplemental writing examples
Through 2023, USC admissions will be test-optional for all applicants. You should submit your test scores if they equal the average USC SAT and ACT scores. However, applicants who do not submit test scores will not be penalized by USC admissions.
Furthermore, a USC interview is not required for admission. Should applicants have any queries concerning the application process, they may contact their USC admission counselor.
The USC GPA does not require a minimum grade for admission. There is no predetermined USC GPA that guarantees entrance to the university. Applicants may work hard to match the USC average GPA to improve their chances of admission.
USC's average GPA for the Class of 2025 was 3.83. This USC GPA, together with the USC average GPA from the Class of 2024, is the highest in the university's history.
You must always aim for a high GPA, as the USC average GPA varies each year, depending on the academic profile of the incoming class. According to the current trend, the USC GPA will certainly rise with each application cycle.
USC will evaluate your chances of admission based on your junior year GPA. As a result, you must excel in your high school subjects. This begins with selecting the appropriate courses for you. You will have a higher chance of matching the USC average GPA if you use the resources available to you in high school.
USC seeks students who are enthusiastic about academics, research, and community service. So, don't worry too much if your USC GPA is lower than the USC average. Other components of your application can be improved to make it stand out.
The Admissions Process
After the USC application deadline, admission staff will start the holistic review process.  The USC application process is meant to uncover your unique story so that the admissions officers can understand how you would take advantage of the various opportunities offered at USC. The institution, like many other highly selective colleges, performs a complete, holistic examination of your application, considering your academic and personal characteristics.
USC will look at your academic performance, the rigor of your program, your writing abilities, and any test scores you choose to provide. USC also looks at personal characteristics such as community involvement, leadership, and accomplishments.
What USC Looks For
USC students pursue ambitious intellectual and professional goals by studying across disciplines and taking advantage of the variety of programs available. They are willing to step outside of their comfort zones. They are fascinated by the world, different peoples, and cultures, and they like delving into significant topics from a global viewpoint.
USC students are unafraid to speak up in class to make others think or to advocate for a cause. They get involved by joining student clubs and networking. They strive to reach their greatest potential while also serving others in the community.
USC seeks students who are eager to learn new things, eager to become lifelong learners, and eager to contribute to the learning environment and community at large. As you prepare your application, make sure to highlight these skills in your USC supplemental essays. Since USC interviews are currently not offered, take advantage of every opportunity to let your personality shine.
How Many People Get Waitlisted By USC?
Students are nervous and at the same time excited, as the USC regular decision notification date is approaching. However, not all applicants will receive an acceptance letter; some applications are denied, and others are waitlisted. Applicants are often curious about "How many people get waitlisted by USC?" Rather than placing students on waitlists, USC prefers to provide spring term enrollment to many students each year. Students who accept offers for spring enrollment are guaranteed a spot in the incoming class and will be considered for any openings in the fall term.
Each year, around 600 first-year spring admits choosing to attend USC. The leaders of the university see it as a method to bring in more outstanding students during the spring semester when there is space available on campus as a result of other students graduating early, moving into off-campus housing, or participating in a student-exchange program overseas.
While some spring admits are hurt or concerned that they are not as needed as those enrolled for the fall term, that is not the case, according to USC senior Evelina Godecki, who enrolled as a spring admits in 2016. Godecki mentioned "You have to remember that the acceptance rate is so small here, you're still such a qualified student. There's really no difference between you and a fall admit."
Spring admissions have a variety of possibilities for filling their fall semester. Your admission to USC is guaranteed for the spring semester, your options are as limitless as your creativity.
1. You Can Study.
Most spring admits will graduate alongside their classmates who started in the fall semester. Taking classes that will qualify toward USC degree requirements in the fall is one approach to achieving an on-time graduation*. USC can assist you in selecting courses to keep you on track. Choose a community college or enroll as a non-degree-seeking student at a local institution (search for visiting status, continuing education, or extension/professional studies programs). You could also take advantage of study abroad opportunities.
*Please keep in mind that some majors need a particular number of semesters at USC, thus spring admits in those majors will graduate later than their fall-admitted classmates, regardless of coursework taken in the fall.
Before you enroll:
Be familiar with USC's General Education Program, which can be found in the Spring Admit Course Planning Worksheet. This worksheet can also assist you in determining how you can satisfy some of these requirements prior to enrolling at USC.
Check the prerequisites for your desired USC degree as well. Pay particular attention to lower-division courses that you can complete in the fall. If you want to study at Dornsife College (for science majors) or Viterbi School of Engineering, contact the admissions offices. Some schools, like study abroad agreement schools, may not be a good fit for programs with lower-division scientific prerequisites.
For spring admissions, you may visit the Student Development Programs website.
You can verify if your courses have already been examined for transfer credit, request pre-approval for any courses that were not previously reviewed, or find out which standardized examinations fulfill GE Core Literacies or major-related requirements.
Consider the following alternatives for enrollment:
Community College – Most first-year spring admits attend community college in the fall, close to home. Community colleges encourage you to apply as soon as possible to enable enough time for placement exams and academic advisement. USC does not favor one institution over another, so select a school that is convenient for you.
Study Abroad – USC has agreements with the following five American institutions in Europe. Each school is accredited in the United States, and instruction for teaching is in English. Space may be limited, so apply as soon as possible. Students will stay connected as a USC-bound cohort, so when you return to the United States, you will have an existing network of fellow Trojans.
American University of Paris
Franklin University Switzerland
Richmond, The American International University in London
John Cabot University in Rome
Anglo-American University in Prague
If you have any queries concerning one of the agreement institutions, please do not hesitate to contact Student Development Programs at sdpesd@usc.edu.
Four-Year Options – Do not enroll in a four-year institution under the false idea of completing your degree there. This may take up precious space for someone else. Enroll in a non-degree or continuing education program instead.
2. Taking a Gap Semester
Taking a break between high school and college is a common decision for students all around the world. Taking a gap year or semester is growing increasingly popular in the United States. Although USC does not have formal partnerships with these organizations, here is a preview of some opportunities for travel, volunteering, and exploration in the United States and overseas.
Please keep in mind that USC does not give college credit for gap programs. Any college credit earned through these programs cannot be applied to your USC degree requirements. Students should only take these options as opportunities for cultural exploration and volunteer initiatives.
Adventures Cross-Country – Make new friends, get leadership experience, and spend a gap semester in Asia, Africa, or Latin America.
Pacific Discovery – These programs, which are available throughout Asia and Southeast Asia, Australia and New Zealand, and Central and South America, focus on leadership development, outdoor and wilderness education, volunteer and service-learning opportunities, and sustainability.
Carpe Diem Education – Carpe Diem offers three-month and year-long gap programs that highlight community, cultural immersion, service learning, and adventure.
National Outdoor Leadership School – NOLS is a leader in outdoor education, taking students on wilderness treks to teach them technical outdoor skills, leadership, and environmental ethics.
3. Work Experience and Internships
Many students also select internships and paid work to get valuable hands-on experience and professional skills. Internships for academic credit may be available at community colleges. For more information, contact the school's advising or career office. You can also look for employment openings with nearby businesses.
4. Maintain Contact
The ZeeMee Group for Spring Admits
Visit your applicant portal to find a link to the private group created especially for spring admits. It's a great chance to "meet" other students before classes even start.
Does Early Action Increase Chances At USC?
As high school seniors and other potential college students prepare for the grueling college application process, the doors at USC are opening earlier than usual. The Early Action option, often known as E.A., allows applicants to complete their work a month before the regular deadline.
Early applicants must complete USC's application procedure by Nov. 1, and they will be notified of acceptance or deferral into the Regular Decision (R.D.) pool by the end of January. They will also be considered for USC's merit scholarships.
USC's early option is less restrictive than several comparable universities' Early Decision (ED) plans. Early Action at USC is non-binding, which means that applicants who are approved are not required to attend. Applicants are also free to apply to other schools and can wait until the traditional May 1 decision day to decide.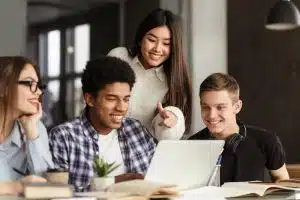 The USC Dean of Admission Timothy Brunold provides an insider's perspective on USC's new Early Action option. Since E.A. offers are non-binding, students will have extra time to consider and compare their college options before making a final enrollment decision. At USC, all E.A. applicants will be immediately considered for a wide range of merit scholarship choices.
If you wonder "Does early action increase chances at USC?" USC anticipates that 20-25 percent of the admission spots will be filled during the Early Action round. Out of around 69,000 candidates, a total of 8,198 were given admission for the 2022-23 academic year for the Class of 2026. This year's acceptance rate of 12% is nearly comparable to last year's result.
The main benefit of applying to USC early action is that you can demonstrate to the school that you are interested enough to prepare your application by November 1st and that you have a genuine interest in the institution. Institutions usually tend to admit a higher percentage of students who apply early compared to the percentage of students who receive acceptance letters during the USC regular decision notification date.
On the other hand, you should not send a half-polished application hoping for a jumpstart in admissions. Most students who apply early prepared their application materials in advance. You will be competing against students who are confident in their academics, test scores, and extracurricular activities. If you submit a mediocre application, you are unlikely to succeed.
If you believe you need more time to craft a strong USC application, you can always apply during the regular decision round. It won't harm to wait a few more months for the USC regular decision notification date. What's more important is to be well-prepared for the tough admissions process at USC.
As one of the leading college admissions experts, AdmissionSight can help you stand out among the competition. You can take advantage of AdmissionSight's programs and counseling services to boost your chances of getting in. Book an initial consultation with us today to discuss this further.