What Major is Rice Known For?
What is Rice University?
Rice University is a prestigious private research university located in Houston, Texas. Established in 1912 by William Marsh Rice, the university has become one of the top institutions in the United States, offering a diverse range of undergraduate and graduate programs that foster innovation, critical thinking, and intellectual curiosity. Therefore, more people would like to know what major is Rice known for.
With its picturesque 300-acre tree-lined campus, state-of-the-art facilities, and impressive faculty comprising renowned scholars and researchers, Rice University has cultivated a strong reputation for producing well-rounded, highly skilled graduates who contribute significantly in their respective fields.
Furthermore, the university's dedication to interdisciplinary education and collaborative research enables students to explore the intersections of different disciplines, fostering creative problem-solving and a comprehensive understanding of complex global challenges.
The combination of rigorous academics, a vibrant campus life, and a nurturing environment have solidified Rice's status as a leading institution, attracting students from around the world who are eager to embark on an enriching educational journey.
Why study at Rice University?
Studying at Rice University presents numerous benefits for students seeking a well-rounded, high-quality education in a supportive and intellectually stimulating environment. Here are several reasons why Rice University is an excellent choice for higher education: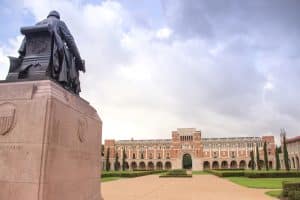 Academic excellence: Rice University is consistently ranked among the best universities in the United States, with a reputation for providing rigorous academic programs across various disciplines. The university is committed to academic excellence, which its distinguished faculty demonstrate, innovative research initiatives, and a curriculum emphasizing critical thinking and intellectual curiosity.
Small class sizes and personalized attention: With a low student-to-faculty ratio, Rice University ensures students receive personalized attention and support from their professors. Small class sizes foster meaningful interactions between students and faculty, promoting a culture of mentorship and collaboration.
Interdisciplinary approach: Rice University encourages interdisciplinary learning, enabling students to explore the connections between different fields of study and fostering creative problem-solving. This approach equips students with a holistic understanding of complex issues, preparing them for success in an increasingly interconnected world. This has led many people to look at what major is Rice known for.
Research opportunities: The university offers numerous research opportunities for undergraduate and graduate students, allowing them to work on groundbreaking projects and gain valuable hands-on experience in their fields of interest.
Collaborative atmosphere: Rice University is known for its supportive and collaborative community, where students work together to achieve their academic goals and engage in extracurricular activities that enrich their college experience.
Beautiful campus: Rice University's picturesque, tree-lined campus spans over 300 acres in the heart of Houston, offering students a serene and inspiring environment to study, live, and grow.
Location and connections: In Houston, one of the largest and most diverse cities in the United States, Rice University benefits from strong connections with local industries and institutions, providing students with internship opportunities, networking events, and potential career paths.
Financial aid: Rice University is committed to making education accessible and affordable, offering generous financial aid packages to help students from all backgrounds attend the institution.
Diversity and inclusivity: Rice University is dedicated to fostering a diverse and inclusive community, actively promoting initiatives that ensure all students feel welcome and supported.
Successful alumni: Rice University's alumni have gone on to achieve success in various fields, from technology and engineering to the arts and public service, demonstrating the value of a Rice education in preparing students for fulfilling careers and lives.
Top Majors in Rice
Engineering
The George R. Brown School of Engineering at Rice University is a cornerstone of the institution's academic offerings, featuring a comprehensive range of engineering disciplines, including Electrical, Mechanical, Civil, Chemical, and Bioengineering.
The school strongly emphasizes an interdisciplinary approach to engineering education, promotes cross-departmental collaboration, and encourages students to explore the interconnections between various engineering fields. This fosters a more holistic understanding of complex engineering problems and equips students with the skills to develop innovative solutions.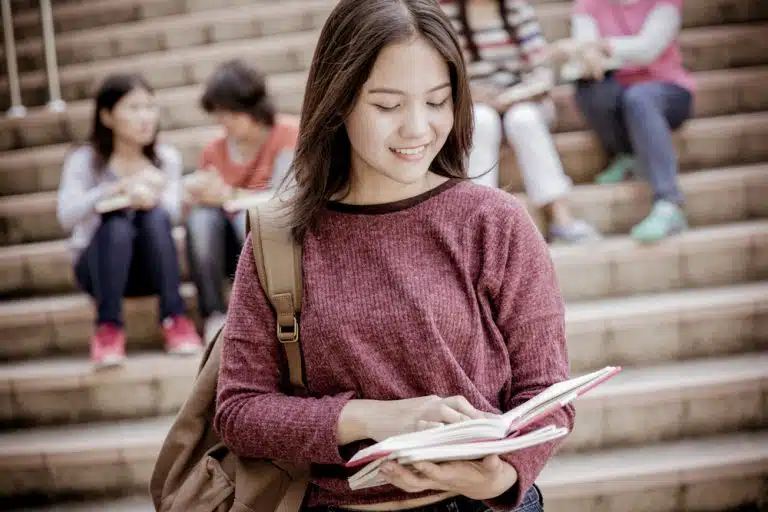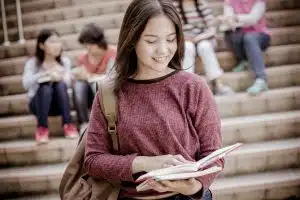 As one of the majors in discussion when talking about what major is Rice known for, one of the standout features of Rice's engineering program is the numerous research opportunities available for undergraduate students, allowing them to work closely with faculty members and gain valuable hands-on experience in cutting-edge research projects.
Moreover, the university's proximity and strong ties with institutions in the Texas Medical Center provide unique opportunities for collaboration in areas such as biomedical engineering and medical device development. This partnership enables students to work on projects that have real-world applications and the potential to improve healthcare outcomes, further solidifying Rice University's reputation for excellence in engineering education and research.
Natural Sciences
The Wiess School of Natural Sciences at Rice University is a hub for innovative research and education in various disciplines, including Physics, Chemistry, Earth and Environmental Sciences, and BioSciences.
As part of the university's commitment to advancing scientific knowledge and addressing global challenges, the Wiess School boasts cutting-edge research initiatives and state-of-the-art facilities such as the Smalley-Curl Institute, which focuses on the study of advanced materials, and the Laboratory for Nanophotonics, a center dedicated to investigating the interaction of light with nanoscale materials. These research centers provide students with unparalleled opportunities to engage in groundbreaking projects under the guidance of distinguished faculty members, many of whom have received significant recognition for their achievements, including prestigious awards and grants.
Through rigorous coursework, hands-on research experiences, and collaboration with renowned scholars, Wiess School of Natural Sciences students are empowered to explore the frontiers of scientific inquiry and contribute to the ever-evolving body of knowledge in their respective fields.
Computer Science
The Department of Computer Science at Rice University is well known for its excellence in education and research, with a strong focus on key areas such as Artificial Intelligence, Data Science, and Cybersecurity as one of the top majors at Rice. The department's commitment to fostering innovation and staying at the forefront of technological advancements is evidenced by the groundbreaking research projects undertaken by its faculty and students.
These projects often have far-reaching applications and the potential to revolutionize industries or address pressing societal issues. Rice University has established strong partnerships with leading technology companies to enhance the learning experience and prepare students for successful careers in the tech industry. It offers a variety of internships and co-op opportunities, enabling students to gain real-world experience and develop valuable professional networks.
The university's emphasis on theoretical and practical learning has contributed to the success of its alumni, many of whom have gone on to hold prominent positions in prestigious technology companies or launch successful ventures.
Rice University's Department of Computer Science continues to produce skilled graduates who are well-equipped to thrive in the rapidly evolving world of technology and make significant contributions to the field. It is no wonder why more incoming students look at this school in Rice when discussing what major is Rice known for.
Architecture
The Rice School of Architecture is an esteemed institution within the university, offering students a unique and comprehensive education that combines theoretical knowledge and practical application in architecture.
One of the school's distinguishing features is its Preceptorship program, which allows students to spend a year working in a professional architectural firm, gaining invaluable real-world experience and honing their skills before returning to complete their degree.
This hands-on approach to education is further complemented by a strong focus on architectural theory, history, and design, ensuring students acquire a well-rounded understanding of the discipline. The school's faculty, consisting of renowned architects, scholars, and distinguished guest lecturers, provide students with a wealth of expertise and insights into architecture.
In addition, Rice School of Architecture emphasizes student involvement in design competitions and exhibitions, fostering a spirit of creativity, collaboration, and healthy competition among its students. These opportunities allow them to showcase their innovative designs and ideas, paving the way for successful careers in architecture's dynamic and ever-evolving field.
Humanities
The School of Humanities at Rice University is dedicated to cultivating intellectual curiosity, creativity, and critical thinking through studying disciplines such as Art History, English, and Philosophy. By offering a rich and diverse curriculum, the school provides students with a strong foundation in the liberal arts, helping them develop the skills necessary to analyze, interpret, and engage with the complexities of human culture and thought.
Art History students delve into the visual arts from various periods and regions, exploring how art reflects and shapes societies. At the same time, English majors immerse themselves in literature and language, gaining a deep understanding of the power of words to convey meaning and evoke emotion.
Meanwhile, Philosophy students engage with the great thinkers and ideas that have shaped human history, grappling with questions of ethics, metaphysics, and logic. The School of Humanities is committed to fostering a supportive and intellectually stimulating environment where students are encouraged to pursue their passions, engage in interdisciplinary learning, and contribute to the ongoing conversation around the human experience.
What makes students consider this school when checking what major is Rice known for is that, through this holistic approach to education, Rice University produces well-rounded graduates who are equipped to excel in a wide range of fields and make a meaningful impact on the world.
Social Sciences
The School of Social Sciences at Rice University is a vibrant academic community dedicated to exploring the diverse facets of human society by studying disciplines such as Economics, Political Science, and Psychology. With a rigorous curriculum and an emphasis on interdisciplinary learning, the school provides students with the tools and knowledge necessary to understand the complex social, political, and economic forces that mold our world.
What attracts this course when talking about what major is Rice known for is that Economics students delve into the intricacies of markets, resource allocation, and public policy, analyzing the factors that drive economic growth and development. On the other hand, political science majors examine the structures and processes of governance, exploring the dynamics of power, conflict, and cooperation on local, national, and global levels.
Meanwhile, Psychology students investigate the intricacies of the human mind, studying the cognitive, emotional, and social processes that underlie human behavior. By fostering a culture of intellectual curiosity and critical inquiry, the School of Social Sciences at Rice University prepares its graduates to tackle pressing societal challenges, engage in informed decision-making, and contribute to improving their communities and the world.
Now that you have an idea about Rice, your college admissions to that university should be next on your mind. To ensure that you get into Rice, you can get help with AdmissionSight. With ten years of experience with college admission experts, AdmissionSight can help you get into Caltech. You can talk to our experts today to get an initial consultation.