Why Choose Stanford University Among Ivy League Schools?
Despite its provenance as a sports conference, the Ivy League has become synonymous with world-class education. Composed of the country's oldest and most successful universities, it's a well-founded reputation. As a result, whenever parents or students consider attending a highly reputable school, their minds instantly go to one of the eight Ivies.
However, if you've had Stanford in the back of your mind, you might be wondering how it stacks up. In other words, why go to Stanford University over Ivy League schools? Well, that's a fantastic question without any shortage of answers. But before we can answer why Stanford, we need a little background.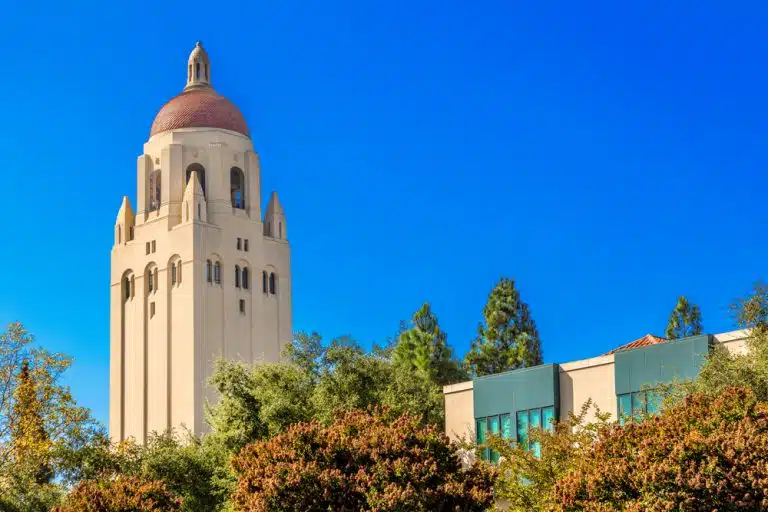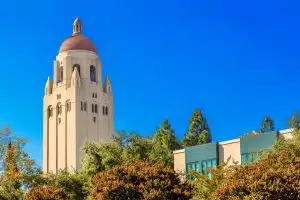 Founded in 1885, Stanford University is more than a century younger than many of the pre-revolutionary Ivy League colleges. However, it's comparable to these highly esteemed universities in nearly all other aspects.
With an acceptance rate of 5.2%, Stanford is more selective than the majority of Ivies. In fact, Harvard is the only one of the eight universities harder to get into than Stanford. This exclusivity is more than justified due to the school's education offerings, reputable faculty, and endless opportunities.
Here, we'll take a look at why would someone choose Stanford University over other top universities along with some steps you can take to increase your chances of getting accepted.
Top Reasons You Should Consider Attending Stanford University
If you've been Googling "why got to Stanford University?" or "why Stanford?", you probably came across a number of unhelpful or incomplete sources. Don't worry, though. You're finally in the right place!
AdmissionSight has been helping students master Stanford University's admissions process for over a decade. We know what the admissions officers are looking for along with key information regarding the school and key reasons to love Stanford. Here, are eight reasons why Stanford university sticks out among other options.
Top-tier faculty
One of the most overlooked characteristics of a university is its faculty. This is a critical consideration to make when choosing a college due to the major impact instructors have on the quality of education you'll receive.
Since its founding, Stanford has been recognized for its ability to maintain a top-tier faculty. In fact, the university has been recognized as one of the top 10 universities in undergraduate teaching.
What's even better is Stanford's impressive student-to-faculty ratio which is 1:1.8. This ensures that students and faculty have an opportunity to create meaningful connections and mentorships. This heightened level of attention also makes it easier for instructors to personalize their courses for each student.
Interdisciplinary focus
There's nothing worse than being stuck studying one field throughout your entire undergraduate experience. Although most colleges have strayed away from this strict style of curriculum, Stanford University places unique stress on interdisciplinary studies that sets it apart from other schools.
No matter what you're studying, you're encouraged to take advantage of the school's other programs. So, for example, if you've set your sights on the university's engineering program, you'd still be able to take some business-related classes from their business program. This gives you more freedom to explore various fields while still receiving credits that count towards your diploma.
Short mini-courses
Stanford University's push to have students experiment across disciplines is an excellent offering, but there are other universities with a similar drive. However, what separates Stanford from other interdisciplinary universities, is the availability of mini-courses.
These two-to-three weeks courses give students the ability to get the valuable experience and education that courses across multiple fields can offer without having to dedicate an entire quarter. Stanford knows just how valuable and limited an average student's time is when attending classes full-time. These mini-courses make it possible for students to explore various avenues of academic development without giving up too much time.
Access to world-class offerings
The interdisciplinary nature of Stanford extends far past taking a few courses outside of your primary area of study. The university actively encourages students to take advantage of the unique offerings from each of their schools including the Design School, Engineering School, Sciences, School of Law, Humanities, and School of Business.
Stanford University's wealth of academic opportunities are open to each of their students and aren't limited based on what you're studying. The motivation behind this move, according to Stanford, is to "open new avenues for students as they carry out their thesis research and pursue their careers."
Support for making a difference
One of Stanford's leading philosophies is that students make a positive impact in their field of choice. Of course, you aren't expected to found the next booming social media, invent a cure for a deadly disease, or become a Nobel Prize winner. However, Stanford does place stress on developing students that seek to make a difference, no matter how small.
Instead of simply paying this goal lip service, Stanford has designed its academic offerings to support students in this pursuit. During your time at the university, you'll develop a particular set of skills that are transferable to all different fields and disciplines. You'll have the experience and insight you need to pursue your passion while making a positive change in the world.
The Stanford Bubble
Stanford University's unique location away from major cities has earned it a reputation for being a bubble of sorts, giving students a safe haven away from the distractions of the outside world where they can pursue their personal, academic, and professional goals in peace.
Equidistant from San Francisco and San Jose (about a 30-minute drive from each), Stanford's campus is an oasis of sorts in both a figurative and literal desert. For many students, this setup makes it easier to integrate into the Stanford community and gives the university a homey and welcoming feeling. This is something many Ivy League schools struggle to provide due to their location in or near major cities.
Culture of entrepreneurship
It's no fluke that Stanford has produced some of the 21st century's most famous, successful, and impressive entrepreneurs. The university encourages leadership, professional development, innovation, creativity, and other characteristics that make for excellent entrepreneurs.
The student body at Stanford is dedicated to taking action towards realizing their dreams. It seems that everyone is already engaged with advancing their professional goals while still being in school. When you're surrounded by like-minded and motivated people, you're also more likely to pursue your business dreams.
Professional opportunities
The rumor you've heard about the impact a university name can have on your professional application is true. Simply having a diploma from a top-tier university is sometimes enough for employers to pull the trigger on a candidate due to the reputation of the school. Perhaps the company has many graduates from that university or the employer themselves had attended.
However, a common misconception that accompanies that fact-based rumor is that you have to graduate from an Ivy League school in order to receive that advantage. That's simply not true! Having Stanford graduate on your application will bring the same professional opportunities.
What you want to know about Stanford before attending
Everyone has questions about a university they want to attend. And it's important to have these questions answered satisfactorily and accurately so that you can make an educated decision about where to send your application. Here, we'll answer some common questions applicants to Stanford University have about the school.
What is Stanford University known for?
What is unique about Stanford? Stanford University is well-known for the sheer number of its alumni that end up making big waves in Silicon Valley. Peter Thiel (co-founder of PayPal), Elon Musk (founder of Tesla), Kevin Systrom (co-founder of Instagram), and Sundar Pichai (CEO of Google) are just a few successful examples. While Stanford has proven an ability to produce some of the brightest minds in the world of tech, the university is famous for its rigorous academics overall. In fact, it has consistently ranked among one of the most difficult colleges to get into.
The college encourages students to pursue interdisciplinary studies throughout their undergraduate education in order to create diverse abilities and various competencies. Stanford University reinforces this push by providing students with a variety of ways students in divergent fields can collaborate.
Many of the university's individual schools bring in faculty and students from other fields in order to provide input for improving their offerings altogether. No matter what field you find yourself pursuing, you'll notice how important the characteristic of leadership is to this university.
What is the Stanford University student population like?
The student population at Stanford is a kaleidoscope of diversity. This highly esteemed university attracts some of the best and brightest minds from around the world, ensuring the college maintains its tradition of having a rich student body full of various perspectives, backgrounds, interests, and goals. In fact, in the Class of 2024, each of the 50 states is represented, and over 50 countries too! Around one-fifth of admitted students are first-generation college attendees. This diversity ensures that students are challenged with new ideas and experiences in order to further develop their critical thinking, collaborative abilities, and more.
Despite the variety of students attending Stanford, the student population is joined together by a common passion for academics, self-improvement, and intellectual curiosity. This shared vision creates a sense of collaboration and community amongst students as they seek to support each other throughout their collegiate experience while exercising in some healthy competition. Students at Stanford are also known for their commitment to making a positive impact in the world.
What is the Stanford University ranking?
According to U.S. News, a highly regarded resource for collegiate ranking, Stanford University is the 6th best National University in the entire country, beating out many of the top Ivy League colleges. Here are some other rankings for which Stanford has been recognized:
#1 in Best Colleges for Veterans
#9 in Best Undergraduate Teaching
#7 in Best Value Schools
#6 in Most Innovative Schools
#2 in Best Undergraduate Engineering Programs
#7 in Undergraduate Research/Creative Projects
As you can see, Stanford University lives up to its reputation as one of the leading schools in the country. It exceeds in a wide variety of areas, especially in its quality of staff and engineering program. Applicants – and parents especially – will be happy to know that this college has been recognized for its value, meaning the investment has been shown to be worthwhile.
What are the worst things about Stanford University?
A common complaint among students is Stanford University's location. It's situated about a 30-minute drive outside of San Francisco. While this ensures the school isn't overrun with the hustle and bustle of busy city life, this distance also keeps students from easily experiencing the excitement and accessibility that comes with major cities.
The nearby city of Palo Alto isn't much a college town as it's primarily composed of nice suburbs. Stanford's location leads to a campus-centric bubble where students have a tendency not to leave campus during attendance. In fact, the vast majority of students live on campus.
Another possible downside to Stanford, depending on your preferences, is the ratio of undergraduates to graduates. Less than half of the university's schools offer undergraduate programs. Unlike many schools where the graduate students are significantly outnumbered by undergraduates, Stanford flips this norm on its head.
This means that incoming freshmen will have fewer people their age on campus. As with nearly all characteristics of a university, some students might actually find these potential downsides as positives. It all depends on what you're looking for from your college.
Is Stanford University fun?
Stanford might be known for its challenging programs, academic rigor, and world-class educational offerings. This leads many applicants to wonder what is Stanford University like? Is it fun? Yes!
Despite their reputation for being perpetually engaged in academics,  Stanford students know how to let loose and have fun. Due to the campus's location away from a major city, there are a wide variety of activities on-campus, making it easy for students to take a break from the classroom.
Whether you're interested in joining intramural sports or participating in unique extracurricular activities, you'll be able to find something to take your mind off academics. Stanford University also hosts a wide variety of concerts, plays, and other forms of entertainment. Whenever you feel a need to pop the Stanford bubble, you can easily hop on public transportation for a weekend away in San Francisco or San Jose.
Is Stanford University a good school?
As mentioned before, Stanford University is ranked 6th among all other universities in the country. Needless to say, it's recognized as not just a good school but an exceptional one. Ever since its founding in 1885, Stanford has offered unrivaled educational opportunities, top-tier faculty, and endless resources for students. The university has continued reinvesting in its offerings and students to ensure the highest level of quality.
In fact, Stanford has the 6th highest endowment per student. In other words, they invest more money per student for both academic and non-academic resources than the vast majority of other colleges. Each year, tens of thousands of top students from high schools around the country send in an application in an attempt to join the university's incoming freshman class.
How hard is Stanford University?
As we mentioned earlier, Stanford University has an acceptance rate of 5.2%, making it more challenging to get into than the vast majority of Ivy League schools.
Looking to increase your chances of getting into Stanford?
If you've decided to apply to Stanford University, congratulations! You're embarking on an adventure that only a select few qualified and brave students decide to undertake. It's easy to feel lost and confused at the beginning of the admissions process without knowing what information is accurate and where to begin.
That's where Admission Sight can help. With over a decade of experience helping students just like you get into top-tier schools like Stanford, we've mastered the college admissions process. We know exactly what admissions staff are looking for and how you can greatly increase your chances of getting accepted.
Whether you need a hand perfecting your college essays, finding the best summer program, preparing for an interview, or choosing your extracurricular activities, we've got you covered.
Our services are specifically designed to help students improve their applications in order to catch the attention of admissions officers at Stanford. We take the uncertainty and guesswork out of the application process so you can focus all of your effort on perfecting your application.
If you're interested in learning more about what we offer and how the process works, feel free to contact us.