Yale Motto
The inclusion of Hebrew characters in Yale's seal gives the impression that the single open book on the seal represents a Hebrew bible, despite the fact that Yale was initially founded as a seminary for the education of Christian clergy. The Yale motto, "Urim V'Thummim" is Hebrew for "Lux et Veritas," which is Latin for "Light and Truth."
In these two ancient languages, the Yale motto is inscribed in the university's seal, and it is the most succinct and fundamental expression of the university's mission: to enlighten the minds of its young students and impart to them the truth through knowledge.
In spite of the fact that Yale University has kept its reputation as one of the most prestigious research-based institutions in the United States, and in spite of the fact that it is also the third-oldest institution of higher learning in the country, Yale ensures that this is reflected in its leadership, as well as the quality of education it provides, by demonstrating that its motto is lived out in the institution.
We'll look deeper into the ways in which the ideas expressed in the Yale motto have impacted the university as a whole as well as the students who call it home.
What is the Yale University Motto?
What is the Yale University motto? In the center of the Yale University coat of arms is an open book, and the Hebrew words "Urim and Thummim" are written in Hebrew script. The background of the coat of arms is in the color Yale Blue. The official Yale motto, "Lux et Veritas," can be found written on a ribbon hanging below the shield (Light and Truth).
The Great Awakening and the Enlightenment were two major intellectual revolutions that occurred during Yale's founding period, and both of these movements helped to form the foundation of Yale's history. Therefore, Yale College and University concentrated on academic fields of study in the religious and scientific fields. In the theology programs of New England divinity schools, Hebrew was regarded as a classic language on par with Latin and Greek.
Ezra Stiles, an early president of Yale, was so dedicated to the study of Hebrew at the College that he was responsible for adding the words "Urim" and "Thummim" to the Yale seal. Special gemstones are known as Urim ("lights") and Thummim ("perfections") were worn by the high priest of Israel in the "ephod" of his priestly vestments. Their names come from the Hebrew words for "lights" and "perfections." Although the Urim and Thummim were imbued with a certain level of mysticism and spirituality, it is unknown how or when these stones were truly employed in the religious practices of ancient Jews.
The original Hebrew Yale motto was translated to mean "Christ the Word and Interpreter of the Father, our light and perfection" at some point in the university's long and illustrious history. Another interpretation of the term "Old Light" emerged at a later point in time. Because mathematics and metaphysics have to coexist with theology and ethics, the leadership at Yale began translating "Urim V'Thummim" into "Lux et Veritas."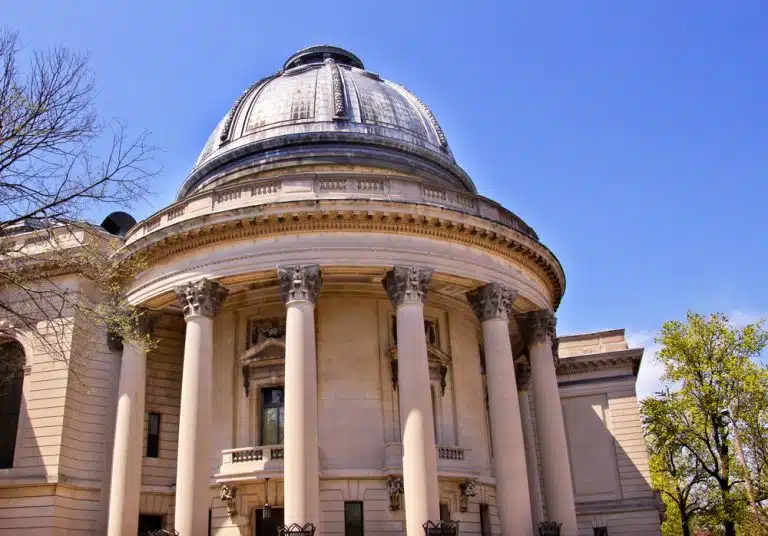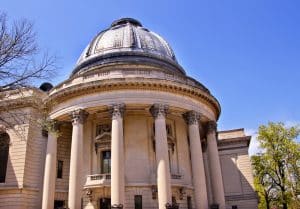 A pledge was made that Yale College and University will provide "the essentials of healthy learning," which were described as "the light of liberal education and the truth of an old New England religious heritage." As a result, the present Yale motto is "Light and Truth."
What is Yale University's Mission Statement?
Knowing everything about the Yale motto, it is natural to wonder what is Yale University's mission statement. The excellent research and scholarship, education, preservation, and practice that come out of Yale are all part of the university's mission to better the world, both now and for future generations.
Yale provides education to ambitious leaders all across the world who serve in all facets of society. The free flow of ideas within an ethical, interdependent, and culturally varied community that is comprised of Yale's faculty, staff, students, and alumni is how the university fulfills its goal.
Every member of the Yale community has an obligation to fulfill the mission of the institution, which is to investigate the world in all of its immense complexity and produce knowledge that is beneficial to people. The stakes for our effort could not possibly be any higher: the nation and the world require the absolute best that Yale has to offer right this very second.
Yale must continue to take the lead in the next years, just as it has in years past and continues to do today. Because of this, Yale is focusing its strategic investments on domains in which it can make the most significant contribution. By making these investments, Yale will be able to fulfill its goal while also becoming a stronger institution.
It is the obligation of Yale to spread light and truth, to raise knowledge and comprehension of important local and worldwide concerns, and to fulfill this commitment, Yale must share. The university is instructing future leaders to be fact- and evidence-based in their decision-making.
In order to solve some of the most pressing problems facing the world today, such as health care, migration, and international security, Yale University is placing an emphasis on research in the social sciences that is driven by data. Students and faculty at Yale will set the agenda in a variety of areas, including global health, political instability, and cyberwarfare, by bringing together leaders from around the world and working together across disciplines.
In addition to this, Yale is stressing the significance of data-driven research in the social sciences that is directed toward domestic public policy. This enables Yale to contribute to the improvement of American society by offering facts rather than partisanship or anecdotes.
Yale is devoted to tackling issues that have persisted for a long time and inequities that exist in society. Additionally, Yale is dedicated to advancing the institution in ways that are necessary for it to be excellent. The vision and objectives of Yale are grounded in the institution's commitment to the complete inclusion of all members of the Yale community, including its academics, students, and staff.
Through the use of the Yale motto, the Yale community will work across many fronts to achieve a university environment where everyone belongs and can thrive. This will allow Yale's faculty, students, and staff to continue to teach, engage in research, and engage in the scholarship of the highest possible caliber.
What is Yale Most Known for?
So, what is Yale most known for? Yale University is one of the most prestigious educational institutions in the United States, and it is consistently listed among the top universities and colleges in the country. The acceptance percentage that Yale had for the class of 2022-2023 was 4.46 percent, which was the school's all-time low.
A solid reputation, superb undergraduate teaching, and outstanding music and drama programs have helped propel Yale to the forefront of higher education worldwide. There are 6,494 students enrolled in Yale's undergraduate program, and 8,031 students enrolled in the graduate and professional programs.
International students make up 22% of Yale's student body and come from 115 different countries. Although they come from various cultural, religious, academic, and economic backgrounds, the students in this school all have one thing in common: a passion for education.
The Yale student body is said to be "dedicated to learning and to one other," according to student testimonials. They are eager, driven, and devoted, which contributes to the upbeat environment that they create on campus. In addition to their academic studies, the vast majority of students participate in a wide variety of extracurricular activities that contribute to "the tightly connected sense of the campus."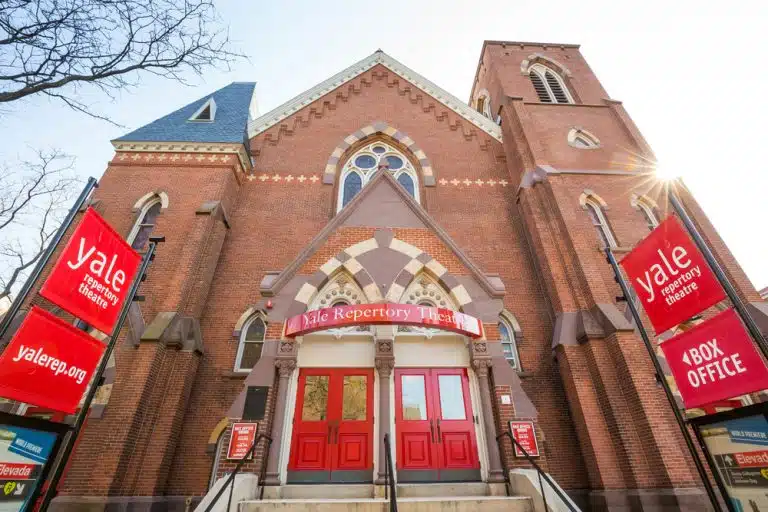 A significant number of students are politically engaged, or at the least, politically informed. Furthermore, the majority of students volunteer their time or become involved with groups that work toward the common goal of bettering the world. Despite the fact that Yale is often considered to have a liberal orientation, there are a number of student organizations on campus that cater to students who hold a variety of political perspectives.
Yale cultivates a culture of inquiry, encouraging students to investigate a wide range of academic interests and find new areas of interest in their studies. Undergraduates spend their whole time at Yale receiving education in the humanities, social sciences, and natural sciences at Yale College.
The Social Sciences, History, Biological and Biomedical Sciences, Engineering, Mathematics, and Statistics are Yale's most popular areas of study for undergraduate students. As was mentioned earlier, Yale is also well-known for its exceptional music and drama programs. These programs go beyond the confines of the classroom and include extracurricular activities and organizations such as the Yale Dramatic Association and the Yale Whiffenpoofs, a well-known a capella group. The university does not provide any opportunities to earn minors.
In contrast to other famous colleges, Yale places a strong emphasis on the education of its undergraduate students. Each year, each and every professor is obligated to instruct at least one undergraduate class. This includes academics who have known authorities in their fields, such as Louise Glück, who was awarded the Nobel Prize. The ratio of students to teachers at Yale is 6 to 1, and the majority of the university's classes have fewer than 20 students enrolled.
What Kind of Student is Yale looking for?
Every year, hundreds of high school students applying for college around the country ponder the question, " what kind of student is Yale looking for?" First and foremost, Yale is an educational establishment. This indicates that the academic strength of each candidate is the primary factor that is taken into consideration. Your high school transcript is the single most crucial document in your application since it conveys a great lot of information to Yale about your academic drive and achievement over the course of your high school career.
Although your grade point average and test scores by themselves cannot ensure that you will be admitted to Yale, it is good to have results that are at or above the norm when applying. However, if your results are only slightly below the average, don't let that stop you from moving forward! Your admissions chances can be significantly improved by the strength of your essays and letters of reference, so make sure you give careful consideration to both.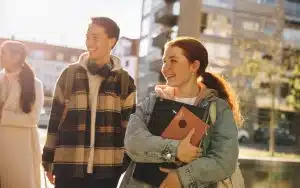 Beyond the realm of academics, Yale is a school that adheres to a set of basic values, that it expects all of its students to uphold in their day-to-day lives. If these ideals are similar to yours, then Yale might be the ideal college for you because it will challenge you to reach your full potential.
Yale's dedication to enhancing and developing the communities in which it operates is so strong that it serves as a basis for everything else that is taught at the university. Students that are able to solve problems on their own through active participation in their communities will discover that they are in good company on their university's campus.
For Yale students to be successful, they need to demonstrate a significant commitment to their studies. The typical Yale student recognizes the importance of academic achievement above all other pursuits since the university provides them with a wealth of scholastic resources and advisors.
Students, in close collaboration with both their classmates and the illustrious faculty members who teach them, try to push the borders of their intellectual limits in a way that will be applicable to their future careers and lives.
Embodying the Yale motto, students at Yale are known for having the drive and determination necessary to achieve success in some of the most demanding jobs in the country. Students who come to Yale with the ambition to excel in all they attempt will discover a large number of classmates who share their goals and values. Students are fortunate in that they have access to a facility specifically devoted to supporting their endeavors as well as the tools necessary to accomplish what they set out to do.
The majority of Yale's student body consists of individuals who have a robust sense of responsibility, both in their own lives and within the context of their communities. Students are urged to get involved in the planning of their own futures as well as the futures of their communities, nations, and the entire world. This is accomplished not only via the imparting of knowledge to students but also by the provision of opportunities for them to take on roles of responsibility within endeavors designed to foster ethics, accountability, and sustainability.
In general, the ideal student who gets accepted into Yale as a first-year student has demonstrated a solid academic record through their grade point average (GPA), test scores, and transcripts. In addition to this, they are dedicated to supporting the communities in which they live and to gaining knowledge via direct experience. To be successful at Yale, you will need to have a clear idea of what a better world might look like and how you might contribute to making that world a reality.
Yale seeks to enroll individuals who have demonstrated academic success across a wide range of rigorous coursework completed throughout their time in high school. Your teachers from high school should be able to supply you with information that is very helpful for their evaluations.
Not only do they talk about how well you did in their class or classes, but they also frequently write about things like your intellectual curiosity, energy, interactions with students, and impact on the atmosphere of the classroom. It goes without saying that you should solicit recommendations from instructors who are familiar with your work.
Want to learn more about the ideals of the Yale motto? You've come to the right place. At AdmissionSight, we have over 10 years of experience guiding students through the competitive admissions process.
AdmissionSight can help you put your best foot forward when applying to college. Contact us today for more information on our services.