Yale Traditions
What are the Yale traditions?
What are the Yale traditions? The university's history may be traced back to the 1640s when colonial priests spearheaded an initiative to build a local college in the vein of the liberal arts of Europe. A charter "to erect a collegiate school" was approved by the Connecticut assembly in 1701.
In 1718, in honor of Welsh trader Elihu Yale, who had contributed the proceeds from the sale of nine bales of merchandise along with 417 books and a portrait of King George I, the school was called Yale College.
Below are more university traditions.
Commencement at Yale
Yale's most joyful tradition is the Commencement ceremony on Old Campus, where all university degrees are solemnly awarded. All university and honorary degrees will be properly awarded at the ceremony. In each residential college and school, diploma ceremonies are held following the graduation ceremony.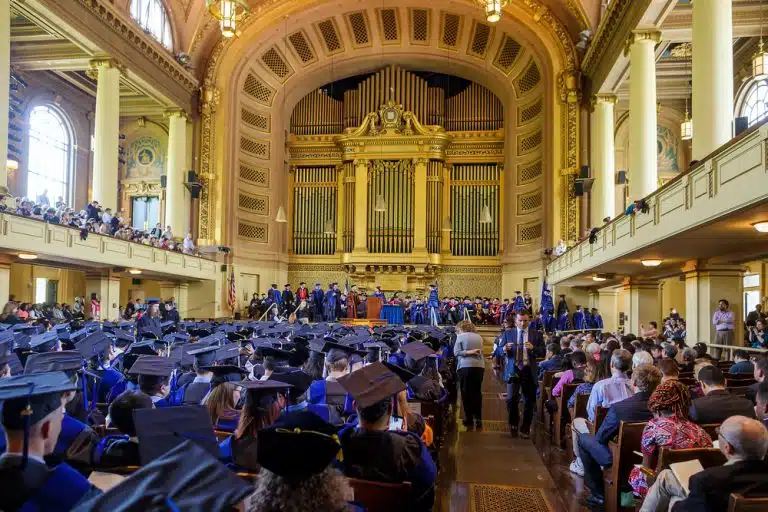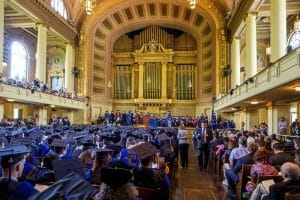 Yale College, the Graduate School of Arts and Sciences, and each professional school have celebrations planned for Commencement Weekend in addition to the university ceremony. Typically, these activities occur on Saturday and Sunday. On campus, there are also other free performances and activities all weekend long.
Yale College Baccalaureate
Since Yale's founding, every year on a Sunday before Commencement, Yale College seniors and faculty have convened for the Baccalaureate ceremony, which has a Baccalaureate sermon at its core. The sermon of the past has been replaced by readings from religious texts and a speech by Yale's president.
Yale College President's Reception
The senior class and their visitors will be greeted by the current University President and Dean.
Yale College Class Day
The Old Campus is the site of Class Day, a Yale College celebration that dates back to the 19th century. The event involves the presentation of academic, athletic, and other awards; a lecture by a well-known speaker selected with input from undergraduates; and speeches and a movie that looks back on the graduating class's four years at Yale.
Seniors march from Cross Campus to Old Campus while wearing their preferred academic gowns and hats. The audience on Old Campus is open to the entire Yale community per long-standing custom. Class Day is a lively, unstructured event that lasts around two hours and is held outside, rain or shine.
University Assembly on Cross Campus and Procession to Old Campus
The graduation parade is a cause for celebration. Degree candidates march to the assembly on Cross Campus from their residential colleges and schools. The Yale Band leads the procession out of Noah Porter Gate to Old Campus once all graduates have gathered.
University Commencement
During the Commencement ceremony on Old Campus, all university degrees are formally awarded. The president receives official presentations of their chosen candidates from the deans of the graduate and professional schools as well as the dean of Yale College during the ceremony. The president then grants the degrees and appoints the new graduates to the "rights and obligations" associated with each degree. The ritual takes about an hour and fifteen minutes.
Diploma Ceremonies
Following Monday's university commencement, diploma ceremonies are often held for Yale College, the Graduate School of Arts and Sciences, and the professional schools. These shorter, more personal ceremonies take around two hours, and each residential college offers a post-ceremony luncheon as an alternative.
Handsome Dan at Yale
The most popular when we say Yale traditions is Handsome Dan. When student Andrew B. Graves bought the dog from a New Haven blacksmith for $5 after seeing him sitting in front of a store in 1889, Dan became the Yale mascot.
Yale Bulldog "Handsome Dan" History, 1889–Present
A young man from Victorian England who attended Yale in the 1890s started the ritual. The line currently has 19 members, and the original successors have been deans, directors, and coaches. A head cheerleader who later rose to the position of Secretary of State cared for one of them. One more appeared on the front cover of a national publication. Handsome Dan is still the most well-known mascot at Yale, which was the first university in the country to have one.
What is Class Day at Yale?
What is Class Day at Yale? Class Day is a celebration of undergraduates that takes place on Old Campus the Sunday before Commencement and features a presentation from a well-known speaker, as well as the awarding of academic, artistic, and athletic honors. Hats, too!
The tradition of Yale College Class Day dates back to the 19th century, when the graduating class, which consisted of fewer than 100 students, gathered on Old Campus in a circle to share their fondest recollections of Yale. The ceremony now features speeches and comments from the class; the giving of outstanding academic, artistic, and athletic awards; and the celebration of time-honored customs like the Class Ivy, the clay churchwarden pipe, and the singing of "Bright College Years."
On Class Day, which is the Sunday before Commencement, a noteworthy speaker is chosen with input from the undergraduates. Senator Cory Booker, television journalists Fareed Zakaria, Barbara Walters, and Anderson Cooper; Permanent U.S. Representative to the United Nations Samantha Power; authors Christopher Buckley, Thomas Wolfe, and Chimamanda Adichie; Secretaries of State John Kerry and Hillary Rodham Clinton; actors Jodie Foster and Tom Hanks; Chicago Cubs President of Baseball Operations Theo Epstein; and U.S. President Joseph Biden have all spoken at Class Day events.
Residential Colleges at Yale
As part of the Yale traditions, the core of Yale College's aim is to unite and educate extremely talented students from all backgrounds, and its residential college system, which has been in place for more than 80 years, forms its foundation. Each of the fourteen residential colleges' communities serves as a microcosm of Yale, providing students with a sense of close social and intellectual ties as well as a setting for civic and moral duty.
The university's educational goal is fundamentally influenced by the basic nature of daily life in the undergraduate community. A powerful ability to awaken, enliven, and stretch the intellect is the free-flowing conversation between contemporary individuals who are comparable in aptitude and enthusiasm but distinct in background and attitude.
The colleges are also vibrant settings where students can advance their intellectual, artistic, social, and personal leadership skills. From the college student councils to unique academic and cultural events like Senior Mellon Forum talks, College Teas, Creative and Performing Arts events, intramural athletic competitions, and more, they offer a wide range of activities and opportunities.
The colleges are led by the heads of the college, who are normally senior faculty members chosen from throughout the university. They supervise the college's social and academic activities.
The residential college deans are in charge of monitoring students' academic development as chief academic officers. Deans and heads both reside on campus and provide guidance to students.
They collaborate with the associate heads, college employees, fellows, graduate affiliates, and alumni to create welcoming communities in the residential colleges where students can discover and take advantage of all that Yale University and the city of New Haven have to offer.
College Affiliation
Yale's fourteen residential colleges are assigned to an entering freshman. For the entire four years, students are still connected to their residential college (and beyond). Every residential college at Yale makes an effort to reflect the variety of the student body as a whole. Each college serves as a miniature representation of the overall student body in this regard.
On Old Campus, the majority of first-year students live in dorms assigned to particular colleges. Starting in their sophomore year, students reside on campus. (Silliman, Timothy Dwight, Benjamin Franklin, and Pauli Murray Colleges are the exceptions; there, students reside on campus starting in their first year.)
Graduate School Register at Yale
Each year, new Graduate School of Arts and Sciences students sign the register to mark the beginning of their graduate studies at Yale.
The Graduate School of Arts and Sciences prepares graduate students for life's most difficult challenges by setting the standard for knowledge progress, application, and preservation. By supporting and building on the strengths of a cooperative, varied, and inclusive community of scholars and researchers, Yale carries out this objective.
White Coat Ceremony at Yale
Of course, AdmissionSight wouldn't miss this on the list of Yale traditions. During the yearly White Coat Ceremony, the Yale School of Medicine welcomes first-year students to a career in medicine.
The first-year students were presented with their first white coats at the event, which they will use for the remainder of their PA education in numerous clinical settings. This event marked the start of each student's path to clinical practice; PAs and other healthcare professionals have continued this tradition.
Athletic Yale Traditions
Since the middle of the 19th century, Yale football games have been a tradition for Yalies; in 2015, Yale commemorated 150 years of Yale baseball; and Yale athletes have triumphed in international contests like the Olympics all around the world.
Military Traditions at Yale
The University of Yale has a long history of involvement with the military, dating back to 1779 when then-president Naphtali Daggett organized more than half of the student population to fight against British troops when they besieged New Haven.
A contract to establish an Air Force ROTC detachment at Yale was signed on September 12 by University President Richard C. Levin and U.S. Secretary of the Air Force Michael B. Donley. In the fall of 2012, cadet classes started on campus in New Haven.
The Yale detachment enlisted students from other institutions in the state that participate in cross-town agreements to take the ROTC program at Yale in addition to Yale College students.
The reintroduction of Naval ROTC, which was announced by Levin and U.S. Secretary of the Navy Ray Mabus in May, is joined by the Yale Air Force Detachment as one of two new ROTC units to begin operations on campus in 2012. As one of the first Air Force ROTC programs to be founded following World War II, starting at Yale in 1947, the new detachment symbolizes a return home.
How difficult is admission to Yale?
How difficult is admission to Yale? Yale admission is incredibly competitive and only getting harder—the acceptance percentage for the class of 2025 was a meager 4.62%. Despite receiving a record-breaking 46,905 applications, Yale only admitted 2,169 students to its class of 2025, a 33% increase over the 35,220 candidates during the 2019–2020 admissions session.
Yale's single-choice early action program (SCEA) accepted 837 students out of a record-breaking 7,939 applicants, a 10.54% acceptance rate, much higher than the 3.42% acceptance rate for candidates for regular decision.
Early acceptance rate at Yale
After we discuss Yale traditions above, we will check its acceptance rate now. Yale accepted 800 of the 7,288 early applications it received for a place in the Class of 2025, which is an acceptable percentage of 11%. Compared to two years earlier, when 5,777 aspirants applied to Yale, the early application pool was much higher. 31% of early applicants in the 2021–2022 admissions cycle were deferred for review in the regular round, and 57% were flatly denied.
What is the Class of 2026 acceptance rate at Yale?
What is the Class of 2026 acceptance rate at Yale? When it comes to the acceptance rate at Yale, the most applications ever received by the institution were filed for a spot in the 2022–2023 freshmen class, totaling 50,015. A record-low acceptance rate of just 4.46% was achieved. This is slightly less than the Class of 2025's admission rate of 4.62%, though. For the Class of 2003, Yale's admission rate was last in the double digits. The acceptance rate was actually 20% in 1995, reaching a high of 26% for the graduating class a few months before the bicentennial of the United States.
Class Rank, SAT, and ACT Scores at Yale
The mid-50% SAT range for enrolled freshmen was 1480-1560, according to the most current official statistics (Class of 2025); the ACT range was 33-35. Surprisingly, 90% of 2021–2021 freshmen who took the SAT scored higher than 700 on the literature portion, and 91% of them did so in the math section. Compared to the previous year, when 94% of the graduating high school class achieved a spot in the top 10%, 95% did so this year.
Yale will superscore the SAT, but they have a significantly different stance on the ACT. Your highest ACT composite will be prioritized (no superscoring), but they will also take into account each individual subscore. Therefore, you may be sure that they will superscore for the SAT, but for the ACT, your best composite score will be the most important factor.
NOTE: Yale has extended its test-optional admissions policy through 2022–2023. Standardized test results won't be required of applicants for Yale's class of 2027. This is the third year that Yale would run a test-optional admissions cycle because of the COVID-19 pandemic
What is the yield rate at Yale?
What is the yield rate at Yale? The yield rate, or the proportion of accepted students who choose to enroll, as a percentage of all admitted students, was 83% for the Class of 2025. This yield rate continues to be among the highest in the nation. Comparatively speaking, top universities like Emory, Johns Hopkins, Carnegie Mellon, and Georgetown all have yield rates that are close to (or below) 50%.
What are the application processes at Yale?
What are the application processes at Yale? The application processes at Yale are Single-Choice Early Action and Regular Decision. Applications with a single choice for Early Action are assessed similarly to those with a regular decision preference. The primary distinction is that you would submit your application earlier and hence hear from admissions earlier.
Although Yale's early-action plan isn't legally obligatory, it does state that you cannot apply for early action or early decision to another institution in the US at the same time. Only if Yale is your top college choice should you give this idea any thought.
Additionally, keep in mind that senior grades aren't frequently available this early, so take into account how excellent your academic record is right now while you're applying. The table below displays the Yale deadlines.
| | | |
| --- | --- | --- |
| Application Timeline | Deadline | Notification Date |
| Early Action | November 1 | December 15 |
| December 15 | January 2 | April 1 |
 Application Requirements at Yale
The Common Application, Coalition Application, and Questbridge Application are all accepted by Yale. Other prerequisites consist of:
Counselor letter of recommendation
Teacher letters of recommendation (2)
School report with transcript
Mid-year report
Yale writing supplement
Additional possible materials consist of:
Results of SAT/ACT exams
Supplemental art
Yale traditions can surely give a lot of unforgettable memories to students. Your college life at this prestigious institution won't be complete without those traditions. If Yale is your college of choice, we at AdmissionSight are here to provide our quality consulting service and help you achieve your goals. Contact us to learn more about our service from our trusted team.