Best Law Schools in Massachusetts
Why study law in Massachusetts
Why should one consider studying law in Massachusetts? Studying law can provide a solid understanding of the legal system and its role in society. It can also develop skills such as critical thinking, research, and communication, which are valuable in various careers, not just law. A growing number of people are considering studying at the best law schools in Massachusetts due to this fact.
Moreover, a law degree can lead to many challenging and rewarding careers in criminal justice, corporate law, intellectual property law, human rights law, and many others. Studying law can also give individuals a deeper appreciation for the legal rights and protections afforded to individuals and the responsibilities and duties of citizens and organizations.
Massachusetts is known for having a strong legal system and is home to many top-ranked law schools, including Harvard Law School and Boston College Law School. Studying law in Massachusetts provides opportunities to learn from experienced lawyers and scholars, access cutting-edge legal resources, and gain practical experience through internships and clinics. In addition, the state has a diverse legal market and a thriving economy, offering numerous job opportunities for law graduates.
What are jobs with a law degree?
Private investigator
One career available with a law degree is becoming a private investigator. A private investigator works for a client to gather the information that is difficult for the client to obtain using more conventional methods. They might also collect witness statements and conduct surveillance in addition to performing background checks.
In addition, private investigators are responsible for compiling evidence and writing reports for their customers. To comply with government requirements, these experts must first obtain a license and then continue to update their knowledge of privacy laws.
Journalist
The primary responsibility of a journalist is to keep readers up to date on current events through the application of research and writing abilities. Journalists can obtain information by attending local events, conducting interviews with witnesses, and studying public records. In addition, they are in charge of authoring articles and developing content for reporters covering the news.
If journalists also possess a law degree, they are more equipped to use their legal knowledge when reporting on political happenings and crimes.
Law professor
Students receive instruction from a law professor on many aspects of the law, preparing them for possible future employment as attorneys. They break down difficult legal concepts and demonstrate how to apply them in various scenarios. Students are also instructed on the proper interpretation of legal documents and the application of ethical principles when representing clients. Additional roles include the development of courses, the provision of advice concerning professional careers, and the execution of research.
Management consultant
A management consultant advises businesses on how they may boost their productivity and revenue. Management consultants will examine the organization's current procedures and compile sales information to formulate their recommendations.
In addition to this, they participate in meetings with stakeholders and develop objectives based on the company's overall goals. The success of their recommendations can be measured by these professionals, allowing them to identify which additional procedures should be implemented.
Judge
Students of the best law schools in Massachusetts can consider becoming a judge. A judge is responsible for maintaining order in the courtroom and acting as an impartial arbitrator. They are responsible for maintaining order throughout the proceeding, ensuring that all evidence given follows the law, and deciding on appropriate punishments.
During jury trials, the judges instruct the jurors on the law and how it should be applied to the case's specific circumstances. When deciding whether or not to convict the prisoner, bench trial judges consider both the prosecution's and the defendant's claims.
Policy analyst
By conducting research, formulating new policies, and analyzing existing ones, a policy analyst helps solve societal and political problems. These professionals research local communities to discover which issues, such as poverty, overpopulation, and a lack of access to health care, are the most widespread. Policy analysts use their results and lobby lawmakers to either create new policies or make changes to existing ones. These analysts can make appropriate adjustments to their plan if they first measure the efficacy of their advice.
Contract manager
Contract managers are responsible for developing and overseeing the organization's formal agreements. Contracts between the organization and its clients or vendors can be drafted with their assistance. Contract managers are responsible for ensuring that all parties understand the requirements of the contracts and negotiating any requests for revisions. These professionals are also accountable for mediating disagreements resulting from a possible breach of the stipulations outlined in the contract.
Real estate agent
When clients are interested in buying, selling, or renting property, a real estate agent is there to assist them. They assist clients with the creation of listings for residential and commercial properties, schedule property viewings, and negotiate bids to purchase.
Experience in the legal system is particularly useful in this field because it enables one to draft official documents such as lease agreements and deeds. Real estate brokers can ensure that their customers acquire ownership of a property or collect rent payments from renters by filing these legal documents with the appropriate local organizations.
Diplomatic agent
A diplomatic agent is a representative of a single nation who strives to foster friendly relations between that nation and other nations. Maintaining connections with existing allies is a significant portion of the work, but diplomatic agents are also responsible for mediating conflicts.
These professionals fulfill their responsibilities by visiting various nations and interacting with the heads of state in those places. Diplomatic agents sometimes specialize in foreign policy and make it a point to learn additional languages to communicate effectively with people from various cultural backgrounds.
General Counsel
A corporation, bank, university, or government institution may have a general counsel who serves as the primary attorney for the organization. They keep an eye on how the organization does business to ensure that it abides by the rules and regulations at the time.
In addition to this, they participate in board meetings and provide senior leadership with counsel regarding policy adjustments, mergers, and acquisitions. Creating contractors by some general counsels enables businesses to safeguard their interests while collaborating with third parties.
Top Law Schools in Massachusetts
Harvard Law School
Degrees offered: J.D., L.L.M., S.J.D.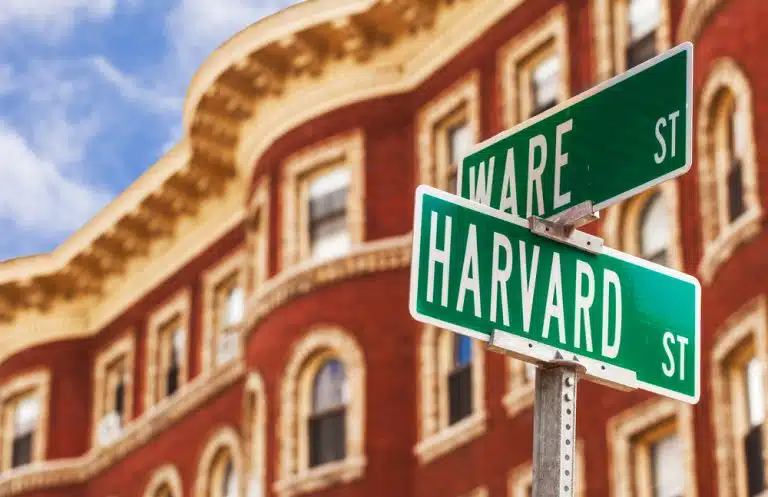 One of the best law schools in Massachusetts is Harvard Law School, which can be found in Cambridge. The pupils' expressions of astonishment and pride are guaranteed to be prompted by the simple mention of the school's name. The institution, founded in 1817, is renowned for its teaching quality and the welcoming environment it provides for diverse individuals from all over the world.
Students have access to unparalleled levels of assistance and mentorship because of the university's approximately 100 full-time professors engaged in teaching and research. In addition, it has an extensive alumni network, making it possible for graduates to network with one another and cultivate relationships that are advantageous to their professions and professional objectives.
As one of the top law schools in Massachusetts over 400 different classes and seminars are available to students at Harvard Law School. Students are encouraged to study basic courses, despite the extensive number of options available, because doing so will assist them in achieving a more comprehensive understanding of legal principles and encourage them to be curious about various alternative views and approaches to law.
In addition, students have the opportunity to participate in clinical and pro bono programs, which give them experience in the real world by allowing them to represent clients from low-income households who need legal assistance.
Boston University School of Law
Degrees offered: J.D., L.L.M.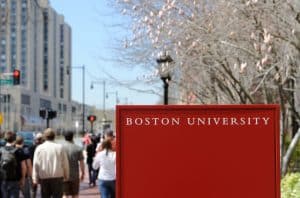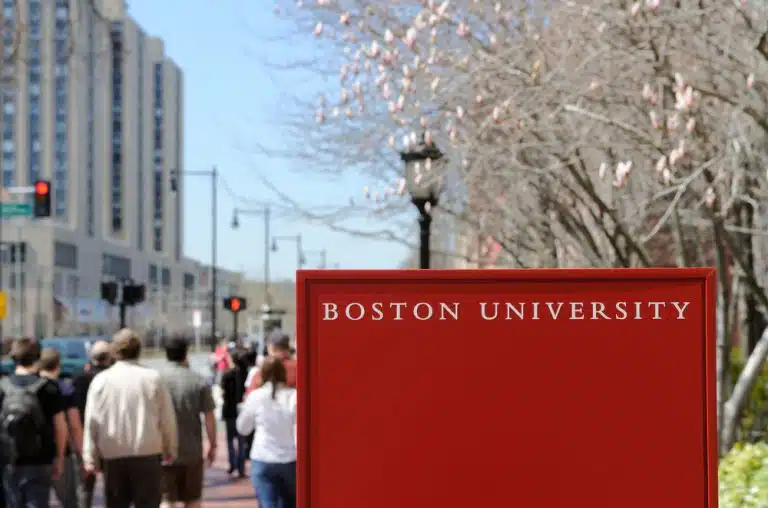 Another member of the best law schools in Massachusetts and the United States is the Boston University School of Law. Its faculty members are recognized on a national level, and they prioritize guaranteeing that students receive the education and experience necessary to succeed in their future legal careers. Since its founding in 1872, the school has graduated about 24,000 successful professionals working in more than 100 countries.
Future graduates of the Boston University School of Law have access to additional assistance and information that can assist them in making key decisions regarding their professional careers, thanks to the school's extensive network of alumni.
The institution grants degrees in 18 distinct concentrations, and students can access over two hundred different classes and seminars. Both the Intellectual Property Law and Health Law programs of the Boston University School of Law have received much praise in recent years.
In addition to the Master of Laws (LL.M.) and Juris Doctor (J.D.) degree programs, the university also offers dual degree programs, which give students the option to earn advanced degrees in a variety of other fields. Some examples include Masters of Business Administration (MBA) and Masters of Public Health.
Boston College Law School
Degrees offered: J.D., L.L.M.
Another top law school in Massachusetts is the Boston College Law School, which can be found in Chestnut Hill and at a distance of nine kilometers from the center of Boston. The Jesuits founded the school in 1863, and ever since, it has adhered to its legacy of giving education through the ideals of theory and practice.
As a result, it has produced legal professionals equipped to respond to society's moral and ethical challenges. Despite the members' wide range of personal histories, the Boston College Law School also cultivates a community of mutual support motivated by the Jesuit priority of service to others.
Sixty-nine full-time faculty members at this institution, and approximately 28 percent hold advanced degrees in areas other than law. As a consequence of this reality, students have access to mentors who are not only acknowledged authorities in the field of law but who are also able to guide them to interdisciplinary mastery.
In addition to the degree programs, the school offers students a variety of options for experiential learning, such as litigation clinics, externships, and advocacy programs. This will ensure that students have an early and inevitable introduction to the actual practice of law.
Northeastern University School of Law
Degrees offered: J.D., L.L.M.
Northeastern University, which also has a law school, is located in the Boston area and claims to be part of the best law schools in Massachusetts. The school not only provides students with intellectual experiences in the lecture halls and practical experiences through its clinics but also encourages students to gain early legal employment experience through its co-op program.
Students have the opportunity to obtain their first jobs in various fields and locations thanks to the cooperative education program (co-op), which also allows them to gain nearly a year's worth of legitimate work experience before graduation.
The Northeastern University School of Law is famous for several reasons, one of which is its emphasis on social justice. Through its Center for Public Interest Advocacy and Collaboration, Northeastern University nationally ranked as having one of the best public interest law schools, encourages its students to engage with actual problems facing society. As another component of its focus on social justice, the university mandates that first-year students participate in a social justice project in which they collaborate with a real client group.
New England School of Law
Degrees offered: J.D., L.L.M.
One of the best law schools in Massachusetts is the New England School of Law, which can be found in the city of Boston. Even before they have finished their first year of school, the students can participate in extracurricular activities such as clinics and internships, academic centers, and overseas programs. The school's faculty comprises illustrious practitioners and scholars with considerable experience, outstanding credentials, and, most importantly, a dedication to mentoring students as they strive to have successful careers in the legal field.
The New England School of Law provides four J.D. programs, including evening part-time, day part-time, and flexible part-time options for its students, despite the possibility that studying law will demand a full-time commitment. Students can realize their goals of having a successful legal career by selecting the educational path offered here that best suits their individual needs and circumstances.
Now that you have an idea of what are the best law schools in Massachusetts, your next step is entering the law school you want. At AdmissionSight, you can get the guidance of experts with 10 years of experience through any college you wish. Getting help from AdmissionSight will save you the trouble and effort of applying to law school. Set up an appointment today and see how we can help you.