Brown Campus Life
When they arrive at Brown University, students will find that its open curriculum allows them to thrive. Students accepted to this illustrious institution can create their own unique educational paths through the curriculum. This is different from traditional general education requirements, which require students to take classes in which they may not be interested through the Brown campus life.
Students have a wide array of options to choose from when it comes to how they might become active in student organizations. Students who are politically involved will especially like the social dynamic at the university, which features regular philosophical conversations and an openness to new views.
Brown University is the type of institution from which graduates, regardless of their prior experiences, have a good chance of moving on to rewarding employment at the vanguard of social and cultural innovation.
Entering college can be really exciting, and you can even experience a roller coaster of emotions upon entering the Brown campus. If you want to go to this prestigious school and live on campus, remember that your application needs to be strong and solid.
We at AdmissionSight can be of great assistance in making sure that you're on the correct path during admissions at Brown and making sure that your undergraduate application passes the requirements to become an ideal candidate. We are dedicated to making your dream of becoming a student at this institution and witnessing the Brown campus life a huge possibility for you. Continue reading to learn more.
Where is the Brown campus?
Where is the Brown campus? Brown University is located in Providence, Rhode Island. This prestigious private Ivy League research institution is the largest institutional landowner in Providence, with properties located on College Hill and in the Jewelry District. Brown's campus is deeply linked with Providence's urban architecture due to the fact that it was built at the same time as the eighteenth-and nineteenth-century neighborhoods that surround it.
Main Campus
The primary campus at Brown University is located in the East Side neighborhood of College Hill and spans 235 buildings on 143 acres. Newer buildings stretch northward, eastward, and southward from the center of the institution, which is located on a 15-acre block that is flanked by Waterman Street, Prospect Street, George Street, and Thayer Street.
The Ruth J. Simmons Quadrangle (historically known as Lincoln Field), the Front or Quiet Green, and the Middle or College Green are the three greens that form the heart of Brown University's historic campus, which was built mostly between 1726 and 1926.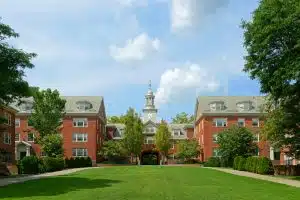 A brick and wrought-iron fence with decorative gates and arches outline the boundary of the block. Georgian and Richardsonian Romanesque-style buildings are most common in this part of the campus.
To the south of the campus's center are academic buildings and residential quadrangles. There are the Wriston, Keeney, and Gregorian quadrangles among these. The School of Engineering and Sciences Park of Brown University is located just east of the main campus.
To the north of the central campus are facilities for the performing and visual arts, laboratories for biological sciences, and the Pembroke Campus, which houses both dormitories and academic buildings. Two of the seven libraries at Brown University, the John Hay Library, and the John D. Rockefeller Jr. The library is housed in a building on the western side of the campus center.
Does Brown have on-campus housing?
Does Brown have on-campus housing? The dynamic and varied Brown campus life is embodied in the institution's housing system. All first-year students are required to settle into housing available on Brown's campus. Undergraduate students in their first year typically have roommates and live in groups of between 50 and 60 people in the residence halls.
Brown Campus Buildings
Brown University is able to keep its excellent reputation and get tens of thousands of excellent applicants every year because it has challenging academic programs, cutting-edge tools, and an open curriculum that encourages intellectual curiosity.
Prospective students applying to Brown University are advised to visit its impressive campus and get a glimpse of Brown campus life and the worthwhile experience it entails. There is simply too much to see at this renowned institution to be able to see everything in a short amount of time, regardless of whether you choose to take a tour, go to an information session, explore on your own, or shadow a student who is currently enrolled there.
In the next part, you will discover a list of intriguing locations both on and off campus, along with the remarkable Brown campus buildings. These are places that you should think about including in your itinerary when you come to visit Brown University. But these aren't simply enjoyable things to do — they're also windows into what it's like to be a student at Brown, and they can help you decide whether or not you'd be interested in attending the university if given the chance.
The Main Green
The Main Green at Brown University is used for a wide variety of activities, ranging from big concerts to juggling practice, sunbathing to political rallies, and even the occasional class session that is held outside when the weather is nice.
The buildings surrounding the "Main Green" contain classrooms, administrative offices, performance and lecture venues, and even a few dormitories. These structures are essential to the university's daily activities. If you decide to enroll at Brown, you will immediately realize that you will be spending a great deal of time in this place.
"Quiet Green"
The Quiet Green does not involve a lot of dynamic activities that are usually expected to be part of Brown campus life. Instead, it is a serene resting place where you can find students casually speaking with friends on the lawn, reading against the pillars of Manning Chapel, or gazing up at the school's landmark, Carrie Tower.
The Van Wickel gates, which serve as Brown University's main entrance, can be found in front of the Quiet Green. These gates serve as the campus's most prominent architectural feature. These gates are only opened twice a year: once for the matriculation ceremony, which welcomes new first-year students, and once for the commencement ceremony, which bids farewell to graduates.
Stephen Robert '62 Campus Center
On Brown's campus, the Faunce House, which is situated on the Main Green, has long served as a center of activity for the university's student body. The 113-year-old building got a new start in 2010 when it got a new name and went through a lot of renovations that turned it into a modern campus center and gave it a facelift with modern touches.
Students are often found in the campus center on a regular basis. You might see them enjoying a cup of coffee at the Blue Room Cafe, attending to matters at one of the many administrative offices, or conducting research in one of the several lounges.
Pembroke Campus
Prior to 1971, female Brown students were required to enroll in classes at Pembroke Institution, the women's college at the time. Pembroke's students and facilities were absorbed by Brown when Brown became co-ed, but the former women's college's location is still referred to as the Pembroke campus.
A large percentage of first-year students are required to reside in Pembroke and begin their Brown campus life there, which, despite its location on the opposite end of campus from other student housing, is not barren of its own amenities or appeal.
Sciences Library
The SciLi, which is situated in the center of campus and is fourteen stories tall, is impossible to miss. Currently, only a selected number of its levels are occupied by typical library stacks. On the other floors of the building, there are study rooms of varying sizes and designs, as well as offices for Brown's numerous science resource programs and a meditation room.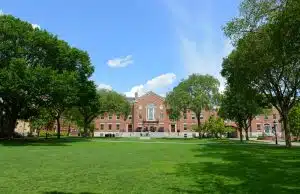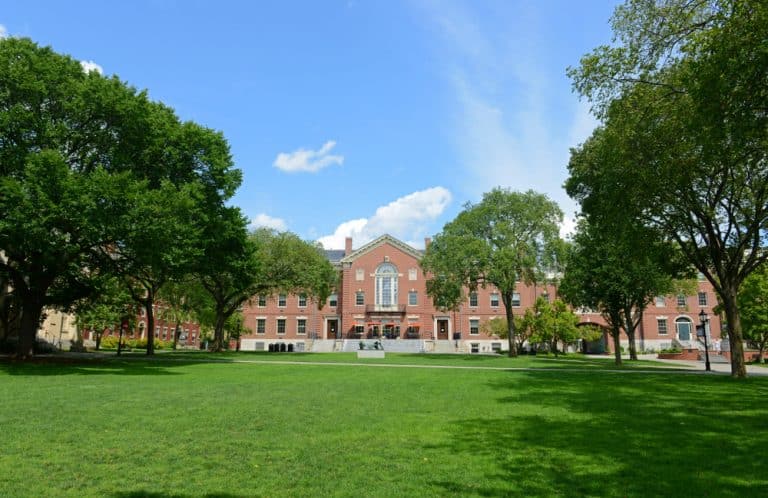 Through its windows that face in all different directions, SciLi also offers spectacular views of the entire College Hill neighborhood as well as the Brown University campus.
John Hay Library
This building is one of the most historically significant structures at Brown. It is now used to store the library's books, manuscripts, and other types of archived materials.
John Carter Brown Library
This area contains a vast assortment of historical books and other publications relevant to the United States. This building is well-known for holding one of the world's largest collections.
Arnold Lab
Dr. Oliver Arnold, the former owner of this building, donated this edifice to Brown University. It's where the Division of Biology and Medicine and many other offices and departments related to the biological sciences are located.
Engineering Research Center
Electronic and nanotechnology research for the university is conducted at this center. Twenty different lab modules make it easy for researchers from major research institutions to work together.
Horace Mann House
You can't miss this particular structure if you want to experience and see all that Brown campus life could offer. The structure was formerly utilized as a residence hall at Brown University. Recent developments have resulted in it becoming the location of the English Department. Additionally, the Graduate School of Brown University and the Vice President of the Research Department can be found in this building.
Prince Engineering Laboratory
This laboratory, which has been given the name "Frank John Prince," is actually an expansion of the university's Engineering Complex. Here, people do research in fields like fluid mechanics, materials science, structural analysis, and thermodynamics.
Brown University Hall / Rhode Island Hall
Because inhabitants of the surrounding area contributed money to the establishment of the structure, it was given the name Rhode Island in honor of the state. The Joukowsky Institute for Archaeology and the Ancient World is still located here today. In addition, the departments of Chemistry, Geology, Mineralogy, Natural History, and Philosophy are all located in this building.
Page-Robinson Hall
It was a library at Brown University at one point in time. But since the John Hay Library has already been built on campus, it is now being used by the Economics Department as a building.
121 South Main Street Building
Recently, the institution obtained control of this eleven-story building. It is owned and managed as commercial property by the university. Now that they are expanding, they are gradually extending a number of departments into existing areas. The Center for Alcohol and Addiction Studies, the Department of Community Health, and the Center for Statistical Sciences are among these departments.
85 Waterman Street
The structure just underwent renovations in 2014 and is now every bit as environmentally friendly as it was before. Greenhouses as well as the Brown Institute for the Environment and Society can be found at this location.
How is life on campus at Brown?
How is life on campus at Brown? Brown campus life has a lot to offer students, with its excellent structures and beautiful campus places. Students can have a fun, relaxing, worthwhile, and beneficial college life here.
Academics
There are eighty different majors, or "concentrations," as they are known at Brown University, which students can choose to study at the Ivy League school. With its open curriculum, the school gives students the chance to learn about and try out a wide range of topics and experiences, even if they don't seem directly related to their area of emphasis.
Students can choose one of the concentrations that are already set up in the program, or they can create their own with the help of their professors and with their approval.
In addition to this, Brown is well-known for its illustrious and extremely competitive Program in Liberal Medical Education (PLME). Students participating in this eight-year program of undergraduate education and professional studies in medicine spend the first four years of the program working toward either an AB or ScB degree. The last four years of the program are spent working toward an MD.
The Brown-RISD Dual Degree Program is another noteworthy program that is offered to students wherein they attend both Brown University and the Rhode Island School of Design (RISD) concurrently over the course of five years, pursuing their academic and artistic interests along the way and ultimately graduating from both institutions with an AB or ScB from Brown and a BFA from RISD.
Residential and Greek Life
As previously mentioned, until they have completed their sixth semester of school, students are required to live on campus and have a fulfilling Brown campus life. They have a number of options, and one of them is to live in gender-inclusive housing, where they can ask to be put in a room that doesn't have any rules based on their gender or the gender of their roommate.
In the residential halls, first-year students often live in communities with between 50 and 60 other students and have roommates. Students who are returning to the university have access to additional housing options, such as private single rooms, suites, and apartments. They also have the option of enrolling in program houses, in which they could potentially live with other people who share their interests.
The university recognizes thirteen active Greek organizations, including six fraternities. Wriston Quadrangle has been the home of all of the campus's Greek organizations since the early 1950s. The Greek Council is responsible for the supervision of these various Greek student groups.
Brown's program houses, which are structured by themes rather than Greek letters, offer an alternative to Greek-letter organizations. As is the case with Greek houses, the current residents of program houses vote on new members to join the house, which typically takes place at the beginning of the spring semester.
Students who are not enrolled in specific housing programs are required to participate in a lottery for general housing. The students put themselves into groups and are each given a certain amount of time to choose their housing from the remaining options.
Societies and Clubs
Some of the oldest student organizations at Brown emphasize public speaking and debate. Societies served both social and academic purposes, with much fostering literary debate and amassing vast collections. In general, older organizations aligned with the Federalists, whereas younger societies tended to lean Republican.
The 1860s were the last decade in which societies enjoyed widespread popularity; thereafter, fraternities largely took their place and became part of the Brown campus life.
At first, the Cammarian Club was a relatively hush-hush organization that "tapped" 15 graduating seniors each year. 1915 marked the beginning of the transition from self-perpetuating membership to popular election by the student body. From that point on, the club functioned as the de facto undergraduate student government. It was ultimately replaced by a more official student government in 1971.
A self-described secret society that operates in the modern day and calls itself "Pacifica House" is known informally as Societas Domi Pacificae. It says that there has been a continuous line of descent starting with the Franklin Society in 1824. It also mentions a "Franklin Society" that is said to be an intermediary and can be traced back to the 1800s.
Student Organizations
At Brown University, there are more than 300 officially recognized student organizations representing a wide range of interests. During the first-year orientation program, there is a fair called the Student Activities Fair, which gives first-year students the opportunity to meet representatives from a wide variety of student organizations.
Resource Centers
There are various resource centers at Brown as well. Students can frequently get help from the centers, and they also provide a secure environment in which they can investigate different facets of their identities. In addition to this, the centers frequently provide students with physical areas in which they can study or have meetings. Even though most centers are focused on issues of identity, some also help with academic work.
The Brown Center for Students of Color (also known as the BCSC) is a place on campus that offers students of color various forms of help. The BC Student Center was established in 1972 in response to demands from student protests. Its mission is to encourage students to engage in critical dialogue, develop leadership skills, and promote social justice.
As part of Brown campus life, the center houses various programs where students can share their knowledge and engage in discussions with one another. The Third World Transition Program, the Minority Peer Counselor Program, the Heritage Series, and other student-led projects are all part of these programs. The BCSC also wants to build a sense of community among the students it serves by giving them places to study and hang out together.
The Sarah Doyle Women's Center was named after Sarah Doyle, who was one of the first women to attend Brown. The center's mission is to provide a space for members of the Brown community to examine and investigate issues related to gender. The center puts on things like programs and workshops to get people talking and give students, faculty, and staff the materials they need.
The LGBTQ+ Center, the Undocumented, First-Generation College, and Low-Income Student (U-FLi) Center, and the Curricular Resource Center are some of the other centers on campus.
Traditions
Brown University was established in 1764 and serves as the keeper of numerous traditions. The Van Wickle Gates, which are located at the top of College Street and bear the university shield, are considered to be among the more superstitious of the university's landmarks. According to a local urban legend, students who walk through the gates more than twice are said to bring bad luck upon themselves.
The Campus Dance is another tradition that takes place at the beginning of Commencement and Reunion Weekend. It is a time for the community to come together and celebrate.
At the more adult end of the spectrum is the Nude Donut Run (NDR), in which students distribute donuts while running naked through the school's libraries during Reading Period.
Athletics
It's no surprise that athletics play a huge part in Brown campus life. Brown University participates in the sports competitions that are held within the Ivy League, which is recognized by the National Collegiate Athletic Association (NCAA) as a Division I (highest level) conference (NCAA). Brown University has 32 varsity intercollegiate teams and has one of the biggest college sports programs in the United States.
Women's rugby was elevated to the varsity level at Brown University in 2014 after previously competing at the club level. Between the years 1999 and 2011, the Brown women's rowing team took home seven national championships. The Brown men's rowing team consistently places in the top five in the country, most recently taking home silver, bronze, and silver in the national championship races held in 2012, 2013, and 2014.
The men's soccer team at Brown is ranked in the top 20 almost all of the time and has a total of 18 Ivy League championships to its name. Graduates of soccer programs compete professionally in Major League Soccer and other leagues across the world.
Brown University's football team, led by Phil Estes, the school's all-time winningest coach, captured the Ivy League title in 1999, 2005, and 2008, respectively.
The women's gymnastics team from Brown University took first place at the Ivy League Championships in both 2013 and 2014. Both the women's and coed sailing teams at Brown are consistently ranked among the top 10 in the nation.
The women's sailing team at Brown has won a total of five national championships, the most recent of which was in 2019. The coed sailing team at Brown has won two national championships, in 1942 and 1948.
On January 19, 1898, Brown and Harvard competed in what is considered to be the first intercollegiate ice hockey game ever played in the United States. On July 26, 1859, Brown, Harvard, and Yale competed in the first university rowing regatta that was larger than a dual-meet at Lake Quinsigamond in Massachusetts.
Ultimate Frisbee is one of the competitive intercollegiate club sports that Brown encourages its students to participate in. A men's ultimate team called Brownian Motion has won the national championship tournament three times, in 2000, 2005, and 2019.
What percent of Brown students live on campus?
What percent of Brown students live on campus? 72% of the students at this college live in housing that is owned or run by Brown University. The other 28% live off campus.
How much does it cost to live on the Brown campus?
Experiencing the enjoyable and beneficial Brown campus life also comes with a cost. So, how much does it cost to live on the Brown campus? For the room and board expenses, it could total $15,908, wherein $9,420 is for the accommodations and $5,912 is for the cost of the meals.
Keep in mind that costs can differ from person to person due to differences in spending patterns and other reasons. Students at Brown who are qualified for financial help can, with very few exceptions, apply that money toward the cost of participating in the Brown in Washington program.
Brown campus life can give you a lot of college memories worth remembering. The transition to college can be demanding, difficult, and even stressful. Therefore, having a beautiful campus to help you relax is truly a wonderful thing to experience at Brown. You're a step closer to entering your dream college. You just need to strive to pass through the hurdles of Brown's enrollment process.
Here at AdmissionSight, we can help you with your application, and our experienced consultants can give you professional advice. Contact us today to learn about our committed service.