College admissions results are in! 75% of AdmissionSight students were accepted into Ivy League universities.
The college admissions results are finally in! This year, Founder and CEO of AdmissionSight Eric Eng worked with a total of 16 students for the 2018 application cycle for the Class of 2022 in the Private Consulting Program. Needless to say, given the competitive admissions climate and acceptance rates hovering at anywhere from 4-7% for the Ivy League or top 10 universities,  AdmissionSight students performed incredibly well. Our students have been accepted to and will be attending:
Princeton (1)
Harvard (2)
MIT (2)
Stanford (1)
Yale (1)
Columbia (1)
UChicago (1)
UPenn (1)
Cornell (1)
Berkeley MET / Brown (1)
This marks a total of 12 out of 16 students, or a 75% acceptance rate to the Ivy League and/or Top 10 university – an incredibly strong track record when the average acceptance rate at these schools hovers anywhere from 4-7%. This was by far the most competitive application cycle in history. Here's some sample acceptance letters from this admissions cycle: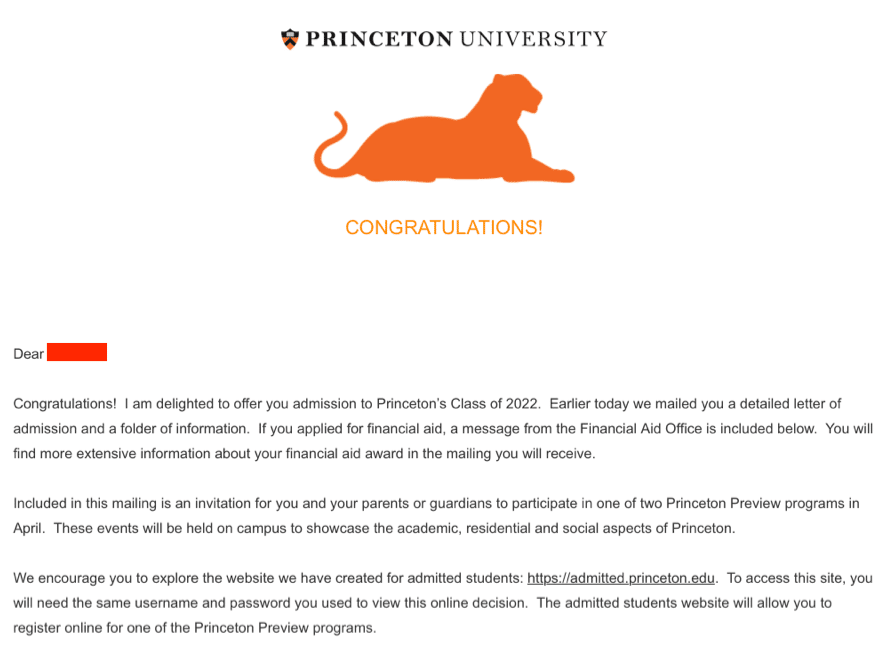 Outside of the Ivy League/Stanford/UChicago/MIT/Caltech schools, our other students still performed phenomenally well, including acceptances to Berkeley, Georgia Tech Biomedical Engineering program (ranked #1 in the country), University of Michigan, UCLA, Carnegie Mellon, Northeastern, and Boston College, just to name a few.
This year also marks the second year of the relatively new inaugural Berkeley MET program, which accepts 40 students in the entire country for a less than 3% acceptance rate. One of our students was able to secure a spot in this highly competitive program.
Our students hailed from several Bay Area high schools as well as the East Coast, including Harker School, Lynbrook High, Gunn HS, Aragon High, Saratoga HS, Juniper Serra HS, Milton Academy, University High, Lexington HS, Highland School of Technology, Auburn HS, among others.
Roughly 60% of our clients are from the Bay Area, and another 40% are from all around the country, including East Coast schools.
| College | 2018 Acceptance Rate |
| --- | --- |
| Stanford | 4.3% |
| Harvard | 4.6% |
| Princeton | 5.5% |
| Columbia | 5.5% |
| Yale | 6.3% |
| MIT | 6.7% |
| University of Chicago | ~7% (est) |
| Caltech | ~7% (est) |
| Brown | 7.2% |
| Dartmouth |  ~9% |
| Cornell |  10.3% |
| Ivy League Average | 6.7% |
| AdmissionSight | 75% |
The average acceptance rate at the Ivy League or top 10 university was roughly 6.7%! Despite this the lowest acceptance rate in history, AdmissionSight students had a 75% acceptance rate to at least one of the Ivy League or top 10 universities, which is truly an incredible feat and more than 10x the regular acceptance rate at the creme of the crop colleges.
We were able perform remarkably well because of the powerful applications that we crafted together to the universities. While we may have made it "look easy" in the most competitive application cycle in history, we poured a tremendous amount of time and energy into the personal statements, supplemental material, application review, and interview preparation to get these results.
We are very proud of my students, their achievements, and the spellbinding applications that resulted in an impressive outcome for the Class of 2022 in perhaps the most competitive admissions process to date.
The AdmissionSight program has continued its excellence of success and extremely high track record of placing students into the most competitive colleges in the country.
Here's a sample of some additional acceptance letters from this admissions cycle for the Class of 2022:
Note: Past performance is not indicative of future results given the highly competitive nature of college admissions.