Cornell Cheerleading Team
For many years, cheerleading was not recognized as a sport. Today, teams around the nation, including the Cornell cheerleading team, are competing and cheering for home teams. After cheer was finally considered a sport, it evolved into various types of teams.
In the lines that follow, we will offer you information about the Cornell cheerleading team. In addition, we will discuss a bonus cheerleading topic: Why is cheerleading fun?
Meet the Cornell cheerleading team
Cornell Cheerleading Team is the school's official cheerleading squad. They are made up of a bunch of lively, highly driven athletes that love the sport of cheerleading. The team is made up of undergraduate and graduate students from several departments around the college.
The goal of the Cornell Cheerleading team is to promote an age-old unifying feeling of school pride and tradition among its students, alumni, and other supporters on game days and beyond.
What is the purpose and philosophy of the Cornell cheerleading team?
What is the goal and philosophy of the Cornell cheerleading team? Cheerleading at Cornell College is intended to be a light-hearted and fun educational experience.
In this setting, the student-athletes will work hard to develop themselves into outstanding athletes. This will be achieved by focusing on becoming physically strong, mentally fit, and goal-focused in addition to other aspects of a well-rounded athlete.
These are the qualities that we expect to see developed in the Cornell College cheerleaders during the course of their time here.
What are the values of the Cornell cheerleading team?
What principles guide the behavior of the Cornell cheerleading team? Cornell College cheerleaders will demonstrate dedication to their school and their team by working on their character, and they will also demonstrate excellent sportsmanship toward colleges that they compete against.
Outside of the realm of cheering, the cheerleaders should play an active part in obtaining an appreciation and understanding of the sports that they cheer for.
Members of the Cornell cheering squad are encouraged to acquire high moral standards, both inside and outside of the context of cheerleading, and to never settle for less than what they and their coaches feel they are capable of doing.
At all times, the cheerleaders will be required to behave as ambassadors for their school, and it is expected of them that they will properly conduct themselves.
What skills are required to try out for the Cornell Cheerleading team?
What kind of experience do you need to have to try out for the Cornell Cheerleading team? Cornell cheerleading team doesn't require any specific skills to try out, but cheerleading or gymnastics experience is encouraged. In the past, they have taken both people who have cheered their whole lives and beginners.
But as it is with other sports, fitness is important for anyone participating in cheerleading. To pursue the exciting path of cheerleading, it is best to focus on three areas; flexibility, strength, and endurance.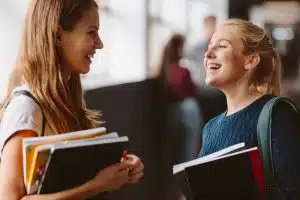 When training and competing in a jumping sport, flexibility is essential. Cheerleaders' flexibility determines the height of their jumps. Proper stretching also makes it simpler to jump. A strong physique is a prerequisite for learning any and all cheering routines.
Lifting and holding flyers while stunting is more convenient and reduces the risk of harm. Similarly important, but often disregarded, is stamina. Each participant in a stunt that lasts more than a few seconds must have the stamina to see it through to its conclusion. High levels of stamina are required even for a brief (30-second) program.
Why is cheerleading fun?
Is joining a team like Cornell cheerleading really that fun? "Cheerleading appears to be too tough and intricate to be pleasant," you think.
The stretches flyers have to perform in the air, the bases needing to hoist someone up or the tumblers having to flip their way over the mat barely sounds like any "fun".
While this may appear to be true, it is only a minor part of the whole cheerleading experience. Remember, practices, friendships, and contests are all part of the experience! All of this makes cheering a bit more enjoyable than you may anticipate!
So, what makes cheerleading enjoyable?
One: The Friendships
Cheerleading is a team sport, so a connection will naturally develop between you and your teammates as you continue to compete and perform together over the course of the season.
Because of these close bonds, cheering is a lot of fun. You get to do tricks together, talk about the challenges you face, and most importantly, share a passion for what you do. It's almost like having a second set of parents or siblings.
It can look like a nuisance to have to work with other people, but doing so is a lot of fun, and it teaches you how to collaborate well with others at the same time.
Stunting and working together to develop a routine are two components of working together in cheerleading that go hand in hand. Both of these activities are a lot of fun. This is evident in the tightness of the Cornell cheerleading team as they plan new moves for upcoming performances.
Two: The Skills
Cheering has many fascinating and tough talents, and the excitement of being able to achieve anything of that kind is what makes cheerleading so enjoyable. You'd think that only the Hulk could carry someone so high in the air, or that the flyer would be little more than the weight of a toddler.
The fact that it appears unattainable gives you an exciting sense when you finally do it. You don't need the power of a behemoth to lift someone, nor do you need to weigh less than 20 kilos to fly. "If I can accomplish something so difficult, what else can I do?" you wonder, and you're hooked on trying out new feats, tumblings, and leaps. That's what makes cheerleading so enjoyable: you get to test your own boundaries.
When trying out new maneuvers, you're more likely to appear like the photo on the left than the picture on the right. And that's OK. The adventure is in getting there rather than being there.
Three: Having a goal
There should be a reason for everything you do in life, but occasionally you do fun things only for the sake of having a good time; these activities have no other function than to provide you with some form of amusement.
The presence of an end goal or purpose for an activity is frequently associated with the perception that the activity is stressful.
If you want to do well on your piano exams, you will need to put in more practice time at the piano. If you want to do well on your piano examinations, you will need to study for longer hours.
However, this rule only applies to pursuits that you enthusiastically engage in. Others can feel that studying is genuinely pleasurable and not stressful at all.
Among Cornell cheerleading team members, they do a wonderful job of balancing academic life and cheerleading pursuits. They remind themselves of the team's purpose and that is to model what an ideal Cornell student is: zealous in studies and fun to be with in sports matches.
Who is eligible to join the Cornell Cheerleading Team?
Who may try out for the Cornell Cheerleading Team if they are interested? Cheerleaders at Cornell are required to submit to a physical exam and keep a copy of their most recent insurance card on file to be eligible to participate in the program.
You are not allowed to participate in any other sports while the cheering season is going on.
Experience fun Cornell school spirit with Cornell Cheerleading
On game days and beyond, the Cornell cheerleading team hopes to foster a feeling of camaraderie among current students, alumni, and supporters of the institution in the form of a shared sense of school pride.
If getting into Cornell is one of your goals, you should seek the guidance of professionals who work in the subject of college admissions, such as those who work at AdmissionSight, in order to increase your chances of being accepted there.
AdmissionSight has become the most trusted name in the field of college admissions advice as a result of its more than a decade of expertise assisting students just like you in gaining admission to the colleges of their first and second preferences.
Please get in touch with us as soon as you can so that we can schedule an initial consultation that will be provided free of charge.