Duke Campus Size: A Comprehensive Guide for Aspiring College Students
What is the Duke campus size?
What is the Duke campus size? The Duke University campus, located in Durham, North Carolina, is one of the most picturesque and expansive college campuses in the United States. It covers a vast area of approximately 8,600 acres, which is equivalent to nearly 13.4 square miles or 34.7 square kilometers. This extensive campus size provides students with ample space to explore, learn, and engage in various activities.
The campus is divided into three main areas:
West Campus (Main Campus)
The West Campus, often referred to as the heart of Duke University, features many academic buildings, research facilities, and libraries. This area is characterized by its stunning neo-Gothic architecture, with the iconic Duke Chapel serving as its centerpiece. The chapel's majestic tower can be seen from various points across the campus. West Campus is also home to the Bryan Center, Duke's primary student union, which houses several dining options, meeting spaces, and student organization offices.
East Campus
East Campus is a smaller, more intimate part of the university, primarily serving as the residential hub for first-year students. Covering around 97 acres, it features beautiful Georgian-style architecture and provides a serene and inspiring environment. East Campus is also home to a few academic departments, particularly in the arts and humanities fields. The Baldwin Auditorium, a popular venue for concerts and performances, is another notable landmark on East Campus.
Central Campus
Central Campus, situated between West and East Campuses, is a modern, urban-style area that mainly houses graduate students and some administrative offices. It also contains several recreational facilities, such as the Brodie Recreation Center, which offers fitness classes, an indoor pool, and gym facilities. Central Campus is easily accessible via the university's free bus system, connecting it to the other parts of Duke.
In addition to these three primary areas, the Duke campus size also encompasses the 7,000-acre Duke Forest, which serves as a living laboratory for environmental research and offers various recreational opportunities. Duke Forest is a valuable resource for students and faculty, who use it for research projects, field trips, and outdoor activities such as hiking, running, and bird watching.
Overall, the impressive Duke campus size is a testament to its commitment to providing its students with a diverse and immersive educational experience. The combination of beautiful architecture, state-of-the-art facilities, and expansive green spaces makes Duke University a unique place to study and live.
How to navigate the Duke campus?
How to get around Duke's campus? Navigating the expansive Duke campus can be an exciting experience for new students and visitors.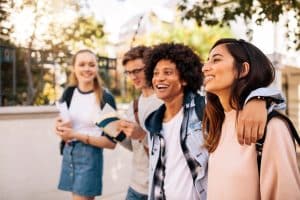 To help you find your way around and make the most of your time at Duke, here are some tips and resources that will come in handy:
Duke Campus Maps
Familiarize yourself with the campus layout by referring to the official Duke University campus maps, which are available online. These interactive maps not only show the locations of various buildings and landmarks but also allow you to filter by categories, such as dining, parking, and transportation.
DukeMobile App
The DukeMobile app, available for both iOS and Android devices, is a valuable tool for navigating the Duke campus. The app features an interactive map, a directory of campus buildings, and real-time updates on bus schedules. It also provides access to various university services, such as dining menus, course schedules, and library resources.
Campus Bus System
Duke University offers a free campus bus system that connects West, East, and Central Campuses. The buses operate on several routes, such as the C1, C2, and CCX, and run at regular intervals throughout the day. Check the bus schedules and routes on the Parking and Transportation Services website or via the DukeMobile app to plan your trips efficiently.
Duke Bikes
Duke Bikes is a convenient option if you prefer cycling around the campus. This free bicycle-sharing program allows students to rent bikes on a short-term basis. To participate in the program, register online and then pick up a bike from one of the designated locations on campus.
Wayfinding Signage
Duke University has installed wayfinding signage throughout the campus to help visitors and new students navigate. These signs guide major buildings and landmarks and are color-coded for easy identification. The signs also feature maps and QR codes, which you can scan with your smartphone to access interactive maps.
Walking Tours
Duke offers guided walking tours for prospective students and their families, led by current students who share their insights and experiences. These tours typically cover West and East Campuses, giving you a comprehensive overview of the university's layout and facilities. You can also explore the campus at your own pace using self-guided walking tour maps available on the admissions website.
Ask for Help
Duke University's community is known for its friendliness and support. If you ever find yourself lost or unsure about where to go, feel free to ask a fellow student, faculty member, or staff for directions. They'll be more than happy to help you find your way.
With these resources and tips, you'll soon become an expert in navigating Duke University's expansive campus and making the most of your college experience.
What is the impact of Duke campus size on student life?
What effect does the size of the Duke campus have on student life? The Duke campus size plays a significant role in shaping student life and has several impacts on various aspects of the college experience.
Here are some ways in which the expansive campus influences life at Duke:
Sense of Community
The division of Duke's campus into West, East, and Central Campuses fosters a strong sense of community among students. East Campus, where first-year students reside, helps them bond with their peers and form lasting connections. West Campus, on the other hand, is the academic and social hub, uniting students from different disciplines and fostering intellectual exchange.
Recreational Opportunities
The large campus size allows for a wide range of recreational facilities and outdoor spaces. Students can take advantage of the various sports fields, tennis courts, and basketball courts, or explore the miles of walking and biking trails that crisscross the campus. Duke Forest, encompassing 7,000 acres, offers additional opportunities for hiking, running, and environmental research.
Diverse Learning Environments
The expansive campus size provides students with access to numerous libraries, research centers, and state-of-the-art laboratories.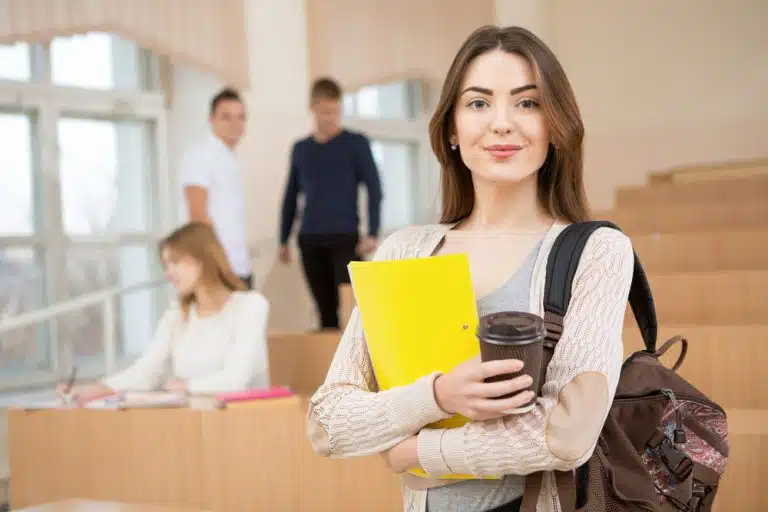 These diverse learning environments encourage intellectual curiosity and promote interdisciplinary collaboration among students and faculty.
Campus Events and Activities
Duke's large campus size enables the university to host various events and activities throughout the year. From guest lectures and cultural performances to sporting events and student organization fairs, the campus offers plenty of opportunities for students to engage in extracurricular activities and broaden their horizons.
Sustainability Initiatives
The extensive campus size offers ample opportunities for the university to implement sustainability initiatives. Duke has made significant strides in promoting sustainable practices, including energy-efficient buildings, solar panel installations, and comprehensive recycling programs. These initiatives not only enhance the campus experience but also educate students on the importance of environmental stewardship.
Access to Nature
Duke's campus size and its location amid lush green landscapes provide students with easy access to nature. The beautiful surroundings serve as a backdrop for relaxation and inspiration, helping students maintain a healthy balance between academic and personal life.
Transportation
The large campus size necessitates efficient transportation options to help students navigate between different areas. Duke offers a free campus bus system, bicycle-sharing programs, and safe walking routes to ensure students can easily move around the campus.
Aesthetic Appeal
Duke University's sprawling campus, featuring a mix of Gothic and modern architectural styles, is renowned for its aesthetic appeal. The beautiful surroundings contribute to a sense of pride among students and create a visually inspiring environment to live and learn.
In summary, the Duke campus size has a profound impact on student life, fostering a strong sense of community, providing diverse learning environments, and offering numerous recreational opportunities. The expansive campus enables the university to invest in cutting-edge facilities and sustainable practices, enhancing the overall student experience and preparing them for a successful future.
Is Duke's campus size right for you?
Is Duke's campus size appropriate for you? Determining whether Duke's campus size suits you depends on your preferences, priorities, and learning style.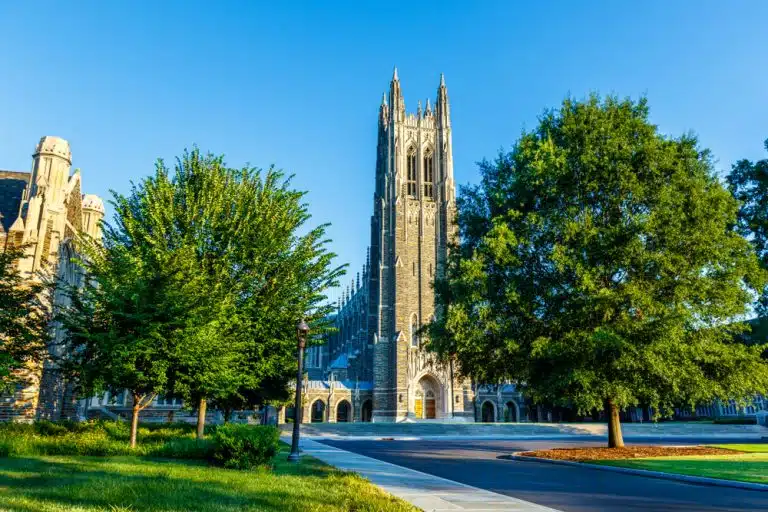 Here are some factors to consider when deciding if the expansive Duke campus aligns with your needs and expectations:
Learning Environment
Duke's campus offers a range of learning environments, from traditional classrooms and lecture halls to state-of-the-art laboratories and research centers.
If you thrive in an intellectually stimulating atmosphere with access to diverse resources, Duke's campus size could be a great fit for you.
Social Life
Duke's large campus size and diverse student body provide ample opportunities for social interaction and engagement. With over 400 student clubs and organizations, as well as a thriving Greek life scene, you can easily find like-minded peers and engage in activities that interest you. If having a vibrant social life is essential for your college experience, Duke's campus size might be an advantage.
Personal Space and Privacy
Living on a large campus like Duke offers more personal space and privacy compared to smaller institutions. However, it's essential to remember that you will still be sharing living spaces with other students in residential halls, and communal areas can get crowded during peak times.
Support and Resources
Duke University provides various support services and resources to help students succeed academically and personally. Although the campus size may seem daunting at first, the university is committed to creating a supportive and inclusive environment. Assess whether you feel confident in accessing the resources available and connecting with faculty, staff, and fellow students.
Ultimately, determining whether Duke's campus size is right for you depends on your preferences and priorities. Reflect on the factors mentioned above and consider visiting the campus to get a first-hand feel of the environment. By doing so, you'll be better equipped to make an informed decision about whether Duke University is the perfect fit for your college journey.
In conclusion, the impressive Duke campus size offers a unique blend of stunning architecture, state-of-the-art facilities, and an unparalleled college experience. As you consider applying to Duke and navigating the admissions process, partnering with a reputable college admissions consulting service like
AdmissionSight can help you showcase your strengths and make your application stand out. By understanding the impact of Duke's campus size on student life and evaluating whether it aligns with your preferences and priorities, you can make an informed decision about your college journey. So, dream big, explore the opportunities that await you at Duke University, and let AdmissionSight guide you in turning those dreams into reality. Contact us!