Everything You Need To Know About USC Admissions
Welcome to our comprehensive guide on USC admissions. This article aims to provide you with everything you need to know about the application process, admission requirements, and campus life at USC. Whether you're a high school student considering USC for the first time or a transfer student looking for more information on the transfer process, our guide has got you covered.
Understanding USC Admissions
Before we dive into the application process and admission requirements at USC, let's take a look at what makes USC stand out from other universities.
A Brief Overview of USC
USC (or the University of Southern California) is a private research university located in Los Angeles, California. Founded in 1880, USC has a long history of academic excellence and innovation. Today, it is known for its outstanding undergraduate and graduate programs across a wide range of disciplines, including business, engineering, communication, and the arts.
USC has a diverse student body, with students from all 50 states and over 100 countries. The university is committed to providing a supportive and inclusive environment for all students, regardless of their background or identity. USC also offers a wide range of extracurricular activities, including over 1,000 student organizations, NCAA Division I athletics, and a vibrant arts scene.
USC's Reputation and Rankings
USC consistently ranks among the top 25 universities in the country, according to U.S. News & World Report. Its academic programs and research facilities are renowned worldwide, and it is considered a top-tier institution in the United States.
USC is known for its strong alumni network, which includes many successful and influential individuals in a variety of fields. Notable USC alumni include filmmaker George Lucas, astronaut Neil Armstrong, and actress Viola Davis.
Admission Requirements and Deadlines
To apply to USC as an undergraduate student, you must submit an official application, transcripts, test scores, and letters of recommendation. The application deadline for the fall semester is typically in November, with early decision applications due in October. To be considered for merit-based scholarships, students must submit their applications by December 1st.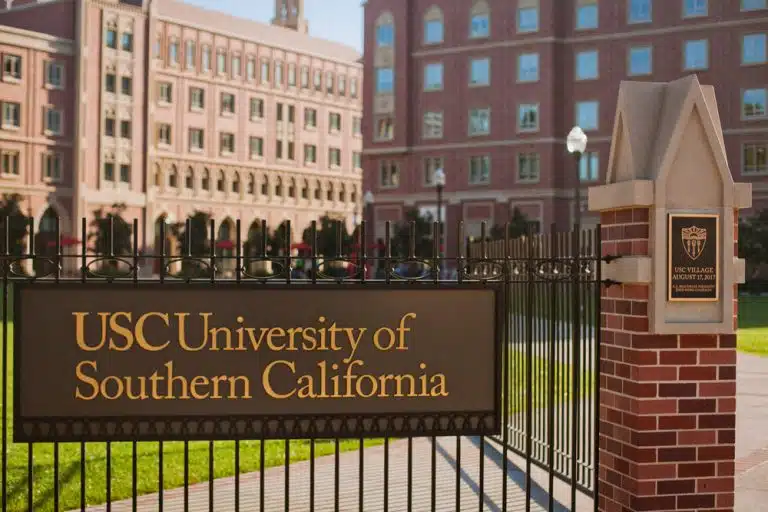 USC also offers a variety of resources to help students navigate the application process. The university's Office of Admission provides guidance on everything from selecting the right courses in high school to preparing for college interviews. Additionally, USC offers a range of financial aid options, including need-based grants, scholarships, and student loans.
Overall, USC is an excellent choice for students who are looking for a top-tier education in a vibrant and diverse community. With its strong reputation, innovative academic programs, and commitment to student success, USC is a university that truly stands out from the rest.
The Application Process
Applying to college can be an exciting and nerve-wracking experience. USC admissions strive to make the application process as smooth and straightforward as possible. Here are some additional details to help guide you through the process:
The Common Application
The Common Application is a popular choice for many students applying to USC. This user-friendly application can be filled out online and includes sections for academic information, extracurricular activities, and essays. It's important to take your time and read through all instructions carefully before submitting your application. Make sure to double-check for any errors or typos before hitting that submit button!
One advantage of using the Common Application is that it can be used to apply to multiple colleges and universities at once. This can save you time and effort in the application process.
USC Writing Supplement
USC believes that getting to know applicants on a personal level is just as important as evaluating their academic achievements. That's why they require all applicants to complete a writing supplement in addition to the Common Application. This supplement includes several short answer questions designed to help USC admissions officers get to know you better as a person and as a student.
When completing the writing supplement, take your time and be thoughtful in your responses. This is your chance to showcase your personality and highlight what makes you unique.
Letters of Recommendation
Letters of recommendation are an important part of the application process. USC admissions require two letters of recommendation from teachers or counselors who know you well and can speak to your academic abilities and character. It's important to ask individuals who are familiar with your work ethic and capabilities.
When asking for a letter of recommendation, be sure to give your teacher or counselor plenty of notice. It's also a good idea to provide them with a copy of your resume or a list of your achievements to help them write a more personalized letter.
Transcripts and Test Scores
Your official high school transcripts and test scores (such as the SAT or ACT) must be submitted to USC directly from the testing agency or your high school. It's important to be aware of deadlines, as missing the application deadline or failing to submit your transcripts and test scores can lead to delays in your admission decision.
When submitting your transcripts and test scores, double-check to make sure that they have been sent to USC and that all information is accurate. If you have any questions or concerns about the submission process, don't hesitate to reach out to the USC admissions office for assistance.
Overall, the application process can be a lot of work, but it's worth it to pursue your dreams of attending USC. Good luck!
USC's Academic Programs
At the University of Southern California, students have access to a wide range of academic programs that cater to their diverse interests and career goals. USC offers over 150 undergraduate majors across a wide variety of disciplines, including business, engineering, communication, the arts, and more.
One of the most attractive aspects of USC's academic programs is the flexibility it offers. Students can choose from a variety of majors and minors and can even design their own interdisciplinary major by combining courses from different departments. This allows students to tailor their academic experience to their specific interests and career goals.
Popular Majors and Programs
USC has a reputation for offering some of the best academic programs in the country, and it's no surprise that some of its most popular majors are highly sought after by students. Some of the most popular majors at USC include computer science, business administration, psychology, and cinema and media studies.
Students who choose to pursue a degree in computer science at USC are not only equipped with a strong foundation in computer programming, but they also have access to cutting-edge research facilities and opportunities to work on real-world projects. Similarly, students who major in business administration benefit from USC's strong ties to the business community in Los Angeles and have access to internships and job opportunities with some of the top companies in the world.
Psychology majors at USC benefit from the department's focus on research and the opportunity to work with faculty members on projects that explore various aspects of human behavior. Finally, students who major in cinema and media studies have access to state-of-the-art facilities, including sound stages, editing suites, and a vast library of films and television shows.
Interdisciplinary Studies
Once you get accepted by USC admissions, you'll see that this prestigious institution is known for its interdisciplinary programs, which allow students to explore multiple fields of study and integrate their knowledge and skills across disciplines. These programs are designed to prepare students for the complex challenges of the 21st century, where solutions often require a multidisciplinary approach.
One example of an interdisciplinary program at USC is the interdisciplinary minor in sustainability. This program is designed for students who are interested in environmental issues and want to explore the intersection of sustainability with other disciplines, such as public policy, business, and engineering. Another example is the progressive degree program in occupational therapy, which allows students to earn a bachelor's and master's degree in just five years.
Study Abroad Opportunities
USC encourages its students to gain international experience and offers a wide range of study abroad programs, including semester-long programs, summer programs, and international internships. Studying abroad is a great way for students to gain a global perspective and develop cross-cultural communication skills.
USC has partnerships with universities and organizations around the world, including in Europe, Asia, Africa, and South America. Students can choose from a variety of programs that cater to their interests, whether it's studying art history in Paris, interning at a company in Shanghai, or learning about sustainability in Costa Rica.
Overall, USC's academic programs are designed to provide students with a well-rounded education that prepares them for success in their chosen careers. With a wide range of majors, interdisciplinary programs, and study abroad opportunities, USC is a great place to pursue your academic and professional goals.
Financial Aid and Scholarships
One of the biggest concerns for students when considering college is how to pay for it. Fortunately, USC offers a variety of financial aid options to help students afford their education.
Types of Financial Aid
USC offers need-based grants, merit scholarships, and work-study programs to help students finance their education. Need-based grants are awarded based on a student's financial need and do not have to be repaid. Merit scholarships are awarded based on academic achievement, leadership, and other criteria and also do not have to be repaid. Work-study programs allow students to work part-time on campus and earn money to help pay for their education.
It is important to fill out the FAFSA (Free Application for Federal Student Aid) in order to determine eligibility for need-based aid. The FAFSA opens on October 1st each year and should be submitted as soon as possible to maximize eligibility for financial aid. It is best to do it on or before submitting an application to USC admissions.
USC Scholarships
In addition to need-based aid, USC offers several merit-based scholarships. The Presidential Scholarship is one of the most prestigious scholarships offered by USC and is awarded to a small number of exceptional students each year. The Mork Family Scholarship is another highly competitive scholarship that is awarded to students who demonstrate academic excellence, leadership, and community service.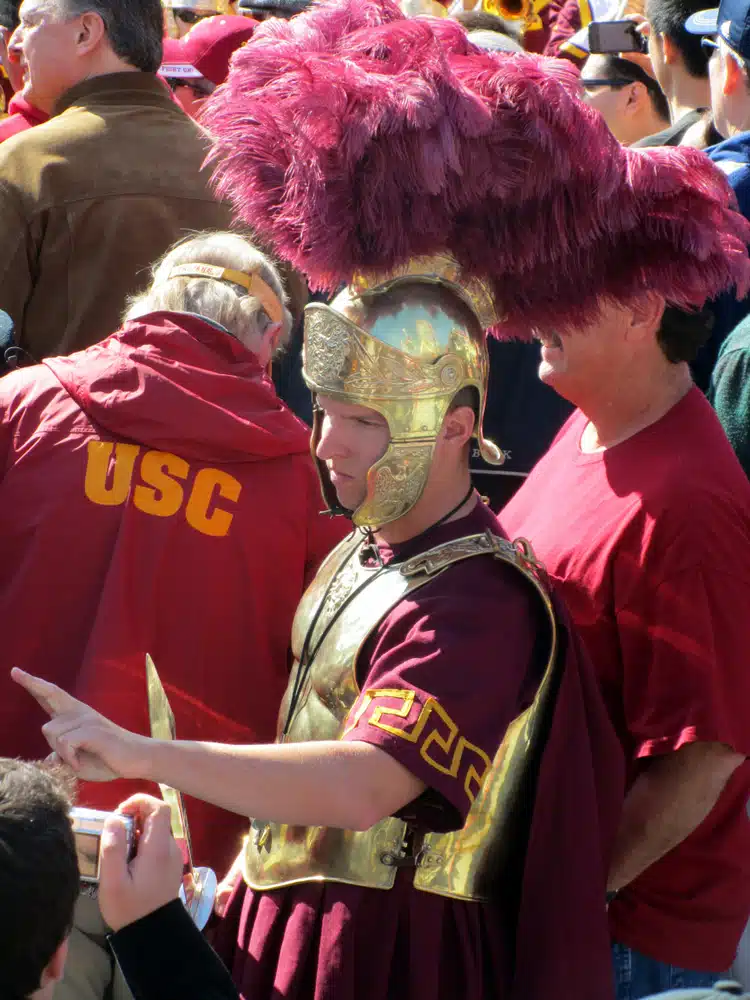 Students who wish to be considered for USC scholarships must submit their applications by December 1st. It is important to note that these scholarships are highly competitive and require a strong academic record and impressive extracurricular activities.
External Scholarships and Grants
There are many external scholarships and grants available to help finance a college education. These scholarships and grants are offered by private organizations, corporations, and foundations. It is important to research these opportunities early and apply for as many as possible to increase the chances of receiving funding.
Some external scholarships are targeted toward specific groups of students, such as minorities, women, or students pursuing certain fields of study. It is important to research these opportunities and apply for those that are relevant to your background and interests.
Overall, there are many financial aid options available to help students afford a college education. It is important to research and apply for as many opportunities as possible in order to maximize funding and minimize student debt.
Campus Life at USC
When it comes to college life, few universities can compete with the vibrant and exciting atmosphere at the University of Southern California (USC). From the moment you step onto campus, you'll be surrounded by a diverse and engaging community of students, faculty, and staff.
Housing and Dining Options
One of the first things you'll notice about USC is the wide variety of housing options available to students. Whether you're looking for a traditional dormitory experience or something a bit more independent, USC has you covered. You should take a look at your options as early as submitting an application to USC admissions. Residential colleges offer a unique opportunity to live and learn with students who share your interests, while off-campus apartments provide a taste of independent living without sacrificing the convenience of campus life.
Of course, college life wouldn't be complete without great food, and USC doesn't disappoint in that regard either. With several cafeterias, food trucks, and restaurants to choose from, you'll never go hungry on campus. From classic comfort foods to healthy options, there's something for everyone at USC.
Student Organizations and Clubs
One of the best ways to get involved and make new friends at USC is by joining one of the many student organizations or clubs on campus. With over 800 to choose from, there's truly something for everyone. Interested in politics? Check out the USC College Democrats or Republicans. Love music? Join the Trojan Marching Band or one of the many a cappella groups on campus. Sports fan? USC has plenty of intramural and club sports teams to choose from.
Getting involved in a student organization or club is a great way to pursue your passions, develop new skills, and make lifelong connections with your fellow Trojans.
Athletics and Recreation
USC is known for its outstanding athletic programs, with over 20 varsity sports teams and a reputation for excellence in football and basketball. But even if you're not a varsity athlete, there are plenty of opportunities to stay active and healthy on campus. The Lyon Center, USC's state-of-the-art gym, offers a wide range of fitness equipment and classes, including yoga, Pilates, and spin.
In addition to the Lyon Center, USC has numerous outdoor recreation facilities, including tennis courts, basketball courts, and a swimming pool. Whether you're looking to compete at a high level or simply stay active and have fun, USC has everything you need to stay fit and healthy.
Overall, campus life at USC is an experience unlike any other. With a diverse and engaging community, top-notch housing and dining options, and a wide range of extracurricular activities, USC truly has something for everyone.
Tips for a Successful USC Application
Are you considering applying to the University of Southern California? USC is a prestigious university that attracts students from all over the world. To increase your chances of getting a positive decision for USC admissions, it's important to put your best foot forward and submit a strong application. Here are some tips to help you craft a compelling USC application:
Crafting a Compelling Personal Statement
Your personal statement is one of the most important parts of your USC application. This is your opportunity to tell your story and explain why you are a good fit for USC. When writing your personal statement, be sure to be honest, reflective, and specific. Don't be afraid to share personal anecdotes and experiences that have shaped who you are today. To make your personal statement stand out, consider incorporating your academic and career goals. Discuss how USC's academic programs and resources align with your interests and aspirations. Take your time when writing your personal statement and ask for feedback from others to make sure your statement is polished and compelling. Remember, this is your chance to showcase your unique personality and perspective to the admissions committee.
Demonstrating Your Passion and Commitment
USC looks for students who are not only academically accomplished but also passionate about their extracurricular pursuits. When filling out your application, be sure to highlight your achievements and experiences that demonstrate your commitment to your interests and goals. For example, if you are interested in pursuing a degree in journalism, discuss your experience writing for your school newspaper or interning at a local news outlet. If you are passionate about community service, describe your involvement in volunteer organizations and the impact you have made on your community. Remember, USC is looking for well-rounded students who are not only committed to their academic pursuits but also passionate about making a difference in the world.
Preparing for an Interview (if applicable)
Some USC applicants may be invited for an interview as part of the USC admissions process. If you are selected for an interview, congratulations! This is a great opportunity to showcase your personality and enthusiasm for USC. To prepare for your interview, start by researching USC's history, academic programs, and campus culture.
This will help you answer questions about why you are interested in attending USC and what you hope to gain from your college experience. Practice your answers to common interview questions with a friend or family member. This will help you feel more confident and prepared on the day of your interview.
Finally, dress professionally for the occasion and arrive early to ensure you have plenty of time to find your way to the interview location. Remember, the interview is just one part of your USC application. If you don't receive an interview invitation, don't worry! The admissions committee will still consider your application based on your academic record, extracurricular activities, and personal statement.
By following these tips, you can increase your chances of submitting a successful USC application. Good luck!
What to Do After Receiving Your USC Admission Decision
Congratulations on receiving your admission decision from USC! This is an exciting time in your life and there are many important steps to take as you begin your journey as a USC student.
Accepting or Declining Your Offer
First and foremost, you will need to decide whether to accept or decline your offer of admission. This decision should not be taken lightly, so be sure to carefully consider your options and deadlines before making your final choice. If you are unsure about your decision, you can always reach out to the USC admissions office for guidance and support.
If you do decide to accept your offer, congratulations! You are now officially a part of the Trojan family.
Preparing for Orientation and Registration
Once you have accepted your offer, it's time to start preparing for orientation and registration. This is an important process that will help you get started on the right foot at USC. During orientation, you will have the opportunity to meet other new students, learn about campus resources and services, and get to know your academic advisor.
Registration is also a critical step in your journey as a USC student. You will need to select your classes for the upcoming semester, which can be both exciting and overwhelming. Your academic advisor will be there to guide you through this process and help you make the best choices for your academic goals.
Making the Most of Your USC Experience
As a USC student, you have access to a wide range of resources and opportunities that can help you make the most of your college experience. From clubs and organizations to research opportunities and internships, there is something for everyone at USC.
One of the best ways to get involved on campus is to attend events and activities. USC has a vibrant campus community with a wide range of events happening all year long. Whether you're interested in sports, music, art, or something else entirely, there is always something to do at USC.
Finally, don't forget to take advantage of all the resources and services available to you as a USC student. From academic support to career services and mental health resources, USC is committed to helping you succeed both inside and outside of the classroom.
So, congratulations again on your admission to USC! We can't wait to welcome you to campus and see all the amazing things you will accomplish as a Trojan. Fight on!
Final Thoughts
USC is a world-class university with a long history of academic excellence and innovation. Whether you're interested in business, engineering, communication, the arts, or any other field, USC offers a wide variety of academic programs and opportunities to help you achieve your goals. We hope this guide has given you a thorough understanding of the USC admissions process and the resources available to you as a USC student. Good luck with your application, and fight on!
How AdmissionSight Can Help You With College Admissions
Hello, we're AdmissionSight, a dedicated college admissions consulting service. We're committed to helping high school students navigate the complex journey toward admission to top-tier universities. Our team of experienced consultants guides you through every step, from strategic planning and course selection to crafting compelling personal statements and interview preparation.
We understand that each student is unique, and we help you communicate your individual story in a way that will resonate with admissions committees. Our data-driven approach, personalized strategies, and commitment to reducing stress throughout the process have led to a high success rate, with many of our students being admitted to Ivy League and other top institutions.
We're not just about getting you into college; we aim to set you up for success beyond, by helping you develop a strong academic and extracurricular profile. Contact us and let's turn your college dreams into reality!