Free Online Courses at Stanford
Does Stanford University Offer Online Courses?
Does Stanford University offer online courses? Free online courses at Stanford University are offered in an extensive range which you can audit without charge. Stanford University joins other elite institutions in offering these courses online. Some even provide the option to purchase a completion certificate that you can then add to your LinkedIn or resumé.
The online learning gateway for Stanford, known as Stanford Online, gives students all around the world access to the university's possibilities for continuing education, career development, and lifelong learning. A wide range of opportunities to deepen your understanding, boost your career, and improve your life is offered through our extensive library of credit-bearing, expert, and free and open content.
Popular free online courses at Stanford cover a wide range of topics, from game theory and algorithm design to training for healthcare professionals, and are offered on e-learning platforms like edX and Coursera. There are workshops on leveraging love as a force for social justice and building your perfect career, as well as classes aimed to help you think outside the box in your current line of work.
What Courses Can I Take Online For Free?
Online courses and modules are among the open learning alternatives provided by Stanford University. The free online courses at Stanford listed below can be audited without cost, or students can opt to pay a modest amount to acquire a certified credential.
Here is a comprehensive list of "What courses can I take online for free?"
Designing Your Career
Duration: 5 weeks
This self-paced, non-linear course, created by the Stanford Life Design Lab, is ideal for people who are entirely unsure of what they want to do with their careers. Students study how to enter a new industry, network effectively, and maintain business relationships that will pay dividends in the future.
America's Poverty and Inequality Course
Duration: 9 weeks
This is a crash course on the issues of wealth inequality and poverty that exist in America today, examining how race and gender connect to them. The fact that this course breaks down the lectures into concise, in-depth videos while still bringing in renowned scholars to discuss the topic is one of its distinguishing features. The most recent research and figures are presented in each video's companion readings.
Giving 2.0
Duration: 4 weeks
This course assists students in evaluating and strengthening their non-profit strategy, utilizing technology to their advantage, and volunteering more successfully. Additionally, it offers chances for small virtual groups to get together and exchange concepts.
International Women's Health and Human Rights
Duration: 10 weeks
Whatever your line of work, this course can help you gain a deeper knowledge of the challenges that women experience worldwide, such as hunger, poverty, discrimination based on gender, unequal access to education, and violence, among other things.
Students engage in lively discussions about subjects like sex trafficking, conflict, refugee crises, education, and HIV/AIDS while learning about these topics.
Love as a Force for Social Justice
Duration: 6 weeks
This course is one of those fascinating free online courses at Stanford. It aims to highlight the value of love as a force for good, not just in our personal relationships. In six weeks of instruction, the topic of love is examined from a variety of angles, such as biology, religion, and ethical principles. To help you understand how to use love in promoting various social justice causes, the course also covers the value of non-violent communication and community building.
Disaster Medicine Training
Duration: 8 weeks
This course, which was created by SEMPER, the Stanford Emergency Medicine Program for Emergency Response, gives all medical practitioners interested in disaster medicine a foundation of knowledge. It offers direction for teams to adhere to a continuous training schedule, conduct additional studies to advance their knowledge in this field, and be self-sufficient for the first 72 hours following a disaster.
American Prophet: The Inner Life and Global Vision of Martin Luther King, Jr.
Duration: 11 weeks
The Civil Rights Movement and Martin Luther King, Jr. have been the subject of innumerable books and films, but few examine Dr. King's own innermost thoughts. The course will give students a deeper understanding of both MLK and his ideals by utilizing primary sources, such as his unpublished sermons and manuscripts, as well as on-location recordings of locations King frequently visited.
Quantum Mechanics for Scientists and Engineers
Duration: 9 weeks
Students who have a college-level background in physical science or engineering are eligible for this course. It discusses the fundamental principles and measurements of quantum mechanics, as well as the hydrogen atom, the uncertainty principle, and how to use these concepts to solve issues in subfields like nanotechnology and photonics.
Although this course has been archived, some of the contents are still accessible.
Language, Proof, and Logic
Duration: 15 weeks
Critical thinking abilities are crucial, particularly when battling false information. The fundamental tenet of all reasoning—that one assertion must follow logically from another—is dissected in this course. These skills can aid you in more than only winning debates or refuting misleading claims; they can also aid you in navigating your life more effectively by aiding you in choosing more sensible choices.
How to Taper Patients Off of Chronic Opioid Therapy
Duration: one week
In a very condensed length of time, this course covers material that could drastically transform your life. Healthcare professionals gain knowledge of techniques for safely weaning patients on or off opioid therapy as well as how to weigh the risks and advantages of doing so. Additionally, a recommendation on when to refer patients to addiction therapy is given to them.
Game Theory
Duration: 18 hours
Beyond its usage in actual games, game theory is the "mathematical modeling of strategic interaction among rational (and irrational) agents," and is applied in economics and politics to make important (yet high-risk) decisions. The fundamentals of game theory and tactics are covered in this course, along with how to use them in practical contexts like auctions and computer science issues.
Algorithms: Design and Analysis, Part 1
Duration: 6 weeks
This crash course in algorithms will be helpful to students who have even a little background in computer science or programming. The "Big-oh" notation, sorting and searching, divide and conquer, randomized algorithms, data structures, and graph primitives are among the concepts taught to students. Along the way, they can check their progress by taking programming tests and quizzes.
How to Learn Math: For Students
Duration: 6 weeks
This course is for you if math has always been difficult for you. For students to leave the course feeling more confident and prepared to apply math in their daily lives and careers, it offers simple tactics for learning arithmetic more efficiently as well as encourages them to confront their own unfavorable beliefs about math and their mathematical talents.
Understanding Einstein: The Special Theory of Relativity
Duration: 81 hours
This course emphasizes Albert Einstein in order to help students comprehend the well-known theory of relativity. Students investigate the author's inspiration for his theories as well as the fundamental components of the theory, including finding the answers to some of the most frequently asked questions concerning it.
Thinking Critically: Interpreting Randomized Clinical Trials (CME)
Duration: one week
This brief course discusses the potential for biases in clinical trials and how to mitigate them using strategies like randomization. To learn how to more critically analyze clinical research articles, students watch films and read examples of them.
Defining the String Quartet: Haydn
Duration: 10 weeks
This course seeks to investigate the background and technical aspects of some of the early string quartets. Joseph Haydn is regarded as the father of the string quartet. Haydn's String Quartet in F minor, opus 20, No. 5 from 1772, is also thoroughly studied by the students, who are also given musical notation so they may follow along.
Introduction to Probability Management
Duration: 10 weeks
Before beginning this course, all you need is a basic understanding of Excel. You review ideas like the Averages Fallacy and the Arithmetic of Uncertainty while also learning how to build interactive Excel simulation models.
Machine Learning
Duration: 11 weeks
This well-known course among free online courses at Stanford, which is ideal for beginners, covers the fundamentals of machine learning, data mining, and statistical pattern recognition while offering examples of their use in developing intelligent robots, language interpretation, computer vision, and other fields.
Introduction to Food and Health
Duration: 5 weeks
This documentary-style course is designed for anyone who wants to learn more about nutrition and covers both the fundamentals of healthy eating and popular food trends. At the conclusion, there is an optional cookery workshop.
Are Online College Courses Worth It?
For more than a century, Stanford University has provided high-quality education and is one of the top locations in the world for research and education. Stanford was established in 1885, and since then, it has assisted several individuals in becoming Nobel laureates, millionaires, prominent figures in their respective fields, etc.
It was everyone's goal to attend Stanford, but nowadays you can earn a world-class education by enrolling in Stanford's many free online certification courses and programs. So, are online college courses worth it? Let's take a look at some advantages of taking free online courses at Stanford
Advantages of Taking Online Courses at Stanford University
Unlike if you attended a traditional school, you don't have to pay for transportation because the classes are online. You can do your homework while relaxing at your own home, office, or vehicle.
You can enroll in a variety of free certification programs, and you can even decide to learn something unrelated to your area of expertise to gain additional knowledge about other topics.
The free certification online courses are taught by renowned Stanford lecturers and professors. You will not spend a cent for this top-notch education, plus you will get to benefit from the Stanford name.
Free online courses at Stanford might help you advance in your job. You can acquire new skills or hone existing ones, which immediately puts you ahead of others in your field.
Because the classes are offered online, they are flexible thus you can arrange your schedule in any way that works for you.
Obtaining a certificate will formally certify your employment eligibility. You can undoubtedly find employment with online certification, especially since your Stanford University-issued credential will give you an advantage over other candidates.
How Do I Choose A Course At Stanford?
How do I choose a course at Stanford? The weekly submission of assignments is typically required for the relatively simple Stanford online courses. You must consider every aspect of a course before choosing it, including the style of delivery, length, source of reading materials, and scheduling. Don't be hesitant to contact Stanford if you have any questions prior to applying.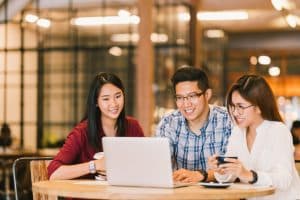 Here are some recommendations for selecting a Stanford online course.
Read the section titled "What you'll learn."
Make sure the lecture topics cover the subject you want to learn about before enrolling in a course. Send Stanford a message and ask additional questions if necessary. Free online courses at Stanford cover a wide range of interesting topics, however, if you pay for certification or some courses that are not for free only to find out halfway through that the subject is not what you expected, it would be incredibly upsetting.
Take your pacing and schedule into account.
If you are a working professional, the class's schedule and pace will be essential to your ability to complete the course. Weekly homework, final exams, in-person instruction, and live lectures are all features of some Stanford programs. A self-paced course might be the best option for you if you require more flexibility in your schedule.
Verify whether certificates are available.
The greatest course to take if you want to improve your resumé for professional progression, career change, or job search is a certificate course. Fortunately, Stanford offers certificates for most of its courses.
Keep course costs in mind.
Although there are free online courses at Stanford, some advanced online courses can be pricey. Even so, the standard of instruction is on par with what you would receive on campus. You can ask about financial aid, which the school grants on a case-by-case basis if you need to enroll in a certain program but find it difficult to pay the course fees.
Interaction and participation.
Even though the course is entirely online, you will still interact with other students. Group projects, practical experience, peer interaction, and one-on-one mentoring are all requirements for some programs. Ask about the class dynamics if this is what you are searching for because they're frequently not covered in the course summary.
Stanford Online's mission is to uphold Stanford's global leadership in the provision of top-notch educational opportunities for its students and all other people by encouraging creativity and innovation in online education.
Although this alternative to traditional education is not for everyone, it is still a practical option with almost unlimited options, especially for international students. Before enrolling in online learning, each student must evaluate their own circumstances and aspirations. If you need assistance in choosing from free online courses at Stanford that aligns with your goals in learning and your career, AdmissionSight can help you.
Finally, if you aim to get into a prestigious school like Stanford, we at AdmissionSight have more than ten years of experience helping students navigate the challenging admissions process so they can enroll in the best colleges in the world. Feel free to set up an initial consultation to start your college application.