Georgetown Campus Tour
Immersed in tradition and located in the lively environment of Washington D.C., Georgetown University is more than just an institution; it's a beacon of academic excellence that transcends time. The unique allure of its famous campus harmoniously merges history with innovation, cultivating an atmosphere that emanates knowledge and invites exploration. The Georgetown campus tour provides an immersive journey through this space.
The Georgetown campus tour is an open invitation to aspiring students, proud alumni, and intrigued visitors alike. It's akin to entering a new universe rich with intellectual pursuit, diversity, and deep cultural heritage. This is where aspirations align with reality, and tomorrow's leaders embark on their journeys.
The tour will guide you from the emblematic Healy Hall, a National Historic Landmark, to the state-of-the-art facilities teeming with cutting-edge resources. The Georgetown campus beautifully embodies the university's mission of fostering individuals who leave an impact on the world. It's a living entity that has witnessed countless milestones while continually adapting to maintain its relevance in today's educational milieu.
This blog post takes you through this illustrious campus, offering a glimpse into its past, present, and future. We'll delve into the specifics of campus tours, the accessibility of the campus to the public, and much more. Join us as we unravel the story of Georgetown University's campus – a tale that's as compelling as it is inspiring.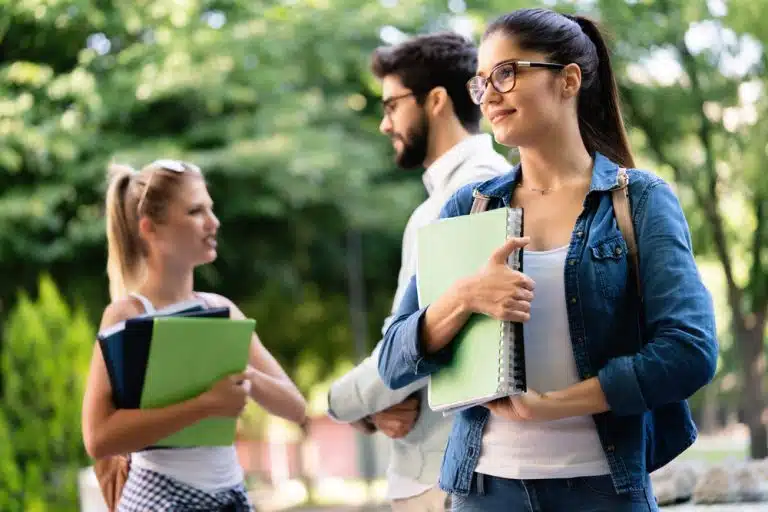 As we traverse the landscaped paths and walk the storied halls, you'll realize that a Georgetown campus tour isn't just a simple excursion. It's an experience that leaves you with a profound understanding of the University's ethos and an indelible appreciation for its unwavering commitment to nurturing leaders, fostering innovation, and promoting inclusivity.
Is the Georgetown campus open to the public?
Is the Georgetown campus open to the public? Indeed, Georgetown University warmly opens its historic gates to the curious eyes of the public. This haven of learning, nestled in the heart of Washington, D.C., offers a delightful blend of architectural grace, serene green spaces, and a palpable sense of history that all can experience.
However, it's important to note that while the campus welcomes visitors, certain guidelines have been set to ensure a harmonious balance between public interest and the university's primary commitment to its students, faculty, and staff.
The university's outdoor areas are generally open during daylight hours, which allows visitors to wander the cobbled paths, admire the distinctive architecture, and feel the vibrant academic atmosphere that Georgetown University is celebrated for. But do bear in mind that access to specific buildings, particularly residential areas, and academic facilities, is often restricted to members of the Georgetown community.
In addition, to ensure the safety and privacy of students, certain areas might require a university ID for entry, and some buildings might have specific visiting hours or be closed to the public entirely during examinations or special events.
In essence, while the public is invited to absorb the ambiance and rich history that radiates from Georgetown's campus, it's crucial to respect the guidelines set forth by the university to ensure that this prestigious institution continues to be a thriving space for academic growth and exploration.
Does Georgetown have campus tours?
Does Georgetown have campus tours? Picture this: you're walking under a canopy of cherry blossoms, the centuries-old buildings looming majestically, each step on the cobbled path echoing with stories from the annals of Georgetown University. Such is the allure of the Georgetown Campus Tour. It's not just a walk around the campus; it's a rendezvous with history, culture, and a legacy of excellence.
Yes, Georgetown University indeed hosts guided campus tours, offering visitors a comprehensive exploration of this vibrant educational hub. From the grandeur of Healy Hall to the tranquility of Dahlgren Quadrangle, the energy of the student-filled Leavey Center to the innovation within the Yates Field House, you'll see it all, led by an experienced, enthusiastic guide.
These guided tours present an unparalleled opportunity to glimpse life at Georgetown. You'll see firsthand where students learn, live, and interact, absorbing the palpable camaraderie and dedication permeating the campus. Your guide, often a current student, will offer insights into the Georgetown experience, making the tour informative, engaging, and relatable.
Registering for a campus tour at Georgetown is straightforward. Visit the university's official website, where you'll find a 'Visit Georgetown' section. This provides details of the tour schedules and the necessary steps for registration. Tours must be booked in advance due to their popularity and limited spaces. So, whether you're a prospective student, an eager alumnus, or an intrigued local, sign up for a Georgetown campus tour. It's your pass to witness the synthesis of history, academia, and community that shapes Georgetown's unique narrative.
Does Georgetown have self-guided tours?
Does Georgetown have self-guided tours? While the charm of guided tours lies in the personalized touch and shared experience, there's something to be said about the thrill of exploration on one's terms. That's where Georgetown's self-guided tours come in.
Georgetown University encourages independent discovery through its self-guided tours, allowing visitors to explore the campus at their own pace. This is an attractive option if you prefer a less structured experience, wish to spend more time at particular points of interest, or if your visit falls outside the traditional guided tour hours.
Self-guided tours work quite simply. You'll access an online map or downloadable guide provided by the University that outlines a recommended route and highlights key points of interest, including the stunning Healy Hall, the lush green lawns of Copley Lawn, the bustling Leavey Center, and the iconic Dahlgren Chapel, among others.
To get the most out of your self-guided Georgetown campus tour, planning your visit ahead of time is recommended. This includes studying the campus map, noting the places you're particularly interested in, and familiarizing yourself with the rules and restrictions of campus access. Also, remember to wear comfortable walking shoes – the campus is sprawling!
The resources needed for the self-guided tour are on the Georgetown University website's 'Visit Georgetown' section. You'll find the guide, an interactive campus map, and other useful information to enrich your tour. A smartphone or a printed copy of the guide will be your faithful companion as you unravel the rich layers of Georgetown University's history and culture.
In the end, a self-guided tour is about your unique journey. Whether it's a quiet moment of reflection at Dahlgren Chapel, a stroll along the Potomac River, or the thrill of imagining yourself in a lively lecture at the ICC Building, your Georgetown journey is yours to create. So, chart your course, and let the adventure begin!
Does Georgetown have a virtual tour?
Does Georgetown have a virtual tour? In an era where technology has managed to shorten the distances between us, experiencing the grandeur and vibrancy of Georgetown University is no longer bound by geography. Yes, you read that right. Georgetown offers comprehensive virtual tours, enabling anyone from around the globe to explore the campus at the click of a button.
The virtual tour provides a 360-degree view of the campus, covering a multitude of iconic buildings, student hotspots, and picturesque outdoor spaces. From the stoic majesty of Healy Hall and the lively, student-filled Leavey Center to the serene Dahlgren Quadrangle, the virtual tour ensures you don't miss out on experiencing the campus's unique atmosphere.
Accessing the virtual Georgetown campus tour is quite straightforward. Navigate to the 'Visit Georgetown' section of the University's official website. Here, you'll find a link to the virtual tour. No specific software or applications are required; you only need a device with internet access. You can explore at your leisure, moving from one location to another, while informative pop-ups provide a wealth of information about each spot.
So, why opt for a virtual tour? Firstly, it's a boon for those who cannot visit the campus in person due to distance, health, or other constraints. Virtual tours allow prospective students and curious individuals to immerse themselves in the Georgetown experience without leaving their homes. Secondly, even if you're planning a physical visit, a virtual tour can serve as a great preliminary exploration, helping you identify areas you'd like to focus on when you're there in person.
In conclusion, the Georgetown virtual tour is a testament to the University's commitment to inclusivity and modernization. It ensures that the wonder of the Georgetown campus, its rich history, and vibrant student life are accessible to all, irrespective of their geographical location. It is a fantastic opportunity to experience Georgetown from your home!
How long is the Georgetown campus tour?
How long is the Georgetown campus tour? Whether you opt for a guided tour or explore independently, one question is likely to cross your mind: how much time should I set aside for a Georgetown campus tour? Let's delve into the specifics.
A typical guided tour at Georgetown University generally takes around 60 minutes. Led by experienced guides, usually current students, these tours are designed to provide a comprehensive overview of the campus, weaving together tales of its history, insights into student life, and introductions to key facilities.
On the other hand, the length of a self-guided tour can vary greatly, depending on your pace and interest. With the liberty to spend as much time as you like at each location, you could complete your tour in a couple of hours or stretch it out to fill an entire day, leisurely exploring and soaking in the atmosphere.
When scheduling and planning for your tour, there are a few things to consider. For guided tours, check the schedule on the university's website and register in advance, as slots can fill up quickly. Remember to arrive a bit early to ensure you don't miss the beginning of the tour.
For self-guided tours, consider the university's operating hours and the local weather on the day of your visit. While the outdoor areas are generally accessible throughout the day, access to certain buildings may be limited. Therefore, some planning can go a long way in ensuring a smooth and fulfilling experience.
And, of course, don't forget to invest some extra time! There's always something more to explore, an unexpected discovery, or a cozy corner perfect for a break and reflection on the incredible journey through Georgetown's history and culture. No matter which tours you choose, visiting Georgetown University will surely be a memorable experience that leaves a lasting impression.
What can you see at Georgetown?
Georgetown University's campus blends historic charm and modern innovation, a tapestry woven with fascinating architectural structures, serene green spaces, and hubs of intellectual activities. So, what can you see at Georgetown? Let's unwrap the highlights that await on your Georgetown campus tour, be it guided, self-guided, or virtual.
Healy Hall: This iconic building is the heartbeat of Georgetown University. A National Historic Landmark, Healy Hall houses the Office of the President, numerous classrooms, Gaston Hall auditorium, and Riggs Library, one of the United States' most beautiful libraries.
Dahlgren Quadrangle: A true gem at the heart of the campus, this tranquil courtyard is home to the Dahlgren Chapel of the Sacred Heart, the oldest building on campus. It's a perfect spot to witness the changing seasons, with cherry blossoms in spring and a gentle blanket of snow in winter.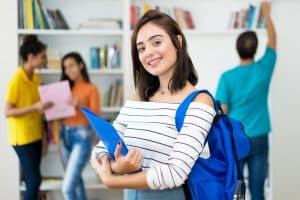 Lauinger Library: This Brutalist architecture building, located next to the Potomac River, is the main university library. With a facade inspired by Healy Hall, it offers a perfect blend of tradition and modernity.
The Rafik B. Hariri Building: This modern structure houses the McDonough School of Business. Equipped with technologically advanced classrooms, faculty offices, and conference rooms, it's a glimpse into Georgetown's commitment to innovation in education.
Yates Lagoon: This picturesque lagoon, in front of the Yates Field House, is a delightful spot, perfect for a moment of peace amidst your tour.
Leavey Center: This student hub houses a hotel, several dining options, and the University bookstore. It's the epicenter of student activity and offers a glimpse into the vibrant Georgetown community.
Copley Lawn: This expansive green space is the venue for various events, including commencement ceremonies. It's also a popular spot for students to relax, study, or play.
Georgetown University Medical Center: An integral part of the campus, this complex is at the forefront of medical education, research, and patient care.
From historic structures that resonate with stories of the past to modern edifices that echo Georgetown's continual evolution, each location on the campus tour contributes to the unique tapestry that is Georgetown University. As you explore these places, you're not just observing buildings or spaces; you're experiencing the essence of a university that has shaped minds and inspired change for over two centuries.
Making the most out of your Georgetown campus tour
Visiting Georgetown University's campus can be an enlightening and exhilarating experience. Whether it's your first time or returning after a while, here are some tips and suggestions to make your tour memorable and rewarding.
Dress Code: Comfort is key. With plenty of walking and varying weather conditions, dressing appropriately can make all the difference. Opt for casual attire, and most importantly, wear comfortable shoes. In the warmer months, a hat, sunscreen, and sunglasses could be useful, while during colder months, don't forget to layer up and carry a warm coat.
Best Times to Visit: To get a true feel of the vibrant campus life, consider visiting during the academic year when students are on campus. If possible, try to avoid exam periods and holidays. Weather-wise, spring, and fall are the most beautiful seasons on campus.
What to Bring: Apart from your smartphone or printed guide for self-guided tours, carry a bottle of water to stay hydrated and a notebook and pen to jot down any interesting facts or observations. A camera could also be useful if you're keen on capturing the campus's beautiful sights.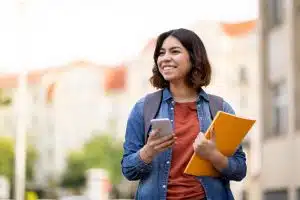 Plan: Review the campus map and tour guide before your visit. Note any buildings or areas you're particularly interested in. If you're on a guided tour, don't hesitate to ask your guide about these spots.
Ask Questions: Maximize your guide's knowledge if you're on a guided tour. Don't hesitate to ask questions if you're curious about student life, academic programs, or the history of a particular building.
Take Your Time: Don't rush. Whether exploring the historic Healy Hall, walking around the Dahlgren Quadrangle, or visiting the buzzing Leavey Center, take the time to soak in the atmosphere. Remember, this is not just about sightseeing; it's about experiencing Georgetown.
Explore Beyond the Tour: Consider exploring the surrounding Georgetown neighborhood if time allows. Its charming streets, historic homes, diverse restaurants, and the nearby waterfront offer a broader context of what living and studying in this area would be like.
With these tips, you're all set to make the most of your Georgetown campus tour.
Conclusion
Georgetown University's campus, steeped in history and bustling with innovation, offers an enriching experience, whether you're a prospective student, an alumnus returning to your alma mater, or a visitor keen on soaking in the university's vibrant atmosphere.
The campus embraces an array of architectural styles and green spaces, from the historic Healy Hall and tranquil Dahlgren Quadrangle to the modern Rafik B. Hariri Building and lively Leavey Center. Each spot you explore on your tour reveals a new facet of Georgetown's rich tapestry: academic excellence, a commitment to service, or a vibrant student life.
Moreover, Georgetown's commitment to accessibility ensures everyone can experience its unique charm. Guided tours offer a comprehensive overview and insightful anecdotes. Self-guided tours grant the freedom to explore at your own pace. And for those unable to visit in person, virtual tours bring Georgetown to the comfort of your home.
Remember to dress comfortably, carry essentials, ask questions, and, most importantly, take your time to truly embrace the Georgetown experience. And if time permits, extend your adventure to the surrounding neighborhood, further enriching your visit.
So, don't wait! Whether in person or virtually, embark on your Georgetown campus tour today. Immerse yourself in its unique blend of history, academia, and community. It's more than a tour; it's an opportunity to engage with a university that has inspired minds and shaped futures for centuries.
If you're set on getting into a world-class college but aren't sure how to make it happen, we can help! AdmissionSight is a leading college entrance expert with over a decade of experience helping students just like you get into the schools of their dreams.
At AdmissionSight, we focus on offering a wide range of services, all aimed at helping students perfect their applications to catch the attention of admissions officers. Contact us today to schedule a free consultation to learn more about what we offer.