Is USC A Large Campus?
Of course, the first thing you would want to know is how big is USC. The University Park Campus of the University of Southern California spans 229 acres and is located just five kilometers south of Downtown Los Angeles. The campus features a lively combination of traditional and modern building styles, as well as fountains, sculptures, and other outdoor art.
Each year, USC's two primary campuses, both of which are situated in the middle of Los Angeles, are honored to host tens of thousands of guests and visitors.
You might be wondering "Is USC a large campus?" The 229-acre University Park campus, which is home to the USC Dornsife College of Letters, Arts, and Sciences, the Graduate School, and the majority of USC's professional schools, is adjacent to Exposition Park, which is home to world-class museums and recreational facilities. The University Park campus is also home to the majority of USC's professional schools.
The Keck School of Medicine of USC, the School of Pharmacy, and three major teaching hospitals are all located on the 79-acre Health Sciences campus, which is located a few miles to the northeast.
In addition to its main campus in Los Angeles, the University of Southern California runs programs all over Southern California, from Santa Catalina Island to Orange County and everywhere in between. Also, the university operates facilities in Washington, District of Columbia, and Sacramento, California.
One of the most well-known and well-funded research universities in the United States is the University of Southern California (USC). It oversees the operations of approximately one hundred research institutes, some of which include the Institute for Robotics and Intelligent Systems and the Southern California Earthquake Center.
The university is home to approximately twenty libraries, and among its holdings you'll find a significant film and television collection.
A health sciences campus is located in the northeastern part of Los Angeles, and the university also has satellite campuses in Sacramento and Washington, District of Columbia. The primary campus of the university is located in University Park. On Santa Catalina Island there is a marine science center that visitors can visit.
What Is the Area Around USC Like?
For you to get through the entire 4 years of your college life, you should know what is the area around USC like.  In the early 1870s, when Los Angeles was still a rough-and-tumble frontier town with a population of 10,000, a group of public-spirited citizens dreamed of establishing a university in the region.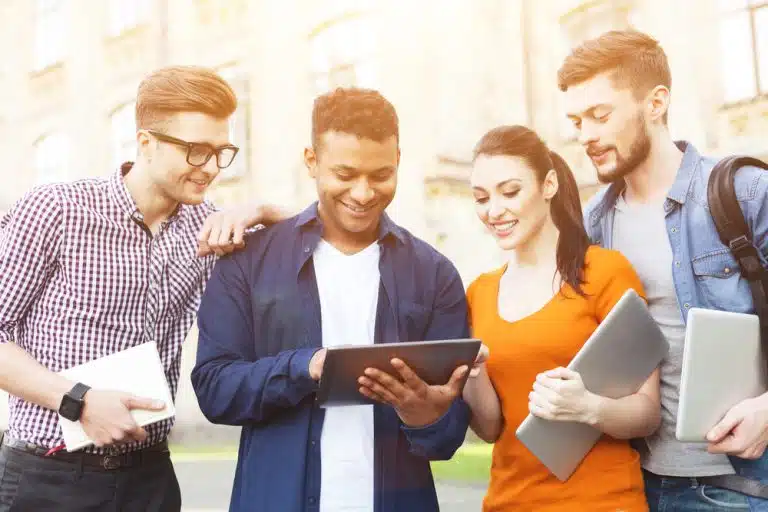 At the time, Los Angeles was located in what is now known as the San Fernando Valley. It took almost a decade for this vision to become a reality, and when the University of Southern California (USC) first opened its doors in 1880 to 53 students and 10 teachers, the city of Los Angeles did not yet have paved streets, electric lights, or telephones.
USC has maintained its dedication over the course of its history to both the "old" neighborhood of University Park and the "new" neighborhood of Boyle Heights/Lincoln Heights, which has been the location of the university's Health Sciences campus ever since it first opened its doors in 1952. Both of these neighborhoods are among the most culturally active and historically significant in the entire city.
The development of the University Park neighborhood in Los Angeles began in 1872 with the establishment of Agricultural Park, which is now known as Exposition Park. The opening of the university in 1892 was the next step in the neighborhood's evolution.
The extension of streetcar lines to these institutions from downtown, in combination with a doubling of Los Angeles' population in the 1890s, led to the rapid growth of residential neighborhoods just north and west of USC. This growth was spurred by the extension of streetcar lines to these institutions from downtown.
By the year 1910, the entirety of University Park had been subdivided, and prestigious neighborhoods such as Chester Place and St. James Park, located close to the intersection of West Adams Boulevard and Figueroa Street, were seeing the construction of upscale homes.
Soon after, homes for people of the middle class and the upper class, in architectural styles ranging from Queen Anne to Mission Revival, began to fill the surrounding neighborhoods, which were then followed by the construction of institutional buildings like the Automobile Club of Southern California, St. Paul's Cathedral, and St. Vincent de Paul Church.
How big is USC's development from years back? The University Park campus of the University of Southern California now spans approximately 229 acres and serves as an anchor for the southern terminus of the Los Angeles Downtown Arts and Education Corridor. It is the location of 15 of the university's 17 professional schools in addition to the College of Letters, Arts, and Sciences of the University of Southern California. Even Exposition Park has undergone some changes.
Visitors to the region today have the opportunity to go back in time to prehistoric times at the Natural History Museum of Los Angeles County, look to the future of science and technology at the California Science Center, take a stroll in one of the country's largest rose gardens, or watch sporting events at the historic Los Angeles Memorial Coliseum, which hosted the Olympic Games in 1932 and 1984 and is the current home of USC Trojan Football.
The modern neighborhood known as University Park is home to an impressive collection of cultural institutions, including museums, art galleries, theaters, gardens, libraries, and places of worship. People of all ages can find exciting new things to discover in the University Park neighborhood thanks to the diverse range of opportunities it provides in the areas of education and entertainment, art and culture, as well as the past and the future.
How Many People Apply To USC In A Year?
The university reports that the number of applicants increased by more than 20 percent from the previous year, bringing the total number of applications to slightly more than 70,000.
A total of 16 percent of applicants were accepted into the program the year before. Meanwhile, 26 percent of students admitted for the fall term in 2021 are people of African or Latinx descent.
If they were accepted, one in five students would be the very first person in their family to go to college. To add, 14 percent of the total admitted class is comprised of students from other countries, with 88 different nations being represented.
During the pandemic caused by COVID-19, which has kept students away from campus since March of 2020, this year marks the first time that prospective students have applied to attend the university.
Another recent decision made by the university was to increase tuition by 2%, which is the smallest year-over-year increase seen at the institution since 1967.
There are other schools in addition to USC that have received a record-breaking number of applications for this cycle. Some Ivy League schools, such as Harvard, Dartmouth, and Columbia, saw a significant increase in the number of applicants, which forced the schools to push back the dates on which they would release admissions decisions.
In addition, UCLA saw a roughly 28 percent increase in the number of applications received.
There is a possibility that an increase in how many people apply to USC in a year is attributable to the fact that many universities have removed the requirement that applicants submit scores from standardized tests for this round of applications. The University of California schools no longer require applicants to submit SAT or ACT scores, but the University of Southern California will continue to do so until fall 2024.
USC's financial aid initiative, which offers free tuition to U.S. students whose families make less than $80,000 per year, may be another factor that is contributing to the rise in the number of students applying to the university.
Now, how big is USC's admissions pool this year? Approximately, 8,000 out of the nearly 70,000 applicants were accepted for the Class of 2026. There were 69,000 applicants overall, a slight drop from 70,971 the previous year. The acceptance rate, which was under 12 percent, was the lowest it had been since 2019, but USC's average GPA, at 3.91, was the highest it had ever been.
What Is USC's Acceptance Rate?
Students who have excelled academically in the Golden State often choose to attend the University of Southern California (USC), which is widely regarded as one of the top educational institutions in the state of California.
Only for the academic year 2021, there were over 70,000 people interested in attending USC who submitted an application. A total of 8,400 of them were extended admission offers, which corresponds to a 12 percent acceptance rate for the school. That is, without a doubt, an extremely low acceptance rate.
For the Class of 2026, what is USC's acceptance rate? around 8198 people were given admission offers out of roughly 69,000 applicants for the 2022–23 academic year. This year's acceptance rate of 12 percent is nearly identical to the previous one. There are no Early Action or Early Decision options available at this institution. All applicants for merit scholarships must submit their materials by December 1; all other first-year applicants must do so by January 15.
However, despite having an admissions rate that is on par with that of other schools of a comparable caliber, this does not mean that getting into USC is a walk in the park. There will be a maximum of two students accepted for every ten students, and typically only one will make it through the program. The consensus among commentators is that USC is a highly competitive educational establishment.
That is an extremely difficult standard to achieve, but there are some advantages to striving for such a high standard. To begin, a school is regarded more highly as a symbol of prestige the more prestigious it is. In addition, when a school has stringent admission requirements, only the most talented students are accepted, which encourages the other students to bring out the best in one another.
What Is the Average Class Size At USC?
USC takes great pride in the fact that it combines the resources of a large research institution with the culture of a liberal arts college focused on the student body. It has a relatively large undergraduate enrollment of 19,500 students. Now, if you're interested to join the university, this question might have crossed your mind, "What is the average class size at USC?"
Its class sizes average only 26 students and it has a student-to-faculty ratio of 8:1. These are both impressive statistics. Approximately 61 percent of students choose to enroll in classes with fewer than 20 other classmates, giving them a somewhat more intimate learning environment.
The largest classes at USC can have anywhere from 40 to 50 students. Therefore, if you want to have a more intimate learning environment during your time at college, you should give some consideration to attending USC.
How Many Majors Does USC Have?
Deciding majors would be a "major" decision for every student. So, how many majors does USC have? The university confers undergraduate degrees in approximately 75 different areas of study, as well as graduate degrees and professional degrees in approximately 125 fields.
Agriculture, Outdoor, and Construction Major
Aeronautics/Aviation/Aerospace Science and Technology, General
Art Major
Acting
Art History, Criticism and Conservation
Art/Art Studies, General
Arts, Entertainment, and Media Management, Other
Brass Instruments
Cinematography and Film/Video Production
Dance, General
Design and Visual Communications, General
Digital Arts
Drama and Dramatics/Theatre Arts, General
Dramatic/Theatre Arts and Stagecraft, Other
Film/Cinema Studies
Fine/Studio Arts, General
Game and Interactive Media Design
Jazz/Jazz Studies
Music Management and Merchandising
Music Performance, General
Music Theory and Composition
Music, General
Music, Other
Percussion Instruments
Piano and Organ
Playwriting and Screenwriting
Technical Theatre/Theatre Design and Technology
Violin, Viola, Guitar and Other Stringed Instruments
Visual and Performing Arts, General
Voice and Opera
Woodwind Instruments
Business Major
Accounting
Business Administration and Management, General
Economics, General
International Business/Trade/Commerce
Real Estate
Real Estate Development
Education Major
Education, General
Health Major
Behavioral Aspects of Health
Cognitive Science
Dental Hygiene/Hygienist
Health Services/Allied Health/Health Sciences, General
International Public Health/International Health
Occupational Therapy/Therapist
Humanities Major
African-American/Black Studies
American/United States Studies/Civilization
Area Studies, Other
Asian-American Studies
Broadcast Journalism
Central/Middle and Eastern European Studies
Classics and Classical Languages, Literatures, and Linguistics, General
Communication Studies/Speech Communication and Rhetoric
Communication and Media Studies, Other
Comparative Literature
Creative Writing
East Asian Languages, Literatures, and Linguistics, General
East Asian Studies
English Language and Literature, General
Ethics
Ethnic, Cultural Minority, and Gender Studies, Other
French Language and Literature
German Language and Literature
Hispanic-American, Puerto Rican, and Mexican-American/Chicano Studies
History, General
History, Other
Italian Language and Literature
Jewish/Judaic Studies
Journalism
Linguistic, Comparative, and Related Language Studies and Services, Other
Linguistics
Near and Middle Eastern Studies
Philosophy
Philosophy, Other
Public Relations/Image Management
Religion/Religious Studies
Russian Language and Literature
Spanish Language and Literature
Law and Politics Major
Archeology
Cartography
Geography
International Relations and Affairs
International/Global Studies
Political Economy
Political Science and Government, General
Public Policy Analysis
Sociology
Urban Studies/Affairs
Other Major
Multi-/Interdisciplinary Studies, Other
STEM Major
Aerospace, Aeronautical and Astronautical Engineering
Architectural and Building Sciences/Technology
Architecture (BArch, BA/BS, MArch, MA/MS, PhD)
Astronomy
Biochemistry
Biology/Biological Sciences, General
Biomedical/Medical Engineering
Biophysics
Chemical Engineering
Chemistry, General
Civil Engineering, General
Civil Engineering, Other
Computational Biology
Computational and Applied Mathematics
Computer Engineering, General
Computer Science
Electrical, Electronics and Communications Engineering
Engineering-Related Fields, Other
Environmental Science
Environmental Studies
Environmental/Environmental Health Engineering
Financial Mathematics
Geology/Earth Science, General
Human Biology
Industrial Engineering
Informatics
Kinesiology and Exercise Science
Mathematics, General
Mechanical Engineering
Modeling, Virtual Environments and Simulation
Neurobiology and Neurosciences, Other
Neuroscience
Pharmacology and Toxicology, Other
Physical Sciences
Physics, General
Structural Engineering
Zoology/Animal Biology
Social Science Major
Anthropology
City/Urban, Community and Regional Planning
Gerontology
Psychology, General
Social Sciences, General
At the University of Southern California, graduates were conferred degrees in 139 different fields of study during the most recent academic years. There were 5,447 students who graduated with an undergraduate degree, and 11,593 students who graduated with a master's or doctoral degree.
The table that follows provides an overview of how big is USC's number of graduates per the most common majors pursued by undergraduate students.
| | |
| --- | --- |
| Major | No. of Graduates |
| Business Administration & Management | 1,020 |
| Communication & Media Studies | 314 |
| Computer Science | 247 |
| Film, Video & Photographic Arts | 224 |
| International Relations & National Security | 194 |
| Human Biology | 194 |
| Accounting | 189 |
| Economics | 183 |
| Political Science & Government | 164 |
| General Psychology | 156 |
After we've answered the query, "How big is USC?", let's get to your admission chances. Although USC has a very low acceptance rate, your individual chances of admission depend on the strength of your profile. Utilizing data from your grades, test results, and extracurricular activities, are just some of the factors you need to consider in your college applications. These might look overwhelming but AdmissionSight would be glad to assist you. We have more than ten years of experience helping students navigate the difficult admissions process and get into the best universities in the world.
If you want to know AdmissionSight more, you can start with a consultation at any time.