Students Enrolled at Brown
Students at Brown University are known to be intellectually curious, hard workers, and people who have achieved a lot in their lives. Students at Brown also graduated as valedictorians and salutatorians in their respective high schools. Indeed, Brown has exceptional students, it's no wonder there's a total of 50,469 applications to the undergraduate Class of 2026. It's important to know more about the reason behind the number of students at Brown.
Brown University is consistently ranked among the top 20 universities in the country. Brown University is a member of the prestigious Ivy League, but the school's admissions requirements are a little less stringent than those of the other Ivies. Students still undergo a challenging admissions process. As previously mentioned, the number of students at Brown admitted to the undergraduate Class of 2026 is only 2,560 out of more than 50,000 applicants.
Brown University places a high value on students who have reached a certain academic threshold and have unique and diverse academic interests. Students are the ones who stand to benefit the most from the university's open curriculum. For instance, a bright student might be interested in combining computer science and classics to recreate ancient artifacts through the use of digital modeling.
Brown also places a particular emphasis on the applicant's extracurricular activities and essays; the university seeks students who are dynamic and who are highly involved in their respective passions. The university places a high value on the arts and looks favorably upon applications that contain some element of the arts, such as a portfolio showcasing creative writing or visual arts. Even for students interested in studying STEM fields, Brown places a high value on students who are active participants in the liberal arts.
An education at Brown is built on the Open Curriculum, which serves as its foundation. Students who follow this liberal educational philosophy are not required to study any particular core curriculum or distribution of subjects. The students at Brown are allowed to investigate a wide variety of topics and experiences, including those that may not appear to be directly related to their area of concentration.
Students have the option of pursuing an independent concentration, which they design with the guidance of the faculty and with their approval, rather than selecting one that is already established in the program.
How many students are enrolled at Brown?
To determine how many students are at Brown, we will use the recent data published by Brown University, which are indicated below:
The total number of students at Brown enrolled at the university is 10,425
Undergraduate: 7,125
Graduate: 2,689
Medical students: 611
Student Groups: 450+
At Brown University, students have the opportunity to interact with some of the most fascinating, enthusiastic, and genuine people a person could imagine. The overall student population is very kind and conscientious. However, the open curriculum is Brown's crowning achievement. The academic latitude and independence the students have been granted have fundamentally altered their perspective on education and life in general.
At first, students had no idea that they were interested in so many things until being admitted to Brown University. The open curriculum, in general, is ideal for the students at Brown who have a wide variety of interests and who wish to pursue work in several different fields, as well as for students who are certain about the area in which they wish to specialize.
However, it is also beneficial for students who are clueless about what they want to major in and want the freedom to investigate and experiment with a variety of academic fields while they figure things out. Attending Brown University is well worth it due to the caliber of the academic community, the teaching staff, and the other students.
Incredible diversity among the student body gives one the sense of being both an independent person and a participant in something bigger than oneself. The academics strike a healthy balance between being rigorous and being approachable.
How many students get accepted yearly to Brown?
Here at AdmissionSight, we will also learn how many students get accepted yearly to Brown using the data released for the Class of 2026.
As stated earlier, Brown University has chosen to accept 2,560 new students in the Class of 2026, resulting in a low acceptance rate of 5%, and this has been the case for the institution in recent years. With this, the total number of students at Brown admitted that are in their first year is 1,723.
Brown does not indicate any specific GPA requirements; however, according to their admissions team, students who consistently demonstrate "high grades" tend to stand out among applicants. Having said that, Brown acknowledges that different high schools have varying norms and practices regarding the distribution of grades.
It also emphasizes that grades are not the only measure of academic and intellectual talent that is considered in the admissions process. This is a point that is driven home throughout the article. Among the Ivy League schools, Brown University may be unique in its emphasis on taking a holistic approach to admissions. You need to understand that the college application process can be difficult, thus you are advised to work hard during the admissions process.
You are aware that Brown has a very low acceptance rate; however, your chances of getting into the school still depend on factors such as your grade point average, scores on standardized tests, essays, recommendations, extracurricular activities, and other factors.
Brown University, like other schools of its caliber and level of selectiveness, employs the Academic Index to eliminate applicants based on their grade point average and test scores. The admissions committee will not even give applicants a second thought if they do not meet these requirements. (It is important to keep in mind that Brown is looking for students with distinctive academic interests and extracurricular profiles.)
If you're accepted to the university, you'll find that the students at Brown can be described as genuinely happy. People in this community have a strong interest in their studies not because they are pursuing professional advancement or trying to fulfill the prerequisites for graduate school but rather because they are naturally inquisitive. Everyone is intelligent, inventive, and puts in a lot of effort. And each one is unique in its way.
What is the percentage of international students at Brown?
For students abroad wondering "What is the percentage of international students at Brown?" You can find significant answers below.
There are representatives from at least 47 different countries on the Brown campus. China, India, and Canada are the three nations that have the most students enrolled in their respective schools.
The current total number of students at Brown that are considered international students is 1,845, with 870 of those students enrolled in undergraduate programs. This is out of a total student body of more than 10,000, with more than 7,000 being enrolled in the undergraduate program.
It appears that approximately 18.0% of Brown's student body is comprised of students from other countries.
The proportion of students on campus who are citizens of countries other than their own has increased at an annualized rate of 5.2% over the past few years.
We at AdmissionSight wanted aspiring international students to take note of the following:
It is not difficult to navigate both the Brown University campus and the surrounding town thanks to Brown's relatively compact layout. You won't have to stress about not having a ride or driving in that area, and you won't have to worry about being stuck all the time, unlike at some colleges where you are more isolated or where there is a culture of driving everywhere.
In addition, several neighborhoods can be reached on foot. For the convenience of Brown students, rides on any of the buses that are part of the Rhode Island bus system are completely free. Students ride bicycles, and there is a lengthy East Bay Bike Trail for students to use when going on excursions to Newport, Rhode Island.
A bus depot that will take you to Boston and beyond is within walking or shuttle distance from the hotel. There is an airport located just outside of Providence; however, Boston's Logan airport, which is approximately an hour's drive away, is likely to have more international flight options and better prices.
During the orientation expressly for international students, which is held several days before the main orientation for first-year students, you will have the opportunity to meet other students and engage in academic and extracurricular activities. There is a support office for international students that provides a variety of resources to the community of almost 2,000 individuals, including graduate students and visiting researchers. You also have the opportunity to participate in the mentorship program, which will link you with a more experienced overseas student.
Students with valid J-1 visas may work up to 20 hours per week during the academic year and even more during the summer and winter breaks. It must be a campus-based position with Brown as the employer. These types of employment are not difficult to find. Other employment is available with Dining Services, which will supply you with additional meals and beverages; office positions are available in areas such as campus institutes; certain occupations may involve working in laboratories or supporting academics. There is a vast selection, but normally interviews are required for all of them.
However, a word of caution: even though overseas students are undergoing many transitions as new students in another country, it is vital to remember that the first year of college is also a time of change for students in the United States. As a result of leaving their families and closest high school friends behind, everyone is beginning anew and experiencing varying degrees of homesickness and adjusting to their new environments. It is not at all surprising.
What percentage of students graduate at Brown?
There's a high percentage of graduate students at Brown University and to learn the answer to "What percentage of students graduate at Brown?" The following table is provided for you:
Graduation Rates – 2020
Bachelor's degree-seeking students completing a bachelor's degree
Graduation Rate Within 4 Years
83.8%
Graduation Rate Within 5 Years
93.6%
Graduation Rate Within 6 Years
95.2%
Graduation rates within 6 years by gender
Women
95.3%
Men
95.0%
Graduation rates within 6 years by race/ethnicity
White
96.9%
Black African-American
95.2%
Hispanic
93.0%
Asian
93.8%
American Indian or Alaskan Native
71.4%
Race-ethnicity Unknown
95.7%
Non-resident alien
94.6%
Brown University is a prestigious educational establishment that can be found in Providence County, Rhode Island. At Brown University, the bachelor's degree programs in Computer Science (229), Econometrics and Quantitative Economics (190), and General Applied Mathematics were the most popular choices for students in 2016.
In the academic year 2020, Brown University conferred a total of 3,269 degrees across all of its undergraduate and graduate programs. 51.4% of these degrees were conferred upon female students, while 48.6% were given to male students. The racial or ethnic group with the highest number of graduates was white (1,351 degrees), which was 3.01 times more prevalent than the next most prevalent race or ethnic group, which was Asian (449 degrees).
In particular, the total number of students at Brown that furthered their education through graduate school or professional study is 80%.
What kind of students does Brown look for?
If you're currently interested to apply to Brown University and are pondering the question "What kind of students does Brown look for?" Continue reading to learn about its specifics now that you know more about the number of students at Brown.
First, you must be interested in a wide variety of fields and demonstrate that interest. The students at Brown typically have one or more interests that are completely unrelated to what they are majoring in, such as the architecture student who is also majoring in classics, the student who is pursuing a double major in environmental science and dance, or the student who is majoring in computer science but still takes a philosophy class every semester, even though he does not intend to major in philosophy. Having passions that are opposed to one another marks you as an intellectually curious person.
Second, you must act in a way that is calm, nice, and unique. Students at Brown are intellectually passionate while still managing to maintain a laid-back and easygoing vibe. You don't want an environment that only puts heavy pressure on you. To achieve your dreams, you need to be surrounded by people with clear thoughts and engaging activities.
It is unusual for the students at Brown to have the perception that they do not belong there. There is a wide variety of student organizations, and if one searches the brown community, one will be able to find a location where one feels most at home in. Many students are members of more than one club, and it is through these clubs that they build their social networks. When students get together, they frequently mix their various social circles.
The majority of students hail from either New England or California, and a significant number of them attended and graduated from prep schools or private schools. The vast majority of students attend class every day wearing appropriate attire; however, it is not uncommon to see students wearing athletic attire, particularly when they have just returned from the gym.
Political engagement is high among Brown's student body, which leans more to the left. Even though people with conservative viewpoints are free to express them on campus, in general, those who lean to the liberal side of the political spectrum are likely to experience a warmer reception.
Students at Brown University are typically dynamic and tolerant individuals who, while they may have a touch of social awkwardness, make up for it with a high level of intellect in addition to a tolerant outlook regarding a wide variety of issues. Brown students are known for their academic excellence.
What percentage of students receive financial aid at Brown?
If you're wondering if the university offers financial aid, yes, they do. And to determine what percentage of students receive financial aid at Brown, keep reading below.
Because of the Brown Promise, the university has committed to meeting the full demonstrated financial need of all students without requiring them to take out any loans. In addition to this, the university does not consider students' financial circumstances when making admissions decisions. Brown University, along with the other schools in the Ivy League, does not give out scholarships based on academic achievement or athletic achievement.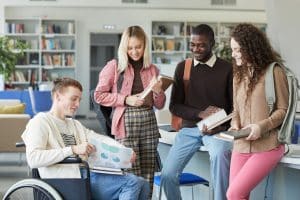 Half of the total number of students at Brown enrolled for the Class of 2026 received a need-based scholarship or grant aid, and 100% of students receiving financial aid have no loans in their university-packaged financial aid awards.
In the year 2020, grants were provided to a total of 46% of Brown University's undergraduate students. When compared to the year 2019, when 46% of undergraduate students received some form of financial assistance, this represents a growth of 0%.
At AdmissionSight, we can prepare you to become a part of Brown University which provides a high standard of academic rigor. You can rely on our expertise and our resources in strengthening your college admission profile. Book an appointment and experience the hands-on service of our team.