The Best Marine Biology Colleges in California
It's possible that you've only recently decided to pursue a career in marine biology, or it's also possible that the ocean and all of its species have always captivated your imagination.
A significant number of educational institutions all over have placed a significant emphasis on the study of marine biology in recent years. Certain universities in California have advanced the discipline of marine biology more within their own institutions than others, as is evidenced by the influence and stature they have gained in the community of marine biologists working internationally.
Why study in California?
Why should you go to school in California? High living costs and higher tuition rates for out-of-state students may pose serious financial hurdles for students, especially those who do not reside in California yet.
But students interested in the field of marine biology can't help but be drawn to the Sunny State because of its mild climate, rich cultural opportunities, and prestigious academic institutions.
6 Best Marine Biology Colleges in California
Students who are interested in pursuing a degree in marine biology also have plans to become marine biologists, but they are concerned about selecting the most appropriate educational institution. Here in this article, we have compiled a list of the Best Marine Biology Colleges in California to assist you in locating educational institutions that meet your requirements.
Find out which of these colleges match your interest with their top-notch offerings and world-class amenities.
California Maritime Academy at Vallejo
First on our list of best marine biology colleges in California is Cal Maritime. It is the only maritime academy on the West Coast that awards degrees, and it is one of only seven maritime schools in the entire country.
Cal Maritime University received a ranking of sixth place on the West Coast among Baccalaureate Colleges from U.S. News and World Report in 2008.
For this worldwide industry to function, there must be engineers, business leaders, port managers, deck officers, environmental advocates, marine security specialists, and other professionals in a variety of related fields.
Cal Maritime educates future professionals in these and other fields connected to the ocean's role as a resource and an engine for economic growth on a worldwide scale.
California State University at Fresno
This university consistently receives very high marks and is consistently ranked as one of the best marine colleges in the state of California. It is one of the 23 campuses that make up a system that confers more than half of all Bachelor of Arts degrees in the state of California. It is both one of the campuses with the longest history and one of the campuses with the highest level of prestige in the California State University System.
The California State Board of Education has given CSU at Fresno its highest possible rating of accreditation.
Students are strongly encouraged to participate in internships and other work-related experiences in order to supplement the knowledge they receive in the classroom.
Stanford University
Hopkins Marine Station is home to graduate students pursuing their doctoral degrees in Biology at Stanford University.
Students at Stanford University- Hopkins Marine Station get instruction from members of the faculty while performing research in a variety of scientific fields, including molecular biology, whole-organism physiology, population biology, ecology, and conservation. It is a fantastic location for anyone interested in marine biology or the ocean in general.
University of California Riverside (UCR)
Next on our list of best marine biology colleges in California is University of California Riverside. Found in the city of Riverside, Southern California, this university is situated in an area that is easily accessible to the mountains, desert, and beaches.
Riverside is both an All-American City and the administrative headquarters of its county. It is situated to the east of Los Angeles and to the north of San Diego.
The region enjoys a climate that is mild throughout the entire year and has an extraordinary quality of life as a result of its stunning architecture, cultural art museums, decent housing, and an extensive range of chances for recreational activity.
In order to maintain its status as an accredited institution, the University of California, Riverside is a member of the Western Association of Schools and Colleges (WASC). The School of Business has earned accreditation from AACSB International, which stands for the Association to Advance Collegiate Schools of Business.
University of California-San Diego
There are three different degree programs available in Marine Biology and Biological Oceanography at the University of California, San Diego. It is a very large public institution with a four-year degree program that is located in a large city.
In the year 2020, 117 individuals graduated from programs in Marine Biology and Biological Oceanography. Of these graduates, 76 earned Bachelor's degrees, 36 earned Master's degrees, and 5 earned Doctoral degrees.
The expertise of the faculty extends to a number of important subfields within contemporary biology. These subfields include the evolutionary, ecological, organismal, physiological, biochemical, and genetic processes of marine animals and microbes.
Research laboratories in the fields of cell and developmental biology, ecology and evolutionary biology, microbiology, and the physiology of marine organisms are housed within the Marine Biology Research Division (MBRD) of the Scripps Institution of Oceanography, which is located on the campus of the University of California, San Diego.
University of California, Santa Barbara
Following our list of best marine biology colleges in California is the University of California, Santa Barbara. It is a source of great pride for this university that it is one of the few institutions in the country to offer an undergraduate major in aquatic biology.
Classroom instruction is supplemented with hands-on learning in the field and in laboratories, as well as the study of both freshwater and marine ecosystems. Because of its location, the university provides students with access to a wide variety of natural resources, including the Pacific Ocean, the protected natural areas and water reserves maintained by the UC system, and many more.
The world-famous Marine Science Institute at the University of California, Santa Barbara is a frontrunner in the ocean and environmental research. The Institute engages graduate students and faculty members in pioneering research into fields such as biological oceanography and global environmental change. And held a high position among the nation's most prestigious marine biology academic institutions.
University of California, Santa Cruz
Rounding up our list of best marine biology colleges in California is University of California, Santa Cruz. They are offering degree programs in Marine Biology and Biological Oceanography.
In the year 2020, there were 61 graduates from the Marine Biology and Biological Oceanography programs, with students gaining 61 Bachelor of Science degrees.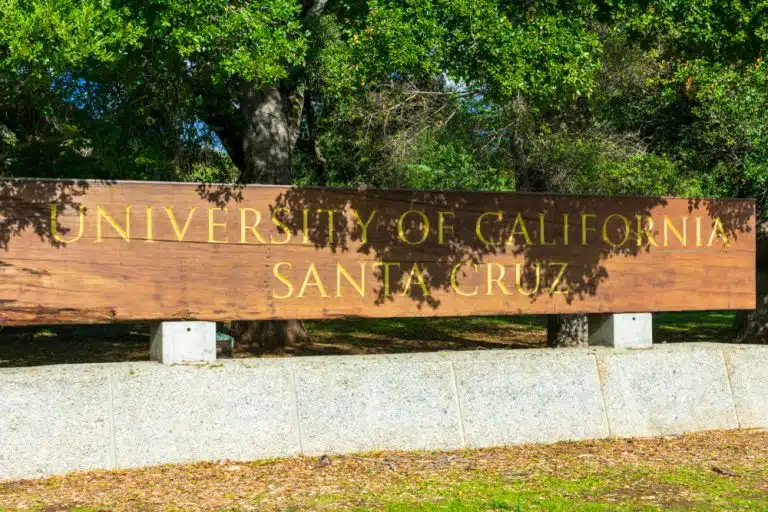 Students who graduate with a bachelor's degree in marine biology have the ability to obtain jobs in a wide number of industries. They use their knowledge in marine biology in conjunction with a teaching certificate or a graduate degree in teaching in order to teach science to students in grades kindergarten through twelve. The emphasis is placed on fundamental principles that provide insight into the mechanisms that are responsible for the formation of life in aquatic environments.
The teaching staff strongly encourages students who have completed the prerequisite coursework and are ready to enter the marine biology major at the junior level to submit an application.
Is there a lot of Math in Marine Biology?
In order to get admitted to the best marine biology colleges in California, is it necessary to have strong Math skills? Well, instead of being worried, we highly encourage you to have confidence that you will quickly master the basics.
There are biologists who are detail-oriented and those who are interested in the big picture.
The modern world of research necessitates the application of mathematical concepts even in subjects like marine biology, which have historically depended less heavily on mathematical analysis than, say, molecular biology or quantitative genetics.
If, on the other hand, you feel called to study marine life and you have every intention of attending one of the world's top marine biology schools, you should not let a phobia of mathematics stand in your way. As early as junior high school, it would be nice to start a strong foundation of math skills.
The concentration of pores on a shark's snout, the survival rates of seal pups, or the distribution of worms in sea-floor sediments are all examples of the kinds of statistics that form the backbone of marine biology. However, not every effective marine biologist is also adept with numbers.
Until the ideal scientist is created, there will always be some areas in which researchers are inadequate.
Do Marine Biologists Have to SCUBA Dive?
For you to get admitted to the best marine biology colleges in California, do you need to know how to SCUBA? Students who are thinking about majoring in marine biology often ask us whether or not they need to learn how to SCUBA dive as one of the questions they ask us when they are making their educational and professional decisions.
There is no requirement that marine biologists be able to dive. There are a number of roles that take place in an office or laboratory, whereas field work typically entails surveys that take place on boats or along shorelines. Swimming ability is not even required to participate in this activity!
There is no question that it is a thrilling experience to have the opportunity to swim alongside the marine life that you are researching. However, if you are interested in pursuing a career in marine biology but are unable to be active in the water for whatever reason, you need not be concerned about this.
As a licensed marine scientist, you will still have access to a wide variety of employment opportunities, including those that take place both inside and outside.
In addition to the inherent fascination of the subject matter, one of the many appealing aspects of working in the field of marine biology is the wide variety of positions that are open to you. It is the kind of career that will almost never allow you to feel bored!
What does a marine biologist actually do then?
Once equipped with the technical knowledge acquired from studying, let's say one of the best marine biology colleges in California, how exactly does a marine biologist operate? Because a marine biologist's work can involve anything from monitoring sea turtle nesting sites on a beach to identifying tiny species of plankton under a microscope in the laboratory, it is difficult to describe the range of activities that a marine biologist might be involved in in a single paragraph.
Although many students choose marine biology as a field of study with the expectation of working with large charismatic animals such as whales, sharks, and turtles, they frequently find themselves working on something equally fascinating but much smaller than they had anticipated. Marine biology is a vast field of study.
Back in the office, managing and planning marine environmental initiatives requires a significant amount of paperwork, and these are the kinds of responsibilities that marine biologists frequently find themselves involved in as their careers develop further and further.
What is the job demand for marine biologists?
How strong is the need for jobs in the field of marine biology? In May 2017, the United States employed 104,550 biological scientists, 22,040 conservation scientists, 17,710 zoologists, and wildlife biologists, and while precise statistics on marine biologists are not available, the United States employed 17,710 zoologists and wildlife biologists.
They were able to post a total of 2,329 marine conservation jobs on Conservation Careers between the years 2014 and 2021. Conservation Careers is an online resource that caters to both students and working professionals in the subject of wildlife conservation.
What American societies and professional organizations of marine biologists exist?
In the United States, what kinds of marine biologists' associations and professional organizations are there? After listing down the best marine biology colleges in California, we share to your organizations that might help marine biologists network and share best practices with one another:
American Fisheries Society
"The world's oldest and biggest organization dedicated to developing the fisheries profession, advancing fisheries science, and safeguarding fisheries resources," is how the American Fisheries Society (AFS) describes itself.
They produce fish publications, conduct scientific meetings, and encourage education and professional development in addition to promoting scientific research and environmentally responsible management. Among their more than 8,000 members located all over the world are fishery managers, biologists, lecturers, ecologists, and other professionals.
American Academy of Underwater Sciences
The AAUS was formally chartered in 1983, and its mission statement reads as follows: "to advance and enable safe and productive scientific diving."
They have over 130 organizational members and over 1,100 individual members, and the perks of membership include things like scholarships, tools, workshops, research support, training and certification, and a great deal more.
The American Society of Icthyologists and Herpetologists
The American Society of Icthyologists and Herpetologists (ASIH) is devoted to the scientific study of fishes, amphibians, and reptiles. They work to increase understanding about these organisms, to spread that knowledge, and to promote and support new scientists. In addition, they aim to communicate that knowledge.
They host an annual convention, provide members with a directory, job ads, and prizes for both professionals and students, and much more.
American Cetacean Society
The American Cetacean Society (ACS) was established in 1967, and it is "recognized as the first whale, dolphin, and porpoise conservation group in the world." The mission of the organization is to "dedicate themselves to bringing education, current research, and critical conservation issues to people who care about cetaceans and the habitats on which they depend."
The perks of membership include a variety of different things, such as publications, networking opportunities, talks, discounts on whale-watching tours, and much more. In addition to that, they have a student coalition.
The pursuit of excellence doesn't only end by just attending the best marine biology colleges in California but also enlisting oneself in professional organizations that might help in networking and sharing best practices.
Summary
Marine biologists study the behavior, ecology, and evolutionary history of marine organisms as well as other creatures that are dependent on water. Academics typically choose to specialize in one topic at a time because marine biology science is such a large discipline that encompasses a great number of subfields.
Research in marine biology is becoming increasingly important as a consequence of the central role that oceans play in human society and our dependence on them.
The process of earning the credentials essential to work in the field of marine biology is one that takes a significant amount of time and effort. If you want a career in marine biology, you should consider majoring in mathematics, physics, chemistry, or biology throughout your undergraduate studies.
It is acceptable to assume that having a degree in marine biology is the greatest option for a successful professional future. This is because marine biology is the study of marine organisms and their environments. What better way to pursue this noble, 'aquatic' path than in the sunniest side of the country, California?
AdmissionSight is willing to help
Yes, here at AdmissionSight, we would be delighted to be of assistance to you in accomplishing your objective. AdmissionSight is a leading college admissions consultant in the market, with more than a decade of experience supporting individuals just like you in gaining admission to the prestigious educational institutions of their choosing.
Get in touch with us right away to schedule a consultation that is completely free of charge.