UCLA Dorm Room
Where Do Most Students Live At UCLA?
In the warm Southern California region, there is a public university called the University of California, Los Angeles. The university is renowned for its top-notch academics, stunning campus, and active social scene. You might be wondering "Where do most students live at UCLA?" To know how the largest student body fits in one of the smallest campuses in the UC system, we will talk about housing options, from UCLA dorm rooms in residence halls to off-campus apartments.
Although they are not required to, most first-year students live in the on-campus residence halls, referred to as the Hill. Because of its placement on a hill next to the campus' west side, it is known as "the Hill."
Apartment living and commuting are also viable housing options. After their first two years, students typically spend the rest of their time living off-campus in either UCLA-affiliated or non-affiliated apartments. This is due to how much less expensive off-campus living is sometimes.
Now, let's go over these housing options including furnished on-campus residence halls for undergraduate students and off-campus university residences for graduate students.
Undergraduate Housing
UCLA housing provides housing options in on-campus buildings and in university apartments that are close to the campus and dispersed around the Westwood neighborhood. Meal plans are also available in on-campus dining halls.
Graduate Housing
Off-campus options for graduate housing include Westwood or the Palms neighborhood. Graduates residing in off-campus options are still eligible for on-campus dining at an additional expense.
UCLA is not far from Westwood Village, where students go shopping, eat, see movies at the neighborhood theater, and attend lunchtime art talks at the Hammer Museum. Westwood, Culver City, West LA (Palms, Mar Vista, Rancho Park, Westchester, etc.), Mid-City, Santa Monica, Venice, Silverlake, and Downtown LA are some of the off-campus areas where graduate students most frequently reside.
How Do Dorms Work At UCLA?
How do dorms work at UCLA? After being admitted, students participate in a lottery method, ranking both the number of roommates and all their housing preferences. Freshmen can usually get triples as their UCLA dorm room type, so keep that in mind while sorting out your preferences.
Athletes, Regents scholars, and students with disabilities are given priority when it comes to accommodation.
Most students let UCLA choose their roommates at random. There is a poll with fewer than ten questions that ask you about your living preferences before you make a housing decision. This comprises inquiries on your study and sleeping patterns as well as inquiries into your lifestyle, such as drinking and smoking.
Social media is another choice for choosing a roommate. You can also join Facebook groups for recent admissions where members post images of themselves along with brief descriptions of themselves and their interests. This is an excellent way to meet people and form friendships before you even get on campus.
What Do UCLA Dorms Come With?
There are several different kinds of dorms on campus, each with a unique layout. Classics, Deluxes, Plazas, and Suites are the many varieties.
Incoming freshmen might ask "What do UCLA dorms come with?" Furnished UCLA dorm rooms, study spaces, high-speed internet, a fitness center, a convenience store, a mail center, music practice rooms, outdoor recreation areas, community gardens, regular housekeeping, maintenance, and round-the-clock front desk assistance are just a few of the well-liked amenities available in the UCLA housing options.
Classic Halls
The four historic buildings, which were the first ones on campus, provide a high-rise experience to students. On each floor, there are study lounges and communal facilities with 4-6 shower stalls, toilets, and sinks. Each court around the Hill has one of the four traditional halls, Dykstra, Rieber, Hedrick, and Sproul, which feature double and triple room options. Each building has a community laundry room on its first floor.
In addition to the study lounges, each building has sizable social lounges where students can enjoy the various events held throughout the year. Even though the buildings lack air conditioning, the nearby ocean, which is only 5 miles away, provides pleasant breezes that help keep the temperature cooler.
Each UCLA dorm room has a twin XL bed, desk, and dresser with both a closet and drawer space for each resident.
Deluxe Halls
The Deluxe Halls on campus have a similar high-rise aesthetic to the traditional structures. Every floor of Sproul Cove, Sproul Landing, Holly, Gardenia, Olympic, and Centennial has a study lounge and a communal bathroom with 4-6 shower stalls, a toilet, and a sink.
Each building has a community laundry room on the first floor. In addition to the study lounges, each building has large lounges for social events held all year round.
Each renter has their own twin XL bed, desk, and dresser with both a closet and drawer space.
Plaza Residences
De Neve, Sunset Village, Rieber Terrace, Vista, and Hedrick Summit, are the campus plaza buildings. There is a combination of rooms with private bathrooms and rooms that share restrooms.
With courtyards and green spaces interspersed between the buildings, De Neve and Sunset Village are divided into smaller buildings. They have communal laundry rooms as well as study lounges for each building. A high-rise experience is provided by Rieber Terrace, Reiber Vista, and Hedrick Summit, which provide study lounges on each story and a laundry facility on the main floor.
Additionally, all the plaza buildings have social spaces and lounges where students gather and can take part in various events held all year long.
Each UCLA dorm room has its own twin XL bed, desk, and dresser with both a closet and drawer space for each resident.
Suites
The Hitch and Saxon suites are the most distinctive buildings at UCLA. Smaller structures make up each complex, and each apartment has an exterior entrance. The suites contain two rooms that share a bathroom as well as a shared living area. The suites now feature extra indoor and outdoor social and study spaces as a result of a recent makeover.
At Hitch and Saxon, there are also communal laundry rooms. Even though the buildings don't have an air conditioning system, the ocean breeze helps keep temperatures down. Additionally, the rooms are tucked away among numerous big trees that provide shade for the entire neighborhood.
Each renter has their own twin XL bed, desk, and dresser with both a closet and drawer space. A couch, chairs, coffee table, and multifunctional table are included in the living rooms.
How Much Is the Room And Board At UCLA?
For all or a portion of the academic year, some or all the instruction may be given online. In the case that instruction takes place remotely for any portion of the Academic Year, the tuition and fees have been determined regardless of the type of instruction and will not be returned.
Starting in the fall of 2022, the cost of attendance in University of California (UC) schools for each entering undergraduate class will stay the same for up to six years after the student graduates.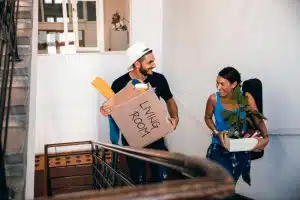 This program, known as the UC Tuition Stability Plan, offers families a level of predictability in managing their college expenses. Students and families are better equipped to estimate and budget for the costs of attending UCLA by minimizing unexpected tuition hikes and lowering ambiguity about the price of their education.
The tuition and fee numbers shown here indicate recently authorized or suggested sums and may not be final. The final approved tuition and fee levels could be different from what is shown as it was updated most recently last February 24, 2022. Let's check the answer to "How much is the room and board at UCLA" along with tuition fees and other expenses.
Fees for Each Academic Year (Nine Months)
| | | | |
| --- | --- | --- | --- |
| | UCLA Residence Halls | Off-Campus Apartments | Living with Relatives |
| Tuition and Fees | $13,804 | $13,804 | $13,804 |
| Room and Meals | $17,231 | $16,224 | $7,101 |
| Books and Supplies | $1,434 | $1,434 | $1,434 |
| Transportation | $635 | $1,080 | $2,055 |
| Personal | $1,494 | $1,737 | $1,848 |
| Health Insurance* | $2,850 | $2,850 | $2,850 |
| Total – California Residents | $37,448 | $37,129 | $29,092 |
| Non-resident Supplemental Tuition | $31,026 | $31,026 | $31,026 |
| Total – Non-residents | $68,474 | $68,155 | $60,118 |
*The UC SHIP health insurance requirement and fees may be waived if a student has sufficient insurance coverage.
What Is Special About UCLA's Residential Life?
Nothing compares to living on campus, where students may benefit from the convenience and a sense of community, to truly experience university life. So, if you ask "What is special about UCLA's residential life?" on-campus accommodation at UCLA is close to academic buildings, research centers, libraries, and gyms and is in the center of campus life. Students may focus on being full-time students since their accommodation and food needs have been taken care of.
Students have numerous possibilities for interaction as members of a diverse community, which supports their performance in the classroom and personal development. According to studies, college students who live on campus perform better academically, interact with teachers more frequently, and generally enjoy their time in school more than those who commute. There are a variety of on-campus living options available to students, from UCLA dorm rooms to suites, all of which promote community and stimulate exploration.
UCLA also offers Living Learning Communities (LLCs), which are themed dorm floors reserved for students with similar interests. These floors are often located in the Halls. Some floors, like Pilipinx and the Afrikan Diaspora, are cultural. Others, including Sustainability and Creative Collective, are based on common interests.
These are a fantastic choice if you already have a sense of the type of community you want to find in college because many of the resources you might need are already included in the floor's programming. For instance, inhabitants on the Global Health floor can obtain free CPR training. A faculty member who was also the first person in their family to attend college is partnered with a first-generation student as part of the Mentorsh1p program on the First To Go floor.
The Hill is an excellent area to live in besides the excellent housing options it offers. There are four restaurants with sit-down service and four takeout locations, each with a unique theme. For those with food requirements and restrictions, they all provide wonderful selections.
There are also many excellent places to learn. There is at least one lounge area with workstations, couches, and chairs on each floor of a residence hall, and many buildings have first-floor study rooms that can be reserved. Additionally, the residential staff keeps the Hill busy by hosting a variety of hall- and Hill-wide events. A yearly haunted house, sustainability fairs, movie screenings, and paint evenings are just a few of the annual events. Residents of the Hill can also enjoy free refreshments, drinks, exam booklets, scantrons, and other delights to get them through the week of finals.
Having a safe, encouraging, and welcoming living-learning community is what UCLA Residential Life aims to provide its students. If living at UCLA piqued your interest, you might consider getting professional help to boost your chances of getting into UCLA.
At AdmissionSight, we have over 10 years of experience guiding students through the competitive admissions process to get accepted to the top universities in the world. On average, 75% of our students are admitted to an Ivy League university, Stanford, MIT, UChicago, and Caltech, one of the highest track records in the industry. Feel free to set up an appointment with AdmissionSight today to book your initial consultation.