Where Is UCLA Located?
The University of California, Los Angeles, commonly known as UCLA, is an esteemed institution recognized globally for its accomplishments, innovations, and contributions to academia. To fully appreciate the university's standing, it's essential to understand where UCLA is located and it's impact in the community.
Understanding UCLA's Geographic Location
Before diving into where is UCLA located, it's critical to note the city which it calls home: Los Angeles. This bustling city, famous for its entertainment industry, diverse culture, and sun-soaked beaches, is an integral part of UCLA's identity.
The City of Los Angeles: Home to UCLA
Los Angeles, commonly known as the "City of Angels", is the most populated city in California and the second most populated in the United States. Known for its Mediterranean climate, ethnic diversity, and a thriving entertainment scene, it offers an engaging backdrop for UCLA students.
Los Angeles is a city that never sleeps, with its vibrant energy and endless opportunities. From the iconic Hollywood sign to the glamorous red carpet events, the city is a hub for the entertainment industry, attracting aspiring actors, musicians, and filmmakers from around the world.
But beyond the glitz and glamour, Los Angeles is a melting pot of cultures and a hub for innovation. With its diverse neighborhoods, such as Chinatown, Little Tokyo, and Koreatown, students at UCLA have the opportunity to immerse themselves in different cultures and explore a variety of cuisines.
The city is also home to world-renowned museums, including the Los Angeles County Museum of Art (LACMA) and the Museum of Contemporary Art (MOCA), providing students with access to a rich artistic and cultural scene. Additionally, Los Angeles is known for its sports culture, with professional teams like the Lakers, Dodgers, and Rams, offering plenty of opportunities for sports enthusiasts.
Moreover, Los Angeles boasts stunning natural landscapes, with its proximity to the Pacific Ocean and the Santa Monica Mountains. UCLA students can enjoy the beautiful beaches of Santa Monica and Malibu, where they can surf, sunbathe, or simply take a leisurely stroll along the shore. The nearby mountains also provide opportunities for hiking, biking, and exploring nature, offering a refreshing escape from the urban environment.
UCLA's Specific Location within Los Angeles
Located in the upscale neighborhood of Westwood, UCLA's campus spans 419 acres. Indeed, Westwood offers a vibrant community with an array of restaurants, shops, and entertainment venues surrounding the university.
Westwood Village, the commercial and cultural center of the neighborhood, is a bustling hub of activity. Students can explore the various eateries, ranging from trendy cafes to international cuisines, satisfying their taste buds with a diverse range of flavors. The village also offers a mix of boutique shops, bookstores, and theaters, providing students with opportunities for leisurely shopping and entertainment.
UCLA's location in Westwood also allows students to easily access the vibrant city life of Los Angeles. With its close proximity to Beverly Hills, students can explore the luxurious shopping district of Rodeo Drive and catch a glimpse of the glamorous lifestyle associated with the area. Additionally, the nearby neighborhoods of West Hollywood and Downtown LA offer a plethora of nightlife options, including trendy bars, nightclubs, and live music venues.
Furthermore, UCLA's location near major freeways and public transportation systems allows students to easily explore other parts of Los Angeles. Whether it's visiting the iconic Griffith Observatory, exploring the vibrant street art scene in the Arts District, or attending a concert at the famous Hollywood Bowl, UCLA students have endless opportunities to discover the diverse and dynamic city that surrounds them.
In conclusion, UCLA's geographic location in Los Angeles provides students with a unique and enriching experience. From the city's vibrant culture and entertainment scene to its natural beauty and diverse neighborhoods, UCLA students have the opportunity to immerse themselves in a city that offers endless possibilities for personal and academic growth.
The Campus of UCLA: A Closer Look
Understanding the layout of the UCLA campus is another aspect of grasping where it is located. Rather than being a single, monolithic entity, the campus is comprised of a vast array of buildings and facilities that cater to various academic fields.
When exploring the campus, one cannot help but be captivated by the stunning architecture that defines UCLA. The blend of Romanesque Revival and contemporary styles creates a visually striking landscape that is a feast for the eyes. Every corner of the campus exudes a sense of grandeur and elegance, making it an ideal environment for both learning and leisure.
Overview of UCLA's Campus Layout
The UCLA campus can be divided into two main areas: the North Campus and the South Campus. Each area is distinct in terms of its academic focus and architectural style, contributing to the overall diversity and richness of the campus.
The North Campus, nestled amidst lush greenery and towering trees, is home to humanities, social sciences, and arts. Here, students can immerse themselves in the world of literature, philosophy, history, and the performing arts. The buildings in this area exude a sense of intellectual curiosity, with their intricate facades and inviting courtyards.
On the other hand, the South Campus is a hub of scientific exploration and innovation. It houses the physical and space sciences, life and health sciences, and engineering. The buildings in this area are a testament to human ingenuity, with their sleek and modern designs. As one walks through the South Campus, they can feel the pulse of scientific discovery and technological advancement.
Key Buildings and Facilities at UCLA
There are several standout buildings scattered throughout UCLA's campus, each with its own unique charm and purpose.
Royce Hall, with its iconic twin towers, is a center for humanities and arts. This majestic building not only serves as a venue for lectures and performances but also stands as a symbol of academic excellence. Its grandeur is matched only by the talent and creativity that flourish within its walls.
The Powell Library, a true architectural gem, offers students a sanctuary for intellectual exploration. With its towering bookshelves and quiet reading rooms, it provides an ideal environment for studying and research. The library's extensive collection of resources spans across various disciplines, catering to the diverse academic interests of UCLA's student body.
For those interested in the field of healthcare, the sprawling UCLA Medical Plaza, located to the south of the main campus, is a sight to behold. This state-of-the-art facility is a hub for healthcare studies and research, where medical breakthroughs are made and lives are transformed. It serves as a testament to UCLA's commitment to advancing the frontiers of medicine.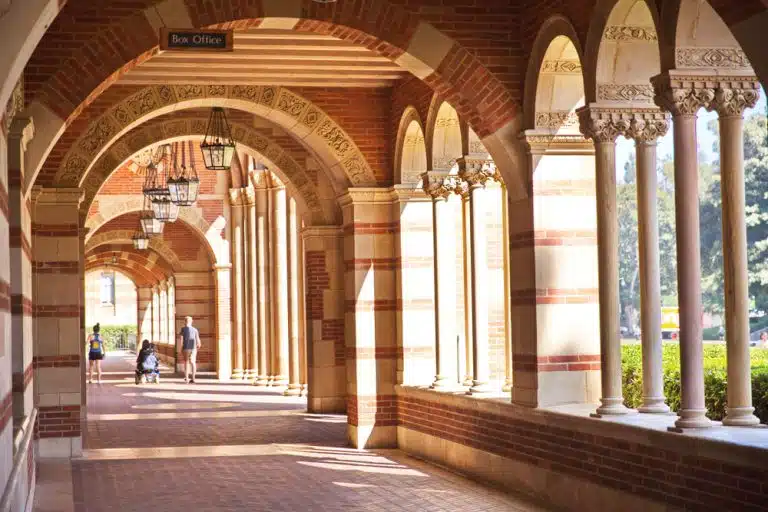 UCLA's dedication to holistic education is also evident in its top-notch sports facilities. The Pauley Pavilion, a legendary arena, has witnessed countless memorable moments in the world of collegiate sports. From exhilarating basketball games to electrifying concerts, it is a venue that brings people together and fosters a sense of community.
Meanwhile, Drake Stadium, with its sprawling green field, is a testament to the university's commitment to athletic excellence. It serves as a training ground for aspiring athletes and a venue for thrilling track and field events. The stadium's vibrant atmosphere and enthusiastic crowds create an unforgettable experience for both participants and spectators alike.
As one explores the campus of UCLA, they will discover a multitude of buildings and facilities located in campus that not only cater to academic pursuits but also foster a sense of community, creativity, and innovation. Each structure tells a unique story and contributes to the vibrant tapestry that is the UCLA campus.
Getting to and Around UCLA
Whether you're a prospective student touring the campus or a visitor attending a conference, understanding how to reach and navigate UCLA is crucial.
UCLA, located in the bustling city of Los Angeles, offers a multitude of transportation options to ensure that students, staff, and visitors can easily access the campus. From the moment you step foot in this vibrant university, you'll find yourself immersed in a world of convenience and accessibility.
Transportation Options to UCLA
The university is accessible via a range of transportation options. For those opting to drive, several parking structures cater to students, staff, and visitors. These parking structures are strategically located throughout the campus, ensuring that no matter where you need to go, there's a parking spot nearby. With ample parking located here, you can rest assured that your journey to UCLA will be stress-free.
But driving is not the only way to reach UCLA. For those who prefer to use public transport, multiple city and campus bus routes service UCLA directly. These buses are not only a convenient mode of transportation, but they also provide an opportunity to soak in the vibrant atmosphere of Los Angeles as you make your way to the university. The bus routes are well-connected, allowing you to easily navigate the city and explore its many attractions.
Additionally, UCLA's close proximity to the Los Angeles International Airport makes it easily accessible for students and staff flying in from other parts of the country or globe. Upon landing at the airport, you'll find a variety of transportation options available to take you directly to UCLA. Whether you choose a taxi, ride-sharing service, or public transport, you'll be at the university in no time, ready to embark on your UCLA adventure.
Navigating the UCLA Campus
Within the campus, UCLA offers an extensive network of pathways that allow for smooth navigation between buildings and facilities. The pathways are thoughtfully designed, taking into consideration the needs of students, staff, and visitors. As you stroll through the campus, you'll find yourself surrounded by lush greenery, beautiful architecture, and a vibrant atmosphere that is unique to UCLA.
For longer distances, UCLA's BruinBus shuttle provides free transportation located around campus and to key off-campus locations. This shuttle service is not only convenient but also environmentally friendly, reducing the carbon footprint of the university. With its frequent stops and reliable schedule, the BruinBus ensures that you can effortlessly explore all that UCLA has to offer.
As you navigate the campus, you'll discover a plethora of amenities and facilities designed to enhance your experience at UCLA. From state-of-the-art libraries and research centers to world-class sports facilities and student organizations, there is always something new to explore. The campus is alive with energy and opportunities, making every day at UCLA an adventure.
Living in Los Angeles as a UCLA Student
As a UCLA student, living in Los Angeles provides an immersive city experience, coupled with access to diverse culture and opportunities. Yet, the details of living arrangements can widely vary depending on each student's preferences and needs.
Living in Los Angeles as a UCLA student offers a unique and exciting experience. The city is known for its vibrant energy, diverse population, and endless opportunities. Whether you're interested in exploring the arts, pursuing internships in various industries, or simply immersing yourself in the rich cultural tapestry of the city, Los Angeles has something for everyone.
One of the first decisions you'll have to make as a UCLA student is where to live. Fortunately, UCLA offers a range of housing options to suit different preferences and needs. On-campus housing is available in the form of residence halls, apartments, and family housing. This allows students to live in close proximity to campus, making it convenient to attend classes, participate in extracurricular activities, and connect with fellow Bruins.
However, many students also choose to explore off-campus housing options. Popular neighborhoods near UCLA include Westwood, Brentwood, and West LA. These areas offer a vibrant community atmosphere, with a variety of apartments and rental homes available. Living off-campus can provide a sense of independence and the opportunity to experience the city from a different perspective.
Housing Options Near UCLA
UCLA offers on-campus housing with a mix of residence halls, apartments, and family housing to accommodate the diverse student body. Alternatively, many students opt to stay in off-campus apartments in nearby communities like Westwood, Brentwood, and West LA.
Living in on-campus housing can be a great way to immerse yourself in the UCLA community. Residence halls offer a chance to meet and connect with fellow students, fostering a sense of camaraderie and support. The apartments provided by the university are modern and well-maintained, offering a comfortable living environment.
On the other hand, living off-campus can provide a different experience. Renting an apartment in neighborhoods like Westwood or Brentwood allows you to experience the city as a local. You can explore the local cafes, restaurants, and shops, and truly become a part of the community. It also offers the opportunity to learn important life skills, such as budgeting, grocery shopping, and managing household responsibilities.
Lifestyle and Culture in Los Angeles
Life as a UCLA student extends far beyond academic rigor. With Los Angeles as the backdrop, students can explore the diverse city culture, renowned shopping destinations, world-famous landmarks, and the exciting nightlife. The city's entrepreneurial spirit also provides ample internships and job opportunities to students in a plethora of industries.
Los Angeles is a city that never sleeps, and as a UCLA student, you'll have the chance to experience its vibrant lifestyle. From the iconic Hollywood sign to the stunning beaches of Santa Monica, there is always something to see and do. You can explore the world-class museums, catch a concert at the famous Hollywood Bowl, or take a hike in the picturesque Griffith Park.
For those interested in the arts, Los Angeles offers a thriving creative scene. From the Getty Center to the Los Angeles County Museum of Art, there are countless opportunities to immerse yourself in art, music, and theater. The city is also home to numerous film and television studios, making it a hub for aspiring actors, directors, and producers.
When it comes to shopping and dining, Los Angeles has it all. From the trendy boutiques of Melrose Avenue to the luxury shops of Rodeo Drive, there is something to suit every style and budget. The city is also known for its diverse culinary scene, with a wide range of international cuisines to explore.
Los Angeles is not just a city of entertainment and leisure; it is also a major hub for business and innovation. The city's thriving economy offers numerous internship and job opportunities in industries such as technology, entertainment, fashion, and finance. As a UCLA student, you'll have access to a vast network of professionals and alumni who can help you navigate the competitive job market and kickstart your career.
Living in Los Angeles as a UCLA student is an adventure in itself. The city's dynamic atmosphere, coupled with the academic excellence of UCLA, creates a truly unique and enriching experience. Whether you choose to live on-campus or off-campus, you'll have the opportunity to explore the city, make lifelong connections, and shape your future.
The Impact of UCLA's Location on Its Education
UCLA's location is not just a geographic detail; it deeply influences the university's academic programs, research opportunities, and student experiences.
How UCLA's Location Influences Its Academic Programs
In a city teeming with creativity, innovation, and diversity, UCLA's location allows it to offer dynamic academic programs. The university's proximity to Silicon Beach, Hollywood, various healthcare facilities, and numerous research centres contributes to its robust course offerings across disciplines.
Opportunities for UCLA Students in Los Angeles
The university's location in Los Angeles opens a world of opportunities for UCLA students. From internships at Silicon Beach tech companies, research possibilities in various industries, to volunteering in community projects, students can enrich their academic journey with real-world experiences and skill development.
Spanning education, recreation, and personal growth, the UCLA experience is undeniably enhanced by its location in Los Angeles, preparing its students for a dynamic future upon graduation.