Where To Find The Best History PhD Programs
What is a PhD in History Program?
What exactly is a Doctor of Philosophy in History program? A doctorate in history, also known as a PhD in History or a Doctor of Philosophy in History, is a course of study that typically lasts for three years and focuses on studying written events and records of humanity. Those who study in the best History PhD programs give a comprehensive account of the social, cultural, religious, political, and economic developments that have occurred since prehistoric times.
Students can learn about some of the most historically significant people, events, and cultures from around the world. This program can last for a minimum of three years and a maximum of five years, depending on the participant's circumstances.
Obtaining a doctoral degree in history typically involves providing knowledge in the form of advanced studies in history in greater depth. The study of politics, gender, and sexuality are all topics covered in schoolwork, and training teaches participants about a wide range of topics.
Students will be provided with a wide variety of research methodologies and the opportunity to develop skills in conducting original research as part of this program. This training will provide a comprehensive course that will introduce them to historical research's theoretical and practical aspects.
What is PhD in History jobs available?
Studying to earn a doctorate in history can provide you with in-depth knowledge of the subject and transferable skills such as research and written communication that are useful in various fields. History majors have a wide range of PhD in History jobs available to them, including working in museums, publishing houses, and libraries, as well as positions within businesses that require them to conduct analysis and research.
Research fellow
A research fellow is a person who assists an organization or university in the process of conducting specific research. A research fellow's assistance is typically needed in the gathering of data, the analysis of results, and the presentation of findings. A historian might look for a research position to expand their academic network or deepen their expertise in a particular area of study.
Curator
Those who graduate from the best History PhD programs can consider becoming curators. A curator works for an institution and helps select, manage, and catalog artifacts or artworks. They typically serve in a managerial capacity, designing particular displays, coordinating the movement of artifacts, and supervising other team members.
Librarian
A librarian is responsible for managing and directing a library, including the supervision of its collection and the management of its staff. Librarians working for archives, government agencies, or specific library departments may have more opportunities to specialize in their fields than public librarians. Public librarians are responsible for a wider range of duties. It is typically the responsibility of librarians to assist others in locating the sources they require for historical research.
Institutional research analyst
By conducting internal research using databases and analyzing the results, an institutional research analyst is typically responsible for finding answers to questions regarding the performance and growth of an institution. The experience of a history scholar in using written resources to answer research questions can directly translate to the responsibilities of this position.
Professor
A professor is someone who works at a university and teaches students as well as conducts research. A history scholar who holds a professorship can continue their research, keep abreast of the latest advancements in the field, and assist in the education of aspiring historians.
Archivist
An archivist is an employee of a university, library, corporation, or other organization responsible for managing one or more collections. This includes keeping catalogs up-to-date, adhering to preservation practices to prevent damage to the artifacts, assisting researchers, and communicating information on the materials through displaying them in exhibits and giving presentations.
Consultant
A consultant is a trained expert who works freelance or under contract to provide services to businesses and other organizations. They might offer the company feedback on a particular process, make suggestions for areas of improvement in a particular domain, or assist the company with a particular initiative or project.
A historian may provide consulting services for a historical organization such as a museum or archive, or they may provide consulting services in a different professional field such as finance, personnel, or communication.
Historian
As a graduate of one of the best history PhD programs, one can consider becoming a historian. A historian is responsible for both the archival and collection management functions of a company, government agency or other organization.
They may manage in-house collections, acting similarly to archivists or librarians in that they keep the collections in good condition, catalog them, and process them as required. A historian may take on additional outreach and education responsibilities, such as teaching and providing subject matter expertise.
Dean
A dean is a person who oversees the academic operations of a college or university's department or division. They are responsible for the development and growth of their department, the coordination of curriculum programs, ensuring that academic programs meet legal and institutional standards, and creating such programs. After several years of teaching and taking on leadership responsibilities, professors can advance into dean roles.
Director of operations
A director of operations has a high-level leadership role in an organization. This person is responsible for coordinating the organization's activities and ensuring that the business remains profitable. Those who have earned a doctorate in history may seek employment as directors of operations for educational nonprofits, curriculum companies, or any other relevant industries.
Best History PhD Programs
North Dakota State University
Since 1954, North Dakota State University has awarded its Master of Arts in History degree to deserving students. It wasn't until 2002 that they started offering one of the university's best PhD Programs in History. Full-time students typically take between three and five years to complete the PhD program at NDSU; however, it is not unheard of for some students to take significantly longer than this.
As one of the best history PhD programs, the application process is open throughout the academic year, and prospective students are expected to submit their GRE scores. Students from other countries who do not speak English as their first language are required to pass the TOEFL. To be eligible for the PhD program, you are required to have already earned a master's degree in history or in another field that is very closely related to it.
At North Dakota State University, there is a limited amount of funding and opportunities for financial aid, the majority of which are in the form of assistantships that include tuition waivers and small stipends. This funding is renewable for four years for PhD students, provided that all academic requirements are satisfied. NDSU does not offer any programs that facilitate education via distance learning. NDSU requires students to live on campus for an entire academic year.
University of Texas Arlington
Students at the University of Texas at Arlington can enroll in a PhD program on campus, which they can complete on a part-time or full-time basis. The standard course load for full-time students is nine credit hours per term, and full-time students are expected to finish their doctoral degrees within six years, whereas part-time students may take longer to finish their degrees.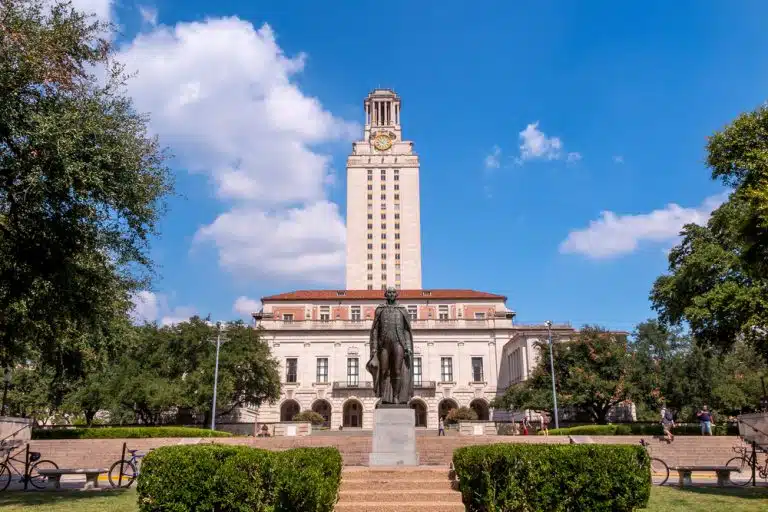 To be eligible for the PhD program in history at the University of Texas at Arlington, you need to have either a bachelor's or a master's degree in history. You must have completed a minimum of eighteen hours of upper-division history coursework as an undergraduate student. You must also provide your GRE scores.
The Doctor of Philosophy in History program at the University of Texas at Arlington specializes in transatlantic, transnational, and global history approaches, with a particular emphasis on the histories of the United States of America, Europe, Latin America, and Transnationalism. This institution's faculty have won numerous awards, and they give each student individualized attention thanks to the small class sizes.
Students enrolled in the University of Texas at Arlington's History of Cartography program have exclusive access to the Garrett Map Collection, one of the most renowned map libraries in the world. This program is unique in North America.
Those who graduate from the best history PhD programs frequently go on to work in educational settings. Outside the academic world, they could find work as museum professionals or archival administration specialists, for example. Careers in writing, research and analysis at the highest level may also appeal to these individuals, and they may find employment in government or nonprofit organizations.
The University of Texas at Dallas
A little bit different is offered at the University of Texas at Dallas as a PhD in History of Ideas. This doctoral program was developed specifically for individuals interested in conducting advanced research or teaching at the college or higher level. It emphasizes the study of philosophy in addition to intellectual and cultural history, with a particular concentration on the histories of Europe and the United States.
Students enrolled in this program can anticipate their academic pursuits, guided by a flexible interdisciplinary approach connecting various fields of study. In addition to the coursework they are required to take in the History of Ideas, students are also required to attend two seminars in both the visual and performing arts and literature.
The graduates of this program have the potential to become educators and teachers. They also can work as curators in historical sites and museums. Other possible careers include research, administration of historical sites, and archival work. In addition, graduates of this program are qualified to work as managers of public or private historical organizations, as well as for governments or organizations that do not seek to make a profit.
University of California –  Santa Cruz
The University of California, Santa Cruz, offers an on-campus PhD program in history. This program emphasizes taking a cross-cultural and interdisciplinary approach to studying history while maintaining a transnational and global orientation as one of the best history PhD programs in the world.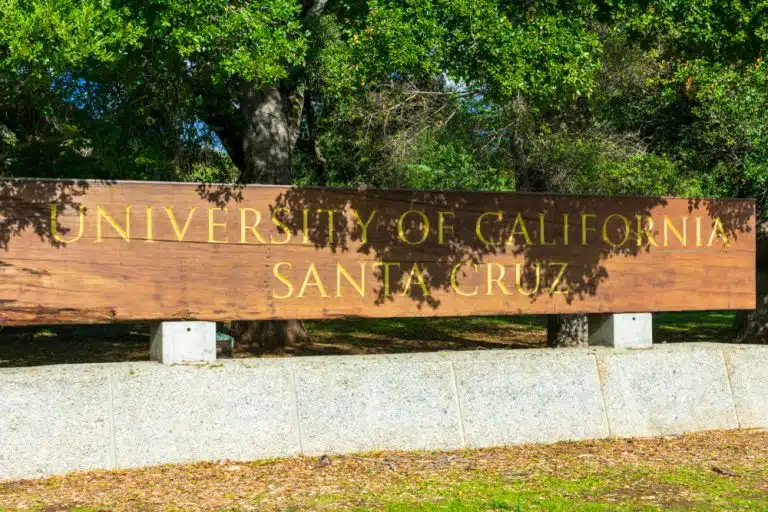 The rigorous program offered by UC Santa Cruz is designed to educate students in conducting their original historical research. The program is a combination of classroom instruction and independent study. Students are taught to think, talk, and teach in a way that is not limited by any boundaries and encouraged to think creatively. In addition to preparing students to instruct at the university level, this program also equips students with the skills necessary to succeed in careers unrelated to academia.
Indiana University – Bloomington
Because Indiana University Bloomington possesses one of the largest libraries and history departments in the United States, it is widely regarded as having one of the best history PhD programs in the world. This university boasts a faculty with more than 50 accomplished members.
The program at Indiana University Bloomington is devoted to producing first-rate historians who are prepared for careers inside and outside the classroom. Even though there is a larger faculty, the classes are still manageable so that students can get the individualized attention and support they need from their advisors.
Students interested in pursuing a doctoral degree can do so without first earning a master's degree if they choose. Students who are accepted are given 14 years to complete their academic requirements, including their coursework and their dissertation. However, students typically complete their coursework significantly faster than the allotted time.
Students who need financial assistance may be able to find it by working as an associate instructor, course assistant, research assistant, or editorial assistant, provided that they qualify for the position. Interested applicants may also be eligible for grants and fellowships.
New York University (Arts & Science)
The majority of first-year students at the NYU Graduate School of Arts and Sciences are eligible for multi-year funding through the Henry M. MacCracken Program. This program provides students with tuition remission for degree-required classes, health insurance, a nine-month living expenses stipend OR research assistantship, and a one-time grant of $1,000 that can be used however the student sees fit.
The Graduate School of Arts and Science at New York University is one of the oldest schools in the United States that awards doctoral degrees. It was established in 1886, more than a century ago. It offers one of the best history PhD programs in the country.
Research is emphasized throughout the doctoral program in history that the New York University Graduate School of Arts and Science offers. The primary purpose of the course is to equip students with the professional skills necessary for conducting historical research and instructing history. Students will be better prepared for a future career in research or academia if they achieve this goal. Thanks to this program, future graduates are also prepared for other jobs, such as archival management.
Major fields of research at NYU's Graduate School of Arts and Sciences include:
African Diaspora
African history
Atlantic History
East Asian History
Latin American and Caribbean History
Medieval European History
Early Modern European History
East Asian History
South Asian History
United States History
Students who are considering applying for a standalone master's degree or PhD in history do not need to take the Graduate Record Examination (GRE). However, the results of the GRE are required to apply to joint PhD programs. Students from other countries who do not speak English as their first language are required to pass the TOEFL.
Rutgers (School of Arts & Science)
Students who meet the requirements can receive funding opportunities from Rutgers University in the form of partial or full tuition remission, as well as a stipend of up to $25,000 that is distributed annually. During their time in school, students who are awarded this financial assistance are required to work in internships, fellowships, or assistantships.
The PhD in History program offered by the Rutgers School of Arts and Science is intended to be pursued full-time and, on average, requires five years to complete. The illustrious faculty of more than 60 historians covers various fields of research and periods. However, they have strong specializations in traditional regional, thematic, transnational, comparative, cultural-intellectual, social, and other areas of history.
The program encourages students to publish their research and scholarly work in major historical journals, and they do so regularly. In addition to this, they present their findings at both national and international conferences. PhD programs in history offered by this school, including those specializing in women's and gender history, modern United States history, and African-American history, are consistently ranked among the best history PhD programs in the world.
University of Michigan (College of Literature, Science & Arts)
The University of Michigan's Doctor of Philosophy in History program takes an interdisciplinary, international, and multi-dimensional approach to student education and training. Its consistent placement among the highest-ranked history departments in the United States is a testament to the high-quality education that students from various backgrounds can obtain here.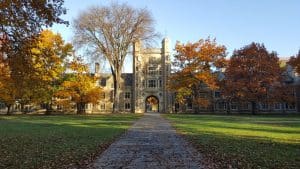 The program features cutting-edge research and methodology, both of which are taught in cutting-edge ways by the institution's exceptionally qualified faculty. The objective is to provide students with training and preparation in the research fields in which they are interested, thereby enhancing their chances of success in careers both inside and outside academia.
Following graduation, graduates of this program enjoy relatively high placement numbers in a variety of different fields. According to the institution's reports, only three out of nineteen graduates in the most recent two years have reported being unemployed or not having any opportunities upon graduation.
This is an extremely difficult program to get into due to the attractive funding package and the promising prospects for program graduates. Only eighteen open positions are available each year, but they receive between three hundred and four hundred applications each year. The on-campus residency requirement for the program is 18 credits over one year, and students have between six and seven years to complete the program.
Applying for a PhD in history is a difficult task. Since, unlike when applying for an undergraduate program, there are extra considerations that the university may look at. As such, it is important that you get all the help you can get to make your admission easy. At AdmissionSight, you will benefit from the guidance of experts with 10 years of experience in college admissions. Set up an appointment today and see how we can help you.