Why Choose Brown University Among Ivy League Schools?
The highly regarded Ivy League comprises eight top-rated universities. They're regarded as some of the best schools not only in the United States but in the world. Whether you're a parent or a student whose been conducting research about the best schools to attend, there's no doubt that you've seen or heard Brown University mentioned at least once.
Before your research, you might've heard of some more well-known and popular Ivy League schools such as Harvard, Yale, and Princeton. With other colleges in the spotlight, you might be wondering "why go to Brown University at all?"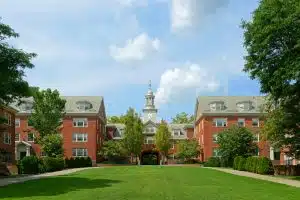 Well, that's a fantastic question with no shortage of answers. But, before we dive into the nitty-gritty, let's set the scene for the Ivy League overall. You see, many people simply assume that all colleges within this highly esteemed group are all the same. Or, at the very least, functionally the same when it comes to getting an education.
In other words, some students and parents assume that getting an education at Yale would be similar enough when compared to another Ivy League school. So why Brown? In reality, each Ivy League school offers students a completely unique educational and collegiate experience.
At AdmissionSight, we've worked with countless students to help them achieve their dream of attending these world-class universities. Throughout this experience, we've come to know each Ivy League school like the back of our hands. We know their strengths, their unique features, their advantages, their difficulty, and much more.
For everyone wondering about this Ivy League school, we'll answer your questions about "why Brown?" and "why go to Brown University?" We'll provide you with some reasons to love Brown along with some downsides because – let's face it – no college is perfect.
5 reasons to choose Brown University over other top schools
1. Brown's open curriculum invites students to explore their interests.
The vast majority of colleges have a set of required courses that students have to take during their first year of school. Known as a core curriculum, this might even extend into sophomore year, depending on the school.
While the university sees this as an opportunity to ensure each student covers some basic material, it's clear why some students can't stand the structure. It doesn't matter if you like the courses or if they even line up with your chosen area of study. However, an open curriculum, which Brown University uses, is the exact opposite.
With Brown's open curriculum, students are free to explore the university's various majors and subjects by testing out various courses. You're not beholden to any core curriculum that dictates classes that you must take.
Even if you've already chosen your major, you still have the freedom to test-out different subjects. Under this setup, you're the one in charge of your college education. To be sure, there are still some requirements, but they're significantly less overbearing than at some top-level universities. These requirements are as follows:
You have to sign up for at least 30 courses within an eight-semester period.
You have to choose a concentration.
You must show proficiency in English.
Brown University's process of learning is more geared towards experimentation and growth rather than meeting general requirements – something many students appreciate and prefer.
Another major perk of this open curriculum is the choice to do a course not on a standard grade scale but on a pass or fail basis. Brown doesn't provide GPAs like other schools, so students aren't limited on the number of pass/fail courses they take. Again, by taking the emphasis off grades and requirements, students have more freedom – and less stress – to explore different topics, subjects, and interests.
2. Brown has a unique culture.
Every Ivy League university has taken on a life of its own. If you attend more than one of these eight universities when doing college visits, you can act as an anthropologist studying the various school cultures. You'll notice different customs, traditions, themes, and patterns.
When it comes to Brown University, its open curriculum has established a culture of openness, exploration, and – in a sense – adventure. Brown is less cumbersome when it comes to educational experimentation than other Ivy Leagues, attracting many like-minded people.
In general, the Brown University student body is full of creative, open-minded, curious, intelligent, and hard-working people. Students who end up attending Brown aren't your run-of-the-mill students, even by Ivy League standards.
The vast majority of students who end up getting accepted were at the top of their high school class, we're incredibly involved both inside and outside of the classroom, and have BIG goals for the future. What's great about Brown University, is that it's a place where all of these talented and like-minded students can come to grow and develop together both personally and academically.
Although academics are an integral part of the Brown University community, its student body's intellectual curiosity extends beyond the classroom boundary. There's a rich culture of participation in extracurricular activities such as clubs, intramural sports, and other on-campus but non-academic events. Upon visiting Brown, you might be taken aback by just how friendly and open the student body is.
3. The student body is full of diversity.
There's a cliche about college that it's a perfect time for experiencing unique and new things. Although it's terribly overused, there's still some truth to that statement. Not many students want to go away to a college that offers nothing different than their high school.
Another fantastic thing about this school that makes it easy to answer "why Brown?" is its refreshing and inviting diversity. In fact, fewer than 10% of the entire student body comes from Brown's home state of Rhode Island. The rest of the domestic student body comes from other states throughout the country.
As a result, you have a better chance of meeting somebody from a different state than you do from your own. This means a new perspective, challenging ideas, and endless opportunities to learn. However, the rich diversity doesn't stop there as Brown has a long history of attracting international students from across the country.
If you have an interest in learning about and experiencing different cultures without having to leave the country, Brown is calling your name. There are students hailing from over 100 different countries. In addition, Brown's ethnic diversity is one of the highest in the country, even among Ivy League schools.
4. The campus is a perfect size.
Admittedly, this is one of the more slightly objective reasons to love Brown but still a good reason to explain "why would someone choose Brown University over other top universities?" Beyond academic offerings, location, and student population, the actual size of the campus is an important consideration for many students. They want to make sure there's enough to do without being too large. The size of the campus also influences the number of students on campus which impacts the learning experience.
Bigger schools typically have large class sizes that can make it difficult for some students to pay attention and learn, thus hurting their academic performance. On the other hand, a campus that's too small might have limited offerings when compared to a larger school that has better funding.
Fortunately, Brown strikes the perfect balance between a small school with few offerings and a large school with too many students. With just under 9,000 students, Brown is the ideal size for students looking to achieve this balance. This is reflected in class sizes where most are under 20 students, offering a more intimate and collaborative learning environment.
5. Endless activities and things to do outside of school.
When deciding "why go to Brown University?" or to any college for that matter, students can't only consider what's going on in the classroom. The vast majority of your time at college will be spent on the other side of the classroom walls, making it important to choose a university that offers enough to do outside of school.
Fortunately, this is yet another big reason to choose Brown. This Ivy League university offers more than 300 student groups where you can find an extracurricular activity or club for nearly anything you could wish for and more. Even if you can't find what you're looking for, it's easy to start your own club.
Not interested in organized or group activities? No problem! Brown University is a stop along the touring route for many exciting events. There's no shortage of concerts, lectures, screenings, and other fun and informative happenings. Better yet, all of these are organized and planned by students, meaning you can have an influence on who and what comes to Brown.
While this university's campus is great, let's not limit our focus here. You don't plan on spending all of your free time there anyway. Well, the nearest town of Providence is only a few minutes away by car or public transportation and it's teeming with life.
Providence isn't the biggest city in the world, but that's precisely why many students love it. Similar to Brown University's campus striking the perfect balance between a low-key setting and one with sufficient offerings, Providence also finds the right size.
You'll find more than enough restaurants, cafes, museums, cultural centers, stores, libraries, and more without having to worry about having a stuffy, polluted, and congested city. Make sure to bring your student card when visiting the city. You never know what kind of discounts you'll get for attending Brown! And as a student strapped for cash, you don't want to pass them up.
What else you need to know before choosing Brown University
Now that you know the top reasons you should consider attending Brown University, let's cover some general questions that many students have about this Ivy League school.
What is Brown University known for?
Brown University is known for its world-class faculty, top-tier offerings, and – perhaps most of all – its unique open curriculum that invites students to explore and experiment with courses.
What is the Brown University student population like?
Although it fluctuates from year to year, the student population at Brown University typically hovers just below 9,000 – making it a medium-sized college. The student body at Brown is known for its intellectual-curiosity, open-mindedness, and creativity.
What is Brown University ranking among other schools?
Currently, Brown University ranks 14th in the National University Ranking yet 7th among all Ivy League schools. It's ahead of Cornell University and below the other six Ivies.
What are the worst things about Brown University?
When students complain about Brown, there are a few common things that arise. Some students who prefer larger cities such as New York and Boston complain that Providence is too small, although this isn't an overall negative for students. Some students also complain that the admissions staff at Brown aren't incredibly helpful or insightful, highlighting the importance of using a reputable college admissions counselor.
Is Brown University fun?
Brown University is definitely a fun school – both inside and outside of the classroom. The university's open curriculum makes it easier for students to take courses that they actually find enjoyable and exciting. When it comes to life outside of the classroom – something you shouldn't forget about! – there are endless student activities on campus in which you can participate. Furthermore, Providence has everything a student could want in a "college town."
Is Brown University a good school?
Although not as well-known as some of the more popular Ivy League schools, Brown University is still one of the best schools in the country. In fact, as we mentioned before, it's currently ranked in the top 15 colleges. There's no doubt that Brown is a fantastic school that provides students with excellent offerings, opportunities, and resources.
How hard is Brown University?
As a prominent Ivy League school, there's no doubt that Brown University is a challenging school. However, there are some characteristics that make it a little easier than other universities. First and foremost, it has a higher acceptance rate than many, more selective Ivies. Secondly, the open curriculum we've been discussing gives students more freedom to choose classes they're genuinely interested in, making it easier to perform well.
What is Brown University like?
Brown University is located in the northeast of the United States near the city of Providence in Rhode Island. The campus is full of beautiful colonial-era architecture and green fields. The classroom sizes are generally on the smaller side with the vast majority being under 20 students. This makes for a much more intimate and inviting learning experience.
What is unique about Brown?
The most unique thing about Brown is definitely its open curriculum. Tired of hearing us talk about it yet? We know, but it's really something students applying or considering applying to Brown University need to know about. While students at other schools are beholden to certain core curriculums, those at Brown have more freedom to explore courses and subjects that sound interesting.
Need help getting into Brown University?
Now that you've successfully answered the questions "why Brown?" and "why go to Brown University?", it's time to talk about how you can make that happen. AdmissionSight is a leading college admissions expert in the country.
We specialize in helping students just like you prepare for the Ivy League by explaining the college admissions process in detail, capitalizing on your strengths, and ensuring your application is pristine. With years of experience learning the ins and outs of the college admissions process for some of the country's top schools like Brown, we have the expertise and insider knowledge to help you nail your application.
Whether you need a handwriting your supplemental essays, choosing the best high school courses, finding relevant extracurricular activities, or selecting a great summer program, we have the services to support and guide you.
Better yet, all of our services are personalized. We take each student's unique interests, strengths, and goals into account when helping them prepare for the Ivy League. If you're interested in learning more about our services, feel free to reach out to AdmissionSight today for a free consultation.