Yale Application Portal
What Application Portal Does Yale Use?
Yale University is the third-oldest higher education institution in the United States and a private Ivy League research university. Every year, a prestigious college like Yale receives hundreds of applications from extremely qualified students. Applicants often ask, "What application portal does Yale use?"
There are three Yale application portal options you can use to apply for admission at the institution. All first-year applicants must submit either the Coalition App, Common App, or the QuestBridge App.
Coalition App: Yale is a member of the Coalition for Access, Affordability, and Success, an application platform offered by more than 150 public and private colleges and universities in the United States. Every Coalition institution offers need-based financial aid or low-cost in-state tuition and has at least a 70% six-year graduation rate. Meanwhile, Yale has a 97% six-year graduation rate.
Common App: Yale is a member of the Common Application, an application platform used by over 600 colleges and universities worldwide. Every year, about one million students use the Common Application.
QuestBridge: QuestBridge is a national non-profit organization that connects bright, motivated low-income kids with educational and scholarship opportunities at some of the nation's best institutions. Students who intend to apply to QuestBridge Partner Institutions through the QuestBridge National College Match Application must first submit their application materials to QuestBridge and be selected as QuestBridge National College Match Finalists.
Students who have been named Finalists have the option of ranking Yale in the QuestBridge National College Match or applying directly for single-choice early action or regular decision admission.
Yale will accept either of these applications, with no preference given to one over the other. Students must take note that they should only submit one application per admissions cycle.
After submitting the application through the Yale application portal, a confirmation email will be sent about the Yale Admissions Status Portal.
This email will be delivered three days after you submit your application. The email will contain a temporary PIN as well as instructions for creating your Yale Admissions Status Portal account.
During the admissions process, you will use your Yale Admissions Status Portal to view the following:
Checklist for your application
Your admissions decision
The admitted students' website (for admitted applicants)
The Status Portal also provides forms for submitting an application update, requesting a change in your contact information (email, phone number, address), and withdrawing your application.
The three application platforms serve as an easy way for students to apply to Yale and many other colleges, simplifying the application process and saving time. It is important for students to keep track of the deadlines for each school and to submit the application well before the due date.
How to Register for the Yale Application Portal?
Applying to Yale University can be an exciting and stressful process, but with the right guidance, it doesn't have to be. One of the first steps in applying is registering for the Yale application portal of your choice.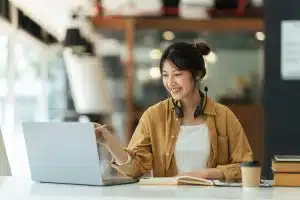 How to register for the Yale application portal? We'll go over each of the Yale application portal options.
Common Application
To access the Common Application website, type www.commonapp.org into your web browser.
To submit your application, select the "Apply" button located in the upper right-hand corner of the page.
Choose the "Create an Account" option, then provide your name, email address, and password when prompted to do so.
After you have registered an account, you will be invited to fill up a profile with your fundamental personal information, such as your address and your various contact information.
When you have finished filling out your profile, you will be taken to a page titled "College Search." On this page, you will be able to search for colleges and universities that are willing to accept the Common Application. Search for Yale and click "Add to My Colleges."
You will be able to start filling out the application as soon as Yale is added to the list of universities that you are considering attending.
Coalition Application
Visit their website at www.coalitionforcollegeaccess.org and click the "Create a Scoir Account" button when you get there.
Create a username for yourself (which will be your email address) and a password. After that, you will have access to the "Coalition Locker and Application Service."
First, you can select a few schools that interest you and then provide some basic demographic information about yourself.
Find Yale University and add it to your college list in the Coalition App.
As soon as you've completed that step, you'll be good to go and have full access to the Coalition App website.
QuestBridge Application
The first thing you need to do if you want to be considered for a full four-year scholarship to one of QuestBridge college partners is to submit a free application online through National College Match. This application will serve as your application to one of its college partners if you are chosen as a Finalist in the competition.
Components of the Application
Details on your educational history, extracurricular activities, family life, and economic situation
Two essays and short answers
School Report from your high school counselor
Two teacher recommendations
School Profile of the School (optional, but highly recommended)
Transcript from the student's current high school as well as any additional transcripts (unofficial transcripts can also be submitted)
All score reports from standardized tests that are currently available (if taken). Scores from the SAT, ACT, Subject Tests, IB, AP, and TOEFL are all accepted by QuestBridge (unofficial test score reports can also be submitted)
It should be noted that some schools may have additional supplement questions or application materials in addition to the Common App, Coalition App, or QuestBridge app so students should check the websites of each institution for specific requirements.
What Time Is Yale Application Due?
When applying to Yale University, one of the most important things to keep track of is the application deadline. Knowing when the Yale application is due is essential to ensuring that your application is submitted on time and that you don't miss out on the opportunity to attend one of the most prestigious universities in the world.
So, what time is Yale application due? Yale has different application deadlines for the two application programs. The deadline for the Single-Choice Early Action program is November 1st, while the Regular Decision deadline is January 2nd.
It's crucial to submit your application as early as possible, so you have enough time to correct any errors or omissions in your application. It's also important to be aware of the deadlines for any additional materials that may be required, such as transcripts or test scores.
To know more about the school's application deadlines and process, you may check AdmissionSight's article about the Yale application deadline.
How Does Yale Notify Acceptance?
Applying to Yale University can be an exciting and stressful process, and one of the most important aspects of the process is finding out if you have been accepted. Now, students might be curious about "How does Yale notify acceptance?"
Single-Choice Early Action admissions decisions will be posted online in mid-December. Regular Decision candidates' decisions will be posted online by April 1 via the Yale Admissions Status Portal.
Early Action and Regular Decision applicants have until May 1 to respond to an admission offer. Decisions are only made available through the Yale Admissions Status Portal.
Yale will notify you of its judgment on your application in mid-December. There are three admission outcomes:
An admission offer to the first-year class
Admission denied
Deferral to be considered in the Regular Decision round
Deferral implies that the admissions committee has postponed its judgment and will reconsider your application alongside Regular Decision applicants. Deferred applicants will be notified of their final decision by April 1.
Applicants who were denied for admission through Single-Choice Early Action are ineligible for further consideration during that application cycle.
If you are accepted to Yale, you will have until May 1st to make your enrollment decision. This means that you will have to decide whether or not you want to attend Yale and send in your deposit to secure your spot.
How Hard Is It to Get Accepted Into Yale?
How hard is it to get accepted into Yale? Yale University is a highly selective institution, known for its rigorous academic programs and accomplished student body.
As a result, getting accepted into Yale can be a challenging process. We will take a look at the admissions requirements for Yale and what you can expect when applying to the university.
Yale is one of the most selective universities in the country, with an acceptance rate of 4.46 percent. More than 50,000 prospective students submitted applications to Yale University for admission into the Class of 2026; however, only 2,234 students were selected for admission.
The admissions process at Yale is highly competitive, and the admissions committee looks at a wide range of factors when evaluating applications.
The admissions committee at Yale is looking for students who have demonstrated academic excellence, intellectual curiosity, and a commitment to extracurricular activities. They also place a significant emphasis on personal character, as they believe that these are the qualities that will contribute to the unique and diverse community at Yale.
To be considered for admission to Yale, applicants must have a strong academic record, including a challenging course load and high grades. They must also submit a personal essay, letters of recommendation, and standardized test scores. Yale also requires applicants to submit transcripts and other academic records.
Yale is looking for applicants who have taken advantage of the opportunities available to them and have excelled in them. The admissions committee is looking for students who have pursued their passions, whether through academics, sports, music, arts, or volunteer work.
In summary, getting accepted into Yale is a challenging process due to its highly selective nature and competitive admissions process. The admissions committee is looking for students with a strong academic record, intellectual curiosity, a commitment to extracurricular activities, and personal character.
To increase your chances of getting accepted, it's important to take advantage of the opportunities available to you, pursue your passions, and submit your application through any of the Yale application portal options before the deadline.
AdmissionSight can also assist you in preparing for a strong application as early as your junior high school year. Our programs and counseling services have benefited thousands of college aspirants each year. Feel free to book an appointment for an initial consultation with us today.