What are the Colleges with Dual Degree Programs?
Dual degree programs
What does it take to have dual degree programs? Are there colleges with dual degree programs? A dual degree, also called a "double degree," is earned by studying two subjects (one per discipline) that are usually very different from each other. For example, if you finished a dual degree program in psychology and business, you would get two diplomas: a Bachelor of Arts (BA) in psychology and a Bachelor of Business Administration (BBA).
Dual degrees are usually made up of two separate degrees, like a BA/BS, BS/BFA, BS/BBA, etc. (Some dual degree programs grant you a bachelor's degree at the undergraduate level and a graduate degree; we'll discuss these kinds of programs in more detail below.)
A dual degree program's two subjects of study are typically housed in two different university schools. Because of this, students who desire to pursue a dual degree often have to apply to and be accepted by both institutions separately. Depending on the university, there are several deadlines for applying for admission.
More credits are needed for dual degrees than for single degrees. Whether your university uses a semester or quarter system will affect how many credits you ultimately need. To graduate, though, you'll typically need between 140 and 225 credits.
Finally, you'll almost certainly need to spend more time in college, often five to six years, because you're pursuing two degrees at once and need more credits than you would for a single degree. Because you'll need to pay for additional courses or credits, books, housing, etc., it also implies that you'll have to spend more money on your college education.
Colleges with the best dual degree programs
What are the colleges with the best dual degree programs? Is pursuing a dual degree worth the time, money, and effort? The response is arbitrary. 20% of college graduates, according to research by the Cambridge University Press, hold double majors. Students who double-majored in business and a STEM-related field made more money than those who only majored in one field.
Check out the list of colleges with dual degree programs by AdmissionSight:
Stevens Institute of Technology in Hoboken, New Jersey
The School of Business offers three different versions of its MBA program to meet the needs of ambitious professionals who want to become leaders who can solve problems.
You will be prepared to become a change agent whose business and scientific perspectives make you an important issue solver by taking courses in leader development, creative collaboration, and business analytics. With a dual degree from Stevens, you'll be able to convert complex technical concepts into sound business suggestions that C-level executives can support.
With the dual degree program, you can complete two graduate degrees in two years and, if you so choose, have time over the summer to complete an internship. With the help of this program, you can earn both degrees with just 57 credits, as opposed to the usual 78.
Felician University in Rutherford
The School of Business is proud to offer a number of five-year combined business programs that enable you to complete both your undergraduate degree and MBA in just five years. By gaining advanced management abilities, you can kickstart your professional career. (For example, bachelor's degrees in accounting and master's degrees in business administration, management, marketing, and healthcare administration.)
This is one of the colleges with dual degree programs that will give you the information and tools you need to succeed in the ever-changing business world, enabling you to advance faster toward a successful career. You will develop in-demand skills throughout this program that will make you marketable to companies across a wide range of industries. You'll get knowledge on how to think critically, solve problems, lead with creativity and innovation, and much more.
The International Assembly for Collegiate Business Education (IACBE), which accredits all of these dual programs, gives you the option to combine one of five undergraduate majors with the Master of Business Administration:
Bachelor's in Accounting
Bachelor's in Business Administration
Bachelor's in Management
Bachelor's in Marketing
Bachelor's in Healthcare Administration
The combined BS/MBA program follows an experiential learning model and was created with the goal of preparing you for the challenges of the real world. As a result, by the time you graduate, you'll have created a professional portfolio that showcases your academic and professional experience as well as your professional competencies.
Seton Hall University School of Diplomacy and International Relations in South Orange, New Jersey
By combining your diplomacy degree at Seton Hall University with another professional school, you can improve your education and cut down on time. Only 60 credits and three years of full-time study are frequently needed for dual degrees. As opposed to 80+ credits and 4 years to finish each program separately.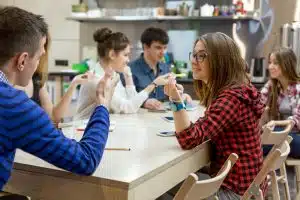 Students who want a dual degree must submit applications for admission to both programs which is almost applicable to all colleges with dual degree programs.
A dual degree program combining the Master of Business Administration (M.B.A.) and the M.A. in Diplomacy and International Relations is offered by the School of Diplomacy and the Stillman School of Business. This dual degree program takes advantage of the overlap between the two fields to give students a unique mix of in-depth business training and a thorough understanding of the challenges that global policy faces.
Westcliff University in Irvine, California
For those interested in management employment, the Master of Business Administration (MBA) degree program is a good choice. Its goal is to give both men and women the chance to develop the skills, knowledge, and understanding that will serve as the foundation for their development into competent business management professionals.
This will enable graduates to find work in a variety of major industries, such as computer-related services, investment banking and securities, and consulting in the fields of marketing, research, analysis, and/or finance.
The Continents States University in St. Louis, Missouri
The Master of Science in Business Administration program at Continents States University (one of the colleges with dual degree programs) was created for professionals wishing to further their careers by securing management positions, students looking to launch their own firms, and individuals seeking success in the business world.
Students, business owners, and entrepreneurs will be able to expand their knowledge of the business environment, finance, economy, management, and marketing thanks to the MSBA degree program. The goal of the MSBA program is also to guide students and help them get jobs in administration or leadership in both public and private organizations.
California Lutheran University in Thousand Oaks, California
The Cal Lutheran MBA has a rigorous curriculum that can be customized by choosing one of our specialty areas. This makes it a great choice for students who want to learn basic business skills while also focusing on a specific area of interest.
Benedictine University – Online in Lisle, Illinois
Attending Benedictine University and receiving a degree entails doing so at a prestigious, private institution with a track record of quality. Students who are looking for the best opportunity to earn a bachelor's degree or looking for a master's program that matches their needs can benefit from Benedictine's online programs. Students may easily fit schooling into their hectic schedules because to the asynchronous nature of online courses.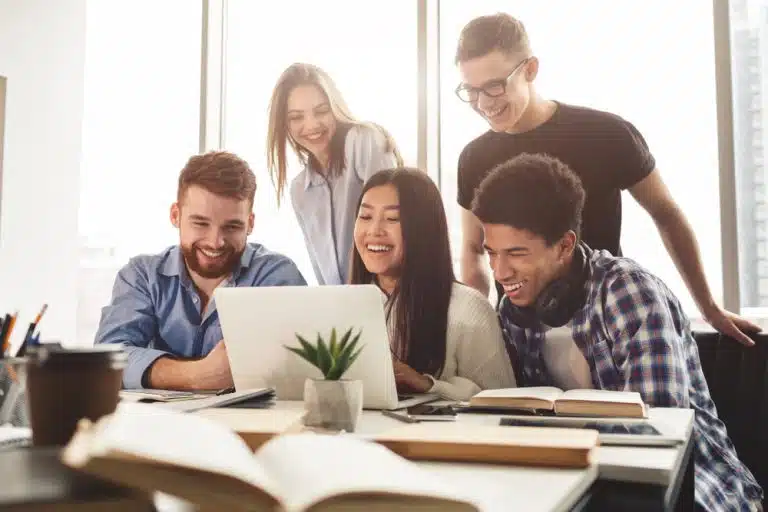 With one of Benedictine's online dual degree programs, you may strengthen your resume and expand your professional network. In one program, you obtain two complete master's degrees.
Spend up to 25% less time and money getting each degree than you would otherwise:
Master of Business Administration (MBA)
Master of Public Health (MPH)
Master of Science in Nursing (MSN)
Master's in Management and Organizational Behavior (MSMOB)
Master of Science in Nutrition and Wellness (MSNW)
Aurora University – Online in Aurora, Illinois
With the online MSW/MBA dual degree from the George Williams School of Social Work at Aurora University, you can get ready for occupations that combine social work and business management.
In this one of the colleges with dual degree programs, you will obtain a strong foundation in generalist social work practice while you develop leadership abilities for both the nonprofit and for-profit sectors because the MSW curriculum serves as the program's cornerstone.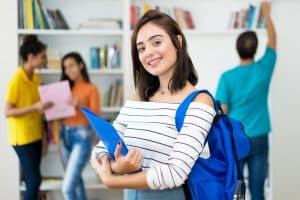 For individuals looking for a certificate that combines significant business coursework with important social work themes and applicable field experience, the MSW dual degree program is suitable. Graduates are equipped to serve the greater good and make a difference in their communities by integrating a thorough understanding of how social service and business knowledge relate.
Open educational resources (OER) are substituted for traditional textbooks in some courses by the program's instructors. This implies that students have free access to digital content with open licensing.
University of Scranton – Online in Scranton, Pennsylvania
Having trouble deciding between an MBA and an MHA? Why pick? You can acquire both degrees faster with this dual degree program than you would if you pursued them separately because it combines the MBA curriculum, which has received AACSB accreditation, with the MHA curriculum, which has received CAHME accreditation. To ensure compliance with both certification bodies, competencies have been mapped.
The MBA-MHA degree integrates the two programs' curricula into a single practical degree. Compared to completing each program separately, you can earn your degree more quickly and with fewer credits. The MBA-MHA prepares you to manage healthcare organizations by providing a broad basis of business experience and a profound comprehension of health systems.
Our Lady of the Lake University – Online in San Antonio, Texas
For students with a Bachelor's in Social Work from a CSWE-accredited school interested in pursuing leadership, administrative, and managerial jobs in the next stage of their careers, Our Lady of the Lake University is one of the colleges with dual degree programs.
The CSWE and ACBSP have accredited its online delivery. In addition to preparing you for the licensed social worker exam, this program gives you the unique skills you need to work with Hispanic children and families.
By tripling the value of your degree, you may maximize the return on your educational investment. OLLU has made it simpler for our students to double major or double minor in less time and at a cheaper cost than at other colleges by revising our general education requirements.
Students benefit from having additional opportunities to combine their passion and their purpose by pursuing double majors and minors in just four years, which is less time than it would take to complete a single major in another institution.
Students that follow this path are better equipped to advance into graduate school or their preferred field of employment.
According to research, students who acquire a double major or minor can increase their employability, expand their work choices, position themselves to earn a higher wage over the course of their lifetime, and have greater long-term career flexibility.
You might be able to use your knowledge and abilities right away after graduation, depending on your job ambitions, while others will continue on to graduate school. In either case, having the chance to broaden your academic interests can help you succeed in all of your activities.
Online dual degree programs
Are there online dual degree programs? Yes, there are colleges with dual degree programs offered online. But even before that, there are lots of options for online dual degree programs. The greatest STEM dual degree programs, however, are often offered in the conventional on-campus setting, as you will see below.
But nowadays, getting a degree online is very common. As colleges broaden their offerings in the digital sphere, online education is one of the most popular trends in online education. Additionally, the epidemic has typically increased the quality of online learning tools and practices. The necessary tools and methods are now more widely available for teachers and students, improving the quality of online teaching and learning.
According to recent data on online education, 50% of undergraduate students believe their online education is of equal quality to traditional in-person education.A sizeable 39% of respondents said it was better. Only 11% of respondents said it wasn't all that excellent.
On the other hand, almost 52% of graduate students stated that their online experience was superior to their experiences in a conventional setting. Only 10% of people said it wasn't all that excellent. The remaining 38% stated that both are roughly equivalent. Naturally, not all applications are created equal, though. The institution offering them would determine the quality.
Additionally, it is best to look for recognized online dual degree programs. Enrolling in an authorized program increases your chances of landing a job as well as ensuring that the education you receive is of high quality. On the school's website or by performing a short search on your preferred search engine, you can simply find out what kind of accreditation your prospective programs hold.
In addition, in the previous segment of this blog, we have listed colleges with the best dual degree programs, and some that are listed offer dual degree programs online.
After reading this blog, you ought to have a much better idea of the different colleges with dual degree programs. You are prepared to start your mission. Do you require further assistance? When applying to colleges, AdmissionSight can assist you in putting your best foot forward. We've been assisting students with the challenging admissions process for more than ten years.
Consult AdmissionSight to find out what we can do to help you be ready and knowledgeable enough to enroll in the institution of your choosing.