Free Online Courses at Johns Hopkins
Does Johns Hopkins University Offer Online Courses?
Does Johns Hopkins University offer online courses? Free online courses at Johns Hopkins can be taken for academic credit and some of which are offered at no cost. They are guaranteed to be of the same quality as their in-person counterparts and have been designed specifically with the requirements of distant students in mind.
Online learning at Johns Hopkins University is aligned with its objective which is to educate its students and create in them the ability for lifelong learning, to encourage autonomous and creative research, and to share the advantages of discovery with the rest of the world. To reap the benefits of a Johns Hopkins education, it is not necessary to be physically present on a Johns Hopkins campus.
Coursera, the industry leader in the provision of massive open online courses (MOOCs), currently offers more than 60 different online programs for students to enroll in. They are free and open to anybody interested. Bioinformatics, data analysis, the science of patient safety, and the care of patients with Alzheimer's disease are some of the topics covered in this course.
What Courses Can I Take Online For Free?
Johns Hopkins University is renowned for its excellent academic programs in the fields of research, medicine, and engineering, and it is currently ranked as the seventh finest university among the national universities in the US.
Fortunately, a substantial number of courses can be found online for free through sites such as Coursera and FutureLearn. In addition, you may purchase optional certifications ranging in price from $0 to $79 to add to your LinkedIn profile or CV.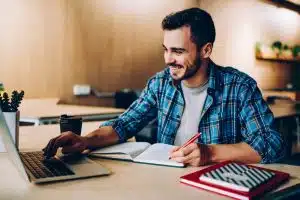 Now, if you wonder "what courses can I take online for free?" Free online courses at Johns Hopkins are available in a variety of subject areas and degree levels. You can receive an education in the humanities, natural sciences, international studies, education, engineering, medicine, social sciences, and public health through the medium of online classes. Prospective students have a wide variety of classes to pick from, any one of which may be beneficial to the advancement of their careers or to their own improvement.
COVID-19 Contact Tracing
Duration: 7 hours
Certificate cost: Free
This introductory course is designed for individuals who are interested in pursuing careers in contact tracing. Topics covered include the science behind SARS-CoV-2, how contact tracing operates, the ethical ramifications of tracking COVID-19 cases, and some of the most common contact tracing challenges. Because this is a limited-time offer, the charge for the certificate is being eliminated, which means that you will be awarded a certificate of completion without having to pay for it.
Measuring and Maximizing Impact of COVID-19 Contact Tracing
Duration: 3 hours
Certificate cost: Free
This course is designed for program managers and developers, and it focuses on providing helpful metrics and tactics to improve contact tracing efforts. The course is called Contact Tracing Evaluation and Strategic Support Application (ConTESSA). This one, like the COVID-19 contact tracing course, also offers certification upon completion automatically.
COVID-19: Effective Nursing in Times of Crisis
Duration: 2 weeks (2 hours per week)
Certificate cost: Free
This course covers the current challenges that nurses are facing during the pandemic and shares tips on how to provide the best care possible to COVID-19 patients in low-resource environments and crisis settings. The course also covers the current challenges that nurses are facing during the pandemic.
Free certification is provided following the successful completion of this course, just like it is with the other contact-tracking courses.
Psychological First Aid
Duration: 6 hours
Certificate cost: $49
Students learn how to help people who are dealing with mental trauma and injuries by using a model called RAPID (Reflective listening, Assessment of needs, Prioritization, Intervention, and Disposition). This model teaches students how to assist people in situations such as school, work, home, church, the military, or any other setting.
HTML, CSS, and JavaScript for Web Developers
Duration: 5 weeks (40 hours total)
Certificate cost: $79
Before moving on to more complex coding and constructing online applications using JavaScript, aspiring web developers and programmers start their education with the fundamentals of HTML and CSS.
Chemicals and Health
Duration: 11 hours
Certificate cost: $49
This course investigates how chemicals found in our environment influence our health. Topics covered include the routes by which these chemicals enter our bodies, the countermeasures that can be taken when they do so, the methods by which these chemicals can be measured, and the broader implications of these chemicals for both our overall and our individual states of health.
Design and Interpretation of Clinical Trials
Duration: 12 hours
Certificate cost: $49
Clinical trials are used to examine potential therapies for diseases, and the way in which they are built makes a significant impact on the effectiveness of the treatments being tested. This course will walk you through the fundamentals of randomized clinical trials, including how they are designed, how they are conducted, and how they are assessed and reported.
An Introduction to the US Food System: Perspectives from Public Health
Duration: 6 weeks (24 hours total)
Certificate cost: $49
This course, which is taught by members of the Johns Hopkins Center for a Livable Future, examines how issues of fairness, public health, and the environment are connected to the food system in the United States. Students get an understanding of the politics and history that lie behind the consumption and distribution of food across the country.
Reducing Gun Violence in America: Evidence for Change
Length: 6 weeks (18 hours total)
Certificate cost: $49
Free online courses at Johns Hopkins include topics that are related to current news and happenings. The scale of gun violence in the United States, the unique state criteria for gun ownership, evidence-based programs to reduce gun violence, how public opinion varies on gun regulation, and how to best reduce shootings in the United States are all topics that are covered in this course.
Introduction to the Biology of Cancer
Duration: 8 hours
Certificate cost: $49
This course is designed for anyone interested in developing a deeper comprehension of cancer. Topics covered include the molecular biology underlying cancer, the risk factors associated with the most common types of cancers found around the world, and the screening and treatment procedures specific to each type of cancer.
Foundations of Health Equity Research
Duration: 5 weeks (15 hours total)
Certificate cost: $49
This course is designed for those who want to learn more about health equity research and covers the key concepts of the field, in addition to providing insights on where health inequities exist and how to involve community stakeholders to fight for change.
Are Online College Courses Worth It?
As an institution of higher study, Johns Hopkins University has an outstanding reputation. As mentioned earlier, this university is well-known across the world for the exceptional standard of education it provides in the fields of research, medicine, nursing, business, and engineering.
There are a wide variety of classes offered by Johns Hopkins University that, depending on your areas of interest and specialization, could be very helpful to the development of your professional career. The best part is that you do not even have to be physically present on campus to take advantage of the excellent education offered by Johns Hopkins. Students can receive an education of the same caliber by attending classes and receiving training online as they would if they attended classes in a traditional classroom setting.
Students may ask "Are online college courses worth it?"  Your time and money spent on Johns Hopkins University's online classes will be worthwhile. Over the past few years, there has been a shift toward online education, and Johns Hopkins University has been at the forefront of this movement. They can give you the knowledge for your professional advancement and personal growth since there are many online courses available, both paid and free, for students to take from any location in the world.
In addition, the flexibility and affordability of the online classes make these free online courses at Johns Hopkins appealing. Coursera makes it possible for you to do so in a method that is much more economical.
Another major consideration is how convenient it is. You can study the topic without having to leave the convenience of your own home, at any time of day or night that you choose, and take as many breaks as you would like in between sessions. Because of this, you and only you will be in control of how you spend your time and how you decide to approach studying the material in the course.
How Do I Choose A Course At Johns Hopkins?
Even though online courses may be the newest and most exciting development in the field of education, selecting the appropriate one for you depends on the choices and objectives you have for your professional life. Free online courses at Johns Hopkins can be found on the university's website as well as on many other online learning platforms.
How do I choose a course at Johns Hopkins? When deciding which class would be most beneficial to you, the following are some things to think about.
Course Material
Before enrolling in an online class, one of the first things you should do is research the material covered in the class as well as the goals you hope to achieve by taking the class. The class should direct you in the direction of the learning goals you have set for yourself.
Flexibility
You need to think about whether you would be more comfortable learning on a self-paced, part-time, or full-time basis. Before enrolling in free online courses at Johns Hopkins, it is important to take into account the responsibilities you already have in your personal life as well as your current situation.
Cost
You should also think about the amount of money that you are ready to invest to complete the course. There is a diverse selection of paid and unpaid classes available at Johns Hopkins. Students who are looking for opportunities to learn at no cost may find the free courses to be appropriate.
Level of Difficulty
The level of difficulty for every course is predetermined. To assess whether the course is appropriate for you, you should read the course summary or inquire about the level of difficulty. If you are just starting in the program, it is often best to hold off on taking any intermediate or advanced classes until after you have completed the prerequisite fundamental classes.
Reviews
The evaluations and ratings left by members of the general public provide a preliminary sense of the quality of the material covered in the course. It can assist you in determining whether a certain course is suitable for you. In addition, many students participate in the discussion forums and submit reviews on Coursera and FutureLearn so that other students can make informed decisions.
Free online courses at Johns Hopkins could help you gain knowledge about topics concerning the world or for your self-improvement. It could also be your gateway to knowing more about the renowned Johns Hopkins University.
Now, if you plan to get into JHU, let's take a look at the Johns Hopkins University enrollment. The admissions rate at Johns Hopkins University is only 6.48 percent, hence it is a competitive institution. The average grade point average at Johns Hopkins is very close to a perfect score of 4.0, and students who are accepted to Johns Hopkins have SAT scores that fall among the top percentiles.
If you want to increase your chances of getting into Johns Hopkins University, you should work hard to improve your grades and test scores. The admissions committee would also want to learn about who you are, what you're passionate about, and how you could potentially contribute to campus life through your supplemental essays.
Increase your chances of being accepted to Johns Hopkins by drawing attention to the excellent aspects of yourself that make you a good fit for the university. Moreover, college admissions experts such as AdmissionSight can assist you in being admitted to these top-ranked universities. Contact AdmissionSight to schedule an initial consultation for your application.