How to Get Into UC San Diego: A Step-by-Step Guide
Looking to get admitted to the University of California, San Diego? In this step-by-step guide, we'll walk you through everything you need to know to increase your chances of getting accepted into UC San Diego. From understanding the admission requirements to submitting a standout application, we've got you covered. Let's dive in!
University of California, San Diego: An Overview
Founded in 1960, the University of California, San Diego (UC San Diego) is a public research university located in La Jolla, San Diego, California. It's one of the ten campuses of the University of California system and has established itself as a leading institution in higher education, known for its research, innovation, and commitment to public service.
UC San Diego offers a wide range of undergraduate, graduate, and professional programs across multiple disciplines. The university is divided into several colleges, each with its own unique general education requirements. Some of its most renowned programs include biology, engineering, social sciences, and marine sciences.
The institution is classified as a "R1: Doctoral University – Very high research activity." Throughout its history, UC San Diego has been home to numerous breakthroughs and discoveries, with faculty, researchers, and alumni earning prestigious awards, including Nobel Prizes.
UC San Diego is home to the Scripps Institution of Oceanography, one of the oldest and most renowned centers for ocean, earth, and atmospheric science research in the world. With its coastal location, UC San Diego's campus offers a blend of natural beauty and state-of-the-art facilities. The university fosters a vibrant campus life with various student organizations, arts events, and athletic activities.
UC San Diego has consistently emphasized its commitment to diversity, equity, and inclusion. The institution has implemented various programs and initiatives to support underrepresented groups and foster a welcoming environment for all.
The university plays a vital role in the local economy, not only as a major employer but also as a hub for innovation and entrepreneurship. The presence of research institutions, incubators, and partnerships with the tech and biotech industries contribute to the region's economic growth.
Overall, UC San Diego stands as a beacon of academic and research excellence in the UC system and globally. Its contributions span numerous fields, and its impact is felt both locally and internationally.
Understanding UC San Diego Admission Requirements
Before you start preparing your application, it's vital to have a clear understanding of UC San Diego's admission requirements. This prestigious university considers several factors when evaluating applicants, including GPA, test scores, extracurricular activities, and personal statements.
When it comes to GPA, UC San Diego looks for students who have excelled academically. It's not just about maintaining a high GPA; the university also values students who have challenged themselves with rigorous coursework. So, it's important to take challenging courses related to your intended major and perform well in them. This shows the admissions committee that you are prepared for the academic rigor that UC San Diego offers.
In addition to GPA, standardized test scores play a crucial role in admission decisions. UC San Diego accepts both the SAT and ACT, so it's important to prepare and perform well on these exams. While there is no specific cutoff score, it's generally recommended to aim for scores that are above the national average. Higher test scores can help strengthen your application and demonstrate your academic abilities.
UC San Diego Admission Statistics
UC San Diego is highly competitive, with a low admission rate. The university reports that out of the 130,830 students who applied for freshman admissions for fall 2023, 32,314 were offered a spot, resulting in an acceptance rate of 24.7%. This is a slight increase from the previous year, where the acceptance rate was approximately 23.7%. The admissions committee carefully reviews each application, looking for students who meet the minimum requirements and stand out from the rest.
One way to stand out is through your extracurricular activities. UC San Diego values students who are actively involved in their communities and have a passion for making a difference. Whether it's volunteering, participating in clubs and organizations, or pursuing unique hobbies, showcasing your involvement and dedication can make a positive impression on the admissions committee.
Another important aspect of your application is the personal statement. This is your opportunity to tell your story, share your experiences, and explain why you are a good fit for UC San Diego. Take the time to craft a compelling and authentic personal statement that highlights your strengths, goals, and aspirations. Show the admissions committee what sets you apart and why you would be a valuable addition to the UC San Diego community.
Breakdown of GPA and Test Score Requirements
One of the key factors UC San Diego considers is your academic performance. To qualify for entry to UC San Diego, you need to meet specific GPA requirements in all A-G subjects. If you're a California resident, you should have at least a 3.0 GPA and no grade below a "C." For those outside of California, including International students, the minimum required GPA is 3.4, with no grade falling below a "C." This GPA calculation is based on the marks received in college-preparatory (A-G) classes during the 10th and 11th grades, inclusive of summer sessions.
UC San Diego does not consider your SAT or ACT scores for admissions or scholarship decisions. However, if you opt to provide these test scores, the university might use them for meeting specific requirements or determining your course placement if you're accepted and decide to attend.
It's important to note that UC San Diego takes a holistic approach to admissions. While GPA and test scores are significant, they are not the sole determinants of admission. The university also considers factors such as your personal achievements, leadership potential, and unique experiences. So, don't be discouraged if your GPA or test scores are not perfect. Focus on showcasing your overall strengths and demonstrating your potential for success at UC San Diego.
Furthermore, UC San Diego encourages applicants to take advantage of the resources available to them. Attend college fairs, information sessions, and virtual tours to learn more about the university and its programs. Connect with current students, alumni, and faculty members to gain insights and ask questions. Utilize the guidance and support your high school counselors and college advisors provide. By actively engaging with the UC San Diego community, you can gain a deeper understanding of the university and make informed decisions throughout the application process.
Preparing Your Application for UC San Diego
Now that you understand the admission requirements, it's time to start preparing your application. This section will guide you through the steps you need to take to ensure your application stands out from the competition.
Applying to UC San Diego is an exciting opportunity to further your education and pursue your dreams. As you embark on this journey, it's essential to understand the various aspects that make a strong application. In addition to meeting the admission requirements, there are several strategies you can employ to enhance your chances of acceptance.
Choosing the Right High School Courses
UC San Diego values applicants who challenge themselves academically. If available at your high school, take advantage of advanced placement (AP) or International Baccalaureate (IB) programs. These programs provide rigorous coursework that can help you develop critical thinking skills and demonstrate your ability to handle college-level material.
Furthermore, consider taking courses relevant to your intended major to demonstrate your dedication and preparedness. For example, if you're interested in pursuing a degree in biology, taking advanced biology courses in high school can showcase your passion for the subject and your commitment to academic excellence.
Excelling in Extracurricular Activities
Academic achievements aren't the only criteria UC San Diego evaluates. Engaging in extracurricular activities demonstrates your passion and allows you to develop important skills and qualities that can contribute to your overall growth as a student.
Consider joining clubs or organizations that align with your interests and goals. Whether it's a science club, a debate team, or a community service group, these extracurricular activities provide opportunities to showcase your leadership abilities, teamwork skills, and dedication to making a positive impact.
Participating in community service is another excellent way to demonstrate your commitment to giving back. By engaging in volunteer work, you contribute to your community and show a genuine desire to make a difference in the world.
Gaining Relevant Experience
Gaining relevant experience can significantly strengthen your application, depending on your intended major. Seek internships, research opportunities, or volunteering positions in your field.
For example, if you're interested in pursuing a degree in computer science, consider applying for internships at technology companies or participating in coding boot camps. These experiences provide you with practical skills, demonstrate your commitment to your chosen field, and provide valuable insights into the industry.
If you're interested in healthcare, consider volunteering at a local hospital or clinic. This hands-on experience can give you a glimpse into the healthcare profession and help you develop a deeper understanding of its challenges and rewards.
Remember, the key is to showcase your passion, dedication, and readiness to take on the challenges of your chosen field. By gaining relevant experience, you demonstrate to the admissions committee that you are committed to your academic and career goals.
Writing a Standout UC San Diego Personal Statement
Your personal statement is your opportunity to show UC San Diego who you are beyond your academic achievements. Craft an engaging and authentic narrative that showcases your unique qualities and experiences. Let's explore how to make your personal statement shine.
When it comes to writing a standout personal statement for UC San Diego, it's important to understand what the university looks for in essays. UC San Diego seeks applicants who are not only academically strong but also able to contribute to the university community. They want to understand what drives and inspires you and your potential for growth and impact. Use your personal statement to demonstrate these qualities.
Now, let's dive into some tips for writing a compelling personal statement. Writing a compelling personal statement requires time and effort. It's crucial to start early, brainstorm ideas, and do plenty of revisions. Take the time to reflect on your experiences and think about what makes you unique. Be authentic and speak from the heart. Admissions officers appreciate personal statements that are genuine and show your true self.
One effective strategy is to highlight meaningful experiences and connect them to your future goals. Think about the moments in your life that have shaped you and influenced your aspirations. Did you have a transformative experience during a volunteer trip? Have you overcome obstacles that have fueled your desire to make a difference? By sharing these experiences and explaining how they have shaped your goals, you can make your personal statement more compelling and memorable.
While it's important to write in your own voice, seeking feedback from teachers, mentors, or college counselors can be invaluable. They can provide you with valuable insights and suggestions to improve your personal statement. Consider sharing your draft with them and ask for their honest feedback. They may be able to offer suggestions for clarity and organization or even help you identify areas where you can further strengthen your narrative.
Remember, your personal statement is your chance to stand out from other applicants and show UC San Diego who you are as a person. Use this opportunity to showcase your unique qualities, experiences, and aspirations. Craft a compelling narrative that leaves a lasting impression on the admissions committee. Good luck!
Navigating the UC San Diego Application Process
Now that you have completed your application, it's essential to understand the application process and timeline. Keep track of important dates and follow these steps to ensure you have a smooth application submission.
Applying to UC San Diego is an exciting and important step toward your academic and personal growth. As one of the top-ranked universities in the world, UC San Diego offers a diverse range of programs and opportunities for students.
Before diving into the application process, it's crucial to familiarize yourself with the university's values, mission, and academic offerings. Take the time to research the different colleges and majors available at UC San Diego and consider how they align with your interests and goals.
Important Application Dates and Deadlines
Missing deadlines can jeopardize your chances of admission. Familiarize yourself with UC San Diego's application deadlines and set reminders to ensure all materials are submitted on time.
UC San Diego follows a strict application timeline, and it's crucial to stay on top of the key dates. The application period typically opens in the fall, and the deadline for submission is usually in November. However, checking the official UC San Diego website for the most up-to-date information is always a good idea.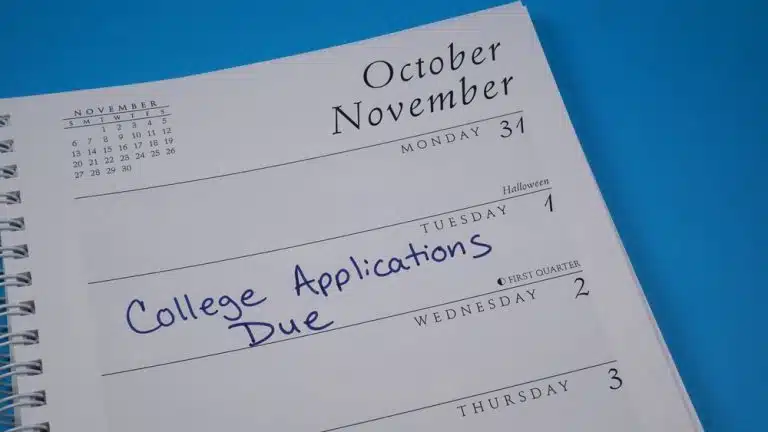 Aside from the general application deadline, it's important to know any specific deadlines for supplemental materials, such as letters of recommendation or portfolio submissions. These additional materials can vary depending on the program or major you are applying to, so make sure to carefully read through the requirements and submit everything on time.
Step-by-Step Guide to the UC Application
Completing the UC application can seem daunting, but breaking it down into smaller steps can make it more manageable. Follow this step-by-step guide to navigate through the application process. From filling out personal information to writing the additional insight questions, every detail counts.
Personal Information: Start by providing accurate and up-to-date personal information, including your name, contact details, and educational background. Double-check all the information you enter to avoid any errors or discrepancies.
Academic History: Provide a comprehensive overview of your academic history, including all the schools you have attended, courses you have taken, and grades you have received. Be sure to include any honors or awards you have received during your academic journey.
Major Selection: UC San Diego offers a wide range of majors and programs, so take the time to carefully consider your options. Research the different majors available and choose the one that aligns with your interests and career goals. Keep in mind that some majors may have additional requirements or prerequisites.
Personal Insight Questions: The personal insight questions are an opportunity for you to showcase your unique experiences, perspectives, and achievements. Take the time to reflect on your personal journey and choose the questions that allow you to highlight your strengths and passions. You will be required to respond to 4 of the 8 provided questions, with a maximum of 350 words for each answer. Every question holds equal weight in the evaluation of your application. Choosing the questions that best showcase your experiences and provide the most insight into who you are is advisable.
Additional Materials: Depending on your major or program, you may be required to submit additional materials such as letters of recommendation, portfolios, or audition tapes. Make sure to carefully review the requirements for your chosen major and submit all the necessary materials by the specified deadline.
Application Review: Once you have submitted your application, it will go through a comprehensive review process. Admissions officers carefully evaluate each application, considering academic achievements, personal statements, and other supporting materials.
Notification of Decision: After completing the application review process, you will receive a notification of the admission decision. If you are accepted, congratulations! Take the time to celebrate your achievement and start planning for your future at UC San Diego. If you are not accepted, remember that there are many other paths to success, and this decision does not define your worth or potential.
Remember, the UC San Diego application process is not just about submitting paperwork. It's an opportunity for you to showcase your unique qualities, experiences, and aspirations. Take the time to reflect on your journey and convey your genuine passion for learning and growth.
What to Do After Submitting Your Application
Once you've submitted your application, the waiting game begins. Use this time wisely to prepare for the next steps in the admission process.
Understanding UC San Diego's Admission Decisions
UC San Diego evaluates applications holistically and considers various factors when making admission decisions. While academic performance is important, they also value personal qualities and experiences. Be prepared to wait for the admission decision, as the process takes time.
During the evaluation process, the admissions committee carefully reviews each application to assess the applicant's potential for success at UC San Diego. They consider not only the grades and test scores but also the applicant's extracurricular involvement, leadership experiences, community service, and unique personal qualities. This comprehensive evaluation ensures that the university admits a diverse and talented student body.
Once your application has been reviewed, it goes through a meticulous evaluation and comparison process with other applicants. The admissions committee meets to discuss and debate the merits of each application, considering the university's enrollment goals and the available spots in each academic program.
It's important to note that UC San Diego receives a large number of applications each year, making the selection process highly competitive. This means that even if you have strong qualifications, there is no guarantee of admission. However, it's crucial to remain positive and hopeful during this waiting period.
Next Steps After Acceptance
Congratulations! If you receive an acceptance letter from UC San Diego, it's time to celebrate your achievement. However, you still need to take important steps, such as submitting enrollment deposits, completing housing applications, and attending orientation. Stay organized and keep an eye on deadlines.
After accepting the admission offer, you must submit an enrollment deposit to secure your spot at UC San Diego. This deposit is typically non-refundable and serves as a commitment to attend the university. It's essential to carefully review the instructions provided by the admissions office and submit the deposit by the specified deadline.
In addition to the enrollment deposit, you will also need to complete housing applications if you plan to live on campus. UC San Diego offers a variety of housing options, including residence halls, apartments, and theme communities. Each housing option provides unique benefits and amenities, so take the time to research and select the one that best suits your needs.
Attending orientation is another important step for incoming students. Orientation programs at UC San Diego are designed to help you transition smoothly into university life. During orientation, you can meet with academic advisors, register for classes, learn about campus resources, and connect with fellow students. It's a valuable experience that will set the foundation for your college journey.
As you prepare for your new chapter at UC San Diego, take the time to familiarize yourself with the campus and the surrounding area. Explore the academic departments, research opportunities, student organizations, and cultural events that make UC San Diego a vibrant and diverse community. The university offers a wealth of resources and opportunities for personal and intellectual growth, so make the most of your time here.
Remember, the journey doesn't end with acceptance. It's just the beginning of an exciting adventure at UC San Diego. Embrace the challenges, seize the opportunities, and make the most of your college experience. Congratulations once again on your acceptance, and welcome to the Triton family!
Tips for Transferring to UC San Diego
If you're considering transferring to UC San Diego from another college or university, there are specific requirements you need to meet. Here are some tips to help you navigate the transfer process successfully.
Understanding Transfer Admission Requirements
Transferring to UC San Diego involves meeting specific admission requirements. Recently, 33% of the university's undergraduate class are transfer students. So, it is recommended that you research the prerequisites for your intended major and take the courses at your current institution. Maintaining a strong GPA is also crucial.
UC San Diego offers a wide range of majors and programs, each with its own set of requirements. It's important to familiarize yourself with these requirements to ensure a smooth transfer process. For example, if you're interested in majoring in biology, you may need to complete specific science courses and demonstrate a strong foundation in the subject.
Additionally, UC San Diego places a strong emphasis on academic excellence. While meeting the minimum GPA requirement is essential, striving for a competitive GPA that showcases your dedication and commitment to your studies is important. Consider seeking academic support resources at your current institution to help you excel in your coursework.
Tips for a Successful Transfer Application
When preparing your transfer application, emphasize your academic achievements at your current institution and explain why transferring to UC San Diego aligns with your goals. Highlight any relevant extracurricular activities, internships, or research experiences you have gained.
UC San Diego values well-rounded students who excel academically and actively contribute to their communities. Consider getting involved in extracurricular activities that align with your interests and passions. This could include joining student organizations, participating in community service, or taking on leadership roles. These experiences can help demonstrate your ability to balance academics with other commitments and showcase your potential to contribute to the UC San Diego community.
Furthermore, if you have had the opportunity to engage in research or internships related to your field of study, be sure to highlight these experiences in your application. UC San Diego is known for its strong research programs, and demonstrating your involvement in research or internships can show your dedication and passion for your chosen field.
Following this step-by-step guide will prepare you to tackle the UC San Diego admissions process. Remember, it's important to start early, stay organized, and showcase your unique qualities throughout your application. Good luck!
Interested in further understanding the roadmap to UC San Diego? With more than a decade of experience, AdmissionSight has been a reliable guide for students amid the competitive admissions landscape.
Turn to AdmissionSight this fall to enhance your college application. Contact us today to explore more about our service offerings.