MIT Acceptance Dates
While people who are interested in attending one of the United States' most prestigious and competitive undergraduate programs often think of the Ivy League first and foremost, there are a number of hyper elite schools that are not part of the Ivy League. Learn more about MIT acceptance dates so you can prepare better.
One of those schools is MIT – officially referred to as the Massachusetts institute of Technology. If you have the goal of one day attending MIT, you are going to want to know as much about the school before you apply. That includes the MIT acceptance date.
Of course, the MIT acceptance date simply refers to the date in which students who apply to the school can expect to hear back from the school. For example, did you know that there are two dates that students hear back from MIT in any given application cycle? The MIT Regular Decision date and the MIT Early Action date are quite different, and they depend on how a student decides to apply to the school!
While that may not feel like important information to be aware of, there is no unimportant information regarding a given school that you have on the top of your list of dream destinations. When it comes to applying to some of the most competitive and prestigious schools in the country, it is your responsibility – as the applying student – to make sure that you have all of your bases covered in terms of the information you know about the school.
That is where AdmissionSight can come in and help! Each year, our experienced and highly trained admissions consultants work with intelligent and determined high school students all over the world to help them achieve their goals of getting into some of the best schools in the world.
Thanks to the tools that we offer our students and the strategies that we pass onto them, the young learners that we have worked with in the past have an incredibly high success rate of getting into these top schools. In fact, our students have a 75.0 percent success rate when it comes to getting into Ivy League schools like Harvard, Princeton or Yale or top 10 schools that are not in the Ivy League like MIT, Stanford or UChicago!
So, if you are interested in learning more about what it means to apply to MIT and when you can expect to hear back from the school on the MIT acceptance date, then you have absolutely come to the right place. Let's break down some of the most important information anyone thinking about applying to MIT should know before they even start filling out their undergraduate application.
The MIT acceptance rate
Before we get into these important dates to be aware of when it comes to applying to MIT and hearing back from the school, we thought that it would be helpful to first break down one of the most basic – and important – numbers related to any school in the United States. That is, of course, the acceptance rate.
If you have not yet heard of the term acceptance rate, it is quite simple to understand. Basically, an acceptance rate is the percentage of students that are offered a spot in the incoming class compared to the total pool of students that apply. At the most selective schools in the country, these acceptance rates have been known in recent years to be well below 5.0 percent. For most students applying to these schools, it is the most competitive process that they will have taken part in in their entire lives up to this point.
That fact was absolutely true for students who applied to MIT in the 2021-22 application cycle with hopes of joining the school's 2026 graduating class. As per tradition at MIT, the decisions at the school were released on the unofficial holiday known as "Pi Day" on March 13th.
On that day in 2022, it was announced that out of 33,796 total applicants, just 1,337 students were admitted. That marked a 3.96 percent overall acceptance rate. The total pool of students that applied to the school marked a 2.0 percent increase from the previous year.
The acceptance rate from the 2021-22 application cycle marked a slight decrease from the previous application cycle (4.03 percent), and both rates marked a major decrease from the average acceptance rates in the several years prior to the start of the COVID-19 pandemic, which typically landed around 7.0 percent overall.
In celebration of the announcement of MIT admissions, Director of Special Projects Chris Peterson wrote an enthusiastic message of celebration to the 1,337 students who were offered a spot at the school.
"If you are among the many stellar students to whom we are not offering admission, then all I can remind you is that success is not always a straight line," he wrote. "That your path isn't something MIT sets you on, it's something you explore yourself. And if you spend the next few years trying to make wherever you are as amazing as you can (as you already are), then someday you'll look back on this Pi Day and realize it all worked out okay.
"I'm closing comments on this blog post to concentrate conversation in the open threads for admitted, waitlisted, and not admitted students. Answers to frequently asked questions for waitlisted students can be found here, with more information about next steps to come in early April."
From this quick message alone, it is clear that getting into MIT for any student is a great reason for celebration. No matter who you are, or what kind of background you come from, getting into MIT is an incredible achievement.
Important MIT acceptance dates
Now that you know a bit about the acceptance rate at MIT, you are probably interested in learning a bit more about the MIT acceptance date and the rest of the admissions timeline. Keep in mind that depending on how you apply (Restricted Early Action or Regular Decision) will impact not only when you have to send in your application and other important material, but it will also impact when you can expect to hear back from the school.
We've broken down both timelines down, below:
Below is the MIT REA (Restricted Early Action) application timeline and included deadlines:
Application Deadline – November 1 
All individual application components—general information, essays, activities, academics, etc.
Two letters of recommendation—one from a math or science teacher and one from a humanities, social science, or language teacher
Secondary School Report (SSR), including high school transcript
Midyear report deadline – Mid February
February Updates & Notes Form (including midyear grades)
Below is the MIT Regular Action (RA) application timeline and included deadlines:
Application Deadline – January 5 
All individual application components—general information, essays, activities, academics, etc.
o Two letters of recommendation—one from a math or science teacher and one from a humanities, social science, or language teacher
Secondary School Report (SSR), including high school transcript
Midyear report deadline – Mid February
February Updates & Notes Form (including midyear grades)
When can you expect an MIT acceptance letter?
Of course, when a student who has applied to MIT can expect an MIT acceptance letter depends on when the student decides to apply, between Early Action or Regular Action.
Early Action decisions at MIT are non-binding and are announced in the middle of December.
Regular Action decisions at MIT are announced between March 1st and March 15th.
And before we go any further, we want to quickly make it clear that there is no Early Action 2 option at MIT so there is no MIT Early Action 2 date to look out for.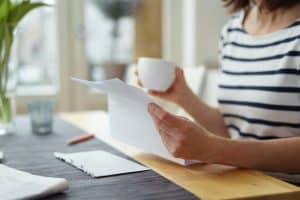 Now that you know the important dates as they relate to the admissions process at MIT, you may be wondering why students choose to apply to MIT – or any school for that matter – using the Early Action or Early Decision options. First off, we wanted to quickly go over the difference between Early Action and Regular Decision at MIT as well as the rules and restrictions that come with applying to MIT via Early Action.
The difference
According  to the school itself, the only difference between applying to MIT via Regular Decision and Early Action are the "dates of the deadlines."
"It is fine to apply during either cycle. We do not have a preference, and there is no strategic benefit to applying in one vs the other," the school offers.
It is clear that the school is offering this information because a lot of students believe that applying to a given school via an early admissions option gives them a strategic advantage. Though MIT denies any advantage – just like the rest of the schools – it is still a pretty widely held belief that early applicants do receive some kind of boost.
Overall, the school says it offers two options because:
 It helps us spread our work out over a longer period, devoting more time to each application.
It provides applicants with more options so they can choose which works best for them.
When it comes to the specific rules and restrictions related to applying to MIT via Early Action, here is what the school wants all applicants considering this option to keep in mind:
"Early Action is an option for all applicants, domestic and international. Our Early Action isn't single-choice, binding, or anything like that. If you choose to apply to MIT during Early Action, we do not place any limits on where else you may apply, nor do we require you to attend if admitted (though we sure hope you do!).
"However, if you apply to another school during Early Action that does have a restriction, MIT requires that you respect those rules. So for example, if you apply to another school that is 'single choice'— meaning that you can only apply there during the early period—you may not simultaneously apply to MIT, and if you're admitted somewhere 'binding,' then even if we admit you, you must go there instead. So choose wisely!
So, now that you know these specific and important rules, you may be wondering what the acceptance rate for these Early Action students actually are? Overall, the acceptance rates for students that apply early to any school are typically quite a bit higher than regular admissions students. At some schools, students who apply early are known to enjoy acceptance rates that are two to three times better than the acceptance rate for regular students!
At MIT, there is a slight statistical advantage, but it is not nearly that large.
A total of 14,781 students applied early for a place in the MIT Class of 2026. It represented a 59.0 percent increase from just two years ago. In the 2021-22 cycle, 697 of those applicants were offered admission, equating to a 4.7 percent acceptance rate. The school deferred 9,489 applicants to the regular round and outright rejected 3,959 individuals.
As the overall acceptance rate was 3.96 percent from the 2021-22 application cycle, we can estimate that the Regular Decision application rate was somewhere around 3.3 percent.
So, it becomes clear that Early Action applicants to MIT did have a slight statistical advantage. However, if we believe the school's admissions office when it says that students do not gain a material advantage solely because of their decision to apply early, then what can we learn from those applicants' improved acceptance rate?
There are a few important factors for any student to consider:
Students who apply in this manner tend to be a self-selecting group and may have stronger grade point averages, standardized test scores, extracurricular accomplishments and more, making them more attractive applicants regardless of when and how they chose to apply.
Students who apply to MIT via Early Action initially have their applications pegged against only the other students who have also applied in this way, leading to a smaller pool of students.
The choice to apply via Early Action shows a specific interest in MIT. Just like elite students want to feel wanted by elite schools, elite schools also want to feel wanted by elite students. It also serves as a clear sign that unless some unforeseen circumstances arise, a student who is accepted from the Early Action pool is very likely to accept that spot.
What does MIT look for in applicants?
When it comes to what MIT is actually looking for in students that apply, there is no clear or specific guideline to follow. While it is true that MIT is best known for its programs related to STEM, it is a fantastic school for students who are interested in a plethora of different fields and career paths.
While it is not specific, here are some factors MIT lists when talking about characteristics it values in applying students.
Alignment with the school's mission
MIT loves to see proof in a student's applicant that they naturally align with the values and mission of the school. They want to find students who play on using their education and opportunity to make the world a better and more equitable place for all of its inhabitants.
Ability to collaborate and cooperate
Science, technology, engineering and math are all highly collaborative fields, and nothing great is ever really accomplished alone. MIT looks for students who have shown the ability and desire to collaborate to achieve common goals with peers, superiors and more.
Desire to lead and take initiative
MIT wants to find leaders to walk its halls and learn in its classrooms so that one day those young men and women can go on to achieve incredible things in their respective fields and industries. Finding ways to prove that you have a desire and ability to be a leader – whether it is in or out of the classroom – is a fantastic way to prove to MIT that you belong at the school.
Creativity, excitement and passion
Finally, MIT loves identifying students who pursue their passions with creativity and excitement in order to discover new things and accomplish goals. Keep in mind that the admissions officers at MIT do not rank the importance of what excites one student to the next, but rather want to see proof that there are things that an applicant is passionate about.
We'll help you track MIT acceptance dates
Getting into the top schools in the country is hard, but that does not mean you are not up to the challenge. By utilizing your knowledge of the school and making it clear that you are the exact kind of student that the admissions committee is looking for, you can make sure that you get an acceptance letter by the time a decision is made on your application to MIT.
If you are interested in learning more about MIT and what it takes to get in, contact us at AdmissionSight today to set up a free consultation.