Studying in the Best California Law Schools
Why study law in California?
Why go to law school in California? Getting a law degree in California can open up many doors and give you a lot of benefits. Many of the best law schools in the country are in California. The best California law schools are known for their high-quality education and outstanding faculty. Also, California has a large economy and a population that is made up of many different kinds of people. There, students can gain a variety of legal experiences and career opportunities.
California is also the largest state in the US. The state is known for its entertainment, technology, and agriculture industries, which can give students a unique perspective on legal issues related to these industries.
Also, California's legal system is known for its strong public interest law and environmental law programs, which give students a chance to learn about these areas and do meaningful work in them.
Alternate jobs for law degree holders
People with law degrees often become lawyers, but that's not the only job they can get. Getting a law degree helps you improve your analytical, communication, and management skills, which will help you do well in several jobs. If you know what other jobs you can get as a law degree holder, you can use your degree in a field that interests you.
Law professor
A law professor teaches students about the law and gets them ready for careers as lawyers in the future. They explain how to use complicated laws in different situations. They also teach students how to read legal documents and morally represent clients. Some of the other things they must do are take courses, give career advice, and do research.
Judge
A judge is in charge of the courtroom and makes decisions without bias. They keep the trial running smoothly, ensure all the evidence is legal, and decide the sentences. During jury trials, the judge explains the law and how it applies to the case. Bench trial judges hear the arguments of both the prosecution and the defendant to decide on the defendant's conviction.
Policy analyst
A policy analyst looks at, makes, and evaluates policies to solve social and political problems. These experts study communities to discover which problems, like poverty, overpopulation, and a lack of health care, are the most common. Those who graduate from the best California law schools and become policy analysts use their research to ask policymakers to make new policies or change the ones they already have. These analysts can change their plans as needed by measuring how well their suggestions work.
Diplomatic agent
A diplomatic agent works for one country and tries to make good relationships between that country and other countries. A big part of their job is to keep the relationships they already have with allies, but they also try to prevent and solve problems. These workers work by going to different countries and meeting with world leaders. Diplomatic agents are experts in international affairs and may learn another language to communicate with people from other cultures.
General Counsel
A general counsel is a top lawyer for a company, bank, university, or government office. They keep an eye on how the organization works to ensure it follows the law. They also attend board meetings and talk to top managers about mergers, acquisitions, and policy changes. Some general counsels set up contractors so that organizations can protect their interests while working with other parties.
The best schools for law in California
Stanford University School of Law (Stanford, CA)
Stanford University is a leader in producing Fulbright scholars, Turing Award winners, and tech startup founders. It is often used as a synonym for academic excellence. Its law school is just as good and well-known as the rest. It ranked higher than Harvard Law School on the "2022 Best Law Schools" list from US News and World Report. Many of its programs are in the top 10, and one of them, Intellectual Property Law, is tied for the number one spot.
This school is one of the best California law schools because they have many programs to offer. The Tech Law and Policy program at Stanford Law is among the most exciting and interesting. The Center for Internet and Society and the Stanford Program in Law, Science, and Technology are both parts of this program.
Students interested in how law and technology relate to each other will have many chances to work with lawyers, business people, and government officials to solve problems involving law, science, and technology.
As one of the best schools for law in California, Stanford Law is the second most selective law school in the country, with only 9% of applicants getting in. The school also has high employment and bar pass rates for its graduates, which are over 90%.
The University of California, Berkeley School of Law (Berkeley, CA)
California University Berkeley is already known for its natural sciences, entrepreneurship, research labs, and long history of political activism. This is also true of the Berkeley School of Law. It has turned out executives for the Fortune 500, well-known politicians and judges, and world-class legal scholars.
Berkeley Law is ranked in the top ten in a wide range of specialties, including Environmental Law and Intellectual Property. Students can start by doing meaningful, free work that helps underserved people in the community. Berkeley Law has such a strong pro bono culture that students take the Pro Bono Pledge, in which they promise to work a certain number of hours pro bono during their time there.
Start@Berkeley Law is one of the school's unique programs. It brings together law students, entrepreneurs, local law firms, and different campus groups. It is meant to help aspiring startup lawyers and entrepreneurs deal with the complicated and new problems that startups face.
The University of California, Los Angeles School of Law (Los Angeles, CA)
Only about a quarter of people applying to UCLA's law school are accepted yearly. At the top of many lists, UCLA is one of the best California law schools, with the same quality and impact as the Ivies. It has an award-winning Moot Court, highly respected professors who testify in national hearings, a consistently high bar pass rate, and other things that make it stand out.
US News and World Report rank its Environmental Law, Corporate/Business Law, Tax Law, and Criminal Law programs in the top ten. Within ten months of graduating, 96% of the class of 2019 had jobs.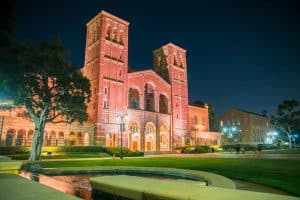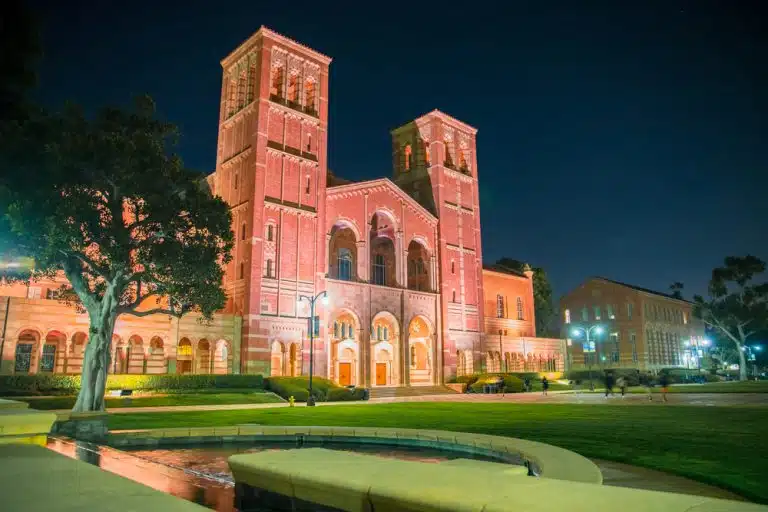 In many other ways, UCLA stands out. It is one of the few law schools that consistently sends out students who win the prestigious Skadden Fellowship, which is given to students in public interest law. As part of its clinical education program, UCLA also has many intensive simulation courses. These simulation courses focus on litigation and finding ways to settle disagreements. They help students learn how to be good lawyers in the real world so they can work in the courtroom.
The Binder Clinical Fellowship Program is one of the unique things UCLA has to offer. It is a two-year program that prepares fellows for teaching jobs at law schools. This is one of the only programs of its kind in the country.
The University of Southern California Gould School of Law (Los Angeles, CA)
The University of Southern California Gould School of Law was the first school on this list to break into the top 20 of US News and World Report's list of "Best Law Schools." It was founded in 1896, making it the oldest law school in the Southwest.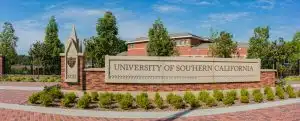 In 2020, more than 90% of graduates worked within ten months of graduating, and 86% of students passed the bar exam. In one of six clinics and practicums, students at USC Gould can work on real cases, represent clients, and find solutions.
As one of the best California law schools, students can also get experience and improve their lawyering skills through one of the many externships they can do. With the help of world-class professors and a lot of real-world experience, Gould students are trained to be the next generation of lawyers who break new ground.
The University of California, Irvine School of Law (Irvine, CA)
Some of the faculty members at the UC Irvine School of Law are members of the prestigious American Law Institute. The Irvine School of Law at the University of California has won many awards over the years, making it one of the most competitive and best California law schools.
Since the middle of the 2010s, 90% of UCI graduates have found jobs within ten months of graduating. Also, many UCI students each year get jobs as clerks in federal and circuit courts.
UCI's practical training program has gotten the highest marks. During their four years in law school, students work as their clients' main lawyers and learn a wide range of litigation and advocacy techniques. The core clinics are one of the most important parts of every student's education.
The acceptance rate at UCI Law School is 24.8%, which is one of the lowest on the list. With all of these great things about the school, it's no wonder that the best and brightest lawyers in the country go there.
Now that you have an idea of what the best California law schools are, your next step is to enter the school you want. At AdmissionSight, you can get the guidance of experts with 10 years of experience through any college you wish. Getting help from AdmissionSight will save you the trouble and effort of applying to law school. Set up an appointment today and see how we can help you.