The Best Robotics Engineering Colleges in the World
What is a robotics engineer?
What does a robot engineer do? Robotics engineering uses parts of mechanical engineering, electrical engineering, and software engineering to design and build robots for different purposes. Most of the time, these uses involve robots vacuuming, picking and packing orders in a warehouse, and even driving autonomous cars, which can help or replace human drivers. The jobs of those who study at robotics engineering colleges can include everything humans can do, and maybe even more if robots can do things that humans can't.
Every part of work and life at home is affected by robotics technology. Robotics can improve people's lives and work, as well as efficiency, safety, and customer service. Even more, robotics will be the driving technology behind a new generation of self-driving devices and cognitive artifacts that, because they can learn, can interact with the world around them naturally.
They will be the missing link between the digital and real worlds. Robotics is already the main thing that makes large-scale manufacturing industries competitive and flexible.
How to be a robotics engineer?
Step 1: In high school, take advanced math and science classes.
The first step in learning how to be a robotics engineer is to start in high school. If you are in high school, you can prepare for a career as an engineer by taking advanced placement classes in algebra and trigonometry, computer science, computer-aided design, and physics. Joining your school's robotics club and competing in robotics competitions gives you hands-on experience with robots and shows college admissions officers that you're interested in them.
Step 2: Get your bachelor's.
There are robotics engineering colleges that offer robotics as both a major and a minor. Some of the most common bachelor's degree programs in colleges and universities are in electronics engineering or mechanical engineering, and many of them offer specializations in robotics. Electronics engineering programs teach you how electronic circuits and parts work. You'll learn how electronics are used in computing, radio communications, industrial control systems, and power management.
Mechanical engineering programs teach you how to use physics, math, and materials science ideas to make machines used in transportation, manufacturing, communication, and other areas. These programs may also cover electricity, water, and air systems. You should look for programs the Accreditation Board has approved for Engineering and Technology (ABET).
Step 3: Get a job as an intern.
Use the internships that engineering and robotics companies have to offer. You could set one up with smaller companies that might not be well-known in the industry. An internship can help you get work experience and make connections in your field. You might just watch people do their jobs during your internship, or you might be involved in a project.
Step 4: Get a job as a robotics engineer.
The next step would be to work as a robotics engineer. Their work can vary depending on the specific job and industry they are working in. However, they can generally expect to work in an office or laboratory setting, often with a team of other engineers and scientists. They may also spend time in manufacturing or testing environments, working with the robots they have designed.
Step 5: Get your Master's.
With a master's degree in robotics engineering, you can move up in your career and make more money. More schools have started to offer master's programs that use the mechanical, electrical, and computer engineering skills you learned as an undergraduate to make and use intelligent mobile mechanical devices.
In your classes, you'll learn about things like control systems, sensors, navigation systems, robot simulations, interactions between humans and machines, and machine learning. Some programs require you to do research or a capstone project.
What are the top schools in the world to study robotics engineering?
Carnegie Mellon University
Location: Pittsburgh, PA, USA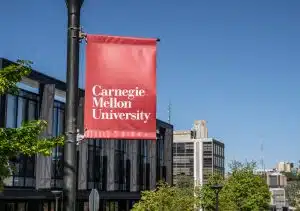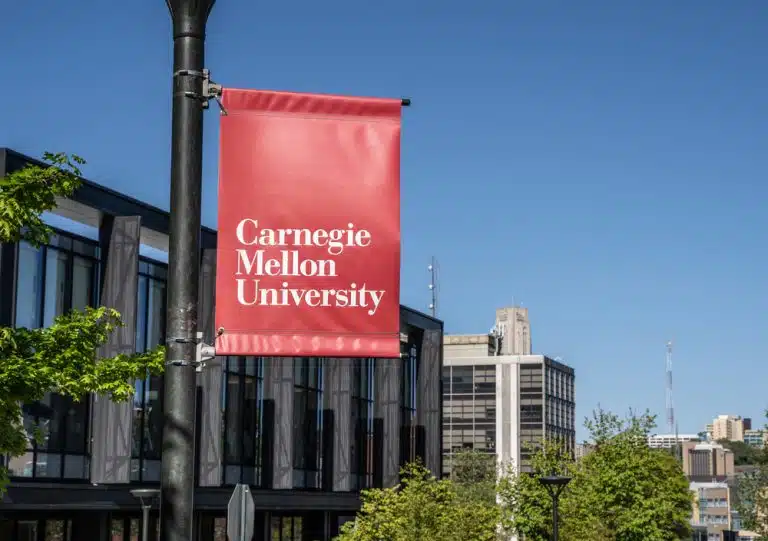 Carnegie Mellon University in Pittsburgh, Pennsylvania, is one of the best robotics engineering colleges in the world. CMU has the first Ph.D. program in robotics in the world. It also has a prestigious undergraduate program and a long history of doing innovative research. The CMU Robotics Institute is at the center of the program and is one of the best places in the world to study robots.
Students interested in studying robotics engineering can work toward several degrees, from a minor in robotics to a prestigious Ph.D. in robotics. There are also three master's degrees and an extra major in robotics for undergraduates (a supplementary major taken in addition to another undergraduate major, such as mechanical engineering).
Massachusetts Institute of Technology
Location: Cambridge, MA, USA
The Massachusetts Institute of Technology is one of the best robotics engineering colleges in the world. MIT has been known for a long time as one of the best science and technology schools in the world, and for good reason.
With a 7% acceptance rate, MIT is a bit harder to get into than CMU, which has a 17% acceptance rate. It's important to know that MIT doesn't have a specific robotics degree. Instead, students can choose from several engineering degrees and focus their research on robotics. But MIT has a long history of making huge steps forward in robotics, such as with DARPA challenges and NASA projects.
University of Tokyo
Location: Bunkyō, Tokyo, Japan
Japan has been a world leader in robotics for a long time, especially in pushing the limits of modern technology. So, it shouldn't be a surprise that the University of Tokyo has one of the best robotics engineering colleges in the world. Students worldwide should consider attending this university because it is known for being friendly and open to international students.
Over the years, many interesting robotics projects have been conducted at the University of Tokyo. Like many other universities, they don't have a specific robotics degree. Instead, students specialize in robotics while earning a degree in one of the University's Faculty of Engineering majors.
Technical University of Munich
Location: Munich, Germany
Germany is becoming a center for engineering and technology worldwide, so if you want to be an engineer, it's a great place to study. Germany's best robotics engineering college is the Technical University of Munich, which has a tough curriculum and great internship and job opportunities. High school students will have to work hard to get in because TUM has an 8% acceptance rate and requires at least a 4.5 GPA.
Even so, TUM is a great place to learn. Even though classes may be hard, every school in the university does course evaluations, which give students a chance to give feedback on classes, among other things. Between semesters, TUM is great at helping students find internships, and the school takes studying very seriously. The campus in Munich is also a beautiful place.
Imperial College London
Location: London, England, U.K.
Imperial College London, in the middle of England, is a great school for students who want to study abroad in the U.K. ICL is one of the best universities in the U.K. overall, and its engineering program is one of the best. It offers degrees in bioengineering, electrical engineering, and mechanical engineering, among others. There are many ways for engineering students to learn about different kinds of robotics and other possible engineering careers.
ICL's business partnerships can also give students more chances. Jaguar Land Rover, Mitsubishi, and Dyson are all well-known companies they have worked with. ICL also has an acceptance rate of 14%, a little higher than some other schools on this list. However, students who want to study robotics at ICL will still need good grades. Most students need a GPA of 4.5/5 or 3.6/4 to get in. Those who get into ICL will study in the heart of London, one of the world's most exciting and well-known cities.
University of California Berkeley
Location: Berkeley, CA, USA
The University of California Berkeley is one of the best robotics engineering colleges in the world and one of the best universities in the United States. There aren't many better places for people who want to become engineers than UC Berkeley, which is only about an hour from Silicon Valley in Northern California.
Even though it's hard to get into UC Berkeley, their 17% acceptance rate is higher than most schools on this list. California students looking for more robotics engineering schools should also consider applying to Stanford, which has a strong mechanical engineering program.
The engineering department at UC Berkeley has some interesting research projects, including ones in robotics, nanotechnology, ocean engineering, and other fields. Their robotics engineering has a strong focus on human engineering. For example, they have worked on developing advanced robotic prosthetics and exoskeletons.
Swiss Federal Institute of Technology (ETH Zürich)
Location: Zürich, Switzerland
When Albert Einstein himself went to the Swiss Federal Institute of Technology, it was hard to forget about it. SFIT is one of the best robotics engineering colleges in all of Europe. It is in Switzerland, which is a beautiful country. It also has a 27% acceptance rate, which makes it one of the schools on this list that is easiest to get into.
After getting a Bachelor's degree in Mechanical Engineering from SFIT, students can get a more specialized Master's degree in Robotics, Systems, and Control. Students who want to use robotics in biomedical engineering or biotechnology might be a good fit for this university.
Now that you know where to study robotics engineering, the next thing you should think about is your college admissions. To ensure that you get into the college you want, you can get help with AdmissionSight. With ten years of experience with college admission experts, Admissionsight can help you get into the college of your choice. You can talk to our experts today to get an initial consultation.