USC Law School Acceptance Rate
What Are the Requirements For USC Law School?
Number 20 on the list of the best law schools in the US is the University of Southern California (Gould). This year's admissions set the lowest record for the USC law school acceptance rate. This small, multicultural law school, USC Gould has a student-to-faculty ratio of 12:1. We have a friendly, collaborative environment here. Your peers are your colleagues, not your rivals, and the world-class professors know you by your first name.
The courses are experiential, interdisciplinary, and rigorously difficult. You will discover your passion and see it realized through a tailored course of study, whether it is through practical clinics, dual degrees, or partnerships with top universities for study abroad possibilities.
The vibrant University Park Campus is situated in the heart of Los Angeles, the second-largest legal market in the nation, at the crossroads of the entertainment industry, at the geographic center of the Pacific Rim, and close to Silicon Beach, a developing technology hub.
From being part of the USC law school acceptance rate to becoming esteemed graduates, more than 11,000 law alumni from across the world are part of the Trojan Family network, which is dedicated to fostering the next generation of scholars. The USC alumni include partners in the biggest law firms in the world, activists for civil rights, and CEOs and presidents of multimillion-dollar corporations.
The main objective of the admissions process at USC Gould School of Law is to admit students who have exceptional academic and professional promise and whose background and experience will improve the diversity of the student population, the profession, or the learning environment at USC Law. The belief that a student body that reflects the wide and rich diversity of USC Law society creates a greater learning environment for all students guides USC Gould's admissions process.
To answer the query "What are the requirements for USC Law School?" let's take a look at the application requirements for the J.D. degree.
Application Requirements
JD Electronic Application (LSAC)
Application Fee
Credential Assembly Service (CAS) Report (includes transcripts, LSAT scores, LSAT Writing, and letters of recommendation).
LSAT score
Graduate Records Examination (GRE)
Personal Statement
Letters of Recommendation
Resumé
Optional Application Components
Contribution to Diversity – If your background or experience is not often widely represented in the student body or the legal profession, you may be seen as potentially adding to student diversity. Examples consist of, but are not restricted to, pupils who:
have faced discrimination, economic hardship, personal or familial difficulty, or other societal hardships (perhaps as a result of disability, race, ethnicity, national origin, age, gender, sexual orientation, or religious affiliation);
lived abroad or did not speak English at home;
had unconventional career objectives, employment history (perhaps including military or law enforcement experience); or educational background (including graduate study)
or have an exceptional extracurricular accomplishment (including school or community service).
USC Statement of Interest – Applicants for the regular decision JD program are encouraged to submit a USC Statement of Interest. The Why USC statement allows you to go into greater detail about your interests in particular facets of the Gould legal education program, however, it is optional. You have the chance to talk more about yourself and your interest in USC Gould.
Addenda – You are allowed to send a brief addendum to your application if you feel that any part of it needs to be clarified. An addendum should be a brief remark addressing a specific component of your application; it is not another chance to provide a personal statement.
Foreign-Educated Applicants – Foreign transcripts must be sent to USC Gould via the LSAC JD Credential Assembly Service (CAS). The American Association of Collegiate Registrars and Admissions Officers (AACRAO) will also complete a Foreign Credential Evaluation, which will be included in your CAS report.
Non-Discrimination Policy – The USC Gould School of Law is steadfastly devoted to a policy prohibiting discrimination based on race, gender, sexual orientation, age, national origin, handicap, or any other category.
How Many Years Is A USC Law Degree?
How many years is a USC law degree? Three years of full-time study are required to get a Juris Doctor (J.D.) degree. To graduate, students must obtain 90 credits. No matter what your career goals are, USC's JD degree equips you with a solid understanding of legal principles and enables you to enter practice with ease.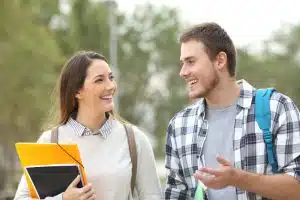 USC Gould provides a variety of law programs in addition to its Juris Doctor degree to cater to the demands of different students from different backgrounds. The Masters of Law (LL.M) degree is offered in two semesters of traditional residential study or a more flexible online format. There is also a two-year curriculum available for non-native English speakers that combines an LL.M with English language immersion.
While non-lawyers can choose the Master of Dispute Resolution, LL.M. students can concentrate in USC Gould's renowned LL.M in Alternative Dispute Resolution. For non-lawyers who need a thorough understanding of the legal system in their field, there is also a general Master of Law program. In addition, USC Gould provides specialized LL.M. programs in comparative law, business law, and cybersecurity (designed for foreign students).
With almost all other graduate departments at the University, USC Gould provides 15 dual degrees. A dual degree program involves acceptance into both programs and fulfillment of the residency requirements of each institution. Most frequently, this means that before beginning their further studies, students must finish the first year of their coursework at law school. Students must finish both programs in order to graduate from either degree because tual degrees share academic credits.
How Much Does It Cost To Go To Law School At USC?
If you wonder how much does it cost to go to law school at USC, below is a breakdown of the typical cost of attendance, which includes tuition, fees, books, and living costs for the full academic year. This sum also shows the total amount of financial help (loans and grants included) you may be eligible for each year.
No matter where students live, USC Gould students pay the same tuition rate. Please be aware that tuition and fee amounts are determined annually and are liable to change. In previous years, the annual tuition increase has ranged from 2.0 to 3.5%.
First-year law students are not allowed to work, while second-and third-year students are permitted up to 20 hours a week of part-time employment.
2022-23 Estimated Cost of Attendance
| | Living at Home | Living On/Off-Campus |
| --- | --- | --- |
| Tuition | $72,798 | $72,798 |
| Mandatory Fees | $1200 | $1200 |
| Books/Supplies | $2,200 | $2,200 |
| Housing Allowance | $0 | $12,600 |
| Dining | $6,930 | $6,930 |
| Personal/Miscellaneous | $2,422 | $2,422 |
| Transportation | $2,628 | $2,628 |
| Total | $88,178 | $100,778 |
Fall 2022 Estimated Tuition and Fee Schedule
The costs for the autumn 2022 semester are shown in the table below. Unless otherwise stated, these fees are also charged in the same amount for the spring semester.
Tuition
$36,399
Student Bar Association Fee (Mandatory)
$25
Student Health Services Fee (Mandatory)
$527
Norman Topping Scholarship Fund (Mandatory)
$8
Graduate Student Programming Fee (Mandatory)
$40
USC Health Insurance Plan (Can be waived, if proof of coverage is provided)
Spring = $1,468
$805
Public Interest Law Fund (Optional)
$25
Tuition Refund Insurance (Optional)
$130
Parking Permit (Optional)
$500
USC Dental Insurance (Optional)
$136 (paid during enrollment in the fall semester only but coverage is for the whole year)
Note: The credit for your admission deposit will be divided in half, with one half applied to your spring semester payment and the other half to your autumn semester account.
What Is The Acceptance Rate For USC Law School?
The Class of 2025 raised the bar in various fields. The 1L class represents the most intellectually accomplished group to enter law school to date, with a median GPA of 3.87 and a median LSAT of 168. Now, what is the acceptance rate for USC Law School? With approximately 6,000 candidates from all around the world, it yielded the lowest USC law school acceptance rate on record at 12.7%. Furthermore, women make up 66% of the entering class, a record percentage at Gould.
The Class of 2025 is among the most diverse ever at the Gould School, with approximately 50% of its members hailing from historically underrepresented minority groups, continuing the trend of prior years. Notably, 27% of 1L students are the first members of their family to complete graduate school or acquire a college degree. Approximately 18% of accepted students identify themselves as LGBTQ. Starting this year, Gould will offer a need-based grant program to help students from low-income families.
Moreover, 40% of the representatives of the USC law school acceptance rate are non-Californians, coming from 30 other states. With students coming to Gould from 96 different undergraduate universities and roughly 50 distinct fields of study, there is also a variety of educational backgrounds. Since members of the Class of 2025 include Fulbright Scholars and Peace Corps volunteers, they all come from strong backgrounds. Many are engaged in nonprofit work that ranges from initiatives that encourage clothes donations to efforts that support those in need all throughout Los Angeles, all while working on problems that are at the forefront of social justice and the public interest.
The latest USC law school acceptance rate pool includes leaders, educators, and businesspeople because many of the students have been educators, entrepreneurs, or political figures. One was a member of the Obamas' advance team when they served as president and first lady. Many students occupied leadership positions in their undergraduate organizations, and several of them took on responsibilities as entrepreneurs and investors in the corporate sector.
The 1L class is full of creative individuals, including professional ballerinas, musicians, student-athletes, sprint car drivers, and the youngest model to walk the runway at a Prada fashion show in Milan among its members.
How Can I Increase My Chances Of Getting Into USC Law School?
Law school aspirants usually ask "How can I increase my chances of getting into USC Law School?" To start, let's review the most important components of your USC Law application. The only prerequisite for admission to Gould is that candidates must have earned or intend to earn a bachelor's degree. Before earning a chance to be part of the USC law school acceptance rate, students must send several items in their application materials, including the $75 application fee and the JD Electronic Application.
In addition to those who can demonstrate financial hardship, those who have completed Teach for America, the U.S. military, the Peace Corps, the California Pathways to Law School, or USC (undergraduate program) are eligible to apply for a waiver.
Candidates need to sign up with Credential Assembly Services (CAS) and send Gould their CAS Report. All official transcripts, LSAT writing scores, recommendation letters, and scores for the LSAT should be included in this report. The GRE may be submitted by applicants in place of the LSAT.
A maximum of three letters of recommendation may be submitted to USC Gould. The letters produced by individuals who can best speak to the candidates' academic credentials are given the most weight by the admissions committee. It is permitted for a supervisor to apply rather than a professor or guidance counselor in cases where an applicant has been out of school for a considerable amount of time.
The personal statement and resume are the next two components that are necessary but have different uses. The latter should not be longer than two pages and should include a summary of the applicant's employment history, voluntary activities, and extracurricular involvement. The former gives applicants two to three pages to explain how their upbringing motivated them to pursue a legal career.
The best candidates are chosen using a special selection method used by law schools. This approach heavily relies on your college GPA and LSAT results because they illustrate your academic background and competencies.
In general, law schools look at your extracurricular activities in addition to your academic achievements to have a better picture of your potential. Internships, volunteer work, and community service are a few extracurricular activities that can help your law school application because they show that you have skills outside of the classroom, such as communication, teamwork, and professionalism.
The ABA does not advise any undergraduate majors or sequences of courses as a means of preparing for a career in law. Students from practically every academic field are admitted to law school. You can choose to concentrate your undergraduate studies in fields as varied as art, music, science and mathematics, computer science, engineering, nursing, or education, or you can choose to major in subjects that are thought of as traditional preparation for law schools, such as history, English, philosophy, political science, economics, or business.
Regardless of your major choice, you are urged to choose a subject that interests and challenges you while also taking advantage of chances to improve your research and writing abilities. It is a great way to get ready for legal education to take a wide variety of challenging classes from demanding professors. The abilities, principles, and knowledge you currently have will be strengthened and further developed by a solid legal education.
Core competencies in being a lawyer include problem-solving, critical reading, writing, editing, oral communication, listening, organization, management, public service, promoting justice, relationship-building, and collaboration. They also include background knowledge and exposure to the law.
Prior to enrolling in law school, you can gain vital abilities, morals, information, and experience that will serve as a solid basis for your legal study. You should look for educational, extracurricular, and life experiences that will help you develop those qualities if you want to appropriately prepare for legal education, a job in law, or other professional services that need the use of lawyering abilities. You can enroll in courses that will help you learn a lot of this information as an undergraduate, graduate, or even high school student. Much of this background can also be learned independently through reading, working, or other life experiences.
Furthermore, you may be able to continue to develop all the abilities, values, knowledge, and experience described in this Statement during your first years of law school, so it is not necessary for you to enter law school with them completely formed. To be fully equipped to benefit from a tough legal education, you will have a major advantage if you enter law school having already gained the foundation proposed in this Statement.
The admissions process at USC Gould is highly competitive. If you review the application requirements thoroughly and follow the tips for boosting your application, you can increase your chances at USC Gould School of Law. Also, you can consult with AdmissionSight regarding your preparation for law school. Contact AdmissionSight to set up an initial consultation with our admissions experts.