What Are The Best Colleges For Therapists?
What is psychotherapy?
What exactly does psychotherapy entail? Talk therapy is referred to as "psychotherapy," which is another name for the profession. In other words, the role of those who study at the best colleges for therapists is to talk and listen to bring about change in a person's life.
But psychotherapy entails much more than simply talking and listening to one another. Instead, the focus of psychotherapy is on developing a trustworthy relationship between the client and the therapist to the point where the client is at ease discussing his or her past experiences, feelings, concerns, and any other relevant topics.
In reality, there are a lot of variants within the field of psychotherapy. For instance, psychodynamic therapy believes that the issues we face as adults and the actions we engage in as a result of those issues have their origins in the experiences we had as children. It is also considered that emotions and thoughts that are not consciously controlled significantly impact our growth.
For people to regain control of their lives and become more self-aware, the goal of psychodynamic therapy is to assist them in altering the thought patterns and behavior patterns they have developed throughout their lives. To achieve this goal, one must consult with a therapist to gain a deeper comprehension of one's formative experiences and how those experiences manifest themselves in one's adult life.
Why study psychotherapy?
Studying psychotherapy can provide students with a deep understanding of human behavior and emotions and the skills necessary to help individuals overcome mental health challenges. Here are some reasons why one should consider studying psychotherapy:
Career opportunities: Those who decide to study in the best colleges for therapists can lead to various careers, including licensed therapist, counselor, or psychologist. These careers offer the opportunity to make a meaningful impact on the lives of others and to work in helping professions.
Understanding of the human mind: Those who study at the best colleges for therapists get an in-depth understanding of the human mind and the underlying causes of mental health challenges. This knowledge can be valuable in developing effective treatment plans and helping individuals make positive life changes.
Improved communication skills: Psychotherapy requires strong communication skills, and studying psychotherapy can help students develop these skills, including active listening, empathy, and building rapport with clients.
Exposure to different therapeutic approaches: Studying psychotherapy exposes students to various therapeutic approaches, including cognitive-behavioral therapy, psychodynamic therapy, and humanistic therapy. This can provide students with a well-rounded education and help them find the best approach.
Personal growth: Studying psychotherapy can also provide opportunities for personal growth and self-discovery as students explore their emotions and thoughts and gain a deeper understanding of human behavior and relationships.
Overall, studying psychotherapy can provide students with a deep understanding of human behavior and emotions and the skills necessary to help individuals overcome mental health challenges, making it a rewarding and fulfilling field of study.
What are the best schools for psychotherapy?
Columbia University in New York, NY
According to the rankings provided by U.S. News & World Report for 2019, Columbia University tied for third place as the best national university. In 2019, its medical school finished in a tie for sixth place in the category of the best research.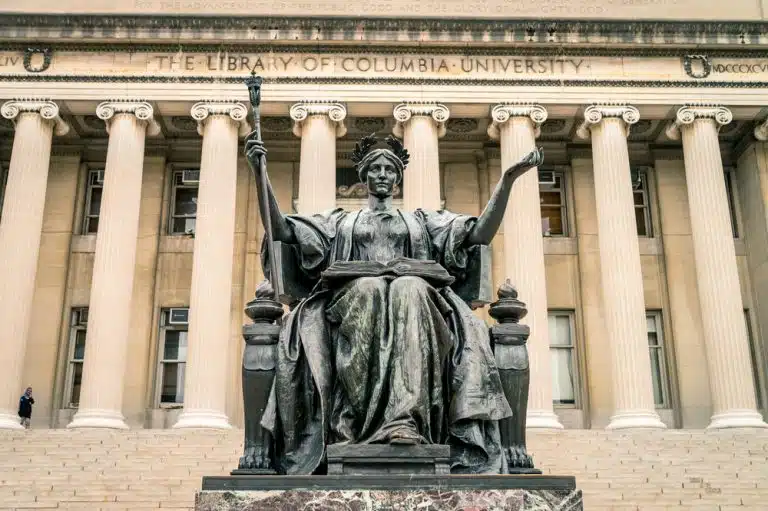 Separate from Columbia's other graduate schools, the Center for Psychoanalytic Training and Research at Columbia University runs psychotherapy programs that provide clinical psychologists and psychiatrists with advanced education and training. Under the guidance of experienced faculty members, students at the Columbia Psychoanalytic Center participate in clinical internships.
As one of the best colleges for therapists, there are a lot of things that a student can learn. Severe personality disorders like narcissism are addressed throughout the one-year program that focuses on transference. The parent-infant, adult, child, and adolescent psychotherapy training programs last two years. Understanding of early childhood development, psychopathology, and parenting are all improved with participation in the parent-infant program.
Not only that, as one of the best schools for psychotherapy, trainees receive access to academic members in a variety of university fields, such as child psychiatry, neuroscience, and developmental psychology. In addition to accepting registered social workers, the parent-infant psychotherapy program welcomes applications from other professions that deal with families and children. The following types of psychotherapy programs are available:
Adult Psychodynamic Psychotherapy Program
Child and Adolescent Psychodynamic Psychotherapy Program
Transference-Focused Psychotherapy
Parent-Infant Program
University of California in Los Angeles, CA
The clinical psychology program at the University of California, Los Angeles (UCLA), evaluated by U.S. News & World Report in 2016, came in first place among the best programs in the country. According to the publication's rankings, the David Geffen School of Medicine at UCLA came in at number six among the best medical schools for research in 2019. Accreditation from the APA was granted to the Ph.D. program in clinical psychology. An internship lasting the full calendar year and working full time is included in the scheduled work.
Students are expected to participate in research, classroom instruction, clinical rotations, and teaching throughout the degree. At the Psychology Clinic, a psychiatrist on duty is ready to discuss with patients about their medication. In addition, training sessions are held at the Semel Institute for Neuroscience and Human Behavior, locations linked with the Geffen School of Medicine, and local government organizations thus making it one of the best colleges for therapists. The following options are offered for graduate study in psychology:
Doctor of Philosophy in Psychology
Doctor of Philosophy in Psychology in Clinical Psychology
University of Pennsylvania in Philadelphia, PA
In 2016, Penn's clinical psychology program was tied for a tenth place among the best programs in the country, according to U.S. News & World Report. The Perelman School of Medicine of the University of Pennsylvania was voted third best in medical research in 2019.
It is to be noted that, as one of the best colleges for therapists, the Department of Psychology at the School of Arts and Sciences and the Perelman School of Medicine at the University of Pennsylvania offers clinical psychology courses, some of which include psychotherapy as an option for students. The Center for Psychotherapy Research is supported financially by the medical school.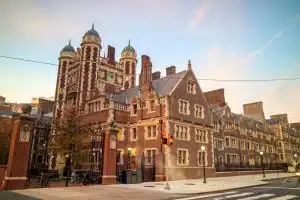 What makes this one of the best colleges for therapists is the internship program offered by this university, which is second to none. An internship in clinical psychology through the Department of Psychiatry that lasts either one or two years can include rotations at Pennsylvania Hospital in the acute psychiatric unit, general medical hospital, palliative care cancer center, or community mental health.
The internship can be either one year or two years long. The Department of Psychology's clinical psychology training program, accredited by the American Psychological Association and lasts between five and seven years, includes psychopathology and psychotherapy as areas of research interest.
The cognitive-behavioral psychotherapy practicum might last one year and can involve an emphasis on the field. Students can only be accepted into the doctoral program, but once they have finished one year, they can apply for the master's degree. Additionally, a combined J.D. and Ph.D. program is provided by both the psychology department and the law school. The psychology department is responsible for conferring the following degrees:
Clinical Training Program in Psychology
Ph.D. in Psychology
Doctor of Medicine/Ph.D. in Psychology
J.D./Ph.D. in Psychology
Figuring out where to study can be a big help in your decision to pursue psychotherapy. If you have already made your decision, it is important that you also pay attention to your college admissions. You can get help with AdmissionSight in your college admission. With ten years of experience with college admission experts, AdmissionSight can help you get into the college of your choice. You can talk to our experts today to get an initial consultation.