Know More About the Georgetown University MBA Program
Established in the heart of Washington, D.C., Georgetown University's McDonough School of Business is a globally recognized institution dedicated to educating future leaders with a world-centric viewpoint. Its prestigious Georgetown University MBA program has been meticulously designed to develop principled leaders with a global outlook rooted in a strong sense of ethical responsibility and societal impact.
The MBA program offers a robust combination of theory and practice, challenging students to apply learned concepts in real-world business scenarios, thereby developing a comprehensive understanding of today's dynamic global business environment.
The Georgetown MBA's reputation is underpinned by its rigorous academics, distinguished faculty of scholar-practitioners, diverse and collaborative student community, and expansive alumni network.
With strong links to industry, government, and non-profits, the program offers unique networking and career opportunities. These facets collectively contribute to the program's high rankings in many national and international lists, making it a sought-after destination for ambitious, globally-minded professionals.
Georgetown MBA Curriculum
Breakdown of the mandatory courses and their objectives
The Georgetown University MBA curriculum is divided into multiple mandatory or "core" courses that provide students with a thorough grounding in fundamental business concepts and practices. The courses start with Structure of Global Industries, which explains the strategic and economic principles underpinning the global business landscape.
This is followed by Financial Accounting Fundamentals, where students learn how to read, understand, and use financial statements to make business decisions. Another crucial course is Corporate Financial Reporting and Analysis, where students acquire analytical skills to understand a company's financial health.
Leadership Communications hone the skills necessary to communicate effectively in diverse business environments. Analytical Problem Solving and Spreadsheet Modeling allow students to leverage data in problem-solving and decision-making. The Managerial Statistics course gives students a comprehensive understanding of statistical analysis and its application in business decision-making.
Corporate finance builds on finance fundamentals, delving deeper into capital budgeting, risk management, and valuation. Operations Fundamentals educates students on optimizing processes to create value in a business. In Marketing Analysis and Customer Strategy, students learn how to create customer-driven marketing strategies. Ethical leadership emphasizes the importance of ethical decision-making in leadership roles.
Finally, the macroeconomic course, Firm Analysis, and Strategy, trains students on strategic planning and its interaction with the global economy. These courses aim to equip students with the analytical, strategic, and leadership skills necessary to excel in today's rapidly evolving business landscape.
Integrative modules focusing on principles of ethical leadership, international business, and societal impact
The Georgetown University MBA program sets itself apart with its integrative modules, designed to encourage a holistic view of business, blending the principles of ethical leadership, international business, and societal impact. These modules underscore Georgetown's commitment to educating leaders who are proficient in business practices and conscious of their ethical and societal responsibilities.
The ethical leadership module underlines the importance of values-based decision-making in business, offering students a chance to explore the moral and ethical dilemmas they might encounter as leaders. They are trained to make decisions that uphold ethical standards while achieving business objectives.
The international business module builds on the school's global perspective, enabling students to understand and navigate the complexities of the global business environment. It covers topics such as international trade, cross-cultural management, and the effects of geopolitical shifts on business strategies.
This prepares students to lead in diverse, multinational settings and fosters an appreciation for cultural nuances in business dealings. The societal impact module is perhaps the most distinctive, emphasizing businesses' increasingly important role in societal issues. It encourages students to consider the broader impact of business decisions on various stakeholders, including local communities and the environment.
This includes discussing sustainability, corporate social responsibility, and creating shared value. These integrative modules, woven into the fabric of the curriculum, strive to create well-rounded, principled leaders who are prepared to make a positive impact in their organizations and society at large.
Experiential learning components
Experiential learning is a significant aspect of the Georgetown University MBA program, enabling students to apply classroom learning to real-world scenarios and thus foster a deeper understanding of business dynamics.
The centerpiece of the experiential learning component is the Global Business Experience, where students consult with an international company on a real-world business challenge, ending the project with a presentation to company executives in the company's home country. Another key experiential initiative is the integrative project, where students work in teams to develop a business plan, allowing them to apply concepts learned throughout the program in a practical context.
The school also offers experiential learning through various internships, allowing students to gain hands-on experience in their fields of interest. For instance, students can participate in summer internships between their first and second years, providing a platform to apply their learning and gain insights into their chosen industries.
Moreover, students can benefit from practicum courses in social impact and real estate, where they work on live projects for real clients. These experiential components enhance students' understanding of business complexities, facilitate applying theory to practice, and sharpen their problem-solving, leadership, and teamwork skills, thus preparing them for success in their post-MBA careers.
Georgetown University Electives and Concentrations
Discussion of the available electives
The Georgetown University MBA program offers an extensive array of electives, allowing students to customize their learning journey according to their interests and career objectives. Spanning a broad spectrum of business disciplines, these electives enable students to delve deeper into specific areas and develop specialized expertise.
For instance, in finance, electives such as Advanced Corporate Finance, Investment Banking, and Mergers & Acquisitions allow students to deepen their financial acumen. Marketing electives like Digital Marketing and Consumer Behavior provide students with advanced skills in marketing strategy and customer understanding.
In operations and technology, students can choose courses such as Supply Chain Management and Business Analytics. Entrepreneurs can opt for electives like New Venture Finance and Business Plan Development. Moreover, the program offers electives covering contemporary business topics such as Sustainability and Business, Negotiations, and Business and Public Policy, among others.
There are courses like Leadership Coaching and Leading Teams for students interested in leadership and organizational behavior. Several international business electives, such as Global Strategy and Emerging Market Strategies, support the program's global focus.
The availability of these electives provides a rich, diverse learning experience. It allows students to align their academic journey with their career aspirations in a specific function, industry, or entrepreneurship.
Different concentrations include finance, marketing, international business, etc.
The Georgetown University MBA program allows students to select a concentration and gain specialized knowledge and skills in a particular area of interest. Each concentration is designed to delve deeper into specific facets of business, preparing students for various career paths post-MBA.
The Finance concentration is designed for students seeking a deep understanding of financial theories, policies, and techniques, with courses focusing on investment banking, corporate finance, private equity, and financial markets. Students opting for this concentration often pursue careers in finance roles within corporations, investment banks, or financial consulting firms.
The Marketing concentration explores consumer behavior, brand management, and digital marketing strategies, providing students with a comprehensive understanding of how to drive growth and customer engagement in various business settings. Graduates from this concentration often find roles in various industries in marketing, brand management, or digital strategy.
The International Business concentration is particularly distinctive due to Georgetown University's global perspective. This concentration aims to prepare students for successful careers in international business, covering topics such as global strategy, cross-cultural management, international finance, and trade policies.
The Operations and Information Management concentration focuses on improving operational efficiency and leveraging information technology for strategic decision-making. Students gain skills in supply chain management, data analytics, project management, and information systems strategy.
There are also concentrations in areas such as Real Estate, Entrepreneurship, Strategy, and Leadership, each tailored to provide students with the expertise needed to excel in their chosen career paths. Students can gain a more nuanced understanding of a particular business area by selecting a concentration, enhancing their competitiveness in the job market.
Georgetown University MBA Admissions
Admissions process, including application requirements and deadlines
The admissions process at Georgetown University's McDonough School of Business is designed to identify applicants who demonstrate academic excellence, strong leadership potential, and a commitment to significantly impacting their careers.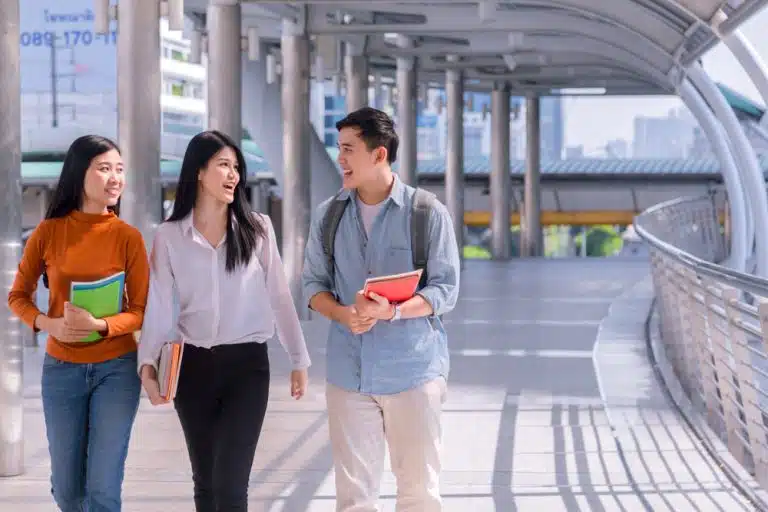 The process involves several steps, with the application requirements typically including an online application form, an up-to-date resume, two letters of recommendation, official transcripts from all undergraduate and graduate institutions attended, a goals essay, and a video essay.
Some candidates may also be required to submit GMAT or GRE scores, although test waivers may be available based on certain criteria. If English is not the applicant's first language, proof of English proficiency, such as TOEFL, IELTS, or PTE Academic scores, may be required.
The application process typically operates on a rolling admissions basis, with several rounds of deadlines throughout the year. Early application is generally encouraged for the best chance of admission and scholarship consideration. After submitting the online application, selected candidates will be invited for an interview, which is a crucial component of the evaluation process and offers an opportunity for the candidates to showcase their personality, skills, and potential in a one-on-one setting with a member of the admissions team.
Applicants are strongly encouraged to thoroughly review the specific application requirements and deadlines on the official McDonough School of Business website, as these can vary from year to year. It's also recommended that applicants use the opportunity to engage with the school through various admissions events, webinars, or information sessions to better understand the program and the application process.
Tuition and financial aid options
The investment in a Georgetown University MBA is substantial, reflecting the degree's high-quality education and lifelong value. The tuition covers all course materials, most meals on class days, and costs associated with residencies.
However, the school understands the financial commitment and is committed to helping students explore various financial aid options to finance their MBA journey. Firstly, candidates are automatically considered for merit-based scholarships during the application process, which can significantly offset tuition costs. These scholarships are awarded based on various factors, including academic excellence, professional achievements, and leadership potential.
In addition to scholarships, students may also explore loan options. U.S. citizens and permanent residents are eligible to apply for federal loans through the U.S. Department of Education and private loans through various lenders. International students may also consider private loans, with some lenders offering loans without a U.S. co-signer.
Furthermore, the school encourages students to seek employer sponsorship or reimbursement if available, given the value the program adds to the students and their organizations.
Finally, Georgetown participates in the Yellow Ribbon Program for military-connected students, which can provide additional financial assistance beyond the standard benefits of the Post-9/11 GI Bill.
Candidates are advised to engage early with the Financial Aid Office, which provides guidance on the various options and assists students in making the best financial decisions as they embark on their Georgetown MBA journey.
Now that you have an idea about Georgetown University, your college admissions to that university should be next on your mind. To ensure that you get into Georgetown University, you can get help with AdmissionSight. With ten years of experience working with college admission experts, AdmissionSight can help you get into Northwestern University. You can talk to our experts today to get an initial consultation.