Social Life at Yale
Does Yale have an excellent social life?
Yale University is one of the most respected national universities in the country and a member of the prestigious Ivy League schools. It was founded in 1701 and, since then, it has continued to uphold exceptional education for its students.
Does Yale have a good social life? Students at Yale are known to be dedicated to their academic pursuits, but they can also maintain an active social life at Yale wherein they go out with their friends and have fun, and even participate in extracurricular activities created by various student organizations or join the varsity.
At Yale, you will be able to locate a group for virtually anything, and if you are unable to do so, you can always start your own. On campus, some of the most popular activities are a capella singing, community service, plays, and publishing. A sizeable percentage of students participate in Greek life.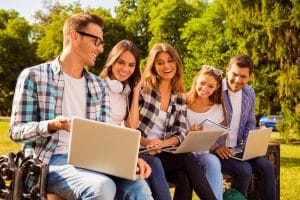 Nonetheless, fraternities are far more influential than sororities, and the majority of fraternity gatherings are accessible to all students. However, aside from extracurricular activities, students can also experience enjoyable activities in their residential colleges since they are a significant part of the social life on campus. This is because residential colleges define who you live with and who you see the most frequently during your time at the university.
In addition to its renowned academics and brilliant minds on its campus, the thriving social life at Yale is to be expected at this institution as well. Students at Yale know how to balance their academic and social lives. With hundreds of student organizations available, you will often see lots of students engaged in enjoyable activities, and cultural and meaningful events within their groups and even with the entire campus. If you are eager to meet the amazing people at Yale and are dedicated to entering the institution, our consulting services at AdmissionSight can help you survive its rigorous enrollment process.
What do students do for fun at Yale?
As mentioned earlier, there are a lot of enjoyable opportunities available to students at Yale, so let us discuss below the answer to "What do students do for fun at Yale?"
To begin with, the sheer number of student organizations on campus can be bewildering at first but look forward to a more exciting social life at Yale because of these organizations. All of the first-year students visit the activities bazaar, and when they leave, they have a hefty bag full of brochures from a variety of organizations. Some of the students even have a difficult time deciding which groups to join at the beginning, but this also means that there are always other causes to support and more groups to join if they ever want to change their minds.
In particular, there are a variety of groups that individuals belong to, some of which are more purposeful than others. Some of these clubs, like the "Anti-Gravity Society" and the "Pundits," do crazy things right before important tests, like running around naked and pulling pranks.
In addition, there is always something enjoyable going on during the weekends that includes a cappella concerts, drama shows, international dance parties, college-sponsored parties, guest speakers, debates, movies, etc. Because there are always so many exciting or intriguing things going on, it might be difficult to choose which one of these activities to attend during any given week.
Furthermore, everyone does participate in all of these activities at some point or another. Football is without a doubt the sport that attracts the most spectators. A lot of students play intramural sports for their colleges, which is a fun part of their social life at Yale.
At Yale, students spend their weekdays studying or attending meetings for the several groups that they belong to. Wednesday isn't the night when most people go out, but if you want to see the most people, go on Thursday, Friday, or Saturday. Toad is the most popular dance club, and it's open on Wednesdays.
There is without a doubt a thriving party culture at Yale, but the fraternities have a relatively insignificant presence on campus, and there is no shortage of alternative opportunities for those who do not enjoy attending parties. The student finance committee pays for a $5000 themed all-campus party once or twice per semester. This party, which may either be a huge success or a complete bust, has the potential to be either.
If you are the kind of person that values your Christian beliefs, you can find Christian fellowship at Yale too. Also, the residential colleges are where you're most likely to make close friends while you're at Yale.
There are also some entertaining pre-orientation events that students can participate in the week before their first day of school in order to meet other first-year students. Students can participate in "Harvest," an activity in which participants spend five days working on a farm. With this, students can have a great time and even maintain friendships with the majority of people in their respective groups.
The Yale Farm is very wonderful in general. For instance, they prepare pizza that is handmade, fresh, and baked in a brick oven on Fridays. Students also find it amazing that forty percent of the students' food is organic and sourced from sustainable sources, which is quite rare for college dining.
What traditions does Yale have?
Yale is one of the oldest and most prestigious educational institutions in the United States, and the university is home to a number of traditions that add to the notable social life at Yale and have stood the test of time. Let us discuss below the answers to "What traditions does Yale have?"
YSO Halloween Concert
The Yale Symphony Orchestra (YSO) will play a soundtrack consisting of student-arranged versions of classical, pop, and cinematic music at the stroke of midnight on Halloween. The score will accompany a silent film with a Yale-related subject that was produced solely by YSO members. Students attend the event in such large numbers that Woolsey Hall is always completely full. Each year, tickets are gone within minutes of being on sale.
The Game
The annual football game between Harvard and Yale takes place on the first day of November recess. In odd-numbered years, Yale hosts the game on the first day of November recess, and Harvard hosts in even-numbered years. In 1875, the two fierce adversaries fought each other for the first time. Since then, "The Game" has become an annual tradition that draws large numbers of current students and alumni from both schools. Even people who aren't huge fans of football may have a good time during the game weekend thanks to the joyful atmosphere and the plethora of opportunities to socialize with their friends.
First-Year Day of Service and Dwight Hall Bazaar
At Yale, there is a long-standing culture of community involvement that reaches all the way down to the freshmen class. First-year students at Yale are invited to participate in a Day of Service event that is held in the Greater New Haven community on the third Sunday of every September. While getting to know the city of New Haven, you will have the exciting chance to form friendships with other first-year students. Additionally, at the start of each term, Dwight Hall has been the location of a service bazaar for the better part of the last few decades.
Students get the opportunity to talk with leaders of more than one hundred student-run and community-based service and justice groups in order to find the ideal outlet for their passions for social change. With this, the social life at Yale has been more meaningful for other students.
Holiday Dinner
On the final day of the autumn term, all Yale College students are invited to a festive meal to celebrate the end of the academic year. Upper-level students dine in their respective residential colleges while dressed to the nines for this formal occasion. The first-year students, in the meantime, have gathered in the Commons for a particularly jovial celebration that will feature the well-known "Parade of Comestibles." This will be a real parade of gourmet meals that will be led in by a fife and drum corps.
First-Year Dance
In the month of January, the First-Year Class Council throws a huge dance party in the Commons for the entirety of the first-year class. Your roommates will try to find you a date for the dance if they have your consent, and there will be a clever plan in place for you to discover your date's identity on the night of the dance.
Spring Fling
Students have a chance to relax the day after the spring semester is over by attending Spring Fling, a party that lasts all day on Old Campus and has a ton of different kinds of cuisine in addition to music. In addition to some of the most well-known musicians in the country, there are a number of student bands that perform.
Class Day
Class Day is one of the most exhilarating occasions for Yale College students to participate in during Commencement Weekend. This ritual dates back to the nineteenth century and is held every year on Old Campus. The students adorn themselves with academic robes and imaginative hats of their own design. The ceremony will involve the presentation of a number of different college-wide student prizes, a talk by a renowned speaker who will be selected with input from the students; speeches; and a film that will reflect on the graduating class's four years spent at Yale.
Does Yale have social clubs?
Does Yale have social clubs? The Yale School of Management community would not be the same without its more than fifty student clubs. Students can develop their leadership and business abilities by participating in consultancy engagements, workshops, roundtable discussions, conferences, and fundraisers organized by their respective clubs. Clubs also give venues for discussion and action possibilities.
With the help of student clubs, each student can obtain several opportunities to participate in clubs of their interest. You have lots of clubs to choose from and activities to look forward to during your stay at Yale. You won't find any reasons to get bored on its campus because the social life at Yale is prosperous.
For instance, you can find a club on writing if that is your primary interest. There is a long-running literary magazine at the institution called Kalliope. Students who intern at Kalliope get the opportunity to study some of the most contemporary and innovative fiction and poetry, and they also have the chance to read and publish some of the works that will one day be taught in literary classrooms.
In short, there is a group or club for every possible passion and interest you can think of at Yale.
What extracurricular opportunities are available at Yale?
What extracurricular opportunities are available at Yale? Participation in extracurricular activities is expected as part of the thriving social life at Yale. Everyone is active in a variety of activities. The vast majority of people will, at some point in their lives, participate in some form of political activity and also do something that may be relevant to their potential future profession.
As was already said, the academic environment at Yale is only one part of the university's lively community because the social life at Yale is also thriving.
Students join hundreds of different groups on campus, including about 100 sports teams, more than 50 performing groups, and 60 cultural groups. Learn more about the offered extracurricular activities at Yale in our separate in-depth discussion about the subject.
Finding extracurriculars at Yale
In order to find the extracurricular activities that are perfect for you, you need to go to the extracurricular bazaar. To determine the available student organizations at Yale, go to the Admissions Office's website page and visit their extracurriculars page.
Although some groups have a stronger presence on the internet or on social media than others, the majority of first-year member recruitment that these organizations do takes place at the extracurricular bazaar. During times when there are no classes in session, student organizations sign up and then set up a table in one of the many rows of tables that dominate Payne Whitney's gym, which is the size of three basketball courts. It is possible to feel overwhelmed when you visit the bazaar and see all of the different email lists for which you might sign up.
It can also be an exciting journey for you to find interesting extracurricular activities. You might make an effort to contact the groups that you either discussed with your new suitemates or that you discovered before arriving at college. You may also walk up to a great table by accident and end up getting involved with a student organization that you were absolutely unaware of.
First-year students are often shocked to discover the vast number of student-run organizations to which they might belong. At the extracurricular bazaar, you can find out about the many colleges advising organizations that Yale has, as well as sign up for a few different literary publications to contribute to in the future. It won't hurt to put your name down on an email list and find out more information, even if you're just mildly interested in what's being offered. With this, expect a more exciting social life at Yale.
Participation in the extracurricular bazaar will very certainly result in you signing up for a number of email lists, all of which will attract your attention due to the high quality of the content they offer. You might join a few (or two, or three) of these organizations, and then you might begin to feel as if you have oversubscribed to Yale's multitude of options.
Being able to politely decline an invitation is one of the most useful pieces of guidance that others can provide. It is acceptable to be eager and try a lot of new things, but it is also acceptable to decide that you value one group more than another or that your schedule is too heavy for you to play a more active part.
If you are a student who received full financial aid and works multiple jobs, you need to maintain a balance between work life, extracurricular activities, academic life, and social life in order to avoid becoming extremely exhausted both mentally and physically or missing out on the fun and excitement of college. Many students will have almost full control over their lives for the first time when they go to college. This includes making decisions about what and when they eat, sleep, study, and take part in extracurricular activities.
What athletics does Yale offer?
What athletics does Yale offer? There is a long and storied history of athletics at Yale, as evidenced by the institution's participation in "The Game." The Yale Bulldogs compete in all 35 of the NCAA's varsity sports since they are members at the highest level. The Bulldogs have brought a number of national championships back to New Haven throughout the course of their history.
When it comes to golf, Yale's team has enjoyed the most success among these others. Since 1897, when they first competed, the men's golf team has gone on to win a total of twenty national championships, with the most recent one coming in 1943. More recently, the team has won a total of twelve Ivy League titles, including victories in 2011 and 2018 over its sisters.
It was in 1895 versus Johns Hopkins when the Bulldogs men's ice hockey team competed for the very first time. This makes them one of the oldest teams in the country. Since the conclusion of that game with a tie score of 2-2, the Bulldogs have gone on to win the national championship in 2013 as well as several Ivy League titles, including back-to-back titles in 2015 and 2016.
With the exciting social life at Yale, all kinds of people can experience the several dynamic and rewarding activities this institution has to offer. You will definitely find a place to belong at Yale and create lasting connections with one another. You can even foster a family bond with other students with similar backgrounds and interests as you. You can be one step closer to joining its active social life. Contact us and learn more about our professional consulting services here at AdmissionSight.