The Best Pre-Med Colleges
Finding the best pre-med colleges that are right for you is one of the first and most crucial decisions you'll have to make on the road to becoming a successful doctor.
The types of opportunities and support networks you'll have both now and, in the future, will directly depend on where you enroll as a pre-med student.
Since there are many outstanding undergraduate programs offered in the United States, the process of applying successfully to college may be very time-consuming and difficult.
This is the reason we have put together the list of the top 10 pre-med colleges below. Read on, and you might find the process of looking for a reputable pre-med school less stressful and more fun.
What does "pre-med" mean?
What does "pre-med" mean, first of all? Pre-med and pre-law are likely terms you have heard before if you have asked any college students you know about their majors.
Being pre-med does not guarantee that a student will attend medical school or they will practice medicine. This simply implies that they are taking the courses required to get ready for this stage because they intend to enroll in medical school in the future.
Because of this, a student who is majoring in a field like biology or chemistry can claim to be pre-med. They intend to study pre-medicine but are not majoring in it.
Basic pre-med prerequisite courses
To be accepted into a medical school, premed students must take the courses that the institutions will recommend or require of them.
The following courses are almost always required by medical schools:
One year of Biology with lab
One year of General Chemistry with lab
One year of Organic Chemistry with lab
One semester of Biochemistry
One year of Physics with lab
One year of English
What are the best pre-med colleges?
What are the best pre-med colleges? When you first begin your college search, college rankings are beneficial, but no ranking list is ideal because there is no way to develop an officially impartial method that applies to every student.
Remember that all of these institutions are excellent choices, so don't place too much importance on the rankings per se. What matters more is whether or not these schools meet your requirements for a college education.
Now, let's take a look at the best 10 pre-med colleges!
1. Harvard
According to the Harvard Office of Career Services, 17% of its students are expected to apply to medical school. This percentage from Harvard's enormous student body is extremely remarkable.
Additionally, the study showed that pre-med applicants with a GPA of 3.5 or higher had a 93% acceptance rate for medical school. This occurred in 2013. This same acceptance rate, however, was only 42% in 2012.
Harvard University has a peer program that provides pre-med tutoring to students in need from their sophomore year through their senior year. And to top it all off, Harvard University is notorious throughout the world.
This university has earned the right to take pride in having the top medical school in the US, thanks in part to the department of biological sciences. The several teaching hospitals that are associated with and close to Harvard University will also significantly enhance your clinical and research experience.
Harvard is unmatched and should be at the top of your list if you want the best pre-med experience.
2. Johns Hopkins University
Johns Hopkins University has a strong reputation as a medical school and a place for conducting medical research that has been upheld over time. This implies that students at Johns Hopkins have access to a range of clinical and research resources and can benefit from them.
The medical school of this university is also connected to one of the top teaching hospitals in the US. Additionally, International Medical Aid, a fantastic NGO that offers pre-med internships and provides a plethora of experience to anyone fortunate enough to join, was formed at this same university.
The undergraduate pre-med students at Johns Hopkins University can choose from a track in their advising program. Group meetings, one-on-one consultations, and a range of additional activities are all part of their advising program track, which is intended to help everyone who wants to enroll in medical school succeed.
This university's undergraduate pre-med students have the opportunity to enhance their resumes by joining well-run student clubs. So, Johns Hopkins University is unquestionably among the best pre-med colleges in the country.
3. Stanford University
Stanford is home to a top-notch medical school in addition to being a highly regarded university. This university provides you with special advisors who are on hand to make sure that you can visualize your long-term goals successfully, to talk about any ideas you may have, to help you plan your coursework, and to provide you with options that are essential in your quest to gain medical field experience.
As an undergraduate medical student at Stanford, you can also discover internship possibilities there. You have the potential to earn outstanding recommendations and crucial clinical hours thanks to these chances.
You'll adore Stanford for several reasons, including its pre-med community. In terms of structure and coherence, this community is among the best. As a pre-med student, you will discover Stanford Pre-Medical Association to be very educational and helpful. And all of this takes place in a single location.
Sadly, there aren't many reliable statistics available regarding the proportion of Stanford graduates who enroll in medical school each year. But the number is likely pretty high. This is due to Stanford's degree programs being acknowledged on a global level.
4. University of Pennsylvania
The Perelman School of Medicine, or UPenn as most people refer to this university, is one of the top medical schools in the US. Many different research options are available to you if you are accepted into this medical school.
Furthermore, this is a fact, not merely an erroneous assertion. According to studies, 76% of Upenn pre-med students got their applications to medical school acceptance. This is pretty remarkable, especially in light of the 43% national average for that year.
You will receive assistance from the University of Pennsylvania as a student to complete the pre-med requirements. This institution's pre-health advising program guarantees the success of your entrance to medical school. Some Upenn programs even include a pre-med emphasis to better prepare you for the subsequent steps of your path to medical school.
5. Columbia University
According to studies, Columbia Medical School is the sixth-best medical school overall and ranks 31st for primary care. You are given a pre-med adviser as an undergraduate at this university, and you have the chance to greatly benefit from educational meetings sponsored by the Premedical Committee.
Additionally, conveniently placed in NYC is Columbia University. As a result, you may be sure that you'll have very simple access to a variety of hospitals and clinics, which present a wealth of options for you to gain research and clinical experience.
In addition to all of these resources, Columbia University offers you, the student, a sample pre-med course program. You can use this sample course program to help you complete the required minimum applications for medical school. Additionally, this is only a small sample of what this university has to offer.
This makes this university the perfect spot to help you get and keep a competitive edge. Add to that the fact that it is one of the top pre-med colleges in the nation.
6. Duke University
Duke University is unquestionably among the greatest in the nation, and that is the truth. One of the best possibilities any pre-med student could hope for is Duke, which also boasts a pre-med program that is fairly robust.
As soon as you enter Duke, its pre-medical student advising program will suck you in. You will appreciate their attention and the program's excellent organization. In addition to the fantastic program, you will have the chance to enroll in studies focused on health and research activities that are primarily hands-on.
The rates at which Duke undergraduates are accepted to medical schools are among the most remarkable facts that make Duke deserving of serious consideration. This campus claims that, on average, 70% to 80% of its students are accepted into medical schools.
This rate is almost two times higher than the average national rate. The fact that Duke's medical school is ranked among the top 15 is one of the elements that has made this impressive rate feasible.
7. University of Washington
The University of Washington is the best public medical school in terms of research and patient service. This list demonstrates how unique it is compared to other public medical schools across the nation.
You may have noticed that every one of the elite colleges we have highlighted above is a private institution. That streak was stopped by UW, and with good reason. The University of Washington is the place for you if you're looking for a public medical school with lots of resources.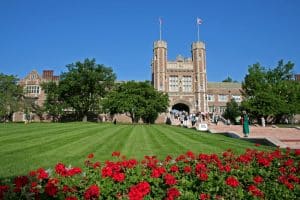 You will have the chance, as a student at this outstanding university, to work with advisors and pre-health career coaches to address your academic and professional problems. You don't need to worry yourself sick about things like volunteer opportunities, research, selecting classes, and job shadowing because UW has excellent solutions for all of these issues.
8. UNC Chapel Hill
The majority of the health disciplines have a positive perception of UNC. This is true even if it doesn't provide any statistics to demonstrate that it keeps track of particulars regarding the admission rates of its pre-med students. But it is safe to assume that the stats are quite high given their well-known good reputation.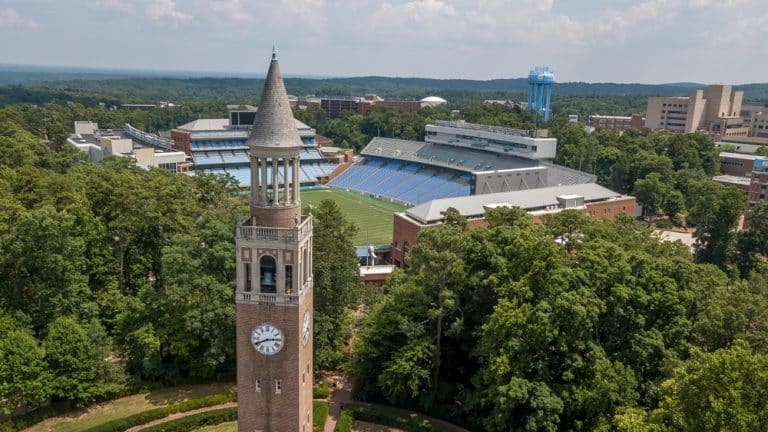 UNC's concentration tracks will help your medical school application stand out if you want to pursue a career in medical research.
In addition, UNC provides the Medical Education Development (MED) Summer Program, a nine-week course that is incredibly engaging. This program can only be described as an exclusive one designed for talented and hardworking students who missed their chance.
Opportunities that would have allowed these excellent students to succeed in the medical industry. This program could be a gold mine for you if you want to be a doctor in the future but aren't yet ready to enroll in pre-med school.
9. Cornell University
One of the best pre-med colleges in the US is Cornell, as evidenced by statistics. In 2016, 76% of Cornell University pre-med students who had a GPA of at least 3.4 were accepted into medical school. Furthermore, 63% of Cornell's total applicant pool had their medical school applications accepted the same year after submitting them.
You will have the chance to learn more about Cornell University's Health Careers Program as a pre-med student. This program offers critical information, essential advising, and an Evaluation Committee to pre-med students. This Evaluation Committee will be very helpful because it will provide you with a letter of recommendation that you desperately need for your applications to medical school.
10. Northwestern University
When it comes to research, Northwestern University is rated as one of the top 20 medical schools. You have the chance to investigate various clinical and research opportunities at this university and create a career out of them.
You will have a wealth of resources available to you as a pre-med student at Northwestern. The webpage for pre-medical counseling at Northwestern has many of its tools. The on-site advisors are in charge of assisting students with any issues they might be having, such as concerns about course selection or medical school applications.
Northwestern University is unquestionably among the best pre-med colleges to take into consideration if what you need is a university with top-notch research and clinical faculties and a track record of placing some of its pre-med students in reputable medical schools.
What careers can you do with a pre-med degree?
There are other options besides medical and professional schools, even though many undergraduate pre-med students are getting ready to apply to those. Pre-med majors have a wide range of employment options, particularly for those who are eager to pursue further education or certifications.
According to Dr. Wilt, "the majority of employers will view a candidate with a pre-med degree or a B.A. in the sciences very favorably." It's a sign of strong critical thinking abilities and a love of science, according to the author.
So, what careers can you do with a pre-med degree? Here are some examples of alternative career paths:
Pharmaceutical representative
Medical device liaison
Research scientist
Chemist
Wildlife biologist
Zoologist
Geoscientist
Forensic science technician
Environmental Specialist
K-12 STEM teacher*
Respiratory therapist*
Radiation technologist*
Occupational therapist*
*This career will require a graduate degree.
At AdmissionSight, we have more than ten years of expertise assisting students in navigating the tough admissions process to the greatest colleges in the globe. Consult with AdmissionSight and see what we can offer to make sure that you are well-prepared and knowledgeable enough to enter your choice of school.