UCLA Motto
Established in 1881 as a public research institution, the University of California, Los Angeles (UCLA) has as its aim "the development, distribution, preservation, and application of knowledge for the betterment of our global community." The UCLA motto, "Fiat Lux," which translates to "Let there be light," has been used across the university as a guiding concept.
The University of California, Los Angeles (UCLA) is consistently ranked among the top institutions in the world by many major college and university rankings, earning it the reputation of being one of the Public Ivies in the United States. Putting into practice the UCLA motto by shedding light on pressing issues facing society.
Tens of thousands of individuals who have spent their entire careers helping the general public has been educated at the University of California, Los Angeles (UCLA) in order for the university to live up to its principle. We are going to go deeper into the manner in which the UCLA motto represents not only the university as a whole but also the students that attend the university.
What is the UCLA Motto?
What is the UCLA motto? The efforts of the people living in Southern California bore fruit in 1919, when Governor William D. Stephens gave his signature of approval to Assembly Bill 626, making it a law. This allowed the University of California to acquire the land and buildings of the Los Angeles Normal School and turn it into the Southern Branch of the University of California.
Students at UCLA are taught to believe that exposure to a diverse range of experiences better qualifies them to function in a global society. They are aware that by cultivating a community that is welcoming to individuals from all walks of life and that places a high emphasis on diversity, they are setting the basis for our students to be successful no matter where their lives lead them in the future.
Embodying the ideals of the UCLA motto, the ability of UCLA to have a beneficial impact on society via the gathering of varied minds from all over the world is the source of the institution's greatest value as an educational institution. UCLA takes great pleasure in the diverse community that we have fostered here and in the fact that we offer opportunities to people of all socioeconomic backgrounds.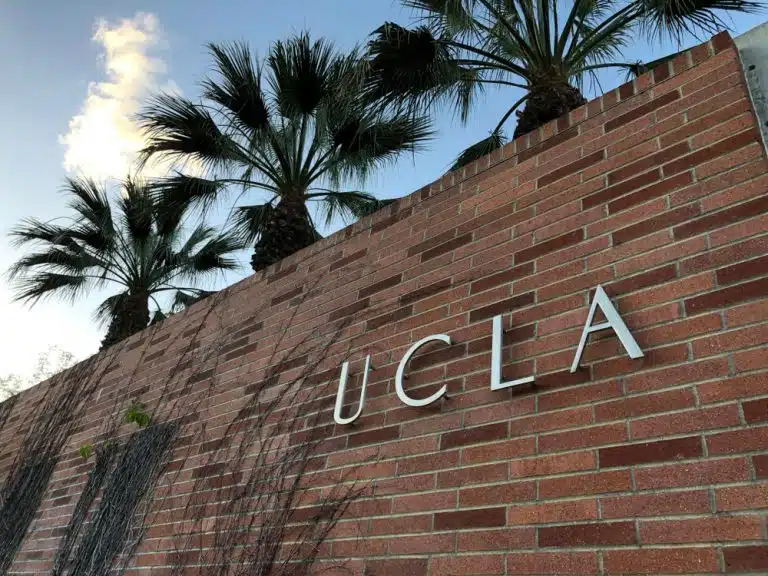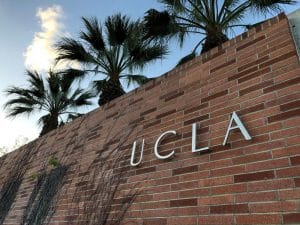 In the spirit of the UCLA motto, "Fiat Lux," which translates to "Let there be light," the mission of the University of California, Los Angeles (UCLA) is to shed light on new areas of knowledge, shed light on potential solutions to improve the human condition and serve as a beacon of opportunity for bright young minds and distinguished faculty.
What is UCLA's Mission Statement?
Knowing the ideals of the UCLA motto, what is UCLA's mission statement? As a public research institution, UCLA's core mission is to generate new knowledge, disseminate existing knowledge, preserve existing knowledge, and find new applications for existing knowledge in order to improve our global society.
In order for UCLA to accomplish this objective, the university has made a commitment to academic freedom in its most comprehensive form: It places a high priority on free and open access to knowledge, robust debates that are held in an atmosphere of mutual respect for individuals, and an absence of intolerance.
UCLA recognizes that genuine quality is produced when there is both openness and inclusion, thus it makes it a point to pursue both excellence and diversity in all that it does. Education, research, and service to the community are the three pillars of our institution, and these are the ideals that support them.
The concept that students in undergraduate, graduate, and professional schools, as well as their teachers, are all members of the same community of scholars serves as the guiding principle for learning and teaching at UCLA. This community is committed to giving students a foundational understanding of a wide variety of academic fields, followed by the option to study one of those fields in greater depth.
Everyone in the community is working together to unearth new information and advance existing practices in order to move things forward. Learning can take place in a variety of settings, including the classroom, campus life, and communities and organizations outside of the university.
UCLA is known for its contributions to the world of discovery, creativity, and innovation. As one of the most prestigious research institutions in the world, we are dedicated to achieving success in a diverse variety of academic fields, as well as in the arts and professional fields, and we encourage investigation that cuts over traditional academic boundaries. By doing so, UCLA advances knowledge, tackles pressing societal problems, and builds a university that is enriched by varied viewpoints and an environment in which all persons have the opportunity to thrive.
As a public institution of higher education, the importance of civic participation cannot be overstated. Beyond the confines of its campus, the University of California, Los Angeles (UCLA), which is located in one of the most culturally rich and dynamic cities in the world, seeks to build collaborations both locally and internationally.
Thru the UCLA motto, UCLA's mission is to serve society through teaching as well as scholarly research; to educate future generations of influential people, and to instill in our students a regenerative set of abilities as well as a commitment to participating actively in their communities.
What is UCLA Most Known for?
So, what is UCLA most known for? The flagship of the legendary University of California system, UCLA was founded in 1881 as the California State Normal School's southern branch.
Although it is the second oldest of the schools in the system, UCLA is a pioneer in a number of areas including education, athletics, and innovation. The University of California, Los Angeles (UCLA), which is considered to be one of the rare "Public Ivies" (public schools with academic output and reputation equivalent to those of the illustrious Ivy League schools), has a long list of notable graduates and teachers.
For a good reason, the University of California, Los Angeles consistently earns a spot near the top of the list of the best-ranked public universities in the United States. The amazing opportunities that are available to students at UCLA are spread across the university's many academic programs, extracurricular activities, and vibrant campus life.
Students at UCLA have access to a variety of resources both on and off campus as a result of the university's enviable location in Southern California and the enormous size of the Bruin alumni network.
Many of the most well-known programs at UCLA are in the fields of cinema, music, and television because of the university's long history of involvement in the entertainment industry.
The School of Theater, Film, and Television at the University of California, Los Angeles (UCLA) is consistently ranked among the highest in the country and among the best in the world by publications such as U.S. News & World Report and The Hollywood Reporter.
One of the reasons for this appreciation is that the university provides its students with a number of resources, one of which is the Geffen Playhouse, which annually puts on productions that receive prestigious awards.
Students have the option of going to the UCLA Film & Television Archive, which contains over 220,000 film and television titles in addition to 27 million feet of newsreel footage.
However, due to the incredibly low admission rate of only 4%, it is extremely challenging to enroll in UCLA's Tang Theory Program (TFT).
Due to the low dropout rate, the school is able to maintain manageable class sizes, with an average of five students for every instructor. Writers and directors such as Shane Black, Marielle Heller, and Gore Verbinski are among the institution's alumni because of the exceptional program that the school offers.
The Ziffren Institute at the University of California, Los Angeles School of Law is home to one of the top entertainment law programs in the country. This program can be found at UCLA, which is located on the legal side of things.
Students engage in activities such as visiting large corporations like Microsoft and Warner Brothers and working on topics like intellectual property and copyright law.
In addition to this, Ziffren provides students with the opportunity to complete internships with local production companies and talent agencies.
The David Geffen School of Medicine is located away from the entertainment district yet is just as significant. Geffen University School of Medicine, widely regarded as one of the finest medical schools in the United States, provides training for future medical professionals in its many teaching hospitals.
One of these is the UCLA Medical Center, which provides level-I trauma care for children and is consistently ranked among the top five hospitals in the United States.
What Kind of Student is UCLA Looking For?
With everything there is to know about the ideals of the UCLA motto, what kind of student is UCLA looking for? It is well-known that UCLA encourages academic achievement among both its teachers and students. The ideal student at UCLA is one who is committed to excelling and who holds both themselves and their classmates accountable for achieving excellence.
The wide and one-of-a-kind campus that is UCLA is responsible for cultivating a diverse student body that pushes each other to perform better on a daily basis.
Students at UCLA are expected to hold themselves to a higher standard in both their academics and their civics than students at other universities. Your grades and test scores will be a significant factor in determining whether or not you are accepted to UCLA, despite the fact that the university takes a holistic approach to analyze the entirety of your college application.
In addition to reviewing your past academic performance, UCLA will look at your application and the responses you give to questions designed to elicit personal insight in order to evaluate what you will contribute to the institution.
Overachievers and go-getters abound on campus, and they all adhere to a core set of principles that are instilled in UCLA students as part of the university's educational philosophy. If you want to be accepted to UCLA, you will need to demonstrate that you uphold the same principles that they do.
The student body at UCLA is instilled with a robust sense of honesty and responsibility. Those students who already possess the disposition for integrity are supported and encouraged by their school through instruction on the significance of being honest and showing up to do the work despite the difficulty of the task. An education at UCLA will unquestionably improve the value of consistently showing up when one is expected to and putting in the effort required to complete one's tasks.
Every day that they spend studying at UCLA, students are given the opportunity to push themselves further than they believe is possible. The University of California, Los Angeles (UCLA) is a location where you can continue to push yourself if you already have a track record of success in both academics and extracurricular activities.
If you are the type of person who is constantly considering how you may be of the greatest assistance to other people, you will feel completely at home at UCLA. Students are encouraged to think about what they can do to support others in their communities and the communities in which they live wherever on campus. Alumni of UCLA are recognized all around the country for their willingness to help others and their focus on the health and happiness of their communities.
The University of California, Los Angeles places a high focus on educating young people on the importance of cultivating profound admiration and appreciation in all of their relationships, whether it be respect for one's self or respect for one's peers. This includes their more significant interactions, such as those between themselves and their communities, and even with the planet itself.
Students at UCLA, with its extensive campus, find that they are motivated to do more than they initially thought was feasible. Those who are consistently on the lookout for ways to improve not only their own lives but also the lives of others in their communities will discover that they are in good company. Because UCLA takes a holistic approach to college admissions, the resulting student population is extremely diverse, and its members inspire and motivate each other to achieve ever-higher levels of achievement on a daily basis.
Want to learn more about the ideals of the UCLA motto? You've come to the right place. At AdmissionSight, we have over 10 years of experience guiding students through the competitive admissions process.
AdmissionSight can help you put your best foot forward when applying to college. Contact us today for more information on our services.