USC Cheerleading Team
For many years, cheerleading was not recognized as a sport. Today, teams around the nation, including the USC cheerleading team, are competing and cheering for home teams. After cheer was finally considered a sport, it evolved into various types of teams.
In the lines that follow, we will offer you information about the official USC cheerleading team, which is aptly called USC Cheer. In addition, we will discuss bonus cheerleading topics: fitness benefits in cheerleading and its important values.
What is the USC cheerleading team called?
What is the name of the cheerleading team at USC? The official USC cheerleading team is called USC Cheer. USC Cheer competes at the highest levels of the sport of cheerleading. The basic objective of the group is to win events all across the country and bring honor to the University of Southern California.
As members of a team that represents the University of Southern California, the key priorities are to uphold the university's traditions while also fostering an atmosphere that is positive and motivating for its members. They push themselves beyond their own limits and continue to establish new goals for the team as it develops.
The USC Cheer team is a small coed squad, with just about 20 members participating in each season (16-19 girls and 1-4 boys). The team spends the majority of their time throughout the fall semester preparing for and performing at campus events and competitions including Homecoming and Conquest.
The travel and competition that takes place during the spring semester is the primary focus of the program. This includes participation in events like the USA Collegiate Championships and the NCA Collegiate Nationals.
In addition, during the course of the year, members of USC Cheer make appearances in the media, participate in promotional activities, and donate their time to the local community.
Does USC Cheer offer scholarships?
Is financial aid available via USC Cheer, the official USC cheerleading team? At this time, they are unable to provide our players with any kind of financial assistance or scholarships.
As a result of the fact that USC Cheer is a club sport, it is not governed by the athletic department and is not eligible for any scholarship programs.
Do they allow graduate students on the team?
Do they have a policy about graduate students participating in the USC cheerleading team? If you want to try out for USC Cheer, you may absolutely do so if you are a graduate student and you meet the requirements to be deemed a full-time student according to USC's criteria for the duration of the time that you want to be a part of the squad.
In most cases, there are students at both the undergraduate and graduate levels working together on the team.
What skills are required to be on the team?
What specific abilities are needed to be a part of the team? At this time, a back handspring is the bare minimum ability level necessary to try out for USC Cheer. Tucks and higher are particularly recommended, though.
In addition to this, screening committee members look at an athlete's capacity to pick up more difficult tumbling passes and how near they are to reach a higher skill level.
They do not have any precise qualifications for stunting, but they do ask that you have some kind of prior experience with stunting or cheerleading.
It would probably be beneficial if you could demonstrate some of the cheering dance movements that you are familiar with. They are comprised of a variety of important leaps, feats, and actions all strung together. The following is a list of some of the more well-known cheering routines:
Pencil jump
This is one of the cheerleading leaps that is easier to learn than others. It's possible that you have seen this maneuver before in a performance that the USC cheerleading team has put on.
The dancer makes a vertical jump into the air while holding their arms in a T-shape and bringing their legs together while directing them downwards in a straight line. Beginners to cheering typically start by learning the pencil leap, which prepares the body for more difficult jumps to come.
Pike jumps
In contrast to the pencil leap, the pike is one of the cheerleading jumps that is considered to be among the most difficult to do effectively.
The cheerleader leaps to their feet and extends their legs as wide apart as they can get them. The arms are brought close together and directed downwards in this variation of the splits that is performed in the air.
High V and low V arm movements
During these dance routines, the cheerleader will alternate the movements of their arms by first extending them over their head in an upward "V" position and then lowering them below their waist in a downward "V" motion.
Left L and right L
These maneuvers require the cheerleader to make an 'L' shape with their arms, either on the left or right side of their body, depending on which side they are doing the motion on. In these poses, the cheerleader's arms are positioned at right angles to one another.
Is it possible to sit in on a practice?
Is there a chance that I might observe one of USC's cheerleading team practices? Regrettably, members of the public are not permitted to attend USC cheering squad practices.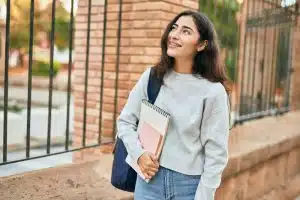 On the other hand, if you are interested in meeting with a member of the team or the coach, they would be pleased to set up a time for you to do so at your convenience.
What tips do you have for a future college cheerleader?
What advice would you provide to someone who aspires to be a cheerleader in college? One piece of guidance that they may give is to put in a lot of effort and go with your gut instincts.
Any institution that wants to have successful cheering teams at the collegiate level places a premium on both academic performance and physical prowess.
Attend a school where you will be pleased, where you will be able to succeed intellectually as well as athletically, and where you will feel that you will have the best of both worlds. This is the kind of school you should attend.
As the official USC cheerleading team, they place a high value on both academic achievement and physical fitness. They are a family that supports one another through everything.
Keep up the good job. If you think USC is the place for you, we'd want to welcome you to the Trojan family and, maybe, the USC Cheer family.
What are the fitness benefits of cheerleading?
What positive effects does cheerleading have on one's physical health? Participants in cheerleading are expected to perform routines in groups that have been well rehearsed. Historically, it has been used to rouse crowds in support of a particular sports team by combining elements of dancing, leaping, and gymnastic exploits.
As a result of the fact that cheerleading is enjoyed by millions of dancers in the US, including members of the USC cheerleading team, the activity has also gained popularity in other parts of the world.
Cheerleading is a fun and upbeat approach to improving your body's strength and mobility since it requires considerable flexibility in the legs in addition to rapid motions of the arms and hands.
Improves lower back strength
There is a widespread prevalence of poor posture in everyday life, with office employees slouching in front of computer displays for extended periods of time. Cheerleading activity may provide some relief, which is certainly something to be thankful for.
Cheerleading workouts involve a high level of flexibility and mobility, which in turn strengthens the muscles in the lower back that are responsible for keeping the spine in its natural alignment.
Before a strenuous routine, USC cheerleading team members always conduct a warm-up session to get them ready for the difficult movements ahead.
Works the core muscles
Cheerleading is an excellent activity for working out the core muscles of the body since it requires a lot of movement from the upper body. This helps to promote good posture and keeps the core of the body stable.
Fights fat
Cheerleading is an excellent activity for reducing extra fat and burning off the calories you consume.
What important values can someone learn from Cheerleading?
What significant life lessons can you pick up from cheerleading? Cheerleading is one of the best things you can do for yourself since it teaches you a lot of valuable lessons and instills great qualities and characteristics.
Here are some of the most important points we want to discuss with you on values we have learned through cheerleading:
Confidence
The development of self-assurance is among the most valuable skills that can be acquired via cheerleading.
This is the case for a number of reasons, including the fact that it demonstrates to you that you are capable of achieving challenging goals and the fact that it surrounds you with positive and encouraging friends.
Teamwork
Cheerleading is a great activity for developing collaboration skills. Cheerleading helps you develop skills that are useful in other aspects of your life as well, such as the capacity to collaborate with others toward the accomplishment of a common objective.
Collaboration not only makes you a more effective cheerleader, but it also prepares you to be successful in life outside of the gym. The following are five ways that cheering helps you learn how to work well with others.
Work Ethic
Cheerleaders are typically successful in areas of their lives outside of the realm of cheering, such as in their academic pursuits, professions, participation in other sports, and membership in groups and hobbies.
Cheerleading has this effect because it instills a strong work ethic in its participants.
Experience USC school spirit with USC Cheerleading
The goal of USC Cheer, the official USC cheerleading team, is to unite current students, alums, and fans of the university in a shared feeling of school spirit on game days and beyond.
If getting into USC is one of your goals, you should seek the guidance of professionals who work in the subject of college admissions, such as those who work at AdmissionSight, in order to increase your chances of being accepted there.
AdmissionSight has become the most trusted name in the field of college admissions advice as a result of its more than a decade of expertise assisting students just like you in gaining admission to the colleges of their first and second preferences.
Please get in touch with us as soon as you can so that we can schedule an initial consultation that will be provided free of charge.