The Best Jewish Colleges in the US
A significant number of students from other countries travel to the United States with the objective of enrolling in a Jewish university or a preeminent school that has a sizable Jewish student body. They do an outstanding job of educating those students who want their faith to be an integral part of their educational experience. In the US, there are a number of outstanding Jewish colleges and universities that are responsible for the education of some of the most talented Jewish (and, in certain instances, non-Jewish) students.
How do colleges and universities foster a Jewish culture?
How do schools of higher learning contribute to the development of Jewish culture? American educational institutions have a stellar reputation for welcoming Jewish students from all over the world and providing them with an excellent education. Students from all over the world seek a spiritual and professional education in the United States since Judaism is a religion that is followed and practiced in every region of the world.
Because of this factor, these educational institutions are a top choice for students coming from other countries. Jewish students typically spend their time in college not only focusing on their chosen field of study but also devoting significant effort to developing a more profound grasp of their religious traditions while gaining a historical perspective on Judaism.
How are Jews educated?
How do Jews receive their education? Jews have the highest average level of education when compared to the world's other main religious groups, with 13.4 years of schooling on average.
Around the world, nearly all Jewish adults aged 25 and older (99%) have completed at least some of their primary education, while the majority of Jewish adults (61%) have completed their post-secondary education.
This high level of education has been the norm for several decades, which indicates that there has not been much of an increase in Jewish educational attainment over the course of recent generations.
In point of fact, the percentage of Jewish males around the world who hold degrees from institutions of higher learning has been on the decline, driven by developments in the United States.
Israel and the United States are home to approximately eight out of every ten Jews living in the world. The average number of years of education held by Jewish adults in the United States is 14.7, compared to the 12.0 years held by Israeli Jews.
Jews who live in countries other than the United States and Israel also have the propensity to have a high level of education and, in the majority of circumstances, a higher degree of accomplishment than their non-Jewish contemporaries.
What university has the largest Jewish population?
Which college or university is home to the most Jewish students? University of Florida boasts a greater percentage of Jewish students than any other college in North America.
The University of Florida, which has 6,500 Jewish undergraduates out of a total of 33,720, has beaten out rival public universities with large Jewish student populations, such as the University of Maryland and the University of Michigan (both with 6,000 plus Jewish undergrads).
There are two of the top three public universities and four of the top 20 public universities in the state of Florida. New York University, which is a private institution, has 6,000 Jewish students, making it the most Jewish institution of its kind (out of 24,985 total).
What are the best Jewish colleges in the US?
Where might one find the most vibrant Jewish communities at the most prestigious institutions in the United States? In the spirit of contributing to the revitalization of Jewish communities within the higher education system, we have selected five institutions that are exemplary both academically and in terms of the robust Jewish presence, they maintain on their respective campuses.
When we were rating colleges, the first thing we did was look at Hillel International's list of the Top Jewish Colleges by Population. This allowed us to produce a list that was arranged solely based on the percentage of Jewish students enrolled at each institution.
After that, we used our standard technique in order to evaluate the academic quality of the institution.
University of Pennsylvania
Over 20,000 students enroll at the University of Pennsylvania each year, and the institution's student-to-faculty ratio is maintained at 6 to 1. The University of Pennsylvania is a private, nonprofit college.
UPenn provides its students with a number of on-campus resources and local agencies to foster collaboration and enrichment opportunities. One of these is Penn Hillel, which caters to the almost 2,000 Jewish students who are enrolled at the university.
There are over 40 community service and advocacy groups that are available to students through Penn Hillel, in addition to possibilities for work-study, study abroad, and fellowships. Additionally, the organization maintains partnerships with larger school resources such as the Herbert D. Katz Center for Advanced Judaic Studies and Penn Judaica, which is a repository of scholarly and research work. There is a wide range of options available to students interested in Jewish studies at UPenn.
Columbia University
Columbia University which is the oldest institution of higher education in New York keeps a focus on the global community while also attracting a diverse student body and faculty from all over the world.
The revered institution is considered to be a Jewish college as they house the Institute for Jewish and Israeli Studies.
The Columbia/Barnard Hillel is open to students from Columbia University and Barnard College, as well as those attending adjacent schools. Dinners for Shabbat are held every week at the Columbia/Barnard Hillel, and it also holds events for the many high holidays throughout the year.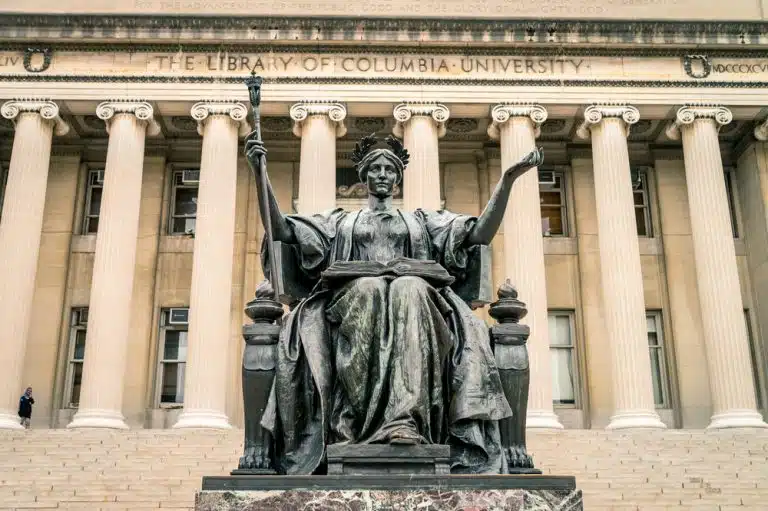 Also, it delivers an additional support network to graduate students and provides guides for Kosher dining options on campus.
Cornell University
Cornell University was established in 1865 and is known for its excellence in both the scientific and liberal arts fields. The university has roughly 24,000 students in total, and Jewish students make up 22% of that total.
The Jewish Studies department at Cornell also oversees the administration of major and minor courses of study for students interested in pursuing degrees in related fields.
In addition to a traditional Hillel, Cornell provides its Jewish students with a Center for Jewish Living, which sets it apart from the Jewish communities at other institutions. Jewish students who are working toward a degree can take use of the student-run center's social activities, religious get-togethers, and fully functional housing hall.
Additional support is provided through Cornell Hillel in the form of academic activities, student groups, internship opportunities, and efforts relating to social justice.
Harvard University
Harvard University is one of the oldest and most prominent research universities in the world, and it can be found in Cambridge, which is located in the state of Massachusetts. A little more than 20,000 students enroll at the university each year, including a significant number of Jewish students.
Because it has a vibrant Hillel, a digitized library of Judaica, and a Center for Jewish Studies, Harvard is often regarded as one of the finest Jewish colleges.
Hillel at Harvard provides support for students by creating an atmosphere that encourages collaborative learning, hosting thought-provoking speakers, and sponsoring events in the areas of religion, arts, and culture.
The organization publishes a podcast on a regular basis and facilitates chances for members to participate in community service and social activities.
Yale University
Yale is one of the most prominent Jewish colleges as it provides a Hillel, a Judaic studies program, a Jewish student alumni group, and a Jewish law students' association for Jewish students who are interested in learning more about their Jewish heritage.
Hillel at Yale, which is a component of the Joseph Slifka Center for Jewish Life, oversees the administration of Jewish study courses for students, in addition to providing opportunities for religious fellowship and cultural development.
The center maintains a collaboration with Yale's Young Israel House, which provides additional community and support to Orthodox Jewish students. This helps to ensure that the needs of these students are met. Students who are interested in following a kosher diet while they are on campus have the option of eating at Hillel's dining center.
Jewish students make up 27 percent of Yale University's undergraduate population (1,500 Jewish undergrads out of 5,477 total). Comparatively, it has a somewhat higher percentage of Jewish students than its Ivy League competitor Harvard University, which has 25 percent Jewish students (1,675 out of 6,694 undergrads).
However, both Cornell University and Columbia University have a greater overall Jewish student population, with 3,000 and 1,800 Jewish students, respectively.
What is the most Jewish college that is not officially Jewish?
Which university or college has the largest Jewish student body yet is not Jewish? Barnard College in New York, which is a women's liberal arts college affiliated with Columbia University, has a higher percentage of Jewish students than all other colleges combined.
Yeshiva University, Jewish Theological Seminary, American Jewish University, and Brandeis University — all of which have Jewish missions — have a higher percentage of Jewish students than Barnard College.
The percentage of Jewish undergraduates at Barnard College is 33 percent, which is higher than the percentage of Jewish undergraduates at the two colleges that came in second and third place, Muhlenberg College in Allentown, Pennsylvania (750 out of 2,440 undergraduates) and Goucher College in Townson, Maryland (450 out of 1,471 undergrads).
Which university offers 120 Jewish courses?
Which university is home to the 120 Jewish studies programs? The University of Michigan has the third-most Jewish college courses available in the United States, trailing only Yeshiva University (138 courses) and the Jewish Theological Seminary of America (150 courses), both of which have student populations that are comprised entirely of Jewish individuals.
Both McGill University and Ohio State University offer 100 Jewish studies programs, tying them for fourth place among American universities.
What Do Universities and Colleges with rich Jewish Community Stand For?
What do universities and colleges that have a large number of Jewish students believe in? Universities have made it a mission to educate Jewish students not just in a particular field but also in the Jewish religion.
Students that identify as Jewish will have the opportunity to attend some of the most prestigious educational institutions in the country. These establishments are built on a solid foundation of educational excellence. A strong dedication to upholding ethical standards is one of the most admirable qualities shared by the organizations under consideration.
All Jewish colleges have a code of conduct governing academic honesty, and all students are expected to abide by it. Because of this strategy, pupils are held responsible for upholding the traditional ethics of not only Judaism but also the western world. Students are expected to avoid engaging in any form of cheating or plagiarism.
Students will learn accountability and responsibility for their own work as a result of this rule. Students have a responsibility to strive for honesty in addition to disseminating wisdom in their quest for education.
Lastly, the purpose of their education is to make a positive contribution to the Jewish community and to advance it.
What are some expectations a Jewish Student may have while in US?
When studying in the United States, what are some reasonable expectations a Jewish student might have? When attending an American institution as a foreign student, one of the most important goals that they should set for themselves is to acquire a deeper familiarity with the Torah, the canonical text of the Jewish religion.
Students should prepare themselves to delve deeper into the readings and teachings of the Torah. This is in addition to the fact that they can anticipate studying any subject or degree that their university has to offer.
In addition, students should anticipate attending classes that deal with topics related to Jewish heritage and the robust tradition of Jewish resiliency.
Also, students should expect to acquire knowledge of contemporary Judaism and the function that religion plays in contemporary culture. The majority of Jewish colleges are private, and they place a great emphasis on education and religious practice.
Jewish education is also offered outside of the classroom at universities, where students are encouraged to become involved in their communities and assume roles appropriate for young adults in Jewish society.
AdmissionSight is willing to help
A specific center for Jewish or Judaic studies can be found on the campuses of several of the top institutions attended by Jewish communities. In addition to the typical programs, several of these institutions also provide opportunities to earn a degree or minor in Jewish studies. Learners who are interested in furthering their scholarship and conducting research can access archives and specialist libraries at some centers.
Do you foresee yourself attending one of the aforementioned institutions and maintaining your Jewish heritage while you are there? We at AdmissionSight would be more than happy to lend you a helping hand in achieving your objective of enrolling in the prominent educational institution of your choice.
AdmissionSight is the most trusted name in the college admissions advising industry, with more than a decade of expertise assisting students just like you in gaining entry to the colleges of their first and second choices. Please get in touch with us as soon as possible. Complimentary introductory consultation awaits.