The Best Medical Schools in California
Studying medicine in California
California has something for everyone, from sunny beaches to beautiful redwood forests. You can't go wrong if you want to go to one of the best medical schools in California. More and more people are moving to study at a medical school in California. California has some of the best medical schools in the country. They are in some of the best places in the country.
Premed students often want to attend medical school in California because of its high-ranking programs, low in-state tuition at public schools, beautiful weather, cultural diversity, and so on.
Not only that, but tuition is much less at state-funded schools for people who live in California. Even for people who don't live in California, the tuition at California medical schools is lower than most private medical schools. All of California's medical schools have good reputations that help their students get the best residencies. It is a great place to go to school for medicine because the weather is nice all year, and there are lots of things to do.
Importance of studying medicine
You may ask yourself, "Why should I learn about medicine?" Students are increasingly choosing to go into medicine as a career. There are benefits to getting a degree in medicine and a job in the medical field. Some of these advantages are:
A variety of job options
This should be the most important reason to go to medical school. In a world where job security is worsening, choosing medicine makes you more likely to get a job. With more than 60 specialties, finding where you want to work should be easy. You also spend several years in school switching between different fields of study.
But just because you are a medical student doesn't mean you have to spend your whole life caring for patients. You can choose a job where your main goal is to help with the legal side of this industry. The good thing is that it's a broad field, and you have more than five years as a student to decide what you want to do.
You do medical research
If you like to learn new things and find new ways to help people, this should be the best way to study. It would be best if you did a lot of research during your school years. The truth is that the human body is fascinating. Also, there is so much more to find out about it. If you're interested in how the human body works, you might want to study medicine.
You're good to people
There are a lot of challenges in this line of work, but when you see how you can help people from all walks of life, you should feel good about what you do. You need to understand people and know how to deal with them. So, you should be honest with yourself before you decide to go to school for medicine. Think about how well you get along with people who aren't like you.
Chances of making money
It's great to be interested in everything you do in life. But if you're going to spend six years getting a degree, it should be worth it for you financially. The good news is that doctors are not only in high demand but also get paid well and have a better chance of keeping their jobs.
The best schools for medicine in California
Stanford University School of Medicine (Palo Alto, CA)
Formerly called the University of the Pacific's Cooper Medical College, Stanford's School of Medicine was the first medical school in California when it opened in 1858.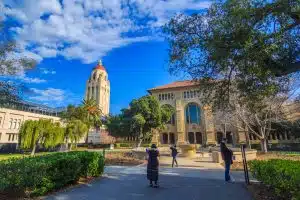 As part of the best medical schools in California, Stanford's MD and PA degree programs are very competitive because it is a US News top 5 research medical school. People think that the School of Medicine is one of the best schools for medicine in California because it has the number one biosciences graduate program in the United States. They are number one in the fields of cell biology, genetics, genomics, bioinformatics, neuroscience, and neurobiology.
Eight Stanford medical school professors have won the Nobel Prize, which shows how good they are. This group includes Roger Kornberg, who helped us learn more about transcription, the process by which DNA is changed into RNA.
Lori Alvord was the first female Navajo surgeon in the country, and Mary Halton was a suffragist leader and an early supporter of legalizing birth control. Scott Edward Parazynski was the first person to both go to space and reach the top of Mount Everest. He was a NASA astronaut.
UCSF School of Medicine (San Francisco, CA)
The state's second medical school, which was started in 1864, is at UCSF. Since then, it has become one of the best medical schools in California, taught some of the best doctors in the country, and attracted some of the best people to join its faculty. Five faculty members have won the Nobel Prize, and people who get their MD become leaders in medicine.
Shinya Yamanaka won the Nobel Prize in Physiology in 2012 for turning normal adult skin cells into stem cells. In 2009, the same prize went to Elizabeth Blackburn for finding telomerase, an enzyme that is important for normal cell function, cell aging, and many types of cancer.
UCLA David Geffen School of Medicine (Los Angeles, CA)
The first medical school in Southern California was the UCLA School of Medicine. It was later renamed after David Geffen, who helped start DreamWorks, and gave the school $200 million in 2002. DGSOM offers MD, MD/PhD, MD/MBA, and MD/MPH programs. It is connected to six hospitals and has a list of accomplished faculty. With a 4% acceptance rate, only the best and brightest future doctors will be able to study here.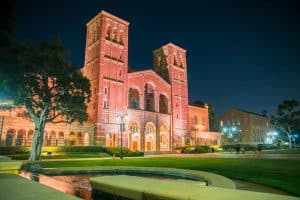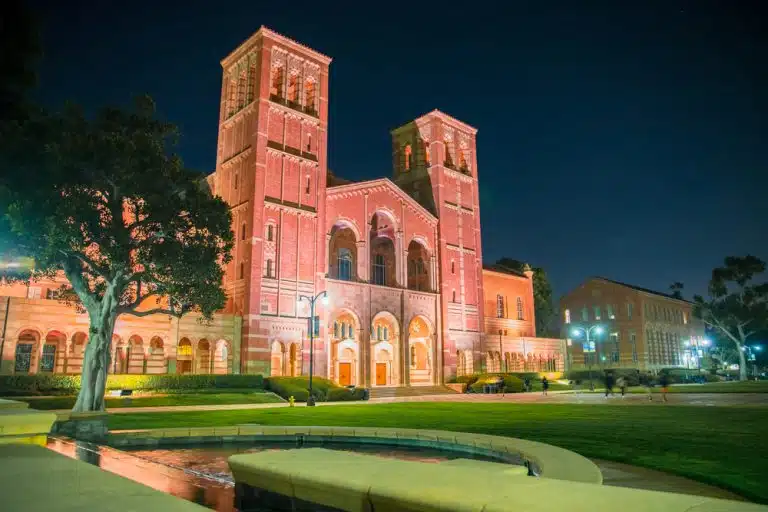 There are many different kinds of research centers at UCLA, so there is something for everyone. For instance, the Crump Institute for Molecular Imaging brings together scientists with physics, math, engineering, and chemistry backgrounds to help with biology and medicine.
Terry Dubrow, a plastic surgeon and TV personality; Leighton Chan, a doctor at the National Institutes of Health; and Eun-Sil Shelley Hwang, a leading breast cancer oncologist, are all alumni and went to DGSOM.
UCSD School of Medicine (San Diego, CA)
The prestige of the UCSD School of Medicine today is partly due to the fact that,  in its early days, it was able to hire great doctors like Yuan-Cheng "Bert" Fung, who is known as the "father of biomechanics" and was a pioneer in bioengineering. The school's partnership with the nearby Salk Institute, a top science, technology, engineering, and math (STEM) research center, makes an MD education at UCSD more valuable and appealing.
Over the years, the school has made several important medical advances. For example, they pioneered the life-saving pulmonary thromboendarterectomy (PTE) technique and the first echocardiograms in the country.
Doug Richman, one of the first to study HIV/AIDS, is an important faculty member. Ultimately, the Owens Clinic at UCSD became a model for treating the disease worldwide. Margaret Allen, the first woman to perform a heart transplant, is a famous graduate.
University of Southern California Keck School of Medicine (Los Angeles, CA)
Keck is the oldest medical school in Southern California. It has been around since 1885. Over time, the school has become one of the best medical schools in California. It works with three teaching hospitals: the LAC+USC Medical Center, a Level I trauma center, the Keck Hospital of USC, and the Children's Hospital of Los Angeles.
USC has a few different paths for medical school: MD, MD/MPH, MD/PhD, and MD/MBA. The nearby California Institute of Technology helps with the MD/PhD program, which trains people who want to work in academic medicine and the biomedical industry. Keck is on the edge of some of the most important medical problems of the day. The Alzheimer's Therapeutic Research Institute works to find ways to find the disease early and to treat it.
Dr. Drew Pinsky, a TV star, is the most well-known person who went to Keck. Margaret Jessie Chung is also well-known. She was the first known Chinese-American doctor. In the 1920s, she opened one of the first clinics for western medicine in San Francisco's Chinatown.
UC Davis School of Medicine (Davis, CA)
In 2011, less than 2% of people who applied to the UC Davis School of Medicine were accepted. This makes it a tough place to get an MD. UC Davis is one of the best medical schools in California because it focuses on health care in areas that can't afford it. So, applicants with strong ties to the area may have an advantage, but the same is true if you have worked with any other underserved group.
Before they start clerkships, the school gives students a lot of hands-on experience. Over 80% of students experience one of seven clinics run by students in the inner city. In addition to MD, MD/PhD, and MD/MPH degrees, Davis is also home to the innovative Rural-PRIME program, which trains doctors to work in the state's rural areas.
Jon Andrus, who used to be the deputy director of the Pan American Health Organization, and Suzanne Kilmer, the top laser surgeon and dermatologist at the Laser and Skin Surgery Center of Northern California, are doctors who went to this school.
UC Irvine School of Medicine (Irvine, CA)
Thanks to close ties between the School of Medicine and UCI Health, the main hospital, UCI is at the forefront of research, education, and patient care. UCI offers several programs that lead to two degrees simultaneously, such as the MD/MPH.
The med school has always been ranked as one of the best in the country by US News. Doctors and researchers at UCI Health do especially good work in gynecology and urology. The UCI Skin Biology Resource Center and the new Chao Family Comprehensive Cancer Center are specialized health centers. Irwin Rose, a UCI School of Medicine professor, won the Nobel Prize in Chemistry in 2004 for his work on ubiquitin-mediated protein degradation.
UC Riverside School of Medicine (Riverside, CA)
Since it started in 2013, UCR's medical program is the UC system's sixth and newest. The UCR School of Medicine gives out MDs. Dermatology, internal medicine, psychiatry, and pediatrics are the most popular specialties.
Many scholarships at the university can pay for up to full tuition. People specializing in general pediatrics, emergency medicine, family medicine, general internal medicine, general OB/GYN, general surgery, or general psychiatry can get a full scholarship through the prestigious IEHP Dean's Mission Award. David Lo, an expert in mucosal immunology, and Devin Binder, a professor and the head of UCR's Translational Neuroscience Lab, are two important faculty members.
Touro University of California (Vallejo, CA)
The Touro University of California in Vallejo is part of The Touro College and University System. At Touro, students can study osteopathic medicine (DO), pharmacy (PharmD), or both (DO/MPH or PharmD/MPH) and get a master's degree in public health.
Touro is committed to caring for communities that don't get enough help. Students often help at the Touro Student-Run Free Clinic and The Suitcase Clinic nearby in Berkeley. Also, students, faculty, and staff at Touro University created the Rainbow Health Coalition to help LGBTQI people get the same health care as everyone else, making it one of the best medical schools in California.
Faculty members are nutrition, immunology, infectious diseases, neuroscience, and cognitive aging, experts. Alumni are just as impressive. For example, Courtenay Stewart swam in the Olympics in 2004 before she got her DO from Touro.
Western University of Health Sciences (Pomona, CA)
Western University of Health Sciences has medical schools in Pomona, California, and Lebanon, Oregon. These schools mostly offer DO degrees. WesternU also has full healthcare programs in dentistry, optometry, nursing, physician assistantship, physical therapy, pharmacy, and veterinary medicine.
The school runs many patient care centers, including medical, dental, eye care, pharmacy, travel health, and pet health centers. This gives students a lot of opportunities to see how healthcare professionals do their jobs. Lee Burnett, a US Army colonel and founder of the Student Doctor Network, and Lawrence B. Harkless, known as "the father of diabetic foot care," are two famous alumni.
Figuring out what kind of best medical schools in California can be a big help in your decision in pursuing medicine. If you have already made your decision, it is important that you also pay attention to your college admissions. You can get help with AdmissionSight in your college admission. With ten years of experience with college admission experts, Admissionsight can help you get into the college of your choice. You can talk to our experts today to get an initial consultation.