The 10 Colleges with the Best On-Campus Housing
When it comes to choosing a college, students are faced with a multitude of different factors. Obviously, most students will be looking at academics first, but campus life is also an important aspect of the overall college experience. Is the campus urban or rural? Is it a sprawling campus, or is it fairly compact? What kinds of food options are available? And of course, the dorms. Are they modern and state of the art, or are they older and perhaps in disrepair? The quality of on-campus housing is a major factor in whether students feel happy and comfortable at a school, and there are many factors that determine the quality of housing. Different students will have different priorities, and these can be the difference between a happy college experience and a frustrating one.
In this post, we're going to look at the 10 schools with the best on-campus housing, and what kind of amenities they offer their students. Our goal is to give you a better idea of what to expect as you make this important decision.
10. Boston University
Boston University is located in the heart of Boston, which can make student housing difficult because it typically necessitates building high-rise buildings rather than sprawling dormitories. This presents a particular challenge in a city like Boston because real estate prices are sky high. This also means that off-campus housing for students can be prohibitively expensive.
Despite all of this, BU has managed to do something pretty spectacular with their on-campus housing. In order to accommodate as many students as possible in as small a footprint as possible. To solve this problem, Boston University constructed a 26-story high rise tower that students call the Skyview. It comes with panoramic views of the Bunker Hill Monument, the golden dome of the state house, and views of the Charles River.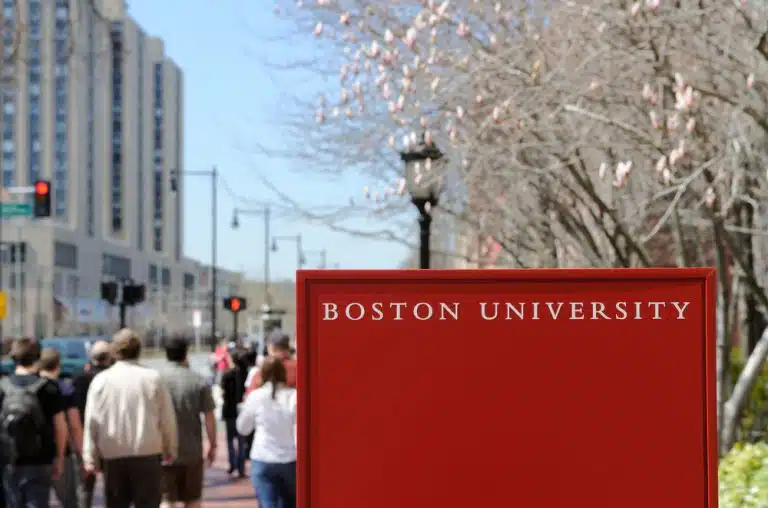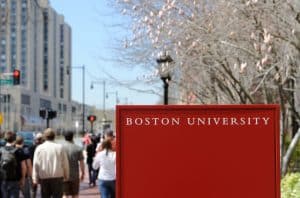 While this might sound like you are moving into a chic downtown luxury condo, this is still a dorm. The rooms are fairly simple but offer some of the most attractive features of any on-campus housing. Gone are cinderblock walls and linoleum floors. Instead, students can look forward to comfortable rooms, media areas with flat-screen TVs, private soundproof practice rooms for musicians, 24 hour reading rooms, and smart laundry facilities that students can monitor from computers or mobile devices.
9. Washington University in Saint Louis
One of the things college students aren't necessarily known for is being super clean. But Washington University isn't comfortable with this cliché. As a result, WU strives to maintain some of the cleanest dormitory facilities in the country. Bathrooms are cleaned daily, and the rest of the buildings are cleaned at least weekly if not more often. While this level of cleanliness wouldn't necessarily seem like an important factor, students would disagree. In fact, many students feel more comfortable and productive if their living environment is kept clean.
Washington University is composed of 40 residential colleges, but all of their on-campus housing is maintained to the same high standards. At some colleges, it is known that there are "nice" dorms and "not so nice" dorms. At Wash U, however, this isn't the case.
The majority of Wash U dorms are double suites, meaning a single or double occupancy bedroom is connected to another via a shared bathroom. There are also some single units and triple units, but these are less common. Since the Covid-19 pandemic, Wash U has even instituted weekly room cleaning and free laundry services.
8. Massachusetts Institute of Technology
MIT is one of the country's most prestigious and selective schools. Students apply from all over the world for a chance to study at the Mecca of STEM, and with an acceptance rate of around 4%, most will not gain admission. Because of this, you might think that MIT students would be willing to live practically anywhere for the chance to go to their dream school. Luckily, MIT has put a lot of effort into making sure their campus housing is also the best in the world.
Based on the concept of a sea sponge, Simmons Hall is unmistakable because of its unusual architecture that many describe as "love it or hate it." Despite this, the building has won multiple architectural awards for its innovative design.
As you might guess, housing at MIT is just as innovative as everything else at MIT. Not satisfied with simply building housing for students, MIT enlisted famed architect Steven Holl to design a building that would be scientifically significant as well. The building has a natural ventilation system as well as solar power, mechanical dehumidification, and ultra-thick soundproof walls. Simmons hall houses 340 students, but other MIT dorms also feature a level of comfort and innovation not found at many schools.
7. University of Houston
If you're looking for "cool" dorm rooms, look no further than the University of Houston. Located in downtown Houston, Texas, the U of H is renowned for its STEM curriculum that covers astronautical studies, superconductor technology, artificial intelligence, and dozens of other disciplines, but they're also known for having some of the most comfortable student housing.
Perhaps the most notable on-campus housing complex is the University Lofts, which is one of their newer dormitories. As you might expect, even dorm rooms are bigger in Texas, and this is one feature that draws students to this building. Dorm rooms are often small, cramped affairs, but the University Lofts feature 10-foot ceilings, modern concrete floors, granite countertops, and full kitchens.
The Lofts also feature a media center, a gym, and several rooftop patio areas for use by residents of the building. Perhaps the only downside to the University Lofts is the considerable cost. At $9,000 a year, it's not a cheap place to live, but it's definitely the most stylish option around.
6. The University of Texas—Austin
Sometimes referred to as the live music capital of the world, Austin is a fun place to go to college. From the aforementioned live music to a fantastic food scene, and some of the coolest art in the Southwest, Austin has it all. They are also home to a campus of the University of Texas which is known for being one of the world's premiere research institutions. Students at the University of Texas– Austin work very hard at their studies, and they get to live in some of the best campus housing you will find nationwide.
Students who are lucky enough to get a spot at Callaway House don't have the typical dorm experience. Instead, it's much much better. Many students have said that living in Callaway is more like living in a hotel than a dorm room, and we can see why. With daily housekeeping to take care of cleaning and bed making, students can focus on their studies instead.
Additionally, each unit comes with a kitchenette, granite countertops, and hardwood floors. For students who are sharing their dorm room with a roommate, privacy barriers are standard, and the complex also features a media center, gym, and outdoor pool. Given all these amenities, it's amazing students even leave their dorm at all.
5. Stanford University
Like MIT, Stanford University likes to take an innovative approach to campus housing. As a result, Stanford has taken a progressive approach to going green on campus by creating a new cleaning system that allows them to keep their living quarters squeaky clean without pouring dangerous chemicals into the environment.
Using the combined talent of their students and faculty, Stanford created a green cleaning system that allows them to produce "engineered water" for cleaning purposes around campus. This water works as well as conventional cleaning products but produces no harmful waste products.
Currently, two of Stanford's housing units use this system, and by 2024 all of their residences will be fitted with equipment to use the system. In addition to this, Stanford has taken an interesting approach to dining by retrofitting some dorms with facilities to allow students to cook their own meals rather than taking part in the meal plan. For students with specific dietary restrictions or preferences, this is a game-changer.
4. Arizona State University
While it is sometimes known as a great party school. ASU is also known for solid academic programs and some of the best campus housing in the country. Because the ASU system involves four separate campuses, on-campus housing was once a challenge. But ASU has taken a new approach to how students are housed, and it makes a lot of sense.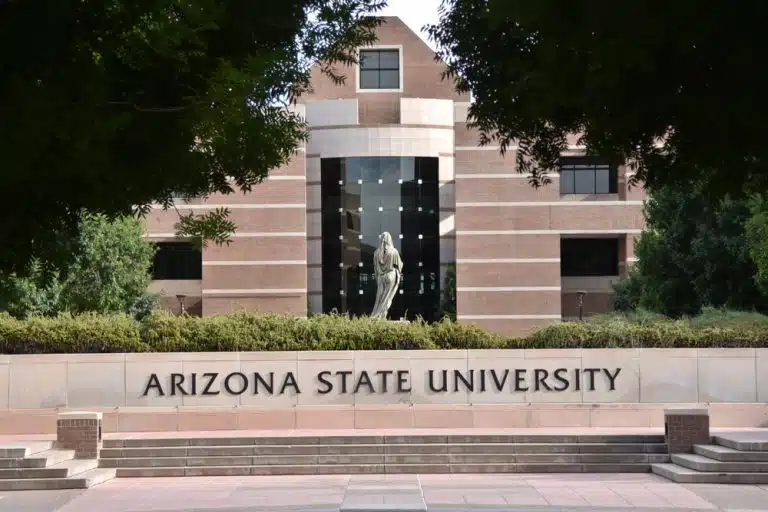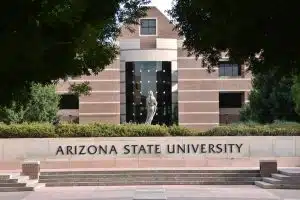 Currently, all ASU students who choose to reside on campus are assigned their dormitory based on their field of study. This means that students live with other students who are studying similar fields, and their housing is designed to be as close as possible to where their classes are held. They've also improved accommodations to make sure students have the most comfortable student housing. This includes lounges with microwaves, and fitness centers.
ASU is also succeeding on the security front. 24-hour security patrols have cut down on crime, and all residential houses are equipped with keycard entry systems. This ensures that students know who is in their dorms, and no one can access dorms without a student escort.
3. Bryn Mawr College
This prestigious all-women's college located in Philadelphia, Pennsylvania took a unique approach to campus housing by designing residential buildings that are both beautiful and functional. The college features 10 residence halls, all of which have been built in different architectural styles that harken back to 19th and early 20th century university architecture. This adds a unique beauty and history to the campus.
The goal of these dorms was to create an atmosphere which is most conducive to learning. The residence halls are designed to be quiet, with thick walls and plenty of space for students to pursue their studies.
While their campus housing is quite beautiful, it comes at a substantial cost. The average cost just for housing is $9,760, while the meal plan is an additional $7,340. This makes Bryn Mawr's accommodations some of the most expensive around, but students agree that the cost is worth it for such unique and beautiful campus housing.
2. Scripps College
Another all-female entry on our list, Scripps is part of the Claremont College System in Southern California. Scripps students tend to be focused on the sciences with biology, social sciences, and psychology making up the most popular majors. They also stand out for committing to offer the financial needs of 100% of their students.
Another wonderful feature of Scripps College is their campus housing. The concept of the housing at Scripps is to make it as environmentally appropriate as possible. Because it is located in sunny Southern California, this means a warm dry climate for most of the year. the designers who imagined the dorms at Scripps were determined to make the most of these features to create dorms that are both beautiful and sustainable.
Most of the dorms are fairly small and house between 70 and 120 students. This means the dorms create close-knit communities that enhances student life at Scripps. But they've also used Mediterranean-style architecture to highlight the beautiful setting of the campus. Many of the student units feature balconies with views, and courtyards with palm trees. Scripps also features a variety of different dorm-based activities to further the bonds between students.
1. Oberlin College
Oberlin College is a small liberal arts college that takes liberal arts very seriously. While it may seem that every school is now rushing to be a standout in STEM fields, Oberlin recognizes that STEM fields aren't the only fields that students can pursue in order to be successful in life. For this reason, Oberlin tends to be a rather sleepy campus with students writing and reading much of the time. But that doesn't mean they have to do their studies in dark, cramped dorms.
One of the aspects of campus housing that Oberlin emphasizes is themed housing where students can live with other students who share particular identities or interests. Some houses are language houses, meaning that students do their best to only speak in a particular language while in their dorm. Students can also choose to live in co-op housing where the day-to-day chores are equally shared by residents, or village housing which allows students to live in small bungalow-type buildings.
Oberlin also offers some of the best campus food in the country, which is important because the surrounding rural area doesn't offer much in the way of options. Students can also start out in freshman housing, which is extremely well maintained and comfortable but also more like traditional dormitory housing. This can be helpful so that students can then choose where they would like to live for the rest of their time on campus.
So, there you have it. AdmissionSight's list of the 10 schools that offer the best campus housing. If you've been wondering, what schools have the nicest dorms, hopefully this post has helped. If you want to discuss your college plans with experts who specialize in tailoring a college admissions plan specifically for you, contact AdmissionSight today and schedule your free consultation.